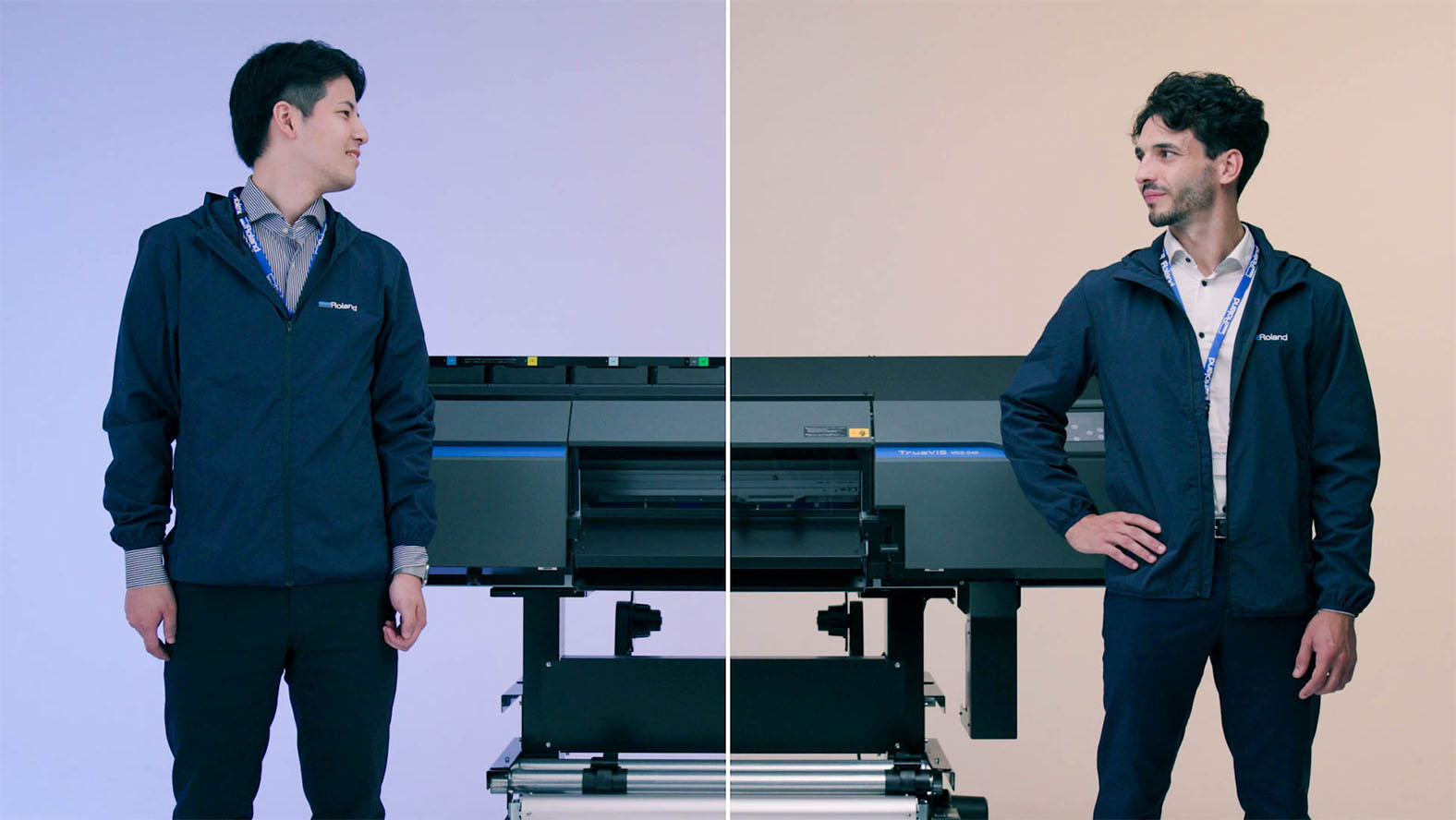 Roland DG Releases Video Outlining Service Vision
01/11/2023 Corporate Activities, Digital Printing
Roland DG has released a video outlining our customer services and support that provides a detailed look into the range of services we offer.
Roland DG Care provides customers with superior customer support
We offer an extensive lineup of products for business use and have developed a comprehensive customer services and support capability called "Roland DG Care" to ensure that customers can use our products for many years with complete peace of mind. Roland DG Care is backed by three commitments: Help our customers feel comfortable and confident when using Roland Products; Assist our customers when they need help; and Contribute to the growth and success of our customers' businesses.
See here for more details
With the release of the video, we caught up with regional managers in charge of global support services, and talked about the background to the services and how they will be changing moving forward.
Ron Ball Vice President of Services, Executive Management, Roland DGA
Michael Møller Frederiksen HEAD of Service Operations - EMEA and Global QA Manager
Ryugo Nimura General Manager of Service Business Development Department, Global Sales & Marketing Division
Ron Ball

Michael Møller Frederiksen

Ryugo Nimura
What efforts are you making to achieve the three commitments for customers?
Ball: Service engineers (SE) who assist customers at their jobsites play a key role as a contact point between customers and Roland DG. When we first began marketing our products, staff members who worked with SEs provided support based on information obtained over the phone to identify the type of repairs required as a way of boosting the skill level of SEs at customer sites. With the tools and training portals available for SEs today, however, information is being shared much faster. Online tools developed in the last few years in particular have boosted mutual communication between us and SEs, as well as between SEs themselves. To provide an even better service that caters to the conditions at each jobsite, we are working on determining faster ways to share troubleshooting details and information related to parts replacement and maintenance procedures.
Frederiksen: We are looking at increasing interaction between SEs around the world. Our customer support is based on the fact that each and every SE views themselves as part of the Roland DG family. Helping each other out proved extremely valuable during the COVID-19 pandemic when it was difficult to visit customers directly to provide assistance.
The video outlines how SEs around the world are all connected.
Nimura: We have developed an online community where more than 3,000 SEs around the world can interact and help each other out. This allows for more transparent, open communications than ever before.
Ball: Interaction between SEs has helped to build a solid foundation from which everyone assists one another. If an SE comes across a tricky problem at a customer's site, they can discuss the matter online with SEs around the world; finding a solution to an issue means problems can be resolved much quicker.
How do you think the service will change with the use of the cloud-based service Roland DG Connect shown in the video?
Ball: Looking ahead, I want to roll out a new service where we will utilize the data acquired from products to detect their status in advance, so that we can send an SE out to conduct repairs before a malfunction occurs.
What types of services do you think will be available in ten years?
Frederiksen: The service we provided over the past three decades involved customers calling in to begin the support process. We are trying to shift this to a more proactive form of support. In a decade, I think we will be able to deliver the service and supplies customers need, right when they need them.
Nimura: The purpose of Roland DG Connect is to minimize product downtime and customer effort as much as possible. Monitoring the status of products allows us to perform maintenance before faults develop, and this is how we will be able to minimize downtime. We also want to store the information centrally to provide the precise solution for engineers when they need it for a repair.
Thank you for providing the explanation of how SEs are improving their customer support services.