Product News
12/01/2004
Roland DG Corporation
Roland Introduces the MDX-40R Milling Machine — the Perfect In-House SRP® Solution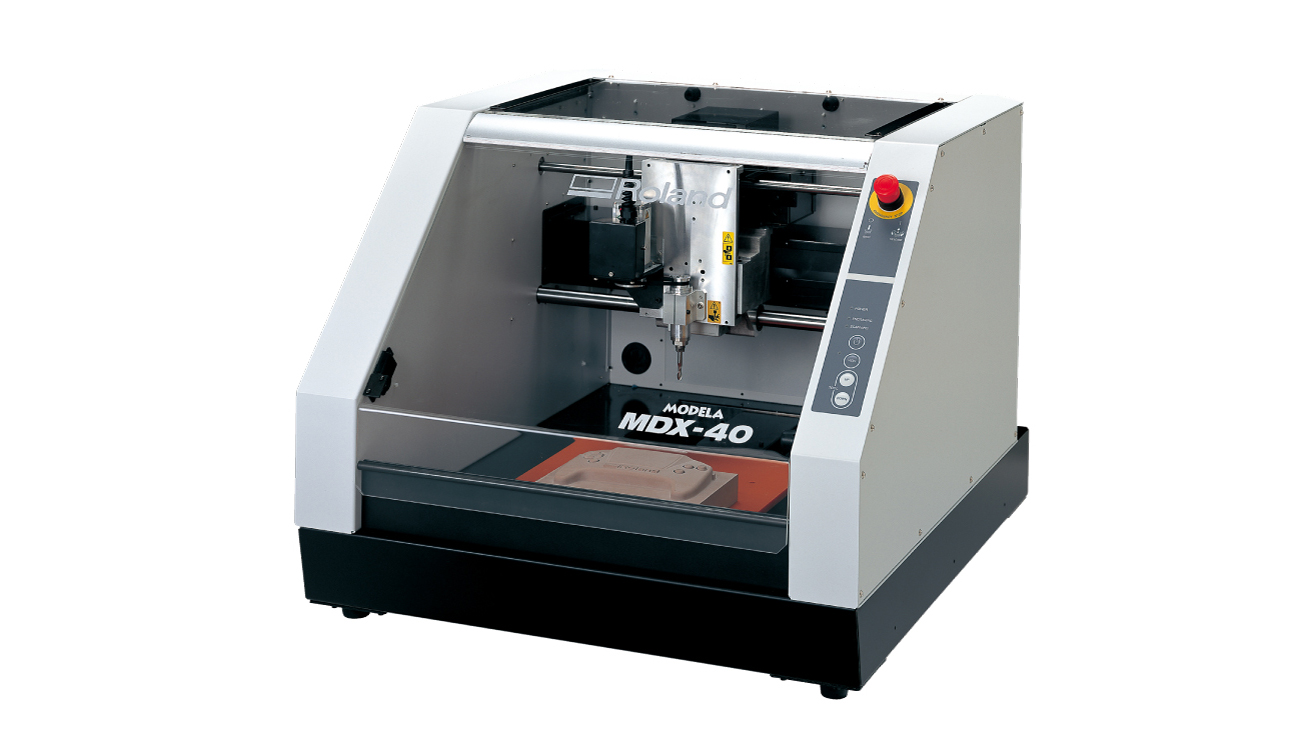 Hamamatsu, Japan, December 1, 2004 – Roland DG Corporation today introduced the MDX-40R Benchtop 3D Milling Machine. Its Rotary Axis Unit facilitates unattended milling on four sides, making it easier than ever to create prototypes, parts and precision models. Targeted for engineers, industrial designers, educators and others involved in product design applications, the MDX-40R is ideal for in-house use, empowering end users with full-featured SRP (Subtractive Rapid Prototyping) capabilities right at their desktop.
"As an in-house device, the MDX-40R allows product designers to keep their ideas secure while eliminating the added cost and turn-around time incurred by outsourcing," said K. Sogo, Roland DG 3D Product Manager. "With the MDX-40R, end users can perform a variety of rapid prototyping tasks right at their desktop without interrupting the creative process. For reverse modeling, the MDX-40R can be also equipped with an optional 3D scanning head built on Roland's revolutionary RAPS Technology."
The MDX-40R comes complete with advanced, easy-to-use software. MODELA Player 4 CAM software accepts IGES, DXF and STL files exported from most popular industrial 3D CAD software programs. Virtual MODELA simulates finished shapes, estimates production time and determines suitable modeling depth to optimize time and materials.
MDX- 40R Features:
‐ Includes Rotary Axis Unit for unattended two- and four-sided milling
‐ Work area is perfect for mid-size jobs — 305mm(X) x 305mm(Y) x 105mm(Z) (12" x 12" x 4.12")
‐ Provides high-speed performance with a 15,000 rpm spindle
‐ Includes easy-to-use Roland software, MODELA Player 4 CAM software and Virtual MODELA simulation software
‐ Combines precision 3D scanning (optional) and milling capabilities into one compact device
‐ Emergency stop switch and machine cover ensure safety and promote clean, quiet work environment
Roland DG Corporation (TSE symbol 6789) - First Section, Tokyo Stock Exchange
Phone: +81 (0)53-484-1201 / Fax: +81 (0)53-484-1216