Product News
01/07/2005
Roland DG Corporation
One-Step Print/Cut Production Is Now Even Easier with the New VersaCAMM SP-300V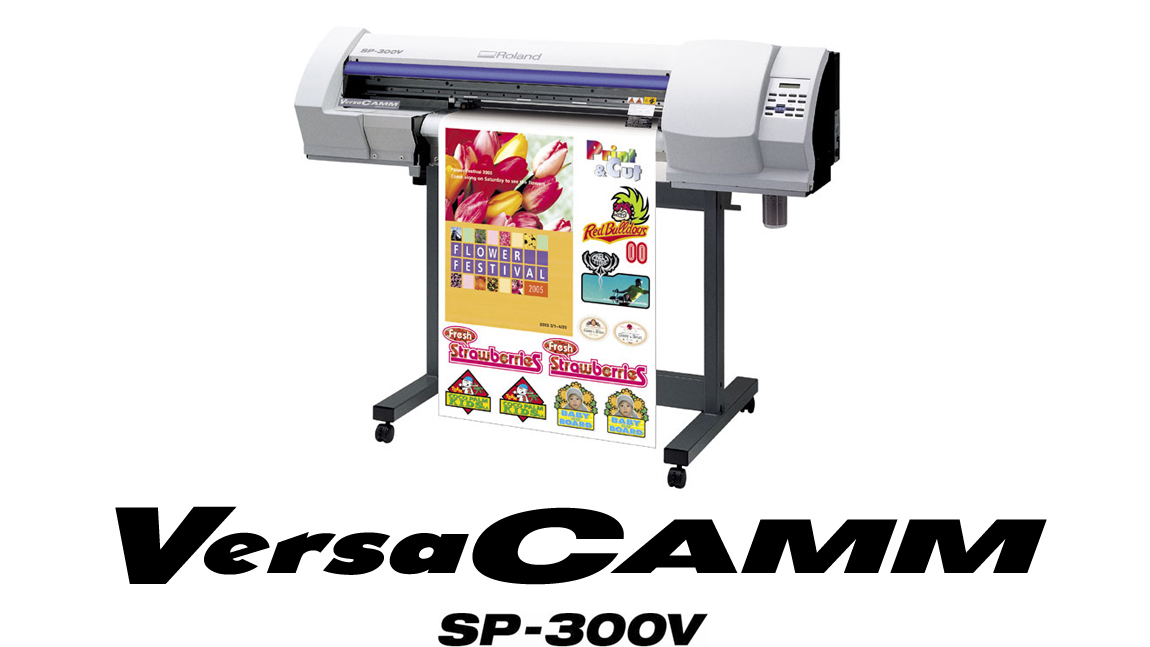 Hamamatsu, Japan, January 7, 2005 – Roland DG Corporation, the industry leader in integrated print/cut technology, today introduced the VersaCAMM SP-300V, a 4-color, 30-inch-wide ECO-SOL INK printer/cutter for both outdoor & indoor applications. Designed for easy operation, the SP-300V builds on VersaCAMM innovation with the addition of Roland VersaWorks™, Roland's own powerful color management software RIP.
"The VersaCAMM is Roland's best-selling print/cut solution, and the introduction of the SP-300V has made this technology even easier to use and more versatile," said A. Suzaki, Roland DG Color Product Manager. "The foundation for these enhancements is Roland's VersaWorks, designed exclusively for Roland inkjet devices. VersaWorks features an efficient GUI that allows you to maximize the capabilities of the SP-300V. Simply drag and drop files and click on intuitive icons to take full advantage of a wide variety of layout, edit and print functions."
Roland VersaWorks, is built upon the genuine Adobe® PostScript®3™ engine to ensure compatibility with popular design software. It features an easy-to-use interface that allows you to manage the entire production process directly from one master screen. With VersaWorks, you can reduce ink and media consumption by previewing your color adjustments and layouts such as nesting, tiling and auto/manual-layout on screen before printing. To further lower your production costs, www.rolanddg.com features a wide variety of ICC profiles for uncoated media. VersaWorks runs on Windows XP and 2000.
The SP-300V is designed for a wide variety of on-demand applications, including short-run signs, banners, decals, packaging prototypes and heat transfers for apparel. Graphics boast excellent indoor and outdoor durability, lasting up to 3 years outdoors. VersaCAMM is available in the 30"-wide SP-300 and 54"-wide SP-540V.
SP-300V Features:
- Includes Roland VersaWorks™, a powerful, user-friendly color management RIP software designed exclusively for Roland inkjet devices
- Ability to print on uncoated PVC media as well as a full range of coated substrates, from paper and canvas to backlit film
- ECO-SOL INK is formulated to be gentle for both users and the environment, requiring no expensive ventilation equipment
- Graphics are UV, scratch, and water resistant up to 3-years outdoors*1
- Performs as a printer, printer/cutter, or standalone vinyl cutter
- Quadralign®, Roland's unique optical registration system, enables precision contour cutting of laminated graphics, with adjustments for skew and distortion
- Meets ENERGY STAR® guidelines*2
*1 Three years outdoor durability is based on accelerated weather tests conducted by Roland DG. Results may vary depending upon location and application.
*2 As an ENERGY STAR® partner, Roland DG Corporation has determined that this product meets the ENERGY STAR guidelines for energy efficiency. ENERGY STAR is a U.S. registered mark.
Roland DG Corporation (TSE symbol 6789) - First Section, Tokyo Stock Exchange
Phone: +81 (0)53-484-1201 / Fax: +81 (0)53-484-1216