Product News
08/24/2005
Roland DG Corporation
Roland Introduces ECO-SOL MAX Next Generation Eco-Solvent Ink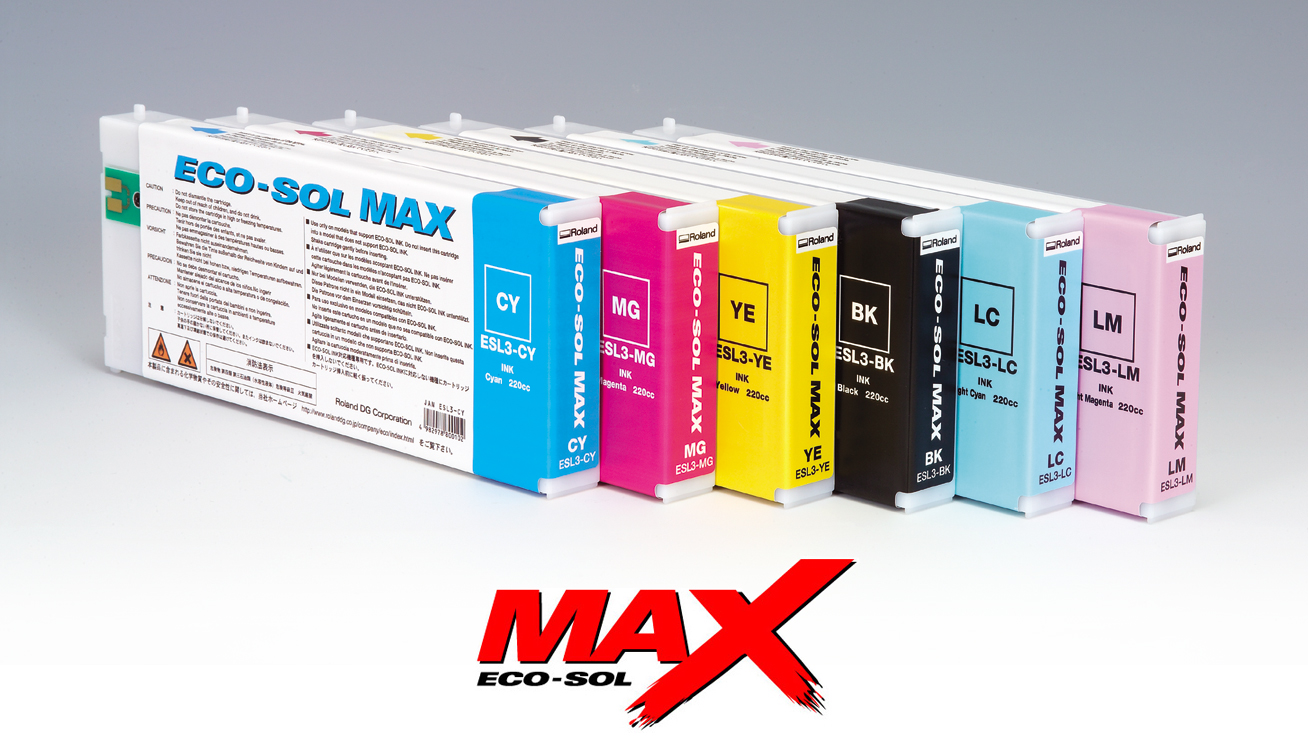 Hamamatsu, Japan, August 24, 2005 – Roland DG Corporation, a leading manufacturer of wide-format inkjet printers and integrated printer/cutters for the signmaking, POP, exhibit, labels and vehicle graphics markets, today announced new and improved ECO-SOL MAX ink.
At a cost 18 percent below Roland's previous eco-solvent ink, new ECO-SOL MAX features several enhancements including improved scratch resistance, faster drying time, higher density, wider color gamut and broader uncoated media support. In addition, ECO-SOL MAX is virtually odorless, contains no harmful VOCs, and requires no special ventilation or environmental equipment.
"Roland is widely recognized for pioneering the development of advanced inks that meet the industry's highest standards, and ECO-SOL MAX builds on this technology to deliver new levels of performance, safety and durability," said Kevin Shigenoya, Roland DG inkjet printer product manager.
Ideal for Outdoor Banner Production and Other Complex Applications
ECO-SOL MAX's faster drying time combined with its improved scratch resistance ensure flawless production of outdoor banners and other graphics that involve complex finishing techniques. For outdoor banners, ECO-SOL MAX performs throughout the printing and finishing processes, maintaining image quality through welding, sewing and the attachment of grommets. With higher ink density and wider color gamut, ECO-SOL MAX graphics reflect brilliant color when viewed at a distance or close up.
ECO-SOL MAX Ink Features:
- Quick drying time and scratch resistance — Promotes easy handling, fabricating and construction, and increases durability
- Higher density and wider color gamut — Produces vivid printing across the entire color spectrum with expanded color gamut for reds, blues and greens; Ensures glossy finish and rich, solid colors
- Expanded media support — ICC profiles are now available for 150 uncoated media options
- Reduced production costs — Lower cost of ink and support for lower-priced uncoated media greatly reduces overall production costs
- Versatility — Ideally suited for both indoor and outdoor applications
- Durability — Graphics are durable up to three years outdoors without lamination
- Easy maintenance — No manual print head cleaning nor daily pump maintenance required; Service maintenance for Roland inkjets is provided once every six months to ensure optimum condition
- Virtually odorless — Maintains a highly comfortable working environment
- For all Roland eco-solvent inkjets — Ideal for SOLJET and VersaCAMM printers and printer/cutters
ECO-SOL MAX cartridges are designed for clean, easy handling. Print head cleaning is automatically conducted by Roland inkjets. Unlike solvent devices, Roland inkjet printers and printer/cutters require no heavy maintenance.
Roland DG Corporation (TSE symbol 6789) - First Section, Tokyo Stock Exchange
Phone: +81 (0)53-484-1201 / Fax: +81 (0)53-484-1216