Product News
09/12/2007
Roland DG Corporation
New Roland EGX-350 Desktop Engraver Delivers Exceptional Quality, Speed and Ease of Use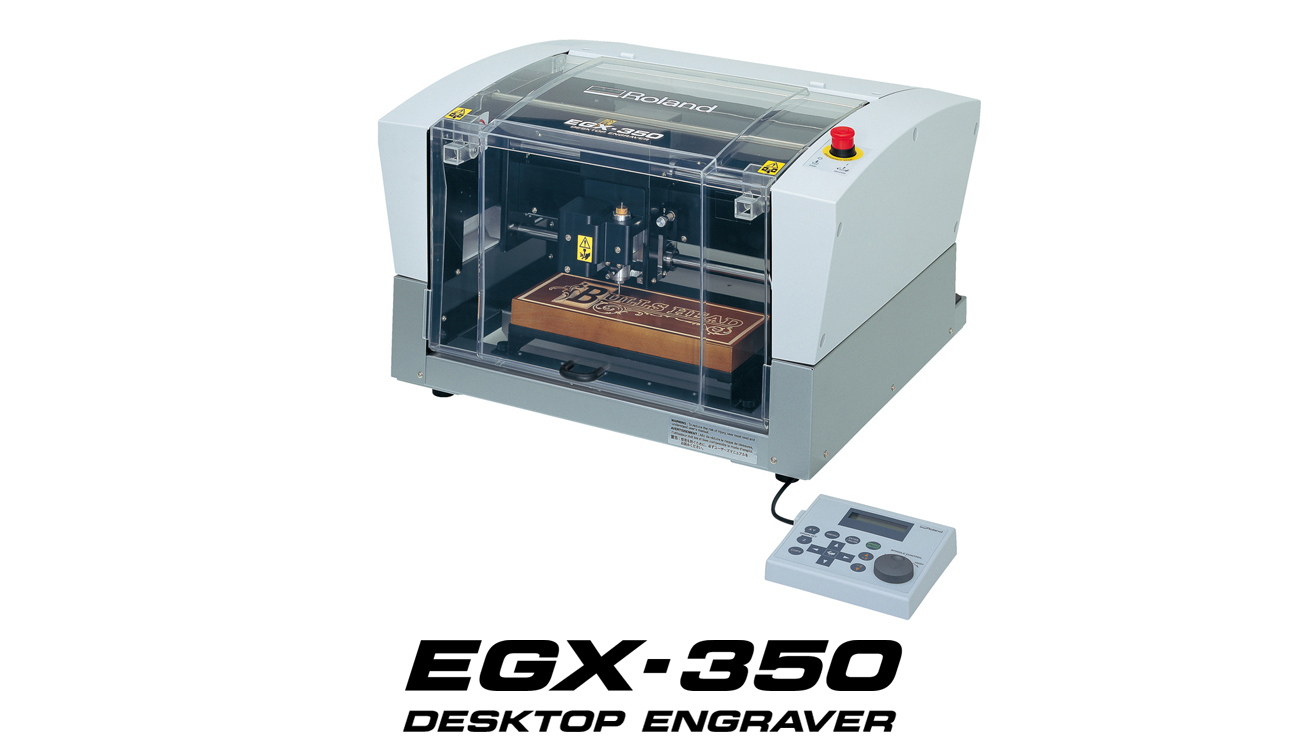 Hamamatsu, Japan, September 12, 2007 – Roland DG Corporation today announced the new EGX-350 desktop engraver, a complete, compact professional engraving solution including new Roland EngraveStudio software.
The EGX-350 quickly engraves a wide variety of materials to create beautiful indoor and outdoor custom signs, treasured mementos, and personalized gifts, awards, promotional items and apparel. For increased productivity and fast turn-around of finished items, the EGX-350 is 50 percent faster than Roland's previous model. Upgrades include a more powerful spindle motor and an increased maximum spindle speed of 20,000 rpm. The EGX-350 is designed for the highest quality engraving and has been enhanced with a new V-Carving mode that produces an attractive hand-carved look. To further ensure easy operation and quality results, the EGX-350 also includes an automatic surface detector which accurately detects the height of the material (Z-zero) for consistent engraving depth throughout the production process.*1
"The EGX-350 is remarkably easy to use and highly versatile for both traditional engraving and specialty applications," said Toshihide Yahiro, Roland DG 3D product manager. "The EGX-350 is also equipped with advanced features such as an automatic surface detector, allowing users to quickly and easily produce quality products without complicated setup procedures. With the EGX-350, users can even design templates for heat pressing rhinestones onto apparel items."
EGX-350 Desktop Engraver Features:
- High-quality engraving device for sharp, crisp text and graphics
- Designed for high productivity – 50 percent faster than the previous model
-New 50W spindle motor is upgraded with 67 percent more power
-Increased maximum spindle speed of 20,000 rpm
- Supports a wide variety of materials including plastics, acrylic, aluminum, stainless steel, brass and wood
- Ideal for indoor and outdoor signs, and personalized gifts, awards, promotional items and apparel
- Automatic surface detector ensures quality results by automatically detecting the height of the material (Z-zero) for consistent engraving depth*1
- Easy-navigation control panel provides a clear view of the engraving table
- Feature-rich Roland EngraveStudio™ design software included
- USB port for easy setup and operation
- Highly durable brushless DC motor ensures long-lasting performance with minimal maintenance
- Work table surface is easy to setup
Easy-to-Use, Advanced Roland EngraveStudio Software Included
Roland EngraveStudio offers a wide variety of features that make it easy to add and edit graphics and text as well as combine varying engraving depths for a truly hand-carved look. To save time and materials, EngraveStudio allows users to preview designs on screen through an engraving simulation function that presents both the tool path and anticipated results prior to engraving. EngraveStudio supports Adobe Illustrator*2 (ai and eps) and CorelDraw (eps)*3 data, allowing customers to utilize their design software and data libraries.
*1 Automatic surface detector works with Dr. Engrave software (included) and does not support all shapes or designs.
*2 Before importing Adobe Illustrator data into Roland EngraveStudio, Roland recommends converting vector geometry and text to curves. For best results, switch off all patterns and/or color fills and save files in eps format.
*3 Supports ai (version 8.0) and eps (version 3.0) file formats.
Roland DG Corporation (TSE symbol 6789) - First Section, Tokyo Stock Exchange
Phone: +81 (0)53-484-1201 / Fax: +81 (0)53-484-1216