Product News
01/07/2009
Roland DG Corporation
Roland Introduces Enhanced Entry-Level Desktop Engraver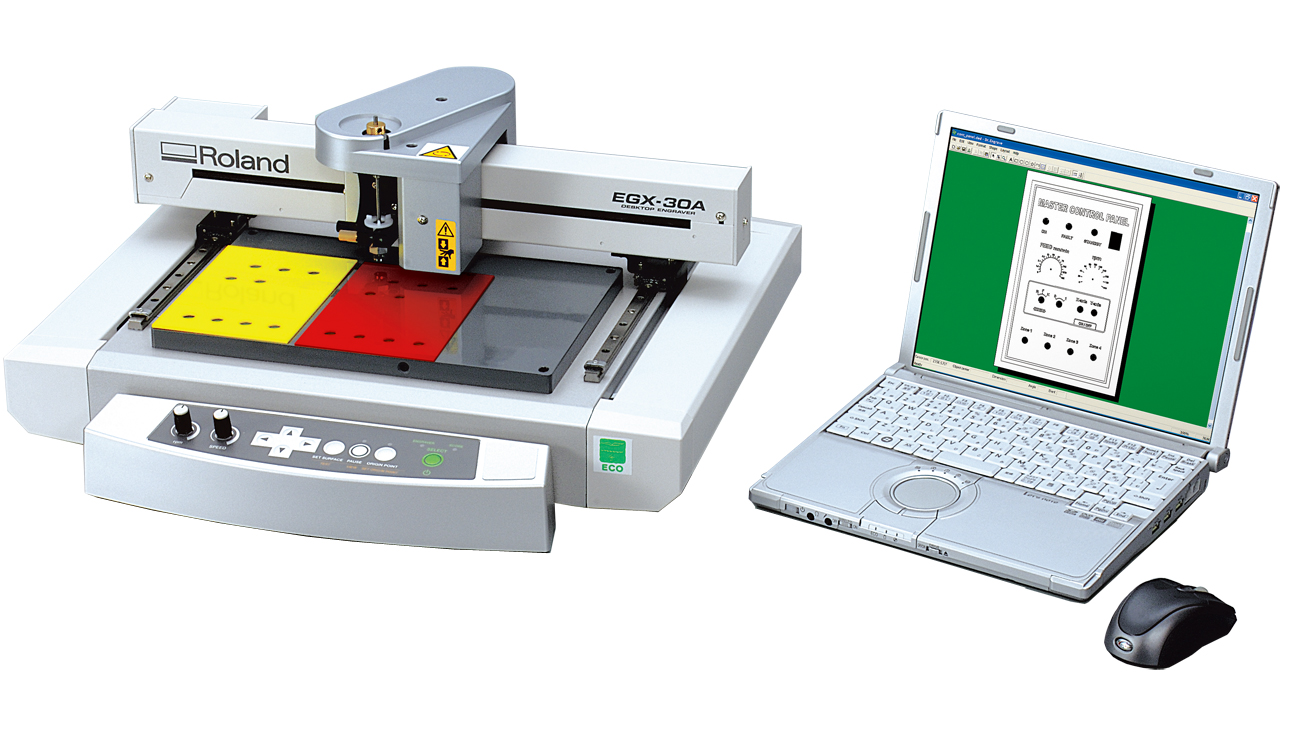 Hamamatsu, Japan, January 7, 2009 – Roland DG Corporation is proud to announce the release of the company's newest entry level desktop engraver, the EGX-30A. Based on three generations of EGX technology, the new EGX-30A is very affordable, easy to use, and equipped with new advanced features that make it ideal for both in-house and retail environments.
The faster engraving speeds and enhanced features allow the EGX-30A to create a wide range of custom products including engraved badges, nameplates, gifts and awards. When paired with R-WearStudio, optional rhinestone design software from Roland, the EGX-30A can also be used to produce engraved templates for custom rhinestone-studded T-shirts and gifts.
"An exceptional value, the EGX-30A is very easy to operate, even for those with absolutely no engraving experience," said Toshihide Yahiro, Roland engraving solution manager. "With the EGX-30A, businesses everywhere can eliminate outsourcing for office and factory safety signs and nameplates, and for personalized corporate gifts such as identification tags for golf bags and luggage. It's also a great tool for gift and apparel shops looking to add value to their product lines. With the EGX-30A, you can personalize gifts, accessories, plaques and awards, and create rhinestone-studded T-shirts as well – all on demand with professional results."
New EGX-30A Features:
- Perfect desktop engraver for producing badges, nameplates, gifts, awards and rhinestone-studded apparel, and engraves suitable materials.
- Plastics (ABS, acrylic, PC, etc.)
- Brass and aluminum for scribing
- Compact size fits on the desktop
- Dimensions: 513mm (W) x 491mm(D) x 217mm (H)
- Work area accommodates a wide range of applications
- Table dimensions: 305mm(X) x 205mm(Y)
- Maximum substrate thickness: 5 mm(Z)
- Easy operation
- Includes Dr. Engrave 2D engraving software for easy design and production
- Easy to use radio knob adjusts engraving speed and spindle
- Supports USB 1.1 interface for easy PC connectivity
- Supports R-WearStudio, Roland's optional rhinestone design software
Roland Dr. Engrave Software
The EGX-30A comes bundled with Dr. Engrave, Roland's easy-to-use engraving software. Dr. Engrave enables users to start engraving immediately and supports the following features:

- Inputs various types of text and bitmap images
- Supports industry standard True Type fonts
- Features Single Stroke Font Editor (SFEdit)
- Imports Excel database files in CSV format for variable data applications
- Produces nameplates using data imported from an address book
- Sequential numbering function creates serial number plates
Roland R-WearStudio Software
Roland R-WearStudio is an optional design software package developed for apparel and gift shops. When paired with Roland's EGX-30A desktop engraver, R-WearStudio allows users to quickly produce rhinestone templates for adding brilliant hot fix rhinestones to custom apparel designs. R-WearStudio also supports Roland's GX-24 cutter and VersaCAMM printer/cutters, allowing users of these products to easily print and contour cut vinyl lettering, heat transfers, labels and decals for a range of gift and apparel applications.
Roland DG Corporation (TSE symbol 6789) - First Section, Tokyo Stock Exchange
Phone: +81 (0)53-484-1201 / Fax: +81 (0)53-484-1216