Product News
08/27/2008
Roland DG Corporation
Roland Introduces World's First Integrated UV Inkjet Printer/Cutter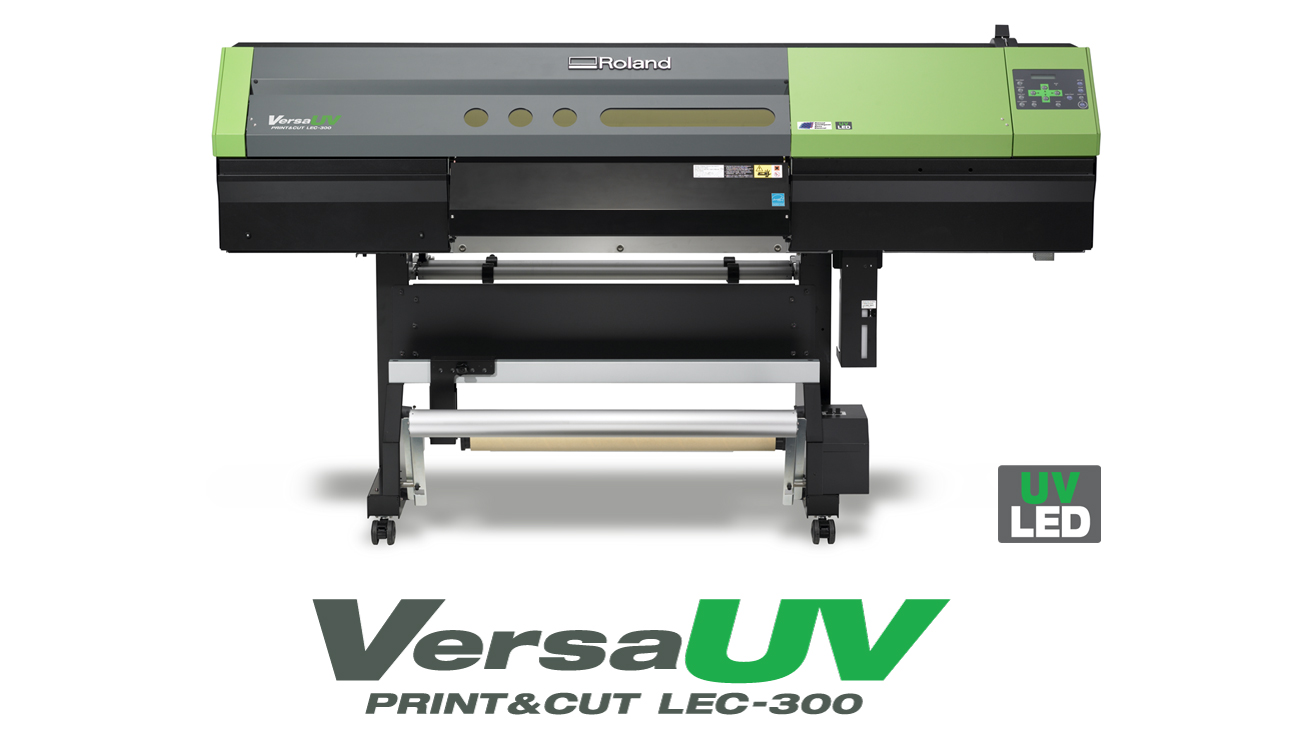 Hamamatsu, Japan, August 27, 2008 – Roland DG Corporation, the pioneer of integrated Print&Cut technology, today introduced the VersaUV LEC-300, the world's first UV inkjet printer/cutter and a highly versatile production tool that brings form, texture and dimension to printed graphics. The 30" wide LEC-300 prints CMYK+White and clear coat all in one device, a combination which can be used to create special effects and finishes for luxurious, customized graphics. Long lasting LED lamps and Roland's newest generation of UV inks make production with the LEC easy, clean and efficient.
"With VersaUV, professionals can produce unique, realistic textures and patterns such as faux leather and crocodile skin," said Yohei Shinomura, Roland DG Color product manager. "The VersaUV can also layer clear coat for glossy area highlights, 3D doming and even Braille – all in one seamless workflow. VersaUV allows professionals to take advantage of profitable new business opportunities by offering their customers quick turn-around times and on-demand printing for applications ranging from high-end small-lot production to packaging comps, press proofs and product prototypes."
New VersaUV LEC-300, 30" UV Inkjet Printer/Cutter Features:
‐ Prints CMYK + opaque White and clear coat in both gloss and matte finishes for unmatched versatility
‐ Roland's ECO-UV ink produces brilliant, durable color graphics that can be flexed and stretched around edges and curves without feathering or cracking
‐ Clear coat can be layered for special effects and textures such as faux crocodile skin and high gloss area highlights
‐ Prints and digitally die cuts finished graphics to virtually any shape, quickly and easily and on demand
‐ Prints on a variety of media including
‐ PVC self-adhesive vinyl for wraps
‐ Paper for labels, decals, POP displays and posters
‐ Synthetic and genuine leathers for custom accessories
‐ Interior décor fabrics and other substrates
‐ Foils, BOPP, PE, PET film, offset printing paper stock and more*
‐ Eliminates outsourcing for short production runs
‐ No plates or film to produce
‐ Includes powerful, easy-to-use VersaWorks RIP software for precision color management
‐ Easy setup and maintenance
‐ Long-lasting LED lamps
‐ Operate on demand, without pre-heating or cooling down between uses
‐ Last approximately 10,000 hours – up to five times longer than industry standard halogen lamps
‐ Energy efficient
‐ Energy Star certified
‐ Meets the standards for Roland's Eco-Label system for environmental compliance
*For best results, professionals should test print LEC-300 graphics on each substrate before production.
VersaWorks Professional Color Management RIP Software Included
VersaUV comes with VersaWorks, Roland's own color management software RIP supporting Roland Intelligent Pass Control technology for exceptional image quality and the Roland Color System for precision spot color matching. VersaWorks includes the ability to print swatch books and color charts, powerful reference tools that make communication with clients easier. With VersaWorks, users get the Roland@NET auto update service for easy, automated access to updated VersaWorks versions and profiles. VersaWorks supports Windows Vista® and 2000/XP.
Roland DG Corporation (TSE symbol 6789) - First Section, Tokyo Stock Exchange
Phone: +81 (0)53-484-1201 / Fax: +81 (0)53-484-1216