Product News
09/01/2009
Roland DG Corporation
New VersaUV LED UV Inkjet Printer/Cutter Achieves Double the Productivity on a Wider Range of Media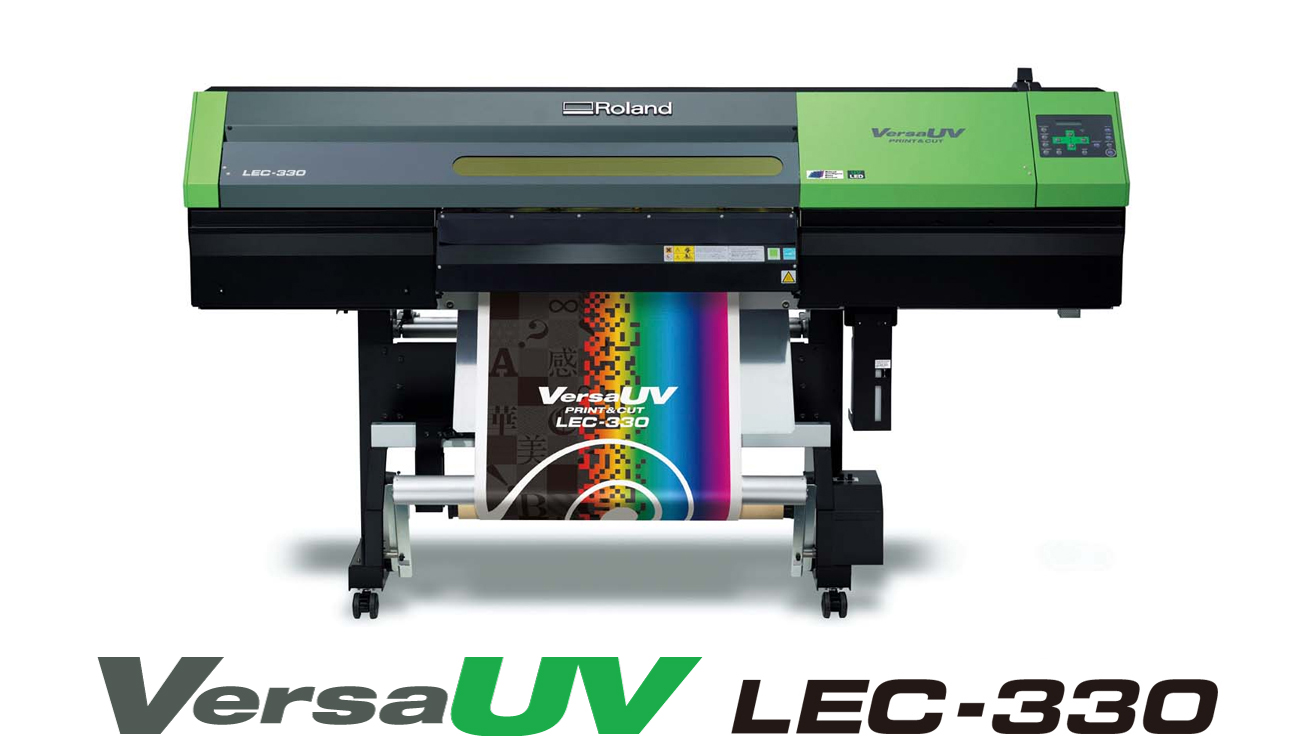 Hamamatsu, Japan, September 1, 2009 – Roland DG Corporation, the pioneer of integrated Print&Cut technology, today introduced the LEC-330, the company's newest VersaUV LEC UV ink curable 30"-wide inkjet printer/cutter. Based on award-winning VersaUV technology, the LEC-330 prints CMYK+White+Gloss all in one device for luxurious, customized graphics with unique special effects and finishes. The LEC-330 delivers greater overall performance and versatility than the previous model, with higher image quality, up to twice the productivity in standard print mode, and support for an even wider range of materials including rigid substrates. The LEC-330 is ideal for applications ranging from high-end package prototyping to control panel production and small lot production of labels and decals.
VersaUV Special Effects and Finishes

(From left to right: multi-layered printing, gloss finish, matte finish, and high-density white ink printing)
"The new LEC-330 offers greater media compatibility, production-level print speeds and three unique ink combinations," said T. Niyama Roland DG color product manager. "Designed for a host of short-run production, packaging prototyping and labeling applications, the LEC-330 is an exceptional tool that can save time, lower pre-press costs and generate new revenues for commercial printers."
The new LEC-330 includes a high-quality artistic print mode (1440 x 1440 dpi) for sharp, detailed graphics and text. Additional print heads and innovative Roland Intelligent Pass Control® technology further enhance image quality. Production level print speeds enable professionals to manage urgent requests for quick delivery of prototypes, labels and products. To meet their individual business requirements, users can also choose from three ink combinations: the standard ink configuration supporting the widest variety of applications (CMYK+White+Gloss), a high-opacity white ink configuration (CMYK+White+White) and a thick gloss-ink-effect configuration (CMYK+Gloss+Gloss).
VersaUV Applications: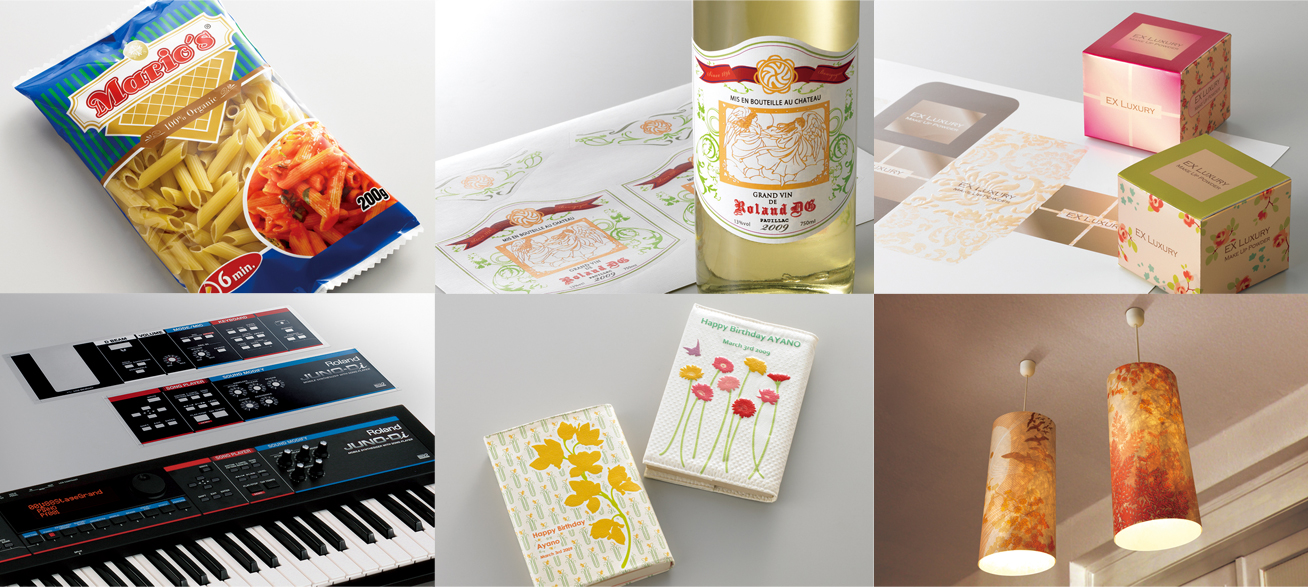 (From left to right: package prototypes, labels and decals, cosmetics package prototypes, operation panel prototypes for industrial products, custom-made goods and interior décor items)
New VersaUV LEC-330 Features:
- 30" LED-UV inkjet printer/cutter
- Supports a wide range of applications including package prototyping, control panel production and small lot production of labels, decals and custom graphics
- Beautifully prints a design in CMYK, White and Gloss inks for finished graphics with rich special effects created by multiple layers of gloss
- Prints on a wide variety of media including paper, film, leather, card stock, plastic, polycarbonate and other rigid substrates (except metals) up to 1 mm (0.04") thick *1
- High-quality artistic print mode (1440 x 1440 dpi) rivals offset and gravure print quality for applications that require sharp, detailed graphics and text
- Roland Intelligent Pass Control® technology achieves smooth gradations and flawless solid colors
- Can combine matte and gloss finishes in multiple layers for interesting patterns and textures – even Braille
- Produces brilliant, durable color graphics that can be flexed and stretched around edges and curves without feathering or cracking
- Higher productivity at an affordable cost
-No plates or films required to produce graphics
-Produces finished prototypes, labels and products quickly for next-day delivery to customers (For example, 100 wine bottle labels, as shown above, were produced in 46 minutes*2)
- Prints CMYK, opaque White and Gloss inks in both gloss and matte finishes for unmatched versatility
- Available in three ink configurations to meet individual business requirements*3:
-CMYK+White+Gloss – Standard ink configuration supporting the widest variety of applications
-CMYK+White+White – High-opacity white ink configuration enables printing on transparent films for soft package prototyping
-CMYK+Gloss+Gloss – Creates thick gloss ink effects such as embossing
- Prints and digitally die cuts graphics in virtually any shape automatically through one seamless workflow
- Includes powerful, easy-to-use Roland VersaWorks® RIP software for precision color management
- Easy setup and maintenance
- Long-lasting LED lamps
-Operate on demand, without pre-heating or cooling down between uses
-Last approximately 10,000 hours - up to five times longer than industry standard halogen lampsw
- Automatic White Ink Circulation System prevents the pigment from settling, minimizes ink waste and ensures continuous printing without interruptions
- Energy efficient – Roland Eco Label and Energy Star Program certified
*1 For best results, professionals should test print LEC-330 graphics on each substrate before production.
*2 Print description: Each label measures 104 x 99 mm (4" x 3.9") and was printed in CMYK in standard print mode using Roland VersaWorks RIP software.
*3 Ink configuration (either CMYK+White+Gloss, CMYK+White+White, or CMYK+Gloss+Gloss) must be selected at the time of purchase.
Roland VersaWorks® Professional Color Management RIP Software Included
VersaUV LEC inkjets include VersaWorks 3.2, the latest version of Roland's color management RIP software. VersaWorks supports Roland Intelligent Pass Control technology for exceptional image quality and features the Roland Color System for precision spot color matching. With VersaWorks, users can print swatch books and color charts, reference tools that make communication with clients easier. In addition, VersaWorks estimates the ink usage and print time for each graphic so users can accurately monitor production time and costs. The Roland@NET auto update service allows easy, automated access to updated VersaWorks versions and profiles. VersaWorks supports Windows Vista® and 2000/XP.
Roland DG Corporation (TSE symbol 6789) - First Section, Tokyo Stock Exchange
Phone: +81 (0)53-484-1201 / Fax: +81 (0)53-484-1216