Product News
08/26/2010
Roland DG Corporation
Roland Announces Larger, Faster UV-LED Inkjet Printer/Cutter
From Folding Carton Packaging Prototypes to Signs and Displays, 54" VersaUV LEC-540 Produces Custom Graphics in One Seamless Workflow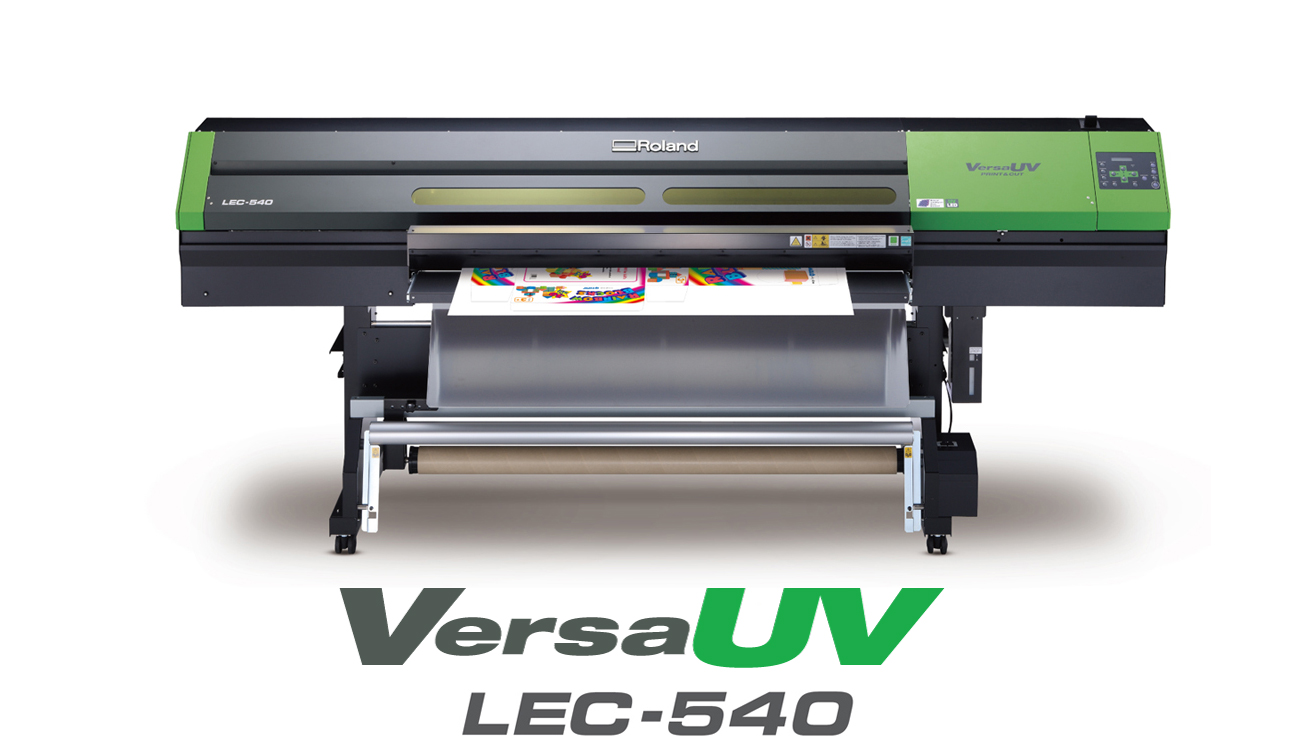 Hamamatsu, Japan, August 26, 2010 – Roland DG Corporation, a worldwide leader in wide-format UV-LED inkjet and Print&Cut technologies, today introduced the 54" (1372mm) VersaUV LEC-540 UV-LED inkjet printer/cutter.
Based on award-winning VersaUV technology, the LEC-540 prints CMYK+White+Gloss and contour cuts virtually any substrate up to 1 mm (0.04") thick*1, on demand, for luxurious, custom graphics with unique special effects and finishes.
The new LEC-540 is significantly faster than Roland's previous VersaUV models and offers greater versatility for applications ranging from packaging prototypes, short-run labels and membrane panels to interior décor items and large-format graphics. With the new LEC-540, professionals can print crease, contour and perf-cut graphics all on one device. VersaUV prints on an unprecedented range of materials including popular large-format media such as transparent film used for custom decorative window graphics and paper banner media for trade show displays. New built-in front and back tables secure less flexible substrates for folding cartons and other packaging prototypes.
"The LEC-540 is the perfect size for large-format graphics and supports direct printing onto less flexible materials including clay-coated newsback board (CCNB) used to produce folding cartons," said Ayano Saito, Roland DG product manager. "It also includes a new tool to crease packaging designs for easy box assembly and perforated cutting capabilities for easy removal of excess materials."
The LEC-540 features high-quality artistic print mode (1440 x 1440 dpi) for sharp, detailed graphics. In standard mode, the LEC-540 is twice as fast as the 30" LEC-330 due to new larger UV-LED lamps that expedite production. LEC-540 lamps automatically reposition themselves for high-speed performance and the highest image quality in all print modes.
VersaUV Applications:
contour cut and creased packaging prototype

translucent window display printed with CMYK+White inks and textured with layers of clear Gloss ink

fine art reproduction featuring custom textures and effects
Roland VersaUV LEC-540 Features:
‐ Powerful packaging production tool featuring printing and contour cutting all in one device
‐ Produces highly customized graphics such as packaging prototypes, control panels, short-run labels, Braille, textured fine art, large-format window graphics and trade show displays
‐ ECO-UV inks in CMYK, high-density White and clear Gloss for exceptional print quality
‐ Layers of Gloss ink create both gloss and matte finishes including 72 ready-to-apply patterns from the Roland Texture Library in VersaWorks®
‐ Creasing tool and perf-cutting capabilities included
‐ New larger LED lamps for twice the productivity in Standard CMYK print mode (720 x 1080)
‐ Prints on a wide variety of flexible and less flexible media including synthetic paper, polyester film, paper and vinyl banner media, PET, leather, card stock, plastic, polycarbonate, clay-coated newsback board (CCNB) and other less flexible substrates (except metals) up to 1 mm (0.04") thick*1
‐ High-quality artistic print mode (1440 x 1440 dpi) rivals offset and gravure print quality for applications that require sharp, detailed graphics and text
‐ Includes powerful, easy-to-use Roland VersaWorks® RIP software for precision color management
‐ Roland OnSupport for remote online production tracking
‐ Easy to setup and maintain with automated white ink circulation system that prevents pigments from settling, minimizes waste and ensures continuous uninterrupted printing
‐ Available in three ink configurations *2:
‐ CMYK+White+Gloss - Standard ink configuration supporting the widest variety of applications
‐ CMYK+White+White - High-opacity white ink configuration enables printing on transparent films for soft package prototyping
‐ CMYK+Gloss+Gloss - Creates thick gloss ink effects such as embossing
‐ Energy efficient - Roland Eco Label and Energy Star Program certified
*1 For best results, professionals should test print LEC-540 graphics on each substrate before production.
*2 Ink configuration (either CMYK+White+Gloss, CMYK+White+White, or CMYK+Gloss+Gloss) must be selected at the time of purchase.
Roland VersaWorks® Professional Color Management RIP Software Included
VersaUV LEC inkjets include the latest version of VersaWorks, Roland's color management RIP software. For precision spot color matching, VersaWorks features the Roland Color System which allows users to print reference tools including swatch books and color charts that make communication with clients easier. VersaWorks also includes the Roland Texture System Library featuring 72 ready-to-use textures that can be easily accessed from the Adobe® Illustrator® swatch library. Users can either select a pre-designed texture or create their own to add dimensional effects to designs. In addition, VersaWorks estimates the ink usage and print time for each graphic so users can accurately monitor production time and costs. The Roland@NET auto update service allows easy, automated access to updated VersaWorks versions and profiles. VersaWorks supports Windows® 7, Vista® and 2000/XP.
Online Production Assistance Included with "Roland OnSupport" Messaging System
The LEC-540 features the "Roland OnSupport" online customer support system allowing users to remotely track the status of LEC-540 activities. The system sends e-mail messages directly to a PC or mobile phone notifying users of important information such as when a job is completed or when ink is running low. With Roland OnSupport, users have complete freedom to leave the printer unattended, knowing that critical production information will be delivered to them remotely in real time.
The LEC-540 is the latest model in the VersaUV series which also includes the 30" LEC-330 and original 30" LEC-300. VersaUV was introduced in 2008 as the world's first UV-LED inkjet printer/cutter and has been recognized with prestigious DPI and EDP awards for outstanding innovation.
Roland DG Corporation (TSE symbol 6789) - First Section, Tokyo Stock Exchange
Phone: +81 (0)53-484-1201 / Fax: +81 (0)53-484-1216