Corporate News
11/12/2010
Roland DG Corporatio
Roland Metallic Silver ECO-SOL MAX Ink Wins Best of 2010 Award at Viscom
Hamamatsu, Japan, November 12, 2010 – Roland DG Corporation today announced that the company's Metallic Silver ECO-SOL MAX ink (ESL-3MT) has received the Best of 2010 Award at Viscom Frankfurt, held in Germany earlier this month.
The award follows several prestigious industry honors for Metallic Silver ECO-SOL MAX ink including past EDP and DPI awards. It also recognizes the innovative technology behind VersaCAMM VS and SOLJET PRO III XC-540MT wide-format inkjet printer/cutters and Roland VersaWorks RIP software which together optimize the ink's performance across a wide range of media and applications.
"All of us at Roland DG are honored to receive this award," said Kevin Shigenoya, executive officer/general manager of Roland DG. "Metallic Silver ECO-SOL MAX ink is revolutionizing Roland businesses everywhere, giving our customers new avenues for creative expression and a distinct market advantage. We will continue to support their efforts and lead the industry with innovative products that transform the imagination into reality."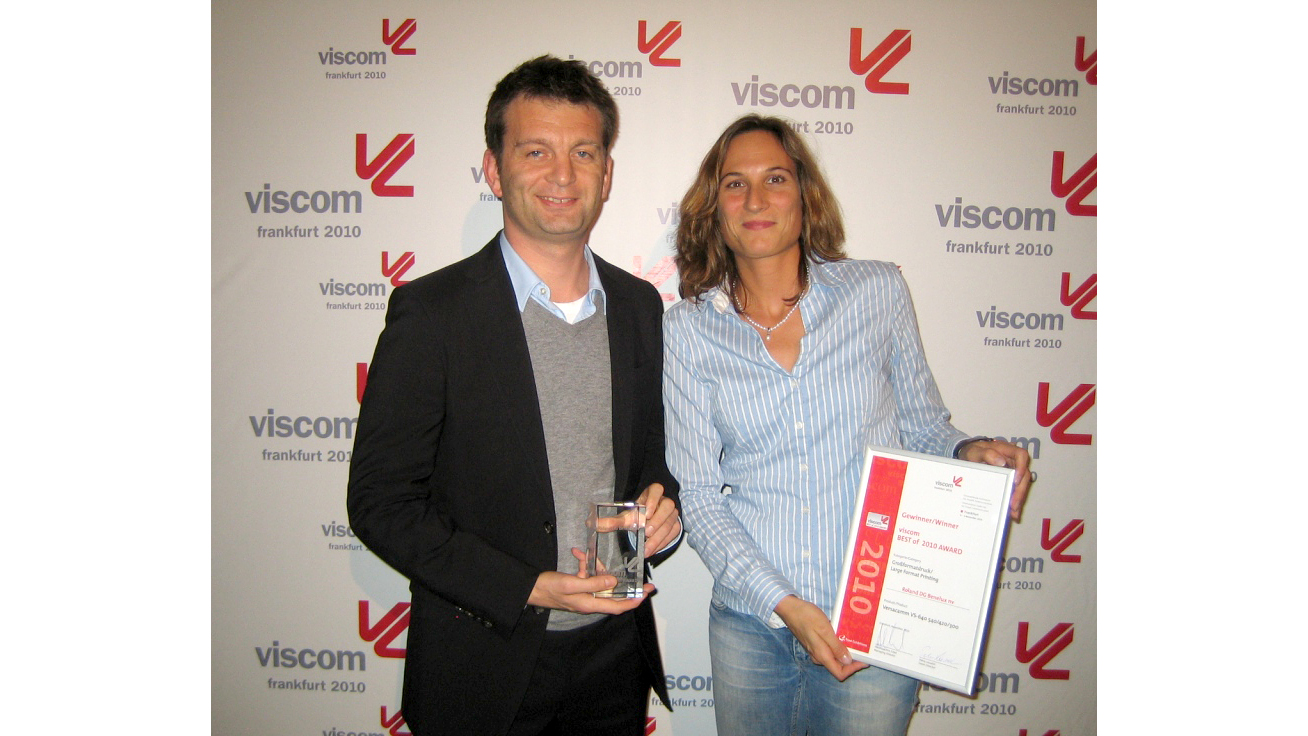 (From left to right: Mr. Eli Keersmaekers, CEO, and Ms. Kathrin Schwarz, Account Manager, of Roland DG Benelux at the award ceremony in Germany)
Roland Metallic Silver ECO-SOL MAX Ink (ESL-3MT)
Metallic Silver ECO-SOL MAX ink is the industry's first metallic silver eco-solvent ink and enables striking metallic effects previously only available through screen printing, offset printing and hot stamping. Metallic Silver ECO-SOL MAX ink offers the ability to print thousands of metallic and pearlescent colors to add dramatic impact and premium value to custom signs, banners, photographic reproductions, window graphics, posters, POP, labels, decals, decorated apparel, vehicle graphics and wraps of all kinds. To meet a variety of business demands, Roland's metallic inkjet line includes 64," 54," 42" and 30" VersaCAMM VS models and the 54" SOLJET XC-540MT. VersaWorks RIP software is included in all models and features the Roland Metallic Color Library of 512 metallic spot colors.
Viscom
Viscom is the Europe's International Trade Fair for Visual Communication that has been held for over 20 years, traveling to France, Italy, Spain and Germany. More than 11,000 people visited and 305 exhibitors attended the Viscom Frankfurt 2010 from all over the world. The award honors outstanding new products and digital signage applications reflecting planning efficiency, creative implementation and success in 2010 according to the Viscom panel of judges.
Roland DG Corporation (TSE symbol 6789) - First Section, Tokyo Stock Exchange
Phone: +81 (0)53-484-1201 / Fax: +81 (0)53-484-1216