Product News
04/26/2011
Roland DG Corporation
Roland's First Hybrid UV-LED Inkjet Printer
Roland Expands VersaUV Line with New 64-Inch Model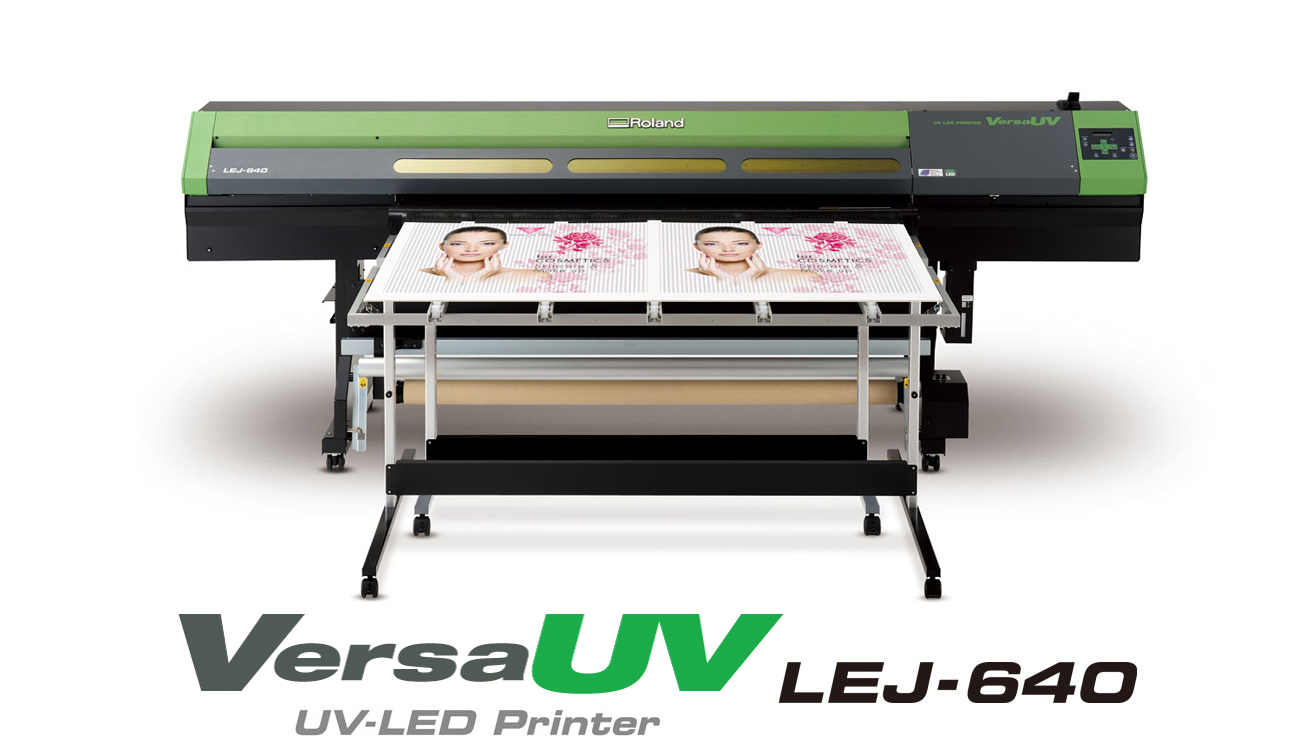 Hamamatsu, Japan, April 26, 2011 – Roland DG Corporation., a worldwide leader in wide-format UV-LED inkjet technologies, today introduced the new 64-inch (1625mm) LEJ-640 UV-LED inkjet printer. The newest addition to Roland's award-winning VersaUV line, the LEJ-640 prints CMYK, White and Clear Gloss inks on a wide variety of flexible roll media and rigid substrates up to 13mm (.51") thick. Versatile by design, the LEJ-640 enables professionals to explore exciting new options for applications ranging from wide-format signage, displays and window graphics to POP, packaging prototypes and interior décor items.
"The LEJ-640 prints directly onto lightweight board and cardboard up to 13mm (.51") thick, widely used for decorated trade show and store displays," said Tetsunori Niyama, Roland DG product manager. "As a hybrid printer, it also supports flexible roll media such as window film. Innovative UV-LED lamps cure UV inks instantly, allowing users to finish graphics immediately without the delays associated with drying time."
The LEJ-640 is equipped with a host of advanced features that together streamline the production workflow, including a media-securing mechanism that holds flat substrates in place. This mechanism ensures that the substrate's form and surface finish remain intact, and supports even the thickest packaging materials*1. At 64 inches wide, the LEJ-640 allows users to quickly and easily create a wide variety of packaging prototypes - from folding cartons for cosmetics, medicine, electronic devices and software to flexible packaging such as for food and candy, with realistic details and finishes including custom varnishing and embossing effects.
*1 Media support is dependent on its weight and surface. Test printing is recommended before final production
LEJ-640 Applications:
(From left to right: add a gloss finish to cosmetic POP displays to create a luxurious luster; choose from a wide variety of board stock for exhibits and décor; create realistic packaging prototypes using corrugated board and other rigid materials.)
Roland VersaUV LEJ-640 Features:
- 64-inch hybrid UV-LED inkjet printer
- Prints on a wide variety of rigid substrates and flexible roll media up to 13 mm (.51") thick and 1,625mm (64 inches) wide
- Produces highly customized graphics, including indoor signage, interior décor items, trade show displays, POP, large-format window graphics and small lot packaging prototypes
- Features ECO-UV inks in CMYK, high-density White and Clear Gloss for exceptional print quality
- Layers of Clear Gloss ink create both gloss and matte finishes including 72 ready-to-apply geometric patterns from the Roland Texture Library in VersaWorks®
- High density White ink prints crisp, bright text and graphics on a range of colored and transparent media
- High-quality artistic print mode (1440 x 1440 dpi) rivals screen, gravure and offset print quality for applications that require sharp, detailed graphics and text
- Powerful, easy-to-use Roland VersaWorks® RIP software offers precision color management
- Energy efficient UV-LED lamps are cool to the touch for a safe printing environment
- Easy setup and maintenance
- Automated white ink circulation system prevents pigment from settling, minimizes waste and ensures continuous uninterrupted printing
- Roland OnSupport allows remote online production tracking
- Available in three ink configurations*2
- CMYK+White+Gloss - Standard ink configuration supporting the widest variety of applications
- CMYK+White+White - High-opacity white ink configuration enables printing on transparent films for soft package prototyping
- CMYK+Gloss+Gloss - Generates thick gloss effects such as embossing
*2 Ink configuration (either CMYK+White+Gloss, CMYK+White+White, or CMYK+Gloss+Gloss) must be selected at the time of purchase.
Roland DG Corporation (TSE symbol 6789) - First Section, Tokyo Stock Exchange
Phone: +81 (0)53-484-1201 / Fax: +81 (0)53-484-1216