Corporate News
01/31/2013
Roland DG Corporation
Roland DG Corporation Opens Officially First Manufacturing Factory Outside of Japan
Factory in the Kingdom of Thailand will serve as the Worldwide Export Hub for the Group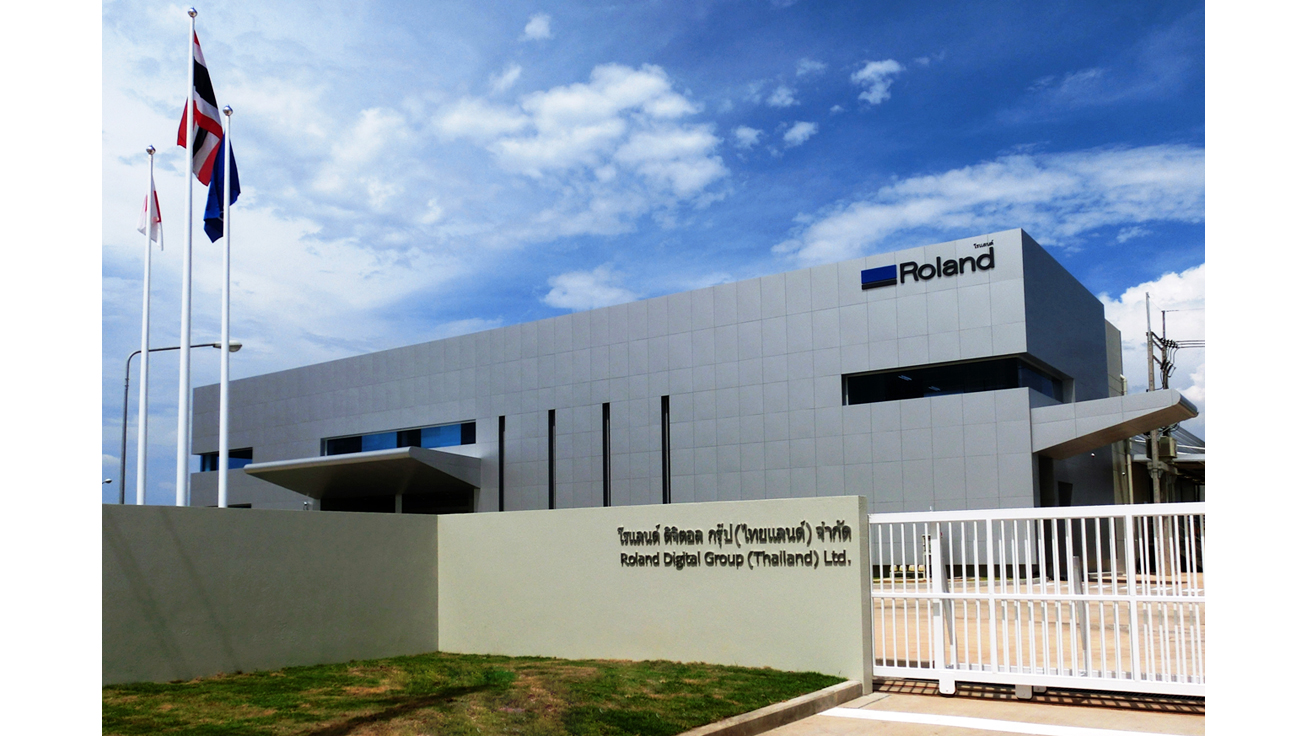 Hamamatsu, Japan, January 31, 2013 – Roland DG Corporation, the world's leading manufacturer of wide-format inkjet printers for sign and display markets, announced the official opening of its first manufacturing factory in the Kingdom of Thailand. The factory is also the first outside of Japan. Located in Sinsakhon Printing City & Industrial Estate Phase 2, Samutsakhon, this new factory is expected to become the region's major production center outside of Japan. It will serve as the worldwide export hub for the group.
Mr. Masahiro Tomioka, President of Roland DG Corporation, Japan, said: "As the economic expansion in developing countries including Asia is expected to grow further in the mid to long term, we decided to establish a production base in Thailand so as to plan and manufacture products which meet the demand of developing countries. It was Thailand's good infrastructure and logistics, plus the availability of skilled labor, which made Thailand a very attractive destination for us. But more importantly, it was the presence of strong supporting industry network established through the efforts of the Thai government to attract companies to the region, and the investment incentives from The Thai Board of Investment (BOI) that made Thailand the location of choice for our global expansion."
The purpose of establishing a factory in Thailand is also to increase the number of manufacture and procurement facilities available. While Thailand experienced disastrous flooding two years ago, the damage incurred from the earthquake and tsunami that same year in Japan disrupted the supply chain, and even affected the procurement of parts for our products. Establishing manufacturing and procurement functions not only in Japan, but also overseas has merit from the viewpoint of cost and increasing price competitiveness, as well as holds merit on the point of risk reduction.
While there has been a recent slight easing in the strength of the yen, its sudden rise in value after the Lehman Shock required action; with procurement of parts in other currencies besides the Japanese yen being another purpose of this factory, allowing us to avoid foreign exchange risks. Furthermore, having become a group organization, our company is currently pushing ahead with its "Global One" reorganization in order to respond quickly and flexibly to meet increasingly complex global market and management environment changes. With this restructuring, the factory in Thailand will become a central base for operations in the region, and will be highly effective for responding quickly to the needs of developing countries and realizing prices demanded by the market. In the near future, it is expected that the factory will not only handle manufacturing and procurement functions, but also assume planning and design functions.
Roland DG ('DG' stands for 'Digital Group') was founded as a subsidiary of the electronic musical instrument maker Roland Corporation in 1981. The early 1980's marked the era when the personal computers were born, and were being developed by companies such as Apple, IBM, and NEC. Realizing the importance of computers to modern society, Roland decided to take advantage of the digital technology it had developed through the production of electronic instruments and applied it to computer peripherals in order to cultivate a new market, thus forming Roland DG.
Roland DG firstly developed Computer Music, which allowed the user to compose and automatically perform music using a computer, and also the pen plotter, which was initially developed to output musical notation for songs created using the Computer Music by moving a pen horizontally (X axis) and vertically (Y axis) across the surface of a piece of paper. In the 1980's business grew rapidly as the market for pen plotters expanded to manufacturing design and development departments, and construction offices to draft design and schematics. During this time exploring other options began and replacing the pen by a cutter enabled Roland to begin development on cutting machines, and by adding height (Z axis), 3D milling machines and engraving machines. The 1990's marked the time when Roland changed its flagship product to cutting plotters and shifted its focus to the sign market. Realizing the importance of color signs, Roland developed and introduced its first wide-format color inkjet printer. Currently Roland continues to focus on its color business with its wide-format inkjet printers, which has secured more than 40% of the world market share, as well as the 3D business that includes 3D milling machines, 3D scanners, and engraving machines.
The construction of the Thai factory was started in January 2012 with an initial investment of Bht. 200 million and became fully operational in October 2012. With the recent floods which plagued the region in and around Bangkok in mind, this new factory was designed with the floor of the factory at 190 centimeters above ground level, and 300 piles 26m long were driven to support the building from soft ground.
Mr. Akira Suzaki, President of Roland Digital Group (Thailand) Ltd., commented: "This Thai factory initially began manufacturing the RE-640/RA-640, a wide-format inkjet printer. Employing excellent staff and using the 'Digital YATAI,' a cell production system originally developed by Roland DG, that features guided on-screen instructions and other automated systems, enables the Thai factory to realize advanced manufacturing level to the same quality achieved in Japan. While minimizing risk caused by human error, the Digital YATAI system makes it possible for anyone to assemble the product, and has contributed to the smooth launch of the factory, and production of over 400 units by the end of December 2012 since the factory started mass production on 1 October 2012. The first export of RE-640/RA-640 from the factory was made on October 27, 2012 to China, India, South Africa and Europe. The production of other printer models, such as the metallic printer VS series, is expected to be transferred from Japan to Thailand in the middle of this year. The company is planning to produce 3,700 units in 2013, and reach maximum capacity of more than 5,000 units in 2014."
"By setting up a manufacturing factory in Thailand, Roland is now able to produce affordable products that meet the increasing demand for inkjet printers in the growing market including Asia. Today, almost all components to support production here are imported from Japan. The company is aiming to increase the local supply rate to 30% of the necessary components by the end of 2013, and more in the near future. Some of our Japanese suppliers are also planning to establish manufacturing facilities in Thailand. This will further increase our local production capability', added Mr. Suzaki.
Roland DG markets its innovative products and services in 133 countries through a network of partnering companies. This includes 9 subsidiaries and master distributors, including SVOA Public Company Limited, with which Roland has had a relationship for more than 25 years. As one of Thailand's leading computer IT system developers, SVOA represents Roland not only in Thailand, but also in Cambodia, Vietnam and Laos.
In recent years, Roland DG has witnessed the rapid advancement of computer graphics technology. Roland DG's technology therefore helps artists, designers and other professionals use digital imagery to produce everything from prototypes to works of art. This dovetails well with its global brand message "Imagine." It is a simple word; yet it is innovation's most powerful force.
Mr. Tomioka elaborated: "We believe 'Imagine.' can open up a world of possibilities. Today, Roland DG is committed to embrace the power of 'Imagine.' by making it possible for our customers everywhere to 'Transform their Imagination into Reality'.
Roland DG Corporation (TSE symbol 6789) - First Section, Tokyo Stock Exchange
Phone: +81 (0)53-484-1400
E-Mail:rdg-koho@rolanddg.co.jp