Corporate News
11/07/2013
Roland DG Corporation
Roland DG Corporation Hosts its First Contest for Worldwide Service Engineers
Hamamatsu, Japan, November 7, 2013 – Roland DG Corporation (TOKYO: 6789), the world's leading manufacturer of wide-format inkjet printers and 3D devices, announced the successful run of its first-ever SE Awards of the World contest. Held at its Hamamatsu headquarters from October 28-30, 2013, the test of knowledge and technical skills drew twenty highly-skilled service engineers selected by Roland DG subsidiaries worldwide.
The goal of the first SE Awards of the World is to raise the high-quality and uniform maintenance services provided by Roland Care to the highest global levels. Takaaki Koshita, General Manager of Technical Services, Global Sales Operations, explained the planning behind the event: "We wanted to create a world-class contest that would showcase the technical expertise service engineers had cultivated through daily practice, while giving them the motivation to further improve their skills and raise Roland DG's overall service quality. With service quality excelling along with product quality, we see a strengthening of our brand image that projects trust and stability."
With sales offices located around the world, Roland DG provides a comprehensive customer support system consisting of our "Creative Center," "Academy" and "Care" to contribute to the development of our customers' businesses. Creative Centers offer a rich, creative showcase of application samples to inspire the imagination, and invite customers to experience the full potential of our products. By creating an environment where customers can easily share ideas and consult with us about their businesses, we continue to offer them new business ideas as well as solutions that can transform those ideas into reality. Academy offers seminars and workshops to our customers worldwide, designed to help them utilize our equipment and software to the maximum potential and acquire the skills they need for their businesses. Care provides a broad range of customer services and support including maintenance and troubleshooting to ensure that there are no obstacles preventing the work from getting done.
The contest included trials such as exchanging inkjet heads in company printers and repairing broken machines. There was also a written exam that tested hardware and software knowledge. All participants were required to be as precise and efficient as possible. The event saw service engineers carefully considering each challenge and drawing upon the knowledge and skills honed daily in the workplace as they competed to become the very first world champion.
In the end, it was Mr. Yannig Van de Wouwer, a service engineer in Belgium with 9 years' experience, who claimed the title of champion. "I went through all the necessary preparations for participating in the contest, but I never would have thought I could become the champion," said Yannig upon receiving his award. "I don't even know what to say. All I know is that I hate doing anything half-heartedly, so I always aim to do my absolute best. I like to think this award is proof of the value of that kind of attitude." Asked what his next goal would be, Yannig responded, "During the contest, there were some questions that were outside my realm of knowledge. Looking back, I know I could have done better. First thing I want to do is strengthen those areas where my knowledge was lacking."
Roland DG President Tomioka was on hand to deliver the opening comments for the award ceremony. "I would like to express my appreciation and respect for all the service engineers from around the world who have come to participate," said Tomioka. "Your participation in this contest proves that your knowledge and skills are truly world class. The work of service engineers is not usually highlighted, but it is the service engineers who perform the important work of gaining user trust and creating long-lasting fans of our company. I look forward to seeing you maximize your technical prowess and customer satisfaction skills. I know you will continue to grow to be leaders among our service engineers."
While our overseas sales account for over 80% of company sales, the diverse markets and business environments in which we operate are growing more complex. To better respond to these and future changes and strengthen global sales and services, R&D, and production systems, Roland DG is working on a structural reform plan called "GlobalOne." The plan aims to unify our global business units and unleash our collaborative potential to establish new businesses and further cultivate markets in emerging countries. As we promote our GlobalOne initiative under highly competitive market circumstances, we consider it one of the most important activities to deliver high-value, standardized services to our customers around the world in order to keep them and turn them into lifelong Roland DG fans. With the SE Awards of the World, we seek to continue providing a place to exchange knowhow and best practices that will foster a culture of constantly improving high-quality service across the entire group.
SEs selected from around the world tackling an array of tests of their skills.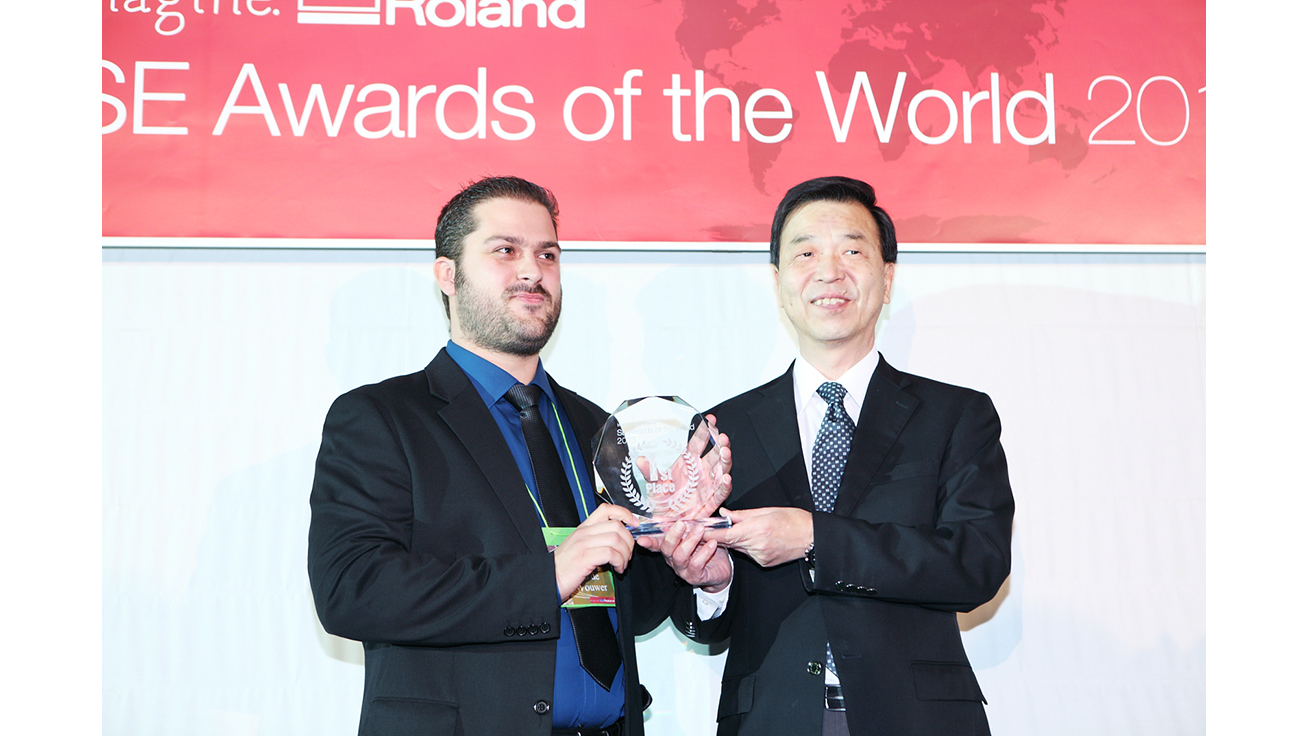 Mr. Yannig Van de Wouwer (left) receives the award from Masahiro Tomioka, President of Roland DG.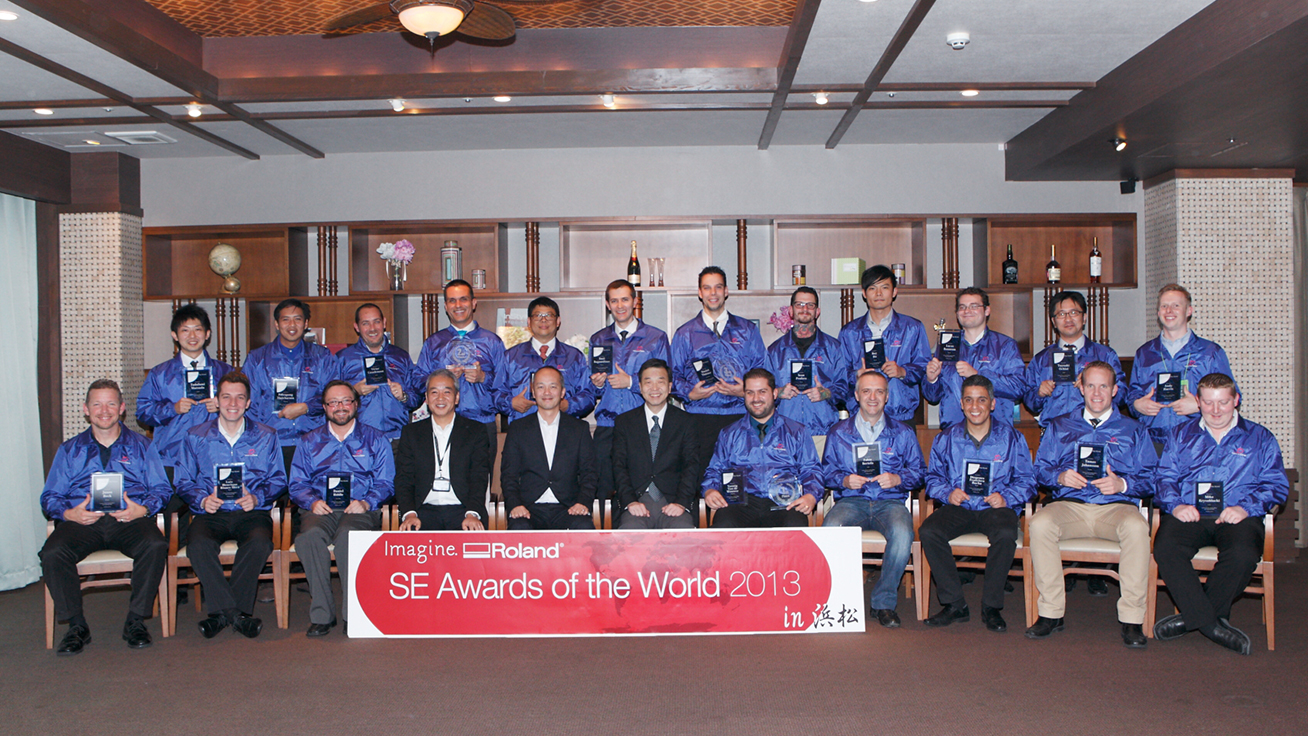 Contacts:

Roland DG Corporation
Corporate Communications Section
+81-53-484-1400
E-Mail:rdg-koho@rolanddg.co.jp