Corporate News
05/02/2014
Roland DG Corporation
Roland DG Announces Asia-Pacific Leadership Changes
Marc Margetts, John Wall and Michael Man Assume New Responsibilities in Fast-Growing Region
Hamamatsu, Japan, May 2, 2014 – Roland DG Corporation today announced three leadership changes to strengthen its global management team and take advantage of the growing opportunities in the Asia-Pacific Region.
Effective immediately, Marc Margetts has been appointed president of the Asia-Pacific region, John Wall has been promoted to president of Roland DG Australia Pty. Ltd., and Michael Man has been named president of Roland DG (China) Corporation. Margetts will also continue to serve as CEO of Roland DG Australia.
Marc Margetts, John Wall, Michael Man (from left to right)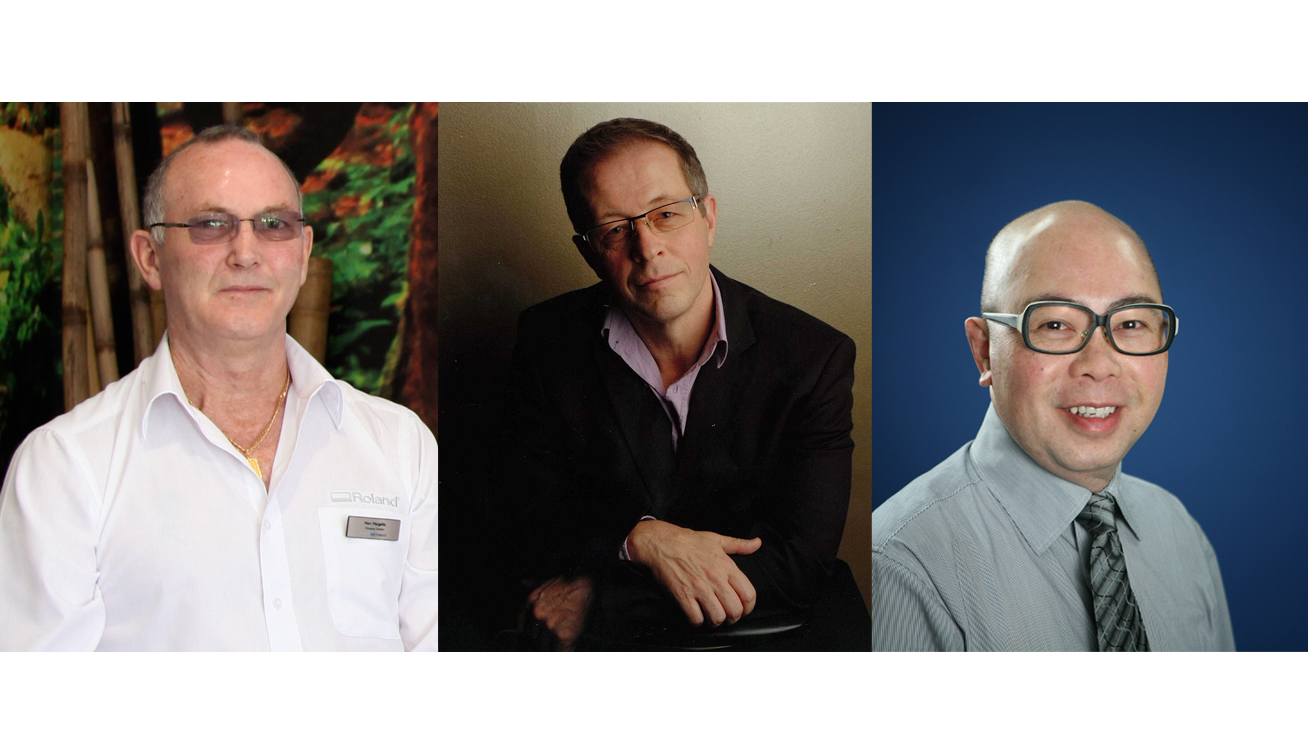 The announcement comes as Roland DG continues to execute its GlobalOne plan designed to strengthen the corporation's leadership positions in the markets it serves around the world. Headquartered in Hamamatsu, Japan, the company provides an extensive product line of advanced digital technologies for creative professionals, including wide-format inkjet printers, vinyl cutters, engravers, 3D rapid prototyping equipment, dental mills and impact printers.
Dave Goward, executive officer of Roland DG, said, "Asia-Pacific represents one of the fastest growing regions for expanding our business. With their strong knowledge of Asian markets, I am confident in the abilities of Marc, John and Michael to guide our efforts there."
Margetts joined Roland DG Australia in 1991 and was appointed CEO in 2008. In 2013, he added management responsibility for distribution in the South East Asian sector. Wall joined Roland DG Australia in 2004. After serving as marketing manager and sales director, he was appointed general manager in 2013. Man joined Roland DG as president of East-Asia sales in April 2013. His background includes experience as senior consultant cum general manager of I-Technology Recruitment Co. Ltd. and sales director, Asia, for Kodak/Encad.
Contacts:

Roland DG Corporation
Marketing Communications Section
+81 (0)53-484-1201
E-Mail:rdg-globalpr@rolanddg.co.jp