Corporate News
08/22/2014
Roland DG Corporation
Roland DG Sponsors FAB10, the 10th International Fab Lab Conference
Hamamatsu, Japan, August 22, 2014 – Roland DG Corporation, the world's leading manufacturer of wide-format inkjet printers and 3D devices, recently sponsored FAB10, the 10th International Fab Lab Conference held over the week of July 2 to July 8 in Barcelona, Spain.
A fab lab (fabrication laboratory) is an open workshop offering digital fabrication with the aim to make "almost anything." Currently, there are over 250 fab lab locations in over 50 countries that support personal fabrication, giving individuals the unprecedented ability to design and then produce their own customized products. Each local fab lab is connected to a global network in order to share information, brainstorm ideas, and collaborate on solving problems and accomplishing projects. The conference takes place once a year in a different city around the world, and serves as a global forum for fab lab managers, core members and practitioners.
The theme of this year's conference was "From Fab Labs to Fab Cities." The ambitious objective focused on improving productivity for entire cities, solving issues inherent to city life, and overall raising the quality of life in emerging countries.
"We were able to confirm how an infrastructure of fabrication with fab labs at the center can get colleges, government institutions, businesses and entrepreneurs to involve citizens and students in a collaborative system that changes everyone's life for the better," said Toshiyuki Okino, assistant manager of marketing communications for Roland DG.
During the conference, Roland DG showcased its desktop fabrication tools including the latest additive and subtractive rapid prototyping and manufacturing machines. "We were able to demonstrate our products to fab lab managers and those seeking to use digital fabrication tools to the fullest," Okino said. "In addition, we were able to show the appeal of our products at our workshop, where participants enjoyed making portraits using our cutting machines, which were equipped to use pens instead of blades, and to produce custom chocolates with our milling machines."
Thanks to the sponsorship opportunity, our company was able to deepen its relationship with managers and practitioners from around the world," Okino continued. "The need was apparent for 3D desktop tools that can be used to benefit fabrication activities everywhere."
The following are some of the main activities which took place at FAB10
Press Event
Before the opening of the conference, main sponsors joined the hosts for a press event where Barcelona mayor Xavier Trais gave the opening remarks, detailing his expectations for FAB10. "Barcelona was one of the main cities which ushered in the Industrial Revolution in the 19th century. Now, in the 21st century, we believe the Internet combined with digital tools can bring a new revolution beyond anything we have seen. Through the cooperation of government, business and the people, we can realize a better living environment for our citizens, and I want to see Barcelona stand as a model of the future of urban growth."
Tomas Diez, director of Fab Lab Barcelona and host of FAB10, also shared his thoughts: "We strongly believe that digital fabrication is going to change how cities are organized and how people interact within the cities. Fab labs are bringing digital fabrication to everyone. And it is going to help to change the reality into cities make them more self-sufficient and productive again."
Prof. Dr. Neil Gershenfeld, the Director of the Center for Bits and Atoms (CBA) at Massachusetts Institute of Technology (MIT) praised Barcelona and its fab labs, saying, "The city has turned into an amazing laboratory thanks to the leadership of Barcelona mayor Xavier Trais and Tomas Diez and colleagues. Barcelona is being equipped with facilities for digital fabrication. You expect the city to provide electricity and clean water. This is a new notion of infrastructure which has tools for invention. The idea is anybody in Barcelona should be able to make anything. You can use it for education, for play, for business, for all those purposes. Barcelona is a world leader of new revolution. It leads up to an amazing vision of the city which is globally connected for knowledge, but self-sufficient locally. In the coming years, I think Barcelona will become the world's first globally connected and locally self-efficient city."
Executive officer and president of Roland DG EMEA, S.L., Eli Keersmaekers, gave remarks on behalf of Roland DG: "At Roland DG, the products we develop are based on the ideal that anyone can easily turn their dreams and ideas into reality. For us who wish to spread the possibilities of desktop fabrication to all, we take great pride when our products are used by people overflowing with originality in fab labs to pioneer the future. In order to continue seeking new possibilities, we will continue working with everyone involved to develop new products and solutions."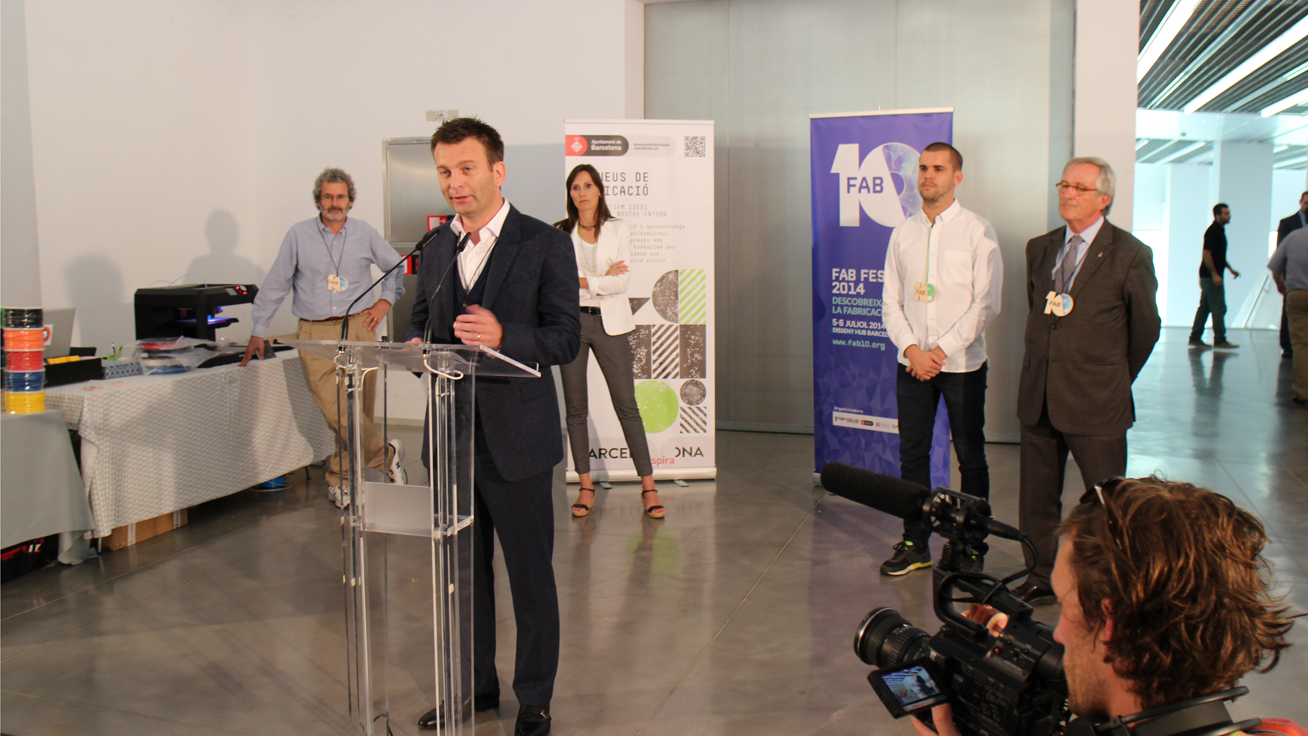 Fab Lab House
Along the path leading up to the FAB10 event hall, Fab Lab House, a digitally fabricated house, was constructed and completed during the event. In 2010, Fab Lab Barcelona introduced the Solar Fab House, which harnessed the environment to produce twice the energy as needed to function. In 2013, they began development on the Smart Citizen Kit, which is a sensor that allows individuals to measure temperature, humidity, ambient noise, light quantity and air quality and upload the information to an online server, pioneering a city-wide management system for Barcelona run by its citizens.
The Fab Lab House acts as a landmark pavilion that celebrates the global spread of fab labs while acting as a symbol of their functions and characteristics. It was comprised of 20 modules, all created at Fab Lab Barcelona. The design and construction of the Fab Lab House was headed by Daniel Ibanez, and the pavilion roof showcased a world map with marks indicating the cities equipped with fab labs. According to Ibanez, construction was done based on local consumption for local production. "All construction materials are found naturally within Barcelona. "The most important goal of this Fab Lab House is to show the potential of Fab Lab Barcelona as a digital tool. In the future, we hope to take this concept of self-sufficiency, where individuals can design and create on their own, and apply it to making cities."
The Global Fab Awards
The Global Fab Awards was held for the first time at FAB10, organized by the Fab Foundation, which supports the global network, in association with the World Bank and American International Development Agency. The goal of the awards is to recognize efforts to use technology to raise the quality of life in emerging countries as well as support realistic methods for global development through the cooperation of government, businesses and investors.
The first creation to receive the honor of top prize was a 3D printer developed by WOELAB of the Republic of Togo. The printer was made entirely of discarded PCs and electronics. For example, the body was made from a PC case, and the motor to move the heads was recycled from a home printer.
The founder of WOELAB, Sénamé Koffi Agbodjinou, who is an architect and anthropologist, granted an interview to explain the larger purpose of their creation. "This machine works not only to output parts we need for fabrication, but to solve the issues of local people by outputting the replacement parts for broken devices. We import personal computers as well as plastics and other materials from Europe and America, but if we can effectively reuse these, we believe we can create and expand a culture that, as much as possible, gets everything it needs locally. In the near future, we want to have multiple fab labs installed in the Togo capital of Lome and be on the road to fully realizing a smart city." For their achievement, WOELAB received 3,000 euros and Roland DG's latest 3D subtractive manufacturing device.
3D printer made from e-waste

Sénamé Koffi Agbodjinou gives an interview at FAB10

WOELAB members presented with Roland 3D milling machine
Fab Kids
Also held at FAB10 was a digital workshop titled Fab Kids, where elementary and junior high students from around Barcelona could learn how to give physical form to their ideas. Children experienced the possibilities of digital fabrication firsthand as they used 3D CAD and 3D printers to create objects like earphone holders and laser cutters to fashion animals and shapes from cardboard, all with the support of Fab Lab Barcelona personnel. One workshop focused on creating X's and O's for the popular children's game Tic-Tac-Toe using Roland DG's 3D subtractive manufacturing machines.
In his book, Fab, The Coming Revolution on Your Desktop - From Personal Computers to Personal Fabrication, Neil Gershenfeld writes, "I believe that the best place to read about the future of personal fabrication is in the faces of a new generation getting access to prototype versions of these capabilities in fab labs." Fabrication is the process of expressing one's imagination; it unleashes knowledge and emotion and turns it into real power, and you can see this on the faces of the children. Children are not bound by our conventions and dream up fresh and original things, which through the power of desktop fabrication, they can realize to change our lives, cities and societies for the better.
Children learning 3D CAD design

Building patterns from cardboard

Tic-Tac-Toe parts creation workshop
Contacts:

Roland DG Corporation
Marketing Communications Section
+81 (0)53-484-1201
E-Mail:rdg-globalpr@rolanddg.co.jp