Product News
01/13/2015
Roland DG Corporation
Roland DG Introduces Advanced CAMM-1 GS-24 Desktop Cutter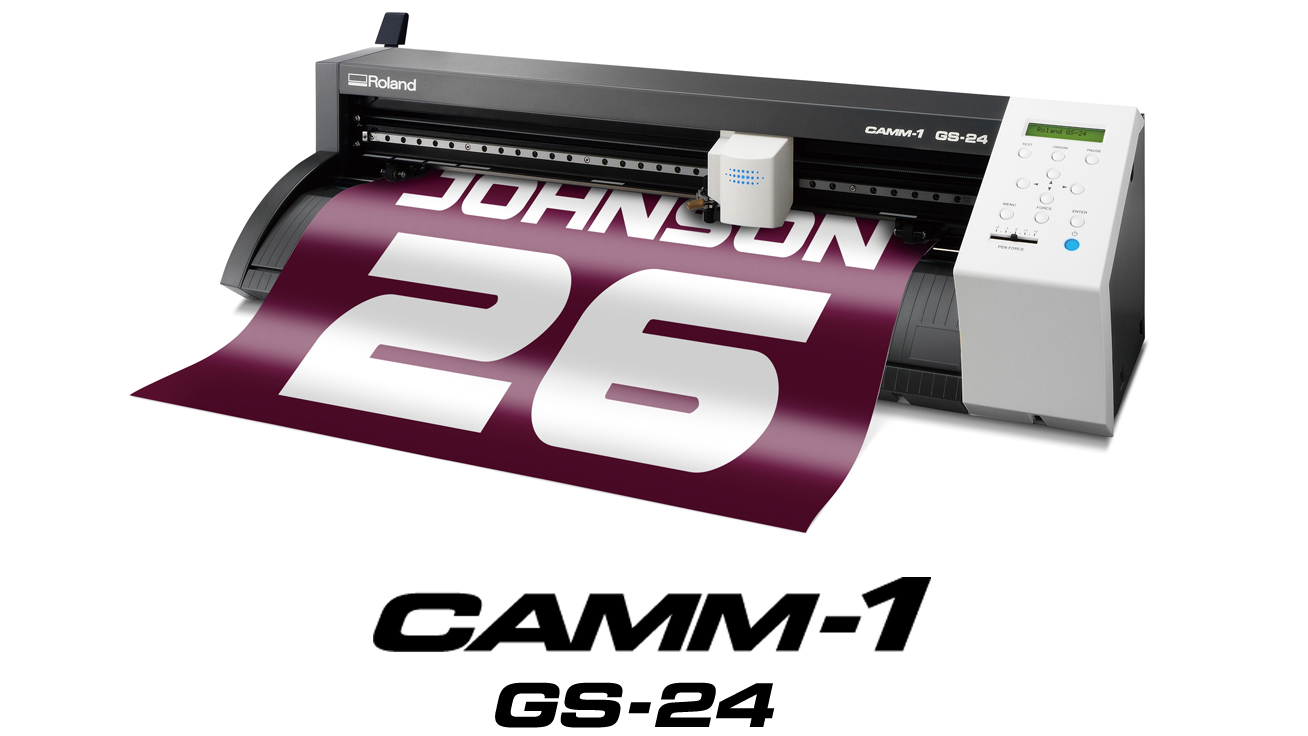 Hamamatsu, Japan, January 13, 2015 – Roland DG Corporation, a leading worldwide manufacturer of large-format inkjet printers, printer/cutters, vinyl cutters, and other advanced digital devices, has introduced its most advanced desktop cutter ever, the new CAMM-1 GS-24, offering increased cutting power and precision, a host of high-performance features, and unsurpassed reliability.
The GS-24's robust build quality, redesigned cutting carriage and blade holder, 10x overlap cutting capability, and 350g of downforce (a 40 percent increase from its predecessor) allow users to cut a variety of materials from 50 to 700 mm wide – including thick, dense substrates – with ease and accuracy. Equipped with a powerful, durable digital servomotor, the GS-24 is built for optimum efficiency, versatility and productivity. It's capable of cutting vinyl, paint mask, twill, heat transfers – even magnetic materials and card stock – at speeds of up 500 mm per second. With its combined power, speed and accuracy, the GS-24 is an unbeatable tool for creating high quality vehicle graphics, signs and decals, decorated apparel, specialty graphics and more. Perforated cutting capability also makes producing labels and decals for individual sale a simple task.
While the GS-24 incorporates state-of-the-art technologies, it is incredibly user-friendly. A newly-designed LCD panel allows for convenient monitoring and control, while a precise blade groove on the cutter's apron ensures easy manual cutting. There's also an included roller base that keeps feeds straight for a precise cut each and every time. The bundled Roland CutStudio software lets you enlarge, reduce, reposition, rotate and mirror images quickly and easily. An improved tiling function makes cutting oversized images a breeze, and you can even cut TrueType fonts without the need for outlining. CutStudio supports BMP, JPG, STX, AI and EPS file formats, as well as the ability to cut directly from Adobe Illustrator or CorelDRAW.
"Since Roland released the first CAMM-1 cutter in 1988, more than 420,000 cutters have been sold around the world", said Satoko Yoshida, Roland DG's global marketing general manager. "Continuous research, innovation and an in-depth understanding of the needs and wants of the market, have led to the development of our new GS-24 – the most productive, easiest to use desktop cutter in CAMM-1 history. Users, even those who are not familiar with digital cutting, will find it simple to achieve outstanding results with the GS-24 over a wide range of applications."
To learn more about the new Roland CAMM-1 GS-24 desktop cutter
[Related News Release] Roland DG Announces Sale of the Company's 420,000th Vinyl Cutter
Roland DG Corporation (TSE symbol 6789) - First Section, Tokyo Stock Exchange
Phone: +81 (0)53-484-1201 / Fax: +81 (0)53-484-1216