Corporate News
02/19/2015
Roland DG Corporation
Richard Childress Racing Renews Partnership with Roland DGA
Irvine, California, February 19, 2015 – Richard Childress Racing (RCR), one of NASCAR's premier race teams, has renewed its partnership with Roland DGA for another five years. Roland DGA is the U.S.-based marketing, distribution and sales arm of Roland DG Corporation in Hamamatsu, Japan. RCR and Roland DGA have enjoyed a mutually beneficial business relationship since 2010, and with this contract renewal, the successful collaboration will continue through 2019.
RCR relies exclusively on technologically advanced Roland wide-format printers and printer/cutters to produce wraps and graphics for the organization's race cars, which are sponsored by major companies such as Caterpillar, Dow, Cheerios (General Mills), Menards, Bass Pro Shops and Quicken Loans. For the 75 NASCAR races in which RCR will compete during 2015, the team expects to produce and install approximately 325 full vehicle wraps, using more than 99,000 square feet of media in the process. In addition to wrapping the team's race cars, RCR creates wraps and graphics for transport vehicles, trailers and pit support equipment.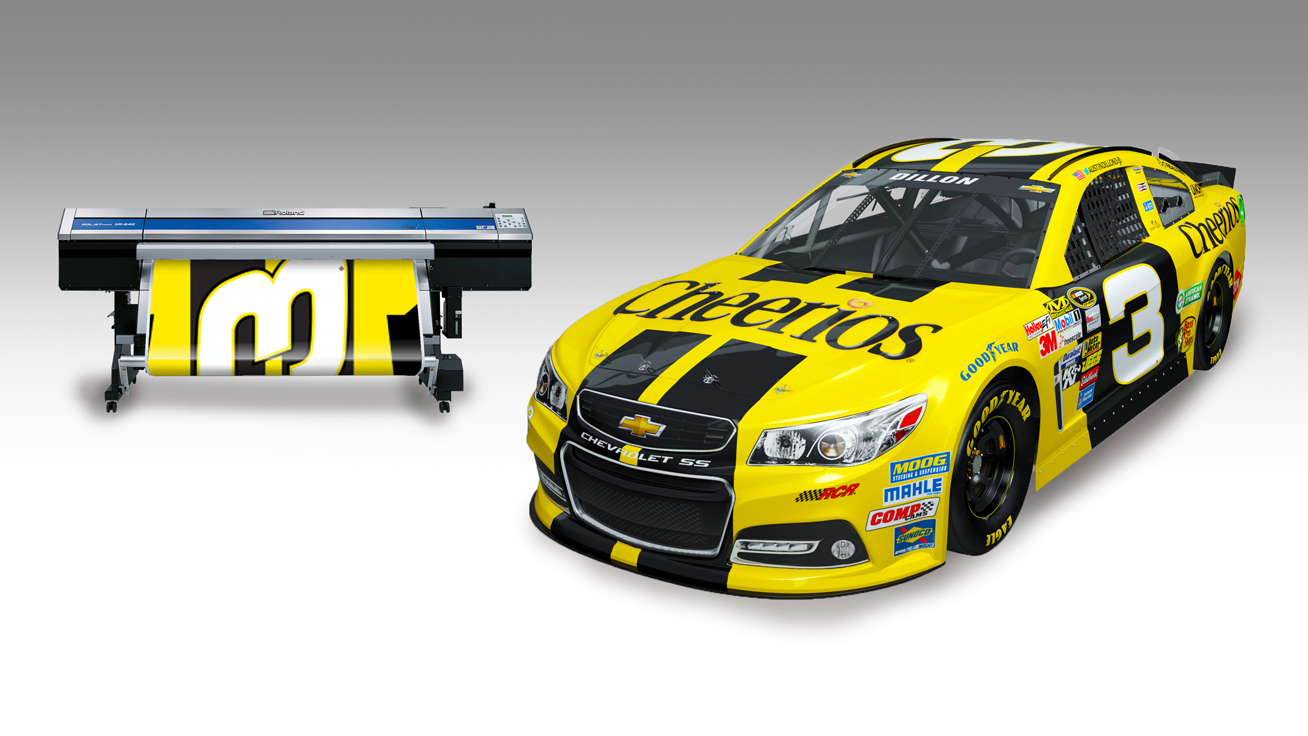 In addition to the racing organization, Richard Childress owns and operates a commercial winery, Childress Vineyards, and Roland printers are also used to print custom labels for that operation. The design and printing for the vehicle wraps and winery labels all takes place at a dedicated graphics facility on RCR's expansive campus in Welcome, North Carolina.
RCR and Roland DGA also partner on a variety of co-promotional projects, contests and events to maximize awareness and interest in their respective offerings. Childress, one of the legendary owners in NASCAR, delivered the keynote speech at Roland DGA's recent inkjet user conference, imagiNATION™ 2014, in Las Vegas.
"We greatly value the strong marketing partnership we've developed with Roland DGA, and we look forward to building upon that relationship through the coming years," Childress said. "With our partners investing significant amounts to generate exposure for their brands through the graphics on our high-profile race cars, it's imperative that our prints come out just right. We can count on our Roland inkjets to reliably produce vibrant, eye-catching wraps that promote our partners' brands and attract the attention of NASCAR's massive audience."
Roland DGA's president, Rick Scrimger, is also excited about the partnership renewal. "With more than 200 wins and 15 championships under its belt, RCR is synonymous with the history and success of NASCAR," Scrimger noted. "An important part of that overall success depends upon keeping their partners happy, and we're honored to supply the equipment that plays such a crucial role in helping RCR maintain those important relationships."
To learn more about Richard Childress Racing, visit rcrracing.com.
To learn more about Roland DGA, visit rolanddga.com.
For more information, contact:

Toshiyuki Okino
+81 (0)53-484-1201
E-Mail:rdg-globalpr@rolanddg.co.jp