Corporate News
04/23/2015
Roland DG Corporation
Roland DG Honored at APPP Expo
Shanghai, April 23, 2015 – Roland DG Corporation, a leading manufacturer of wide-format inkjet printers and 3D digital fabrication devices, announced that the company was awarded the 2015 CSA China Sign & Ad Equipment Value Ranking: International Benchmark of Digital Printing Industry at the 23rd Shanghai International Ad & Sign Technology & Equipment Exhibition (APPP Expo) held at the National Convention and Exhibition Center in Shanghai from March 11 to 14, 2015.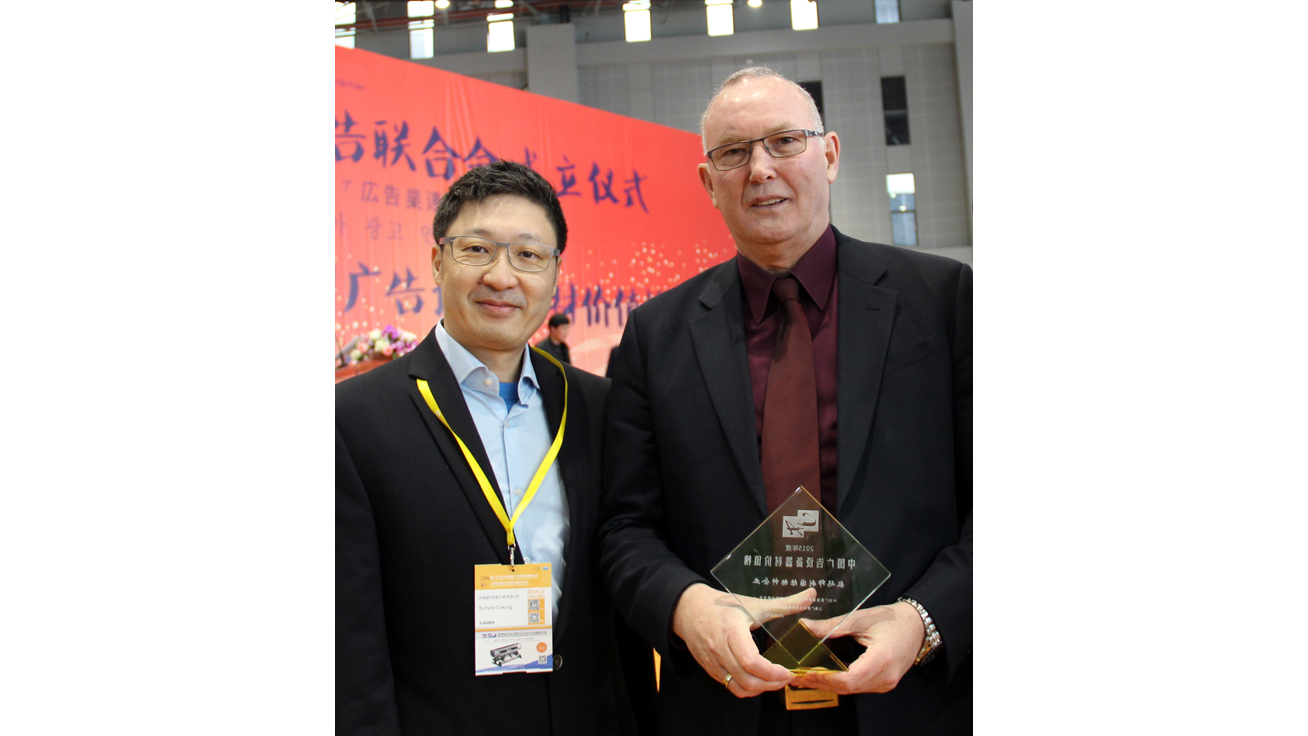 Richard Cheung (left) and Marc Margetts (right)
Marc Margetts, president of Asia-Pacific Sales for Roland DG, and Richard Cheung, chief product manager of Synnex Technology International (HK) Ltd., Roland DG's master distributor in China, participated in the award ceremony which kicked off the APPP Expo. "It is a great honor to accept this honorary award in recognition of Roland DG products in China's high-end printer market," Margetts said. "As a global leader in digital printing, we are always attentive to customer needs in China and elsewhere in order to help them keep pace with market demand and the changing times."
The award was presented by the China Sign Association of Equipment Suppliers and the Annual Awards Committee of China's Ad & Sign Equipment Industry, and is designed to promote corporate brands, cultivate emerging market sectors, and achieve healthy development of the advertising equipment industry.
At 2015 APPP Expo, Roland DG employed an exhibit booth of 150 square meters that displayed its latest technologies, including wide-format inkjet printers, printer/cutters, engravers, and the 3D printers. The numerous innovative applications displayed caught the attention of both media representatives and expo attendees.
"Since our beginning," Margetts added, "our mission has been to develop Roland DG products that help people realize their dreams and transfer their imagination into reality. We are confident that the passion of Roland DG employees will continue to bring innovative solutions to even greater numbers of people and industries in the future."
For more information, contact:

Toshiyuki Okino
+81 (0)53-484-1201
E-Mail:rdg-globalpr@rolanddg.co.jp