Product News
10/27/2015
Roland DG Corporation
Roland DG Announces New SOLJET EJ-640 Inkjet Printer with Outstanding Productivity and Low Running Cost
Hamamatsu, Japan, October 27, 2015 – Roland DG Corporation, a leading manufacturer of wide-format inkjet printers and printer/cutters worldwide, today announced the launch of its new SOLJET EJ-640 wide-format inkjet printer.
With dual staggered print heads, an integrated tri-heater system, rigid industrial design and high-capacity 1-liter ink catridges available in 4 or 7 color configurations, the EJ-640 is built for optimum performance and productivity. In a mirrored CMYK ink configuration, the EJ-640 achieves speeds of up 102m2/h. The EJ-640 uses new EJ INK, developed to offer substantially lower operating costs. New Roland VersaWorks Dual RIP software processes both PDF and PostScript files, including files with transparencies.
According to Yuko Maeda, division president of Digital Printing market development for Roland DG, "Today's sign market is typified by intense competition due to the spread of wide-format inkjet printers and the increasing demand for quick delivery of high quantities with low operating costs. The new EJ-640 addresses these issues by delivering excellent productivity and quality with low ink costs."
Special attention has been given to high-volume users. A rigid shaft holds long and heavy rolls securely, and a newly developed Feed Adjuster ensures the smooth progression of media through the printer and onto the take-up system. Meanwhile, the powerful heater and blower prevent ink from bleeding during take-up. In 4-color CMYK mode, up to two liters of ink can be loaded for each color. With the Roland Ink Switching System, continuous printing is possible overnight without worrying about ink running out. When the primary ink cartridge runs out, its backup begins supplying ink automatically. Unattended operation is further facilitated by Roland OnSupport which sends and email to your smart phone, tablet or computer when a job is finished or ink is running low.
"While the EJ-640 is built for exceptional productivity," Maeda adds, "the other aspects for which Roland DG is renowned, such as image quality and reliability, are maintained without compromise." The rail and frame structure has been reinforced to enable precise ink droplet placement for vivid image quality even at higher speeds. Roland VersaWorks Dual RIP reproduces images with beautifully smooth gradations. In addition to dual CMYK, a seven-color ink configuration consisting of CMYK plus Light Cyan (Lc), Light Magenta (Lm), and Light Black (Lk) is available for color-matched photographs, corporate colors and brand logos.
Maeda concludes, "Since 1988, Roland DG has supported the growth of the sign industry by employing new digital technologies and providing products that truly make a difference. With the EJ-640, we continue to provide the best solutions to support print services providers."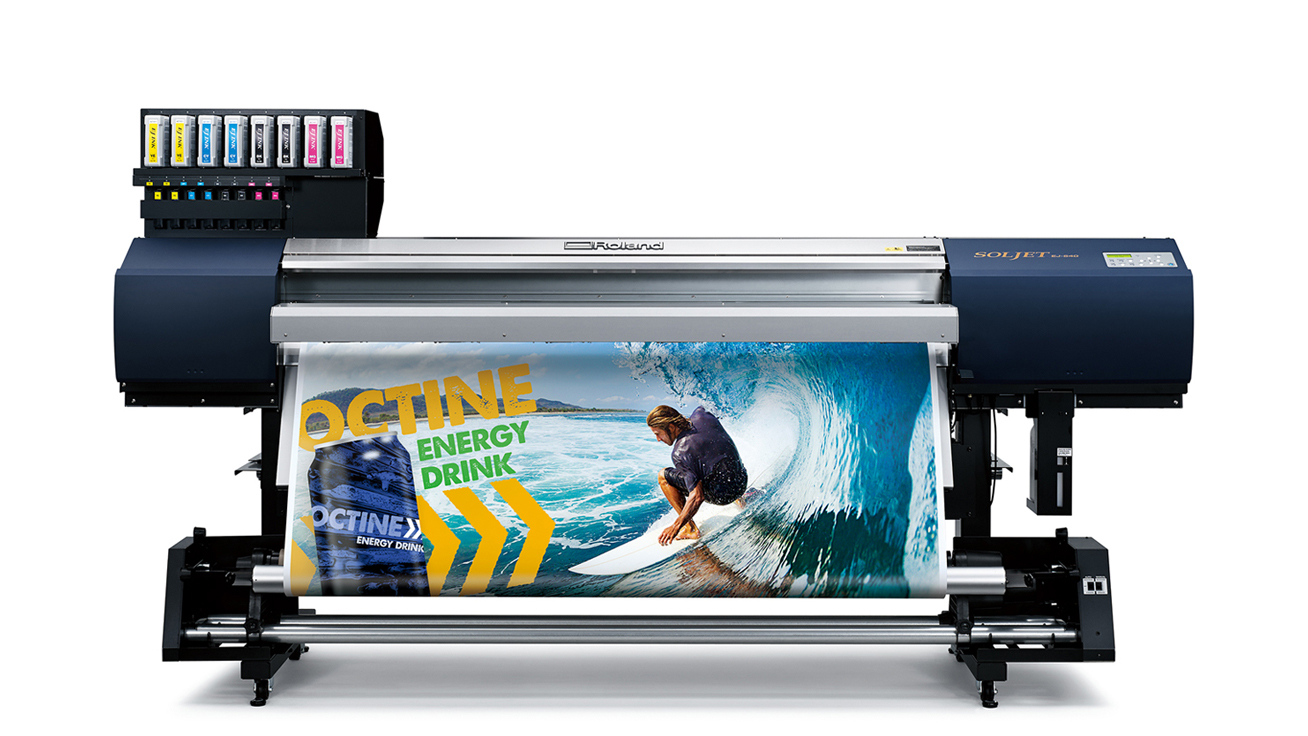 For more information, contact:

Toshiyuki Okino
+81 (0)53-484-1201
E-Mail:rdg-globalpr@rolanddg.co.jp