Product News
01/12/2016
Roland DG Corporation
Roland DG Expands VersaUV Line with Larger, Faster Benchtop LEF-300 UV Flatbed Printer
Hamamatsu, Japan, January 12, 2016 – Roland DG Corporation, a leading manufacturer of wide-format inkjet printers worldwide, announced today the addition of the VersaUV LEF-300 to its line of benchtop UV-LED flatbed inkjet printers.
According to Yuko Maeda, division president of Roland DG business development unit, VersaUV printers, which include the previous LEF-12 and LEF-20 models, are popular for their ability to print rich color directly on a vast array of materials, including three-dimensional items up to 100 mm thick. The LEF-300 was developed in response to customer demand for greater productivity in the personalization and custom printing markets, which are characterized by small-lot production of numerous products. To accommodate greater quantities and larger-sized items, the LEF-300's printing area has been expanded to 770 mm wide by 330 mm long, 50% more than the previous models.
"With the LEF-300," Maeda said, "you can print on a wide variety of substrates such as PET, ABS, and polycarbonate, and soft materials such as TPU and leather, as well as three-dimensional items, including pens, smartphone cases, signs, personalized awards, giftware, promotional items, laptop covers and more. A vacuum table makes it easy to hold thin and soft materials in place," she added.
With four print heads and two UV-LED lamps, the LEF-300 enables bidirectional printing approximately 60%* faster than the LEF-20. The number of white and clear (gloss) ink nozzles have been doubled for faster printing, increased density and opacity and faster build-up of multiple layers for three-dimensional textures. A new draft print mode improves overall efficiency for users in need of quick prototype prints.
The LEF-300 comes equipped with the new Roland VersaWorks Dual software RIP that includes all the advanced, easy-to-use features of VersaWorks, and now supports both PostScript and PDF files for improved file processing and automatic creation of white and clear ink layers. In addition, features like offset, positioning, rotation and registration of ink layers can be handled directly in the RIP without the need to return to design software.
The LEF-300 uses new EUV4 ink, Roland DG's proprietary CYMK, White and Clear ECO-UV inks for premium quality prints. EUV4 ink reduces odor and the shrinking of thin film materials like BOPP and PET when curing. In addition to a 220 cc cartridge, a new, larger 500 cc ink cartridge has been introduced which is more economical and requires less cartridge replacements. (White ink is only available in 220 cc cartridges.)
According to Maeda, "The growth of digital technology has facilitated the printing of photographs, illustrations and logos onto items that people wear or carry, both as a means of self-expression and as a means of feeling closer to the things they value. The market for on-demand printing onto various articles is expected to expand further still in the future."
"We have seen an increasing number of businesses using VersaUV LEF printers to provide custom printing services for smartphone cases and accessories," Maeda said, "including ecommerce sites as well as kiosks located within shopping centers, where they provide on-site printing of photographs taken by customers onto various blank goods to create a new shopping experience for their customers. The LEF-300 is perfect for handling the growing amount of tasks."
Maeda also sees potential in the application of UV printers used in mass production. "In order to accommodate customization and decoration of parts and modules in high volume production lines, the LEF-300 incorporates an input/output system that supports external devices such as warning lights and custom production automation systems. In addition, the LEF-300 is built with precision parts that are not susceptible to changes in temperature or humidity and are designed to maintain accurate high-quality printing even during long production runs."
* In a CMYK ink configuration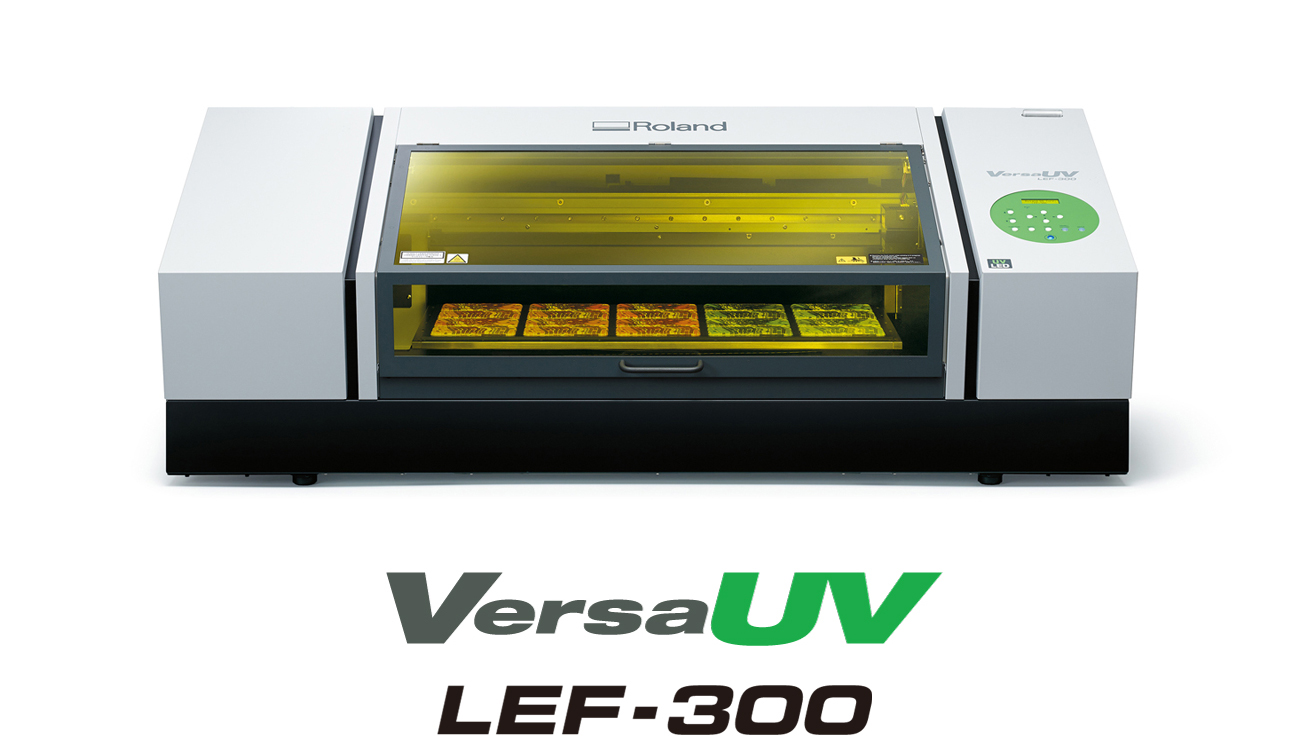 For more information, contact:

Toshiyuki Okino
+81 (0)53-484-1201
E-Mail:rdg-globalpr@rolanddg.co.jp