Corporate News
06/17/2016
Roland DG Corporation
Roland DG Initiates Joint Research on Laser Fabrication Technology with the Graduate School for the Creation of New Photonics Industries
Hamamatsu, Japan, June 17, 2016 – Roland DG Corporation, a leading manufacturer of desktop fabrication devices worldwide, today announced the start of a joint research relationship with GPI, the Graduate School for the Creation of New Photonics Industries located in Hamamatsu. The collaboration will study the application of femtosecond laser technology to the fields of 3D fabrication and healthcare where Roland DG is currently exploring various options to expand its business.
A femtosecond laser is an ultrashort pulse of intense light which is concentrated at a femtosecond (one quadrillionth of a second). Peak power is generated by compressing and oscillating the pulse length of a laser to a few femtoseconds. Melting or thermal damage to the irradiated area and its surroundings are reduced due to the laser's ablation effect* making femtosecond lasers highly effective when fabricating with extremely hard materials with exceptional accuracy, or when trying not to damage nearby tissues during an operation such as used in Lasik eye surgery. Currently, practical applications of the femtosecond laser have expanded into fabrication with industrial metals and carbon fibers, keratorefractive surgery and cataract treatment, and research and development in biotechnology. Challenges remain, however, including downsizing and cost reduction of the oscillator, which is required to create a femtosecond laser, and conducting further research on how materials change during fabrication.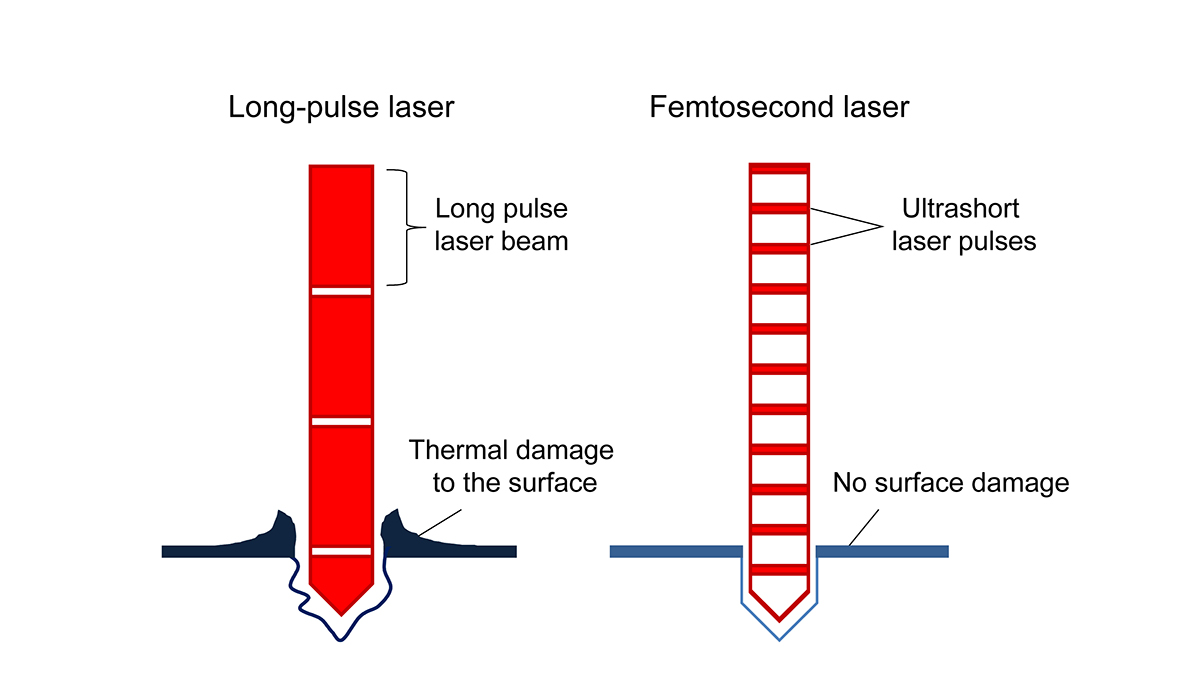 Hisashi Bito, Executive Officer and division vice president of Easy Shape business development at Roland DG, said, "Through this joint research, our company is aiming to explore the possibility of applying femtosecond laser technology to our 3D digital fabrication and healthcare areas with the objective of producing the first desk-top femtosecond laser fabrication machine."
Yoshihiro Takiguchi, Vice-President of GPI and professor of optical information and systems, added, "At GPI, we are looking forward to investigating new industrial applications for laser processing with the goal of creating new industries. The state of the art ultrashort pulse laser we are using was acquired with the financial support of the Japanese government and has the ability to instantly ionize matter. By combining the ultrashort pulse laser to the Roland DG's 3D digital fabrication tools, we can enhance our knowledge of how materials change during fabrication, and how we can apply the latest laser technology to a variety of industries."
*A phenomenon whereby the fabricated object reaches a plasma state by irradiating a high strength laser beam to its surface. Since this method does not create any bumps or distortion around the fabricated area and the effect of the heat is very limited, it is possible to achieve a high quality finish
About GPI: The Graduate School for the Creation of New Photonics Industries
Founded in 2006 with the assistance of various Japanese companies including Hamamatsu Photonics and Toyota, GPI provides a Ph.D. program for students with an entrepreneurial spirit to create new photonics industries. Entrepreneurs, scientists and engineers, and presidents and top managers of small- to mid-sized companies come to GPI to develop their business plans with hands-on support by the professors with management and technical expertise.
For more information about GPI, please visit: http://www.gpi.ac.jp/en/index.html
For more information, contact:

Toshiyuki Okino
+81 (0)53-484-1201
E-Mail:rdg-globalpr@rolanddg.co.jp