Product News
09/28/2016
Roland DG Corporation
Roland DG Announces the Launch of the MDX-50 Automated 3D Milling Machine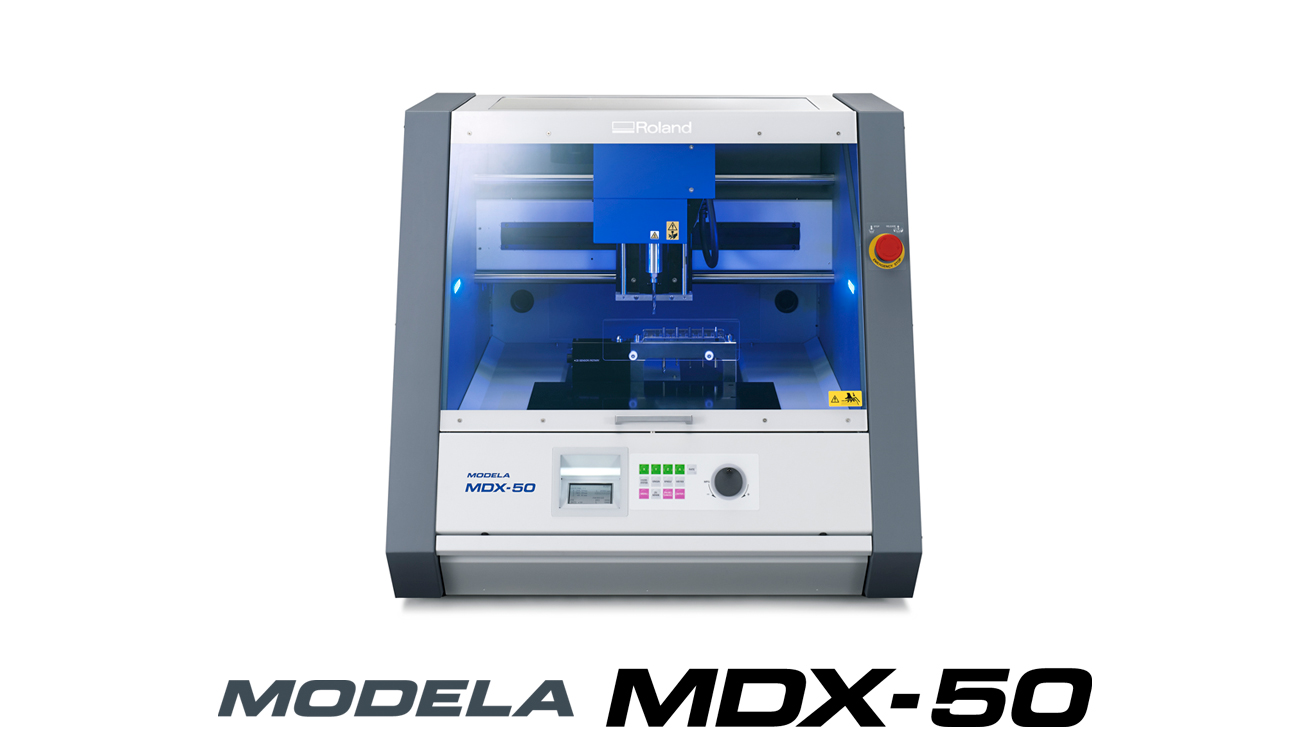 Hamamatsu, Japan, September 28, 2016 – Roland DG Corporation, a leading manufacturer of digital fabrication tools including 3D milling machines, 3D printers and engraving machines, today announced the launch of the MODELA MDX-50 3D milling machine.
Since launching the world's first desktop mill in 1986, Roland DG has focused on producing 3D milling machines that are compact, easy-to-use and affordable. The MDX series has proven popular among engineers, product designers and educators for their ability to quickly and easily produce precision prototypes, parts, jigs and models from a wide variety of resins and woods such as ABS, POM, nylon, plastic foam, modeling wax, chemical wood, hardwood and more.
The newly announced MDX-50 provides a number of exciting enhancements over the MDX-40A mill. Offered as a complete system, it includes easy-to-use CAM software and features a larger workspace and automatic tool changer (ATC) as well as faster milling speed. Yoshihiro Yazawa, Roland DG General Manager of 3D Markets, Easy Shape Business Development HQ said, "The MDX-50 enables capabilities that were difficult to achieve with the MDX-40A. We wanted to provide optimum value to product designers in the manufacturing industry, as well as supporting upcoming generations of students."
The MDX-50 was developed to deliver better productivity, as well as being easier and safer to use. It retains the same milling capability as the MDX-40A but with an improved feed rate along the XYZ axes resulting in a boost in productivity. The machining area has also been enlarged 60 percent to handle larger models as well as to mill multiple objects simultaneously. It comes standard with an ATC to help reduce the time and effort required for replacing tools. An optional rotary axis unit can rotate work materials 360 degrees for milling cylindrical objects and automating the fabrication of 2-sided, 4-sided and custom-angled items. Thanks to the ATC and rotary axis units, once milling begins users can leave the device to run unattended with confidence.
With the increasing number of students and individuals undertaking fabrication for the first time, the MDX-50 has been designed to be both easier and safer to use. The integrated control panel of the benchtop MDX-540, a high-end model of Roland DG's 3D milling machine, has been added to the front panel of the MDX-50, allowing spindle rotation and milling speed to be controlled while monitoring machining conditions. The on-screen computer operation "VPanel" provides machine monitoring capability, sends emails when machining work is complete or if intervention is required, and records tool usage time and replacement intervals, all of which helps to manage workflow. The SRP Player CAM software bundled with the MODELA series is included. Machining conditions can be configured easily in five simple and intuitive steps, making production simple, even for first-time users. A full cover prevents waste from scattering and an integrated tray collects dust and debris.
Yazawa adds, "R&D departments increasingly need to address the demands for shorter prototyping and design schedules. With the advent of 3D printers, designers have found that while they are able to produce 3D objects from 3D data, they often need a 3D milling machine in order to achieve precision results from materials similar to the final product, to check the appearance and feel of the object, and to verify movement and fit. To give as many people as possible the opportunity to enjoy making things, Roland DG will continue generating production solutions that support all means of fabrication."
For more information, contact:

Fumiyasu Sato
+81 (0)53-484-1201
E-Mail:rdg-globalpr@rolanddg.co.jp