Product News
10/27/2016
Roland DG Corporation
Roland VersaWorks Dual RIP Now Supports Additional Roland DG Inkjet Printers
Hamamatsu, Japan, October 27, 2016 – Roland DG Corporation, a leading manufacturer of wide-format inkjet printers and printer/cutters worldwide, today announced that its recently introduced Roland VersaWorks Dual RIP and print management software now supports several additional Roland DG inkjet printers and printer/cutters.
Introduced in late 2015, Roland VersaWorks Dual RIP is currently bundled with the newest Roland DG inkjet printers and printer/cutters, namely the SOLJET EJ-640, TrueVIS VG-640/540 and SG-540/300, and the VersaUV LEF-300. After October 2016, the following additional models will include the latest Roland VersaWorks Dual when they are shipped:
- SOLJET PRO 4 XR-640
- VersaCAMM VS-640i/540i/300i, SP-540i/300i
- VersaSTUDIO BN-20
- VersaEXPRESS RF-640
- VersaUV LEJ-640, LEC-540/330, LEF-20
- Texart RT-640 (Users can choose ErgoSoft Roland Edition)
Roland VersaWorks Dual builds upon the intuitive, easy-to-use capabilities of Roland VersaWorks to provide high-quality printing while adding enhanced processing and editing functions. Yuko Maeda, division president of Roland DG business development unit notes that Roland VersaWorks Dual enables users to work not only with PostScript® files, but also allows for native processing of PDF files, which have become popular in the field of commercial printing, to ensure transparency effects are processed accurately. In addition, white and clear ink layers can be generated automatically in the RIP, ideal for use in producing transparent window graphics, stickers and personalized accessories with special effects. Features like offset, positioning, rotation and registration of ink layers can be easily configured in the RIP as well, without the need to return to graphic design software.
"Roland DG understands the important role that software plays in printing," Maeda said. "We have been developing RIP and print management software for many years. A major benefit for Roland customers is that our software is tailored exclusively for Roland DG printers and printer/cutters, and thus optimized to maximize their performance and ease of use. Our proprietary color management tools and other functions have become important factors in the popularity of Roland products worldwide."
"Now that Roland VersaWorks Dual supports native PDF processing," Maeda continued, "we believe our printers provide an even greater level of value for not only the printing of signs and graphics, but for decorating a wide range of original goods and for prototyping applications such as package printing and press proofs. We are committed to developing powerful, world-class RIP software that makes customers' work even easier, while expanding their potential."
A Roland VersaWorks Dual operation screen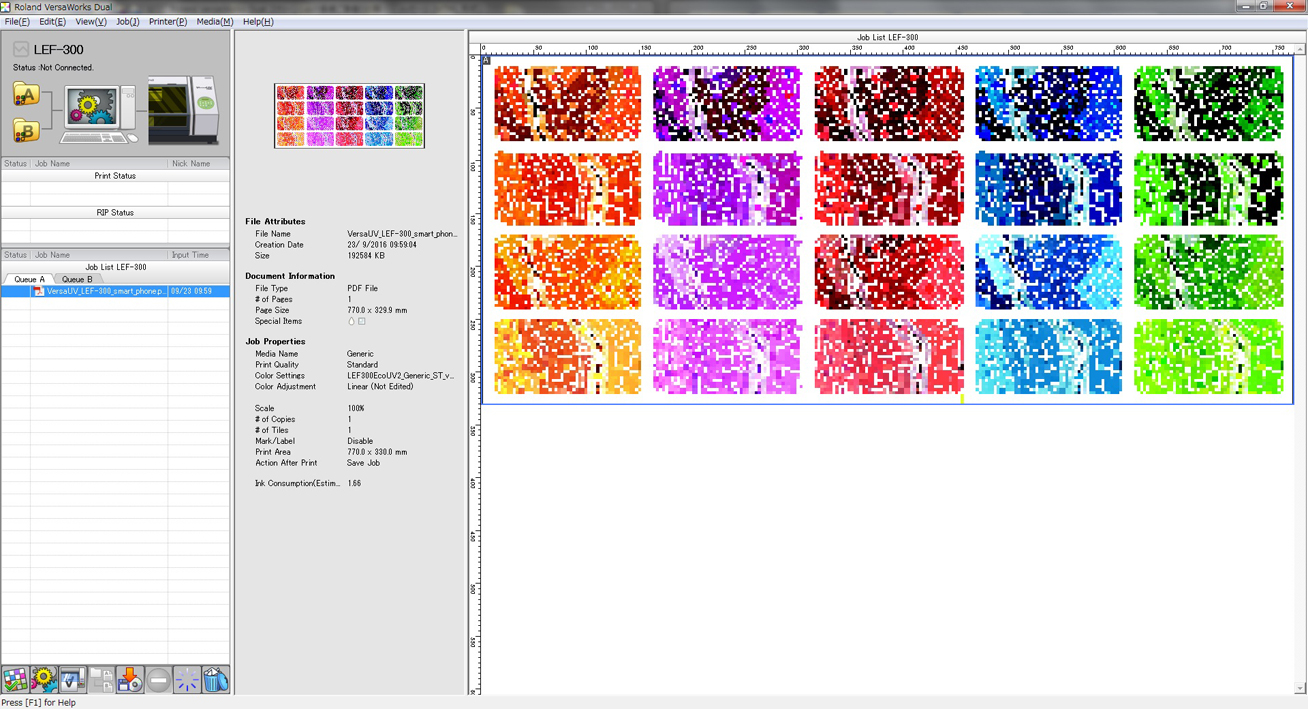 For more information, contact:

Nami Shiokawa
+81 (0)53-484-1201
E-Mail:rdg-globalpr@rolanddg.co.jp