Corporate News
01/31/2018
Roland DG Corporation
Roland DG Hosts Third Worldwide Competition for Service Engineers to Further Increase High Customer Satisfaction Levels
Hamamatsu, Japan, January 31, 2018 – Roland DG Corporation, a leading manufacturer of wide-format inkjet printers and 3D devices worldwide, today announced its Global SE Awards 2018 competition to be held at its Hamamatsu headquarters from April 23 to 25, 2018 for service engineers (SEs) engaged in the repair and maintenance of Roland DG products.
Following its beginning in 1981, Roland DG established a comprehensive customer services and support capability, now called Roland DG Care, to ensure that its products continue to perform well for many years, thereby increasing customers' peace of mind and ensuring the smooth operation of their businesses. According to Mr. Takaaki Koshita, general manager of Roland DG Global Technical Services, the goal of the Global SE Awards competition is to recognize SE abilities both regionally and globally and motivate them to raise the standard of Roland DG Care even further. "By providing a series of regional competitions leading up to a final global contest, our goal is to increase the personal pride and motivation of the SEs, as well as to challenge the knowledge and technical skills they have cultivated in their daily work and to encourage them to share their best practices and individual know-how with their peers."
The Global SE Awards 2018 is the third global contest to be held, following the second event in 2015. For the upcoming competition, participants' maintenance skills will be tested in two categories: inkjet printers, which represents Roland DG's core product line, and 3D devices, which includes digital dental milling machines that are rapidly growing in popularity. Local competitions are being held throughout the Americas, European/Middle Eastern/African, and Asian regions from November of 2017 to February of 2018, with 778 Roland DG Care Certified Service Engineers* participating, making it the highest participation rate so far. SEs will be selected to represent each region based on their performance in the local competitions which, in addition to knowledge and skill level, also measured the quality of their daily activities and how proactive they were with sharing their know-how with peers. The 28 selected finalists will put their skills and knowledge of maintenance services to the test in both hands-on and written exams to determine the champion in each category.
"SEs work closely in the field with customers around the world," Koshita said, "and they are the key to achieving Roland DG's long-held mission of maintaining and enhancing customer confidence by providing high-quality service and support. With business becoming increasingly competitive, customer service and support have never been so important, and we are working to create brand differentiation and provide peace of mind for our customers."
"For 2018," Koshita continued, "we increased the product range covered in the upcoming competition because we want to provide the same excellent service to all our customers using our extensive product lineup. We developed an online platform that allows SEs around the world to regularly share their service and support knowledge as members of a global team. The Global SE Awards competition gives SEs selected from each region the opportunity to share their knowledge and know-how with one another. As the leading SEs in their respective regions, we hope that this will serve as a way to raise the level of service quality globally."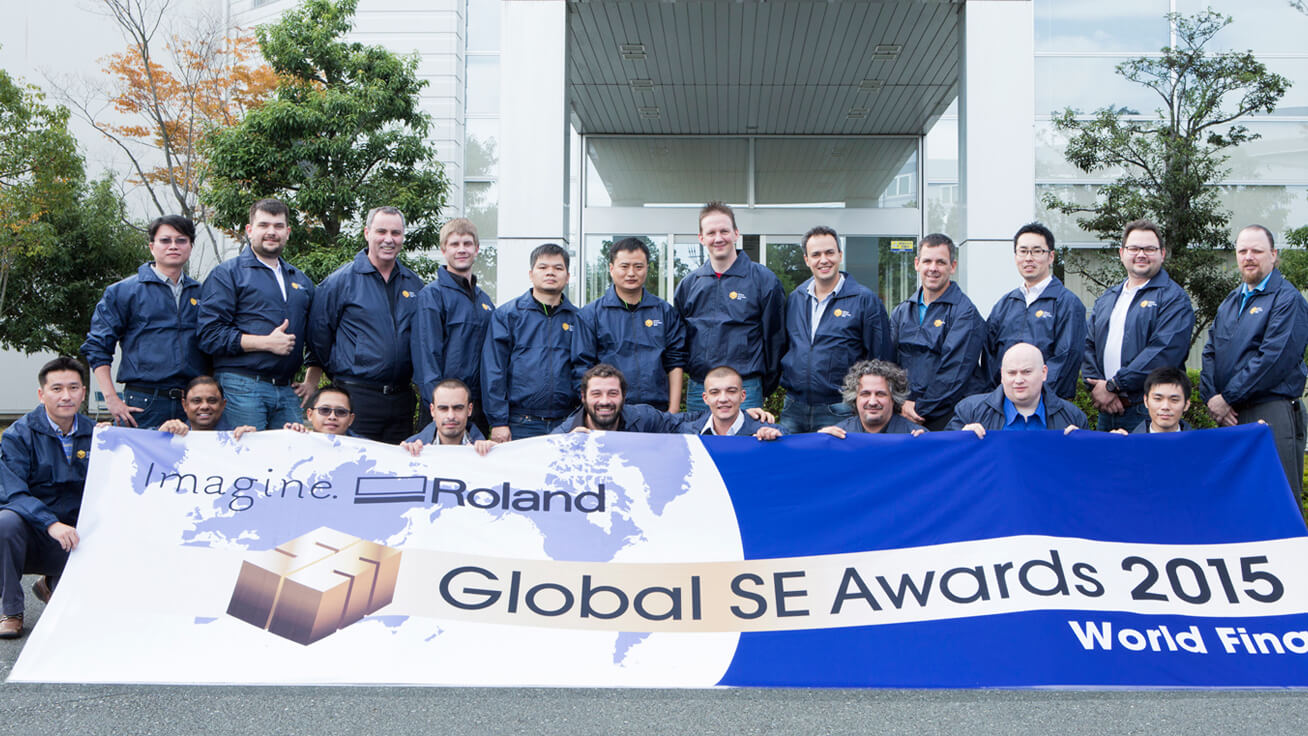 Global SE Awards 2015 competition
* About the Roland DG Care Certified Service Engineer Program
Roland DG offers a certification program for its service engineers in order to provide uniform high-quality service to customers worldwide. SEs are instructed in how Roland DG products are built and receive in-depth training on how to carry out product installation, make repairs, conduct inspections and maintenance. Only after passing the certification program proving that they possess appropriate knowledge and skills can trainees be approved as certified SEs. The certification program focuses on the quality of the SE's daily activities and their professionalism, and features a point-based evaluation scale to ensure objective certifications. Acquired points were used to select participants for Global SE Awards 2018 local competitions as well as the worldwide competition.
Global SE Awards 2018 Competition Overview
- Event dates: April 23 to 25, 2018
- Venue: Roland DG Corporation headquarters
- Schedule:
Day 1: April 23
Opening ceremony
Mission 1 (written exam)
Day 2: April 24
Mission 2 (hands-on exam)
Day 3: April 25
Award ceremony
For more information, contact:

Nami Mukunoki
+81 (0)53-484-1201
E-Mail:rdg-globalpr@rolanddg.co.jp