Product News
03/16/2018
DGSHAPE Corporation
DGSHAPE Launches World's First Laser Foil Decorator
Hamamatsu, Japan, March 16, 2018 – DGSHAPE Corporation, a wholly-owned subsidiary of Roland DG Corporation and a leading provider of digital fabrication tools, including 3D milling machines, 3D printers, and engraving machines, announced today the launch of the world's first laser foil decorator. The LD-80 Laser Decorator enables adding text, logos, and graphics in a variety of metallic and holographic foils to provide a premium, personalized appearance to small, off-the-shelf products including fountain pens, cell phone covers, stationery, or cosmetic accessories.
According to Daisuke Satori, DGSHAPE Marketing manager, "The LD-80 uses our proprietary technology to focus a laser beam to transfer hot-stamp type foils to plastic and paper items to create a true luxury appearance. Text, logos, and other vector graphics can be transferred quickly onto plastics such as acrylic, ABS, and polycarbonate that usually perform poorly under traditional hot-stamp applications," he said.
Satori said the special characteristics of the focused laser supports the transfer of very small text and fine lines in stunning quality. In addition to gold or silver foil, metallic or holographic foils can be used to create a broad range of vivid designs.
The bundled software package makes it easy to create custom designs for personalization. A wide selection of fonts is available, and settings like font size and spacing can be adjusted at the click of a mouse. Vector data can also be imported including custom designs like illustrations and logos.
"The desktop footprint of the machine is very compact," Satori said, "and the included software is simple and intuitive, making the LD-80 perfect for on-demand foil decoration in a retail setting." In addition to retail store installations, the compact design of the LD-80 makes it easy to place anywhere, including kiosks, or to transport to events, such as street fairs and festivals.
Compliant with the safest Class 1 international standard* for products equipped with laser devices, the LD-80 incorporates a full-cover design to ensure it can be used safely without laser light being visible outside the unit. It also includes a failsafe design that stops the unit automatically if the cover is opened while it is operating. The exclusive design of the laser system eliminates dust or gas from being generated, ensuring maintenance-free operation. It also works on ordinary household power, requiring no electrical work for installation. * IEC 60825-1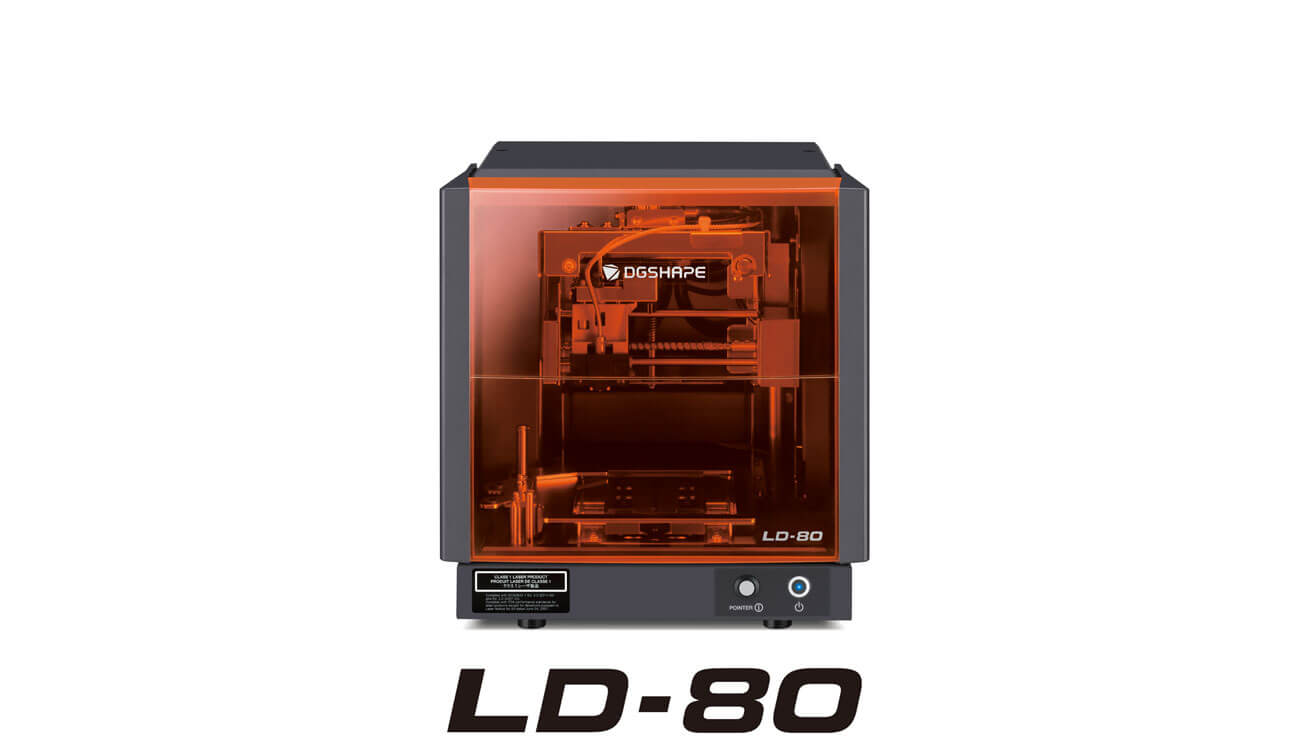 DGSHAPE's LD-80 uses a focused laser beam to add foil text, logos, and graphics to resin materials, including acrylic, ABS, and polycarbonate.
About DGSHAPE Corporation
DGSHAPE Corporation was formed in 2017 by Roland DG Corporation as a wholly-owned subsidiary to develop and market the company's innovative 3D products, including DWX mills and DWP 3D printer for the dental industry, MPX photo impact printers and EGX engravers for the industrial labeling and personalization industries and MDX and monoFab series of desktop milling machines for the rapid prototyping, manufacturing and hobby industries. The company's products are distributed worldwide.
To learn more about DGSHAPE Corporation, please visit www.dgshape.com.
For more information, contact:

DGSHAPE Corporation
Marketing Unit Daisuke Satori
+81 (0)53-482-7069
E-Mail:dgs-marketing@dgshape.com