Product News
01/20/2021
Roland DG Corporation
Roland DG Launches VersaUV LEC2-640/330 Printer/Cutters for Immediate Realization of Your Most Creative Ideas
Hamamatsu, Japan, January 20, 2021 – Roland DG Corporation, a leading manufacturer of wide-format inkjet printers and printer/cutters, today announced the launch of the new VersaUV LEC2-640/330 64" and 30" wide-format UV printer/cutters.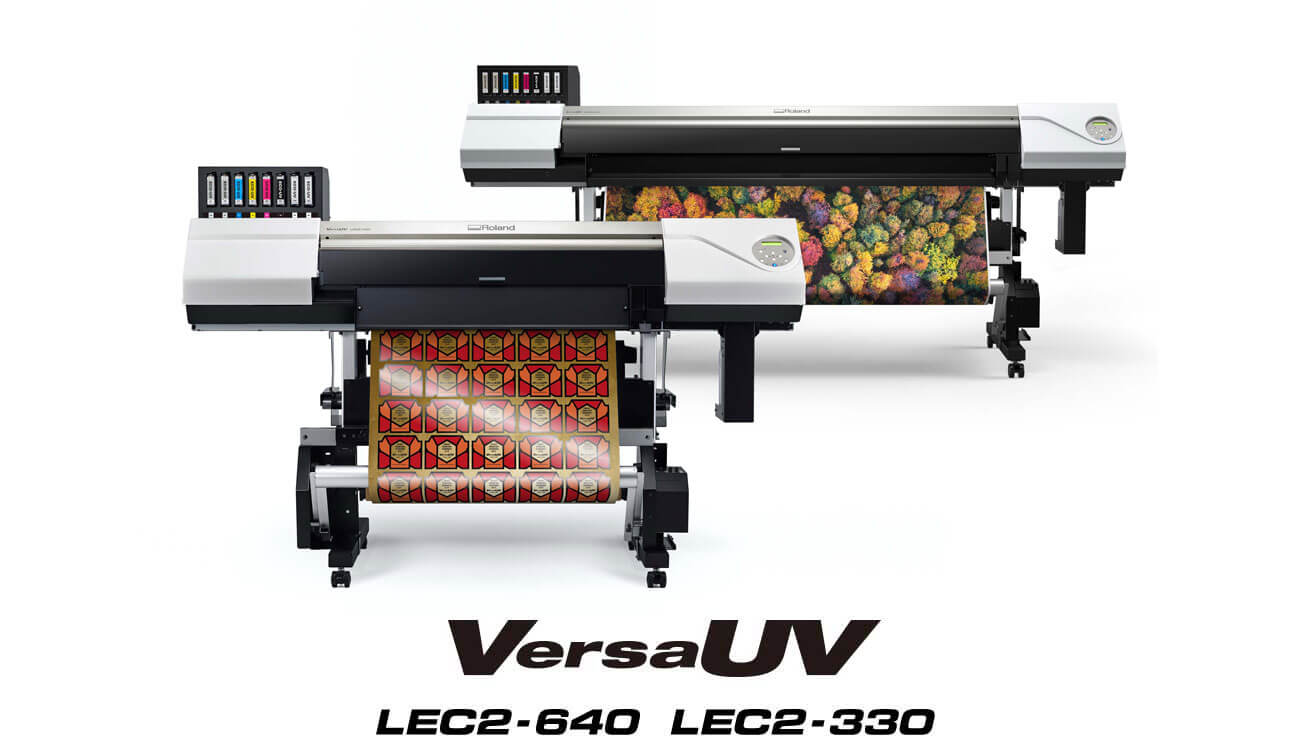 According to Kevin Shigenoya, Vice President, Digital Printing Business Division, the LEC2 series printer/cutters offer unmatched production capabilities, including creating unique special 3D effects using UV ink and contour cutting printed images on demand. "We believe that the LEC2-640/330, with its superior versatility, is a powerful solution to support our customers in the immediate realization of their creative ideas. With their value-added printing and cutting, incredibly diverse range of media support, and ease of use for even first-time users, the LEC2 series is ideal for a broad range of printing businesses for countless applications, including adhesive decals, labels and stickers, signs, POP, backlit panels, packaging prototypes and interior decor."
The LEC2-640/330 models announced today are the latest in a series expanding the UV product line and providing significant improvements in printing expression and functionality. Newly developed EUV5 ink supports CMYK as well as Clear, White and Primer and expands the color gamut while producing vivid full-color prints with special effects like simulated embossing and gloss or matte finishes. A True Rich Color print setting is designed to maximize the imaging capabilities of the LEC2-640/330 with the new inks for vibrant color graphics with neutral grays, smooth gradations and natural skin tones. The new White ink, which is often used as a base coat when printing on transparent film or dark paper, achieves high opacity while the Primer ink makes it possible to print on media that was previously difficult or impossible.
The latest print head and LED lamps enable an even higher level of print quality and high color saturation. The print head has been optimized for precision ink firing and control, while the LED lamps are more powerful to make curing the ink even faster. This combination delivers stunning images down to the finest details, from small text to elaborately textured patterns and gradations.
Two Models to Meet a Diverse Array of Application Needs
The new 64-inch model LEC2-640 adds support for large signage, displays and interior decor while new media feed options for the 30-inch LEC2-330 expand its capabilities for use in the fast-growing packaging industry. The optional TB-30 is capable of feeding film as thin as 30 microns for flexible packaging, and the ET-30 can handle a wide variety of paper stocks and aluminum metalized papers for folding carton packaging, including design comps, prototyping, and color proofing for food, beverage, cosmetics, pharmaceuticals, and more.
"In order for customers in the printing business to remain competitive," Shigenoya said, "it is critical to be flexible and to continue developing new business by adapting new applications in response to market trends and client needs. Roland DG will continue to provide new value to our customers' businesses and contribute to the development of the digital printing industry through unique, creative products and solutions."
For more information, contact:

Roland DG Corporation
PR/CSR Unit
+81 (0)53-424-6055
E-Mail:rdg-pr@rolanddg.co.jp