Corporate News
05/15/2018
Roland DG Corporation
Roland DG Announces Winners of Global SE Awards 2018 Worldwide Competition for Service Engineers
Hamamatsu, Japan, May 15, 2018 – Roland DG Corporation, a leading manufacturer of wide-format inkjet printers and 3D devices worldwide, today announced the winners of the Global SE Awards 2018 competition held at its Hamamatsu headquarters from April 23 to 25, 2018 for service engineers (SEs) engaged in the repair and maintenance of Roland DG products. The knowledge and skills of 28 finalists from around the world were tested in two categories: inkjet printers, and the new 3D devices category that includes digital dental milling machines.
The winner in the inkjet printers' category was Mark Johnson from New Zealand representing Aarque Group Ltd. "I did not expect it at all," Johnson said. "I was very nervous in the contest, but I tried to calm down and relax. I always enjoy sharing information with other SEs around the world in the online global community platform for Roland DG SEs, and I think it was one of the most important factors in my success at the competition."
Kevin Eugene Rosen from the USA representing Roland DGA Corporation prevailed as champion of the 3D/Dental devices category: "This is my first time traveling out of the U.S. and I can't describe it in words what it's like to win this kind of competition and being honored on a global scale," Rosen said. "My colleagues helped support me through a lot of the problems that we see in the field. My goal going forward as an SE is to basically to continue learning and growing."
This was the third Global SE Awards competition to be held following similar events in 2013 and 2015. Roland DG conducts the Global SE Awards competition to recognize SE abilities both regionally and globally and motivate them to raise the standards of Roland DG Care, a comprehensive customer service and support resource, as well as to challenge the knowledge and technical skills that SEs have cultivated during their daily work.
The first day of the competition consisted of a written exam testing a broad range of participants' knowledge related to hardware, parts, software and other aspects required during product repair and maintenance. The hands-on exam held on the second day was aimed at challenging participants in restoring operation of specific products affected by various problems, some of which participants may have never encountered previously. Participants had to accurately identify the cause of those problems and figure out ways to resolve them within a limited period of time. In addition to their skills, SEs were also assessed on how active they were in sharing articles and tips from their own personal experiences and know-how with other SEs, as well as the frequency of their use of the online learning platform.

At the awards ceremony, Roland DG's President Hidenori Fujioka congratulated the champions and complimented all the participants for their effort. "SEs' intimate knowledge of our products and outstanding maintenance skills are the basis of our ongoing relationships with our customers," Fujioka said. "I really appreciate and respect your efforts on our behalf."
Roland DG Group plans to boost its industry-leading level of customer satisfaction by continuing to deliver value-added services. Roland DG aims to achieve this goal by providing opportunities for SEs to test their skills against each other through competitions and similar events, as well as by further enhancing the functionality of the online platform that allows SEs to share the service and support knowledge they have acquired.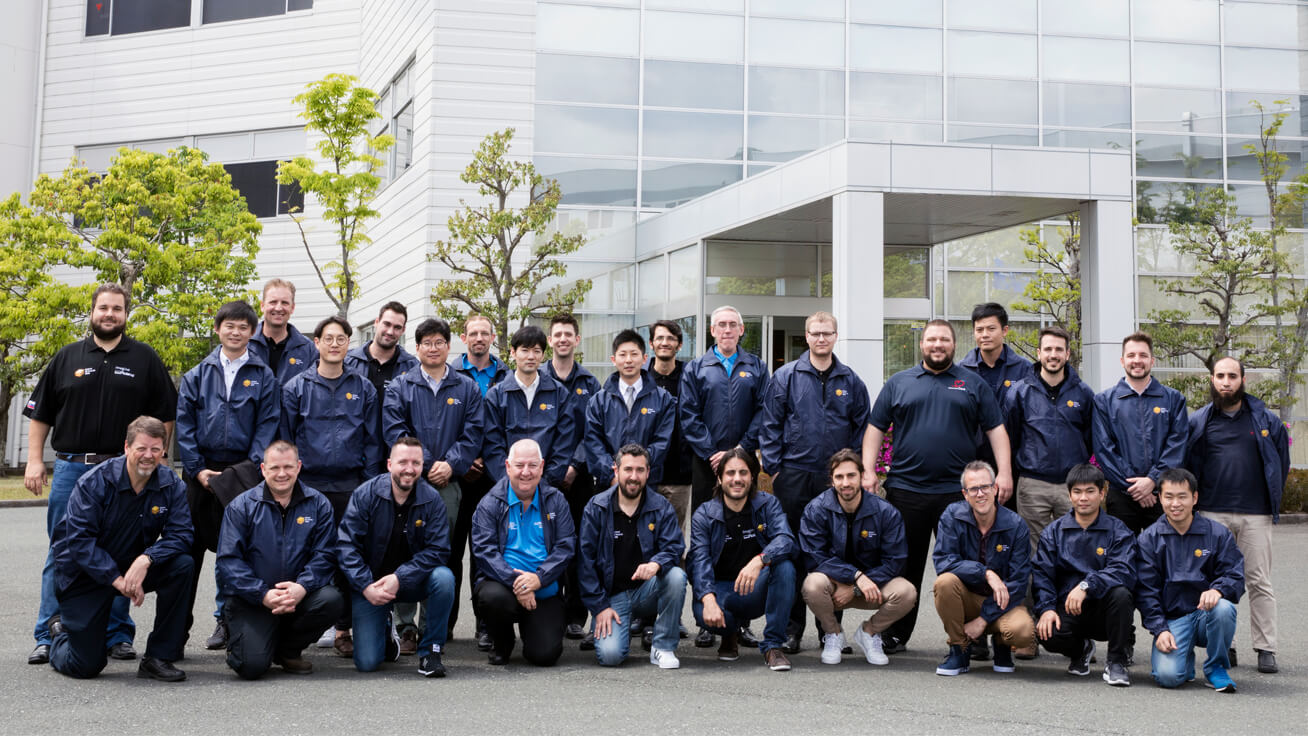 28 finalists from around the world participated in the global competition.
Global SE Awards 2018 Final Competition Winners
Inkjet Printers Category
1st place: Mark Johnson from New Zealand representing Aarque Group Ltd.
2nd place: Matthew Wrench from UK representing Roland DG (U.K.) Ltd.
3rd place: Vincent Votruba from Slovakia representing ALPHASET spol. s.r.o.
3D/Dental Devices Category
1st place: Kevin Eugene Rosen from USA representing Roland DGA Corporation
2nd place: Xiangwu Cai from China representing Shenzhen Upcera Dental Technology Co., Ltd.
3rd place: Jason Bergeron from USA representing CAP / ZAHN Dental, A HenrySchein Company
About the Global SE Awards
The SE Awards began in 2008 for SEs residing in Japan. In 2013, the competition was opened up to Roland DG SEs worldwide. The Global SE Awards 2018 is the third global contest. For 2018, the product range covered was expanded to provide the same excellent service to all customers using the extensive Roland DG product lineup. Local competitions were held throughout the Americas, the European/Middle Eastern/African region and the Asia-Pacific region, with 778 Roland DG Care Certified Service Engineers participating, making it the highest participation rate so far. 28 finalists who qualified by winning local competitions all over the world were then brought together for the final contest held in Japan to compete for the title of world champion in each category. The Global SE Awards competition gives SEs selected from each region the opportunity to share their knowledge and know-how with one another.
About the Roland DG Care Certified Service Engineers
Roland DG offers a certification program for its service engineers in order to provide uniform high-quality service to customers worldwide. SEs are instructed in how Roland DG products are built and receive in-depth training on how to carry out product installation, make repairs, conduct inspections and perform maintenance. Only after passing the certification program proving that they possess appropriate knowledge and skills can trainees be approved as certified SEs. The certification program focuses on the quality of SE's daily activities and their professionalism, and features a point-based evaluation scale to ensure objective certifications.
For more information, contact:

Nami Mukunoki
+81 (0)53-484-1201
E-Mail:rdg-globalpr@rolanddg.co.jp