Corporate News
10/04/2018
Roland DG Corporation
Roland DG Wins Two SGIA 2018 "Product of the Year" Awards
Hamamatsu, Japan, October 4, 2018 – Roland DG Corporation, a leading manufacturer of wide-format inkjet printers and 3D devices worldwide, has announced that two of its products – the Roland DG VersaUV LEC-540 printer/cutter and ECO-UV ink – have won coveted 2018 Specialty Graphic Imaging Association (SGIA) "Product of the Year" Awards. Roland DG's VersaUV LEC-540 received top honors within the "Roll-to-Roll UV Printer" category, while the company's ECO-UV ink was recognized as the best product in the "Digital Inks – UV" category. This year's competition featured a record-setting 255 submissions, with winners selected in 68 different product categories.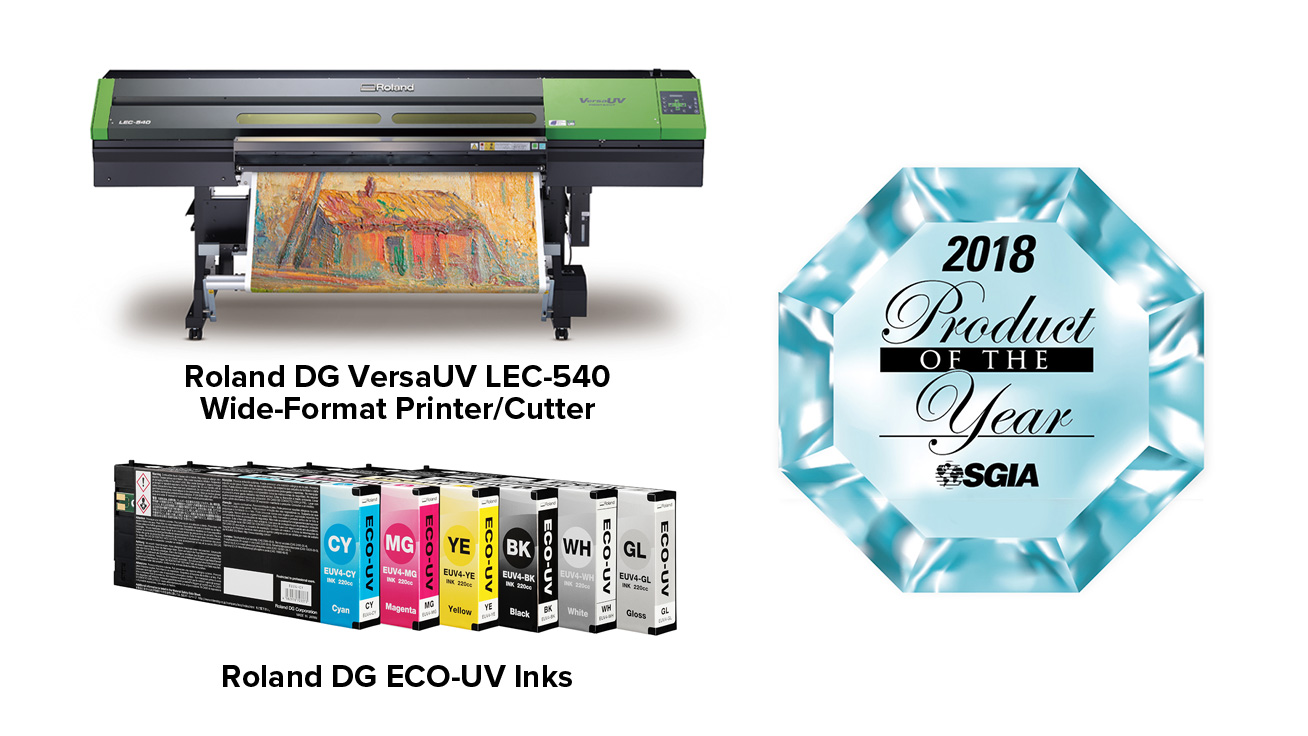 "As a pioneer of UV print and cut, Roland DG has played an integral role in introducing and advancing this important technology, enabling users to take their design and print production capabilities to the highest possible levels," said Roland DGA, Roland DG's US-based sales and marketing subsidiary, President Andrew Oransky. "We're thrilled that the SGIA judging panel saw fit to give our UV printer/cutters and inks the recognition they deserve."
The 54-inch VersaUV LEC-540 printer/cutter is ideal for producing everything from vibrant signs, labels, decals and specialty graphics to realistic packaging prototypes on actual press substrates. With its integrated cutting capabilities, the LEC-540 scores and contour cuts in one seamless workflow, maximizing efficiency, productivity and convenience.
Also winning a 2018 SGIA Product of the Year Award was Roland DG's ECO-UV ink, which comes in CMYK, Gloss and White and is specially formulated to bring out the best in the company's VersaUV LEC, LEF and LEJ series printers. In addition to imaging beautifully, these premium inks cure instantly and are extremely flexible, producing graphics that can stretch around curved surfaces and edges without cracking. Gloss and White ECO-UV inks enable users to incorporate stunning dimensional and textural effects into prints, adding appeal and value.
Roland's UV printing technologies will be on display in the Roland DGA booth, 1137, at the 2018 SGIA Expo, October 18-20, in Las Vegas.
To learn more about Roland DG's award-winning VersaUV LEC-540 wide-format printer/cutter and ECO-UV inks, or the complete Roland DG product line, please visit Region Selector and select your country.
About SGIA
Having its origins in the screen printing industry, SGIA embraced the digital revolution early on and is now the trade association of choice for professionals in the industrial, graphic, garment, textile, electronics, packaging and commercial printing communities looking to grow their business into new market segments through the incorporation of the latest printing technologies. SGIA membership comprises these diverse segments, all of which are moving rapidly towards digital adoption. As long-time champions of digital technologies and techniques, SGIA is the community of peers you are looking for to help navigate the challenges of this process. Additionally, the SGIA Expo is the largest trade show for print technology in North America.
For more information, please visit www.sgia.org.
For more information, contact:

DP Marketing Unit
E-Mail:rdg-globalpr@rolanddg.co.jp