Product News
10/10/2019
Roland DG Corporation
Roland DG Announces New IU-1000F Large-Format UV-LED Flatbed Printer with Ultimate Performance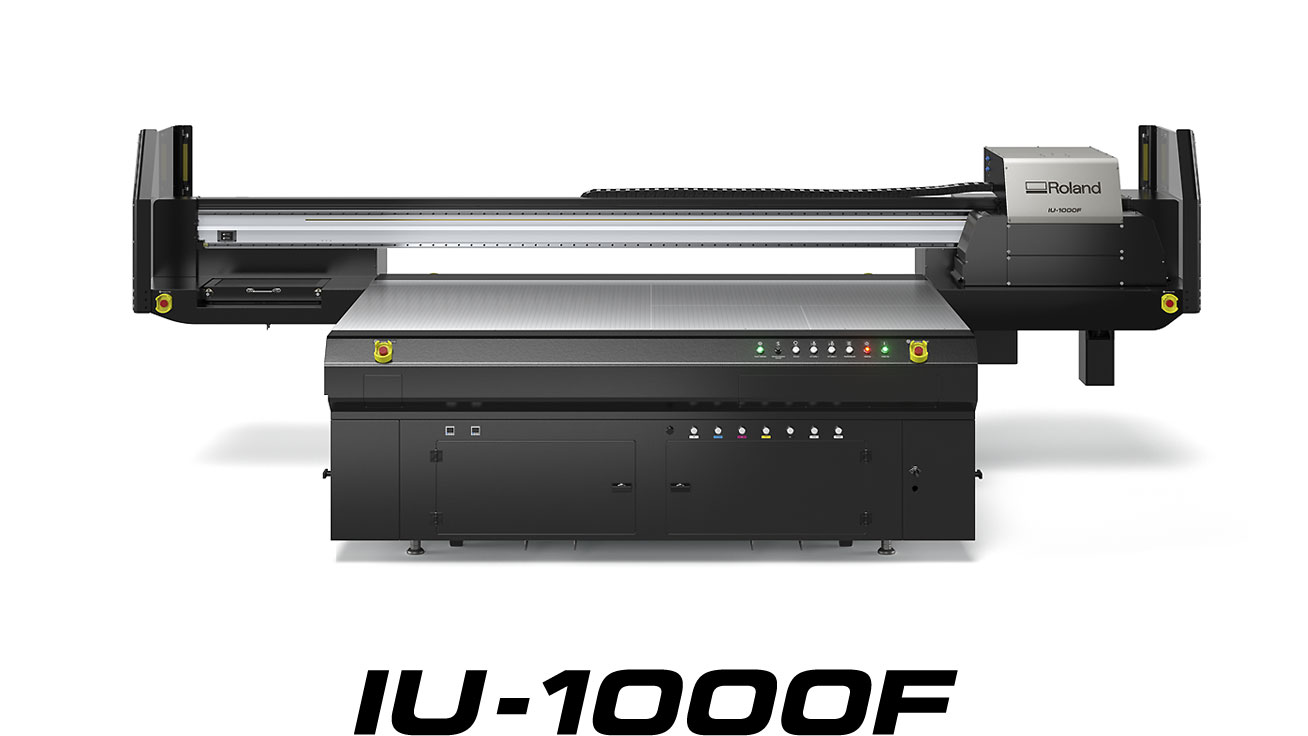 Hamamatsu, Japan, October 10, 2019 – Roland DG Corporation, a leading manufacturer of wide-format inkjet printers and printer/cutters worldwide, today announced its first IU-1000F large-format UV-LED flatbed printer designed to meet the diverse needs of sign and display shops with break-through performance.
As life cycles and requirements for communication tools such as outdoor and indoor advertising, event decorations, and store displays become shorter and more diverse, the sign and display industry is increasingly becoming one-stop shops offering quick response. Under such challenging circumstances, high performance large-format UV flatbed printers that enable a more efficient production process and are capable of printing on various materials for a wide range of applications are attracting greater attention than ever before.
According to Kohei Tanabe, the President of the DP Business Division, the IU-1000F boasts break-through speed and quality while also eliminating the need for mounting and drying processes. "It is a powerful solution for the sign and display or print production business that seeks more efficient and faster-turnaround production capability. By offering increased productivity, material compatibility, image quality, ease of use, and all the other aspects of this product, I am confident that the IU-1000F will achieve increased profitability for printing businesses," he said.
Equipped with 12 high-performance printheads in a staggered 3-row arrangement, the IU-1000F can print up to 635 x 1,800 dpi with variable droplet technology which can simultaneously fire 3 sizes of droplets at high speed. Printing time for a typical 4 x 8' (1,220 x 2,440 mm) size rigid board averages about 15 boards per hour in the everyday "Standard" print mode for typical point of purchase display applications. About 10 sheets can be printed even in the "Quality" print mode that provides high image quality.
The IU-1000F employs UV-LED flatbed printing technology to print directly on various material types, including rigid boards up to 2,510 x 1,310 mm size and 110 mm thickness. The exclusively-developed, high-performance UV inks cure immediately, enabling the IU-1000F to print on a wide range of substrates, including acrylic, PETG, PVC board, foam board, PC, wood, corrugated polypropylene board, aluminum composite plate, and even on metal and glass that are generally difficult to adhere to by using primer ink.
Moreover, it features a number of new functions that support efficient performance, including an ionizer that removes static electricity, a flexible flatbed mechanism that can handle materials of various sizes from one large board to multiple small panels, and media alignment pins for easily aligning materials to be printed.
In addition to CMYK, the IU-1000F supports White and Gloss inks to create a wide variety of applications, from producing impressive and highly-profitable sign graphics to custom-designed interior decoration.
The IU-1000F will be unveiled at major exhibitions of large format printing solutions such as Viscom Italy in Europe (October 10th to 12th) and Printing United in North America (October 23rd to 25th). Sales will start in Europe, North America and Japan from the first quarter of the year of 2020.
For more information, contact:

Roland DG Corporation
PR/IR Unit
+81 (0)53-484-1400
E-Mail:rdg-ir@rolanddg.co.jp