Corporate News
05/15/2020
Roland DG Corporation
Roland DG Launches "Power of Creativity" Special Web Site to Support Customer Businesses During COVID-19
Hamamatsu, Japan, May 15, 2020 – Roland DG Corporation, a leading manufacturer of wide-format inkjet printers and printer/cutters, today announced the launch of a special "Power of Creativity" website that provides an introduction to the many creative activities undertaken by Roland DG Group employees from around the world to assist customers in continuing or restarting their businesses during the spread of the COVID-19 disease.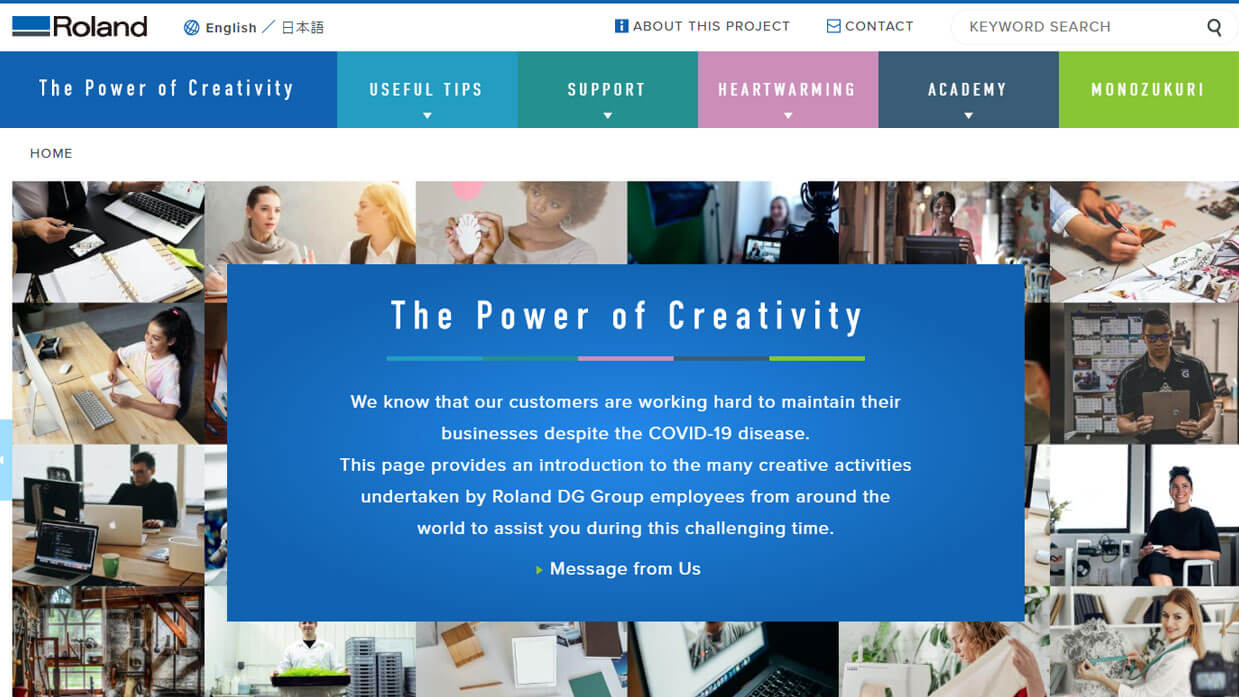 About "The Power of Creativity" Special Web Site
Roland DG provides a variety of information related to the following five categories.
Useful Tips
Introduces the latest useful information, including tips, application ideas and COVID-19 disease countermeasures.
Support
Offers reassurance with valuable information about how to maintain the safety and normal operation of the Roland DG machines, including measures to prepare for extended periods of non-use.
Heartwarming
Introduces relaxing messages and activities from Roland DG Group employees around the world.
Academy
Provides the latest product knowledge and tips for new business opportunities with a host of Roland DG Academy programs where individual instructors demonstrate technical skills and offer profitable application ideas.
Monozukuri
Demonstrates our flexible monozukuri ideas, introducing our unique "D-PICS" manufacturing system that utilizes Information Technology (IT) to achieve high-mix, low-volume manufacturing.
About This Project
We know that you are working hard to overcome the profound impact of the COVID-19 disease. We are likewise forced to do business under very difficult circumstances.
Numerous activities have been initiated around the world at Roland DG Group to support our customers during this challenging situation. Each employee is tasked with asking, "What I can do now?" and is proactively working on discovering and applying answers utilizing their individual talents and expertise. Our activities vary from region to region, and while we may not currently be able to respond 100% to the request of each customer, we think those activities that come from imagination and embody "Creativity" represent the mission we have inherited and cherished for 40 years since our foundation.
On this web page, we have featured the worldwide activities of the Roland DG Group, our partners and users. We will be deeply gratified if you find information that helps you to recover quickly and perhaps even thrive under this situation.
The power of a single "Creative" idea may be small but, when added to others from around the world, is capable of unlocking immense power with infinite possibilities which will surely lead to the hope and courage to smile tomorrow.
For more information, contact:

Roland DG Corporation
PR/IR Unit
+81 (0)53-484-1400
E-Mail:rdg-ir@rolanddg.co.jp