Product News
06/11/2020
Roland DG Corporation
Explore Uncharted Colors with Roland DG's New TrueVIS VF2-640 Printer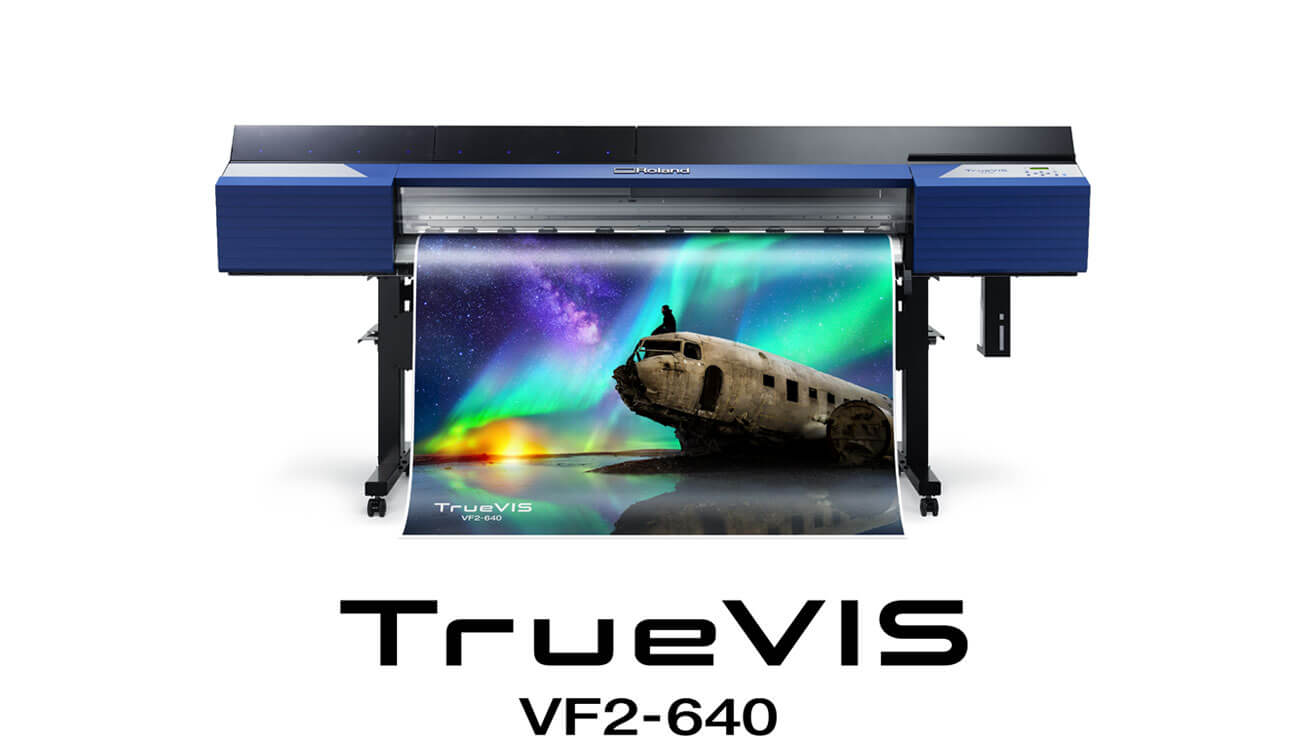 Hamamatsu, Japan, June 11, 2020 – Roland DG Corporation, a leading manufacturer of wide-format inkjet printers and printer/cutters, today announced the global launch of the new TrueVIS VF2-640 64" wide-format inkjet printer.
According to Kevin Shigenoya, Vice President, Digital Printing Business Division, Roland DG developed the award-winning TrueVIS series of inkjet printers to deliver the "Power to Excite" by achieving the highest ever print quality available for durable graphics. As the first print-only model to be added to the TrueVIS series, the VF2-640 inherits a host of functions from the TrueVIS VG2-640/540 printer/cutters released in March 2019. In addition, the VF2 is capable of producing previously uncharted colors for stunning printed graphics.
The VF2-640 features a new TR2 green ink, which when combined with vibrant orange ink as process colors, enables unprecedented gamut expansion and richer visual expression. The VF2-640 also comes equipped with the advanced "True Rich Color" preset which maximizes the potential of both printer and ink. "Vibrant color can now be combined with neutral grays, smooth gradations and natural skin tones that will amaze customers," Shigenoya said.
The VF2-640 incorporates Roland DG's innovative FlexFire printheads for high-speed, high-precision ink firing, a new media take-up unit with increased stability for smooth post processing according to the type of media chosen, and the Roland Color System Library for quick and easy color matching of target colors. When paired with Roland DG cutting devices, print/cut data can be automatically processed by the included VersaWorks 6 RIP software for efficient production of stickers, labels, floor signs and much more.
"Roland DG is committed to delivering unique, high-quality products that expand the horizons of digital printing with uncompromising visual expression," Shigenoya said. "As confirmation, the TrueVIS series continues to be the most highly regarded wide-format inkjets by customers and key industry organizations, as well as by the world's leading independent provider of testing and analysis for the document imaging industry. In the last year alone, TrueVIS inkjets were the recipient of seven major industry awards*. I know that the VF2-640's ability to deliver breathtaking graphics will not only meet but exceed the needs of industry professionals involved in producing high-quality sign graphics."
*The TrueVIS series won seven awards in 2019.
- "Innovation Award" at the 2019 ISA International Sign Expo® in Las Vegas
- "Best Print & Cut Solution" in the EDP (European Digital Press Association) Awards
- SGIA "Product of the Year" Awards in the "Roll-to-Roll/Solvent/Latex (under 80 inches)" and "Digital Inks – Eco-Solvent/Solvent/Latex" categories
- Keypoint Intelligence's Buyers Laboratory "Buyers Lab 2020 Pick Awards" in the "Outstanding Gamut Expansion Eco-Solvent/Latex 54"/64" Printer category", "Outstanding Enhanced CMYK Eco-Solvent/Latex 54"/64" Printer category", and "Outstanding Entry-Level CMYK Eco-Solvent/Latex 54"/64" Printer category".
For more information, contact:

Roland DG Corporation
PR/IR Unit
+81 (0)53-484-1400
E-Mail:rdg-ir@rolanddg.co.jp