Product News
11/11/2020
Roland DG Corporation
TrueVIS TR2 Ink Wins PRINTING United Alliance 2020 Product of the Year Award for the Second Consecutive Year
Hamamatsu, Japan, November 11, 2020 – Roland DG Corporation, a leading manufacturer of wide-format inkjet printers and printer/cutters, announced that TR2 ink for its TrueVIS series wide-format inkjet printers has won a prestigious 2020 Printing United Alliance "Product of the Year" award for the second year in a row. Roland DG's TrueVIS TR2 ink was again recognized in the "Digital Inks - Solvent / Eco-Solvent / Latex" category.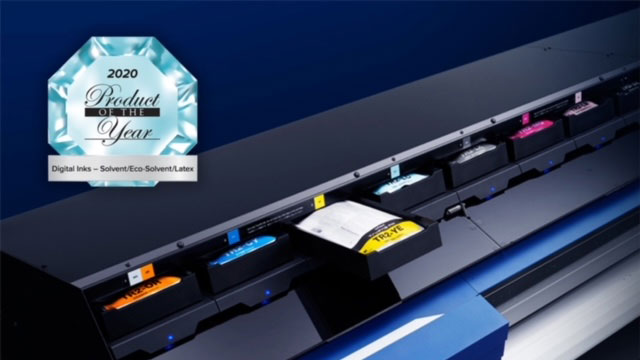 The PRINTING United Alliance (formerly SGIA) is an industry group that supports companies related to digital printing and screen printing. The Product of the Year awards, selected annually by the organization, recognize outstanding products and technologies that have contributed to the development of the industry.
Award-winning TR2 ink was developed for Roland DG's flagship TrueVIS series of wide-format inkjet printers for the digital graphics market. The TR2 color lineup includes the basic cyan, magenta, yellow, and black, as well as light cyan, light magenta, light black, white, and orange, plus a new green color released in June this year. Green ink is a driving force for producing graphics with the extraordinary power to excite hearts and minds, which is an exceptional feature of the TrueVIS series. It also makes it possible to reproduce specified colors such as brand logos faster and more accurately.
Kevin Shigenoya, Vice President, Digital Printing Business Division, said, "We are very pleased to receive this prestigious award from the PRINTING United Alliance again this year. The addition of the new green to TR2 ink enables expanding the range and depth of expression of TrueVIS printing to not only improve quality but to also add creativity and reliability. Roland DG will continue to provide new value to our customers' businesses and contribute to the development of the digital printing industry through unique, creative products and solutions."
For more information, contact:

Roland DG Corporation
PR/IR Unit
+81 (0)53-484-1400
E-Mail:rdg-ir@rolanddg.co.jp