Product News
04/27/2021
Roland DG Corporation
"Roland DG Connect" Launch Expands Customer Communication and Creative Possibilities

Hamamatsu, Japan, April 27, 2021 – Roland DG Corporation, a leading manufacturer of wide-format inkjet printers and printer/cutters, today announced a new cloud-based service called "Roland DG Connect."
Kevin Shigenoya, Vice President, Digital Printing Business Division, Roland DG, said Roland DG Connect will improve customer satisfaction and success by providing a more comfortable and stable operating environment, improved workflow efficiency, increased business development and profitability, and by enabling people with various skills and needs to collaborate and share ideas.
During the first phase, Shigenoya said customers of supported Roland DG products* will be able to share operating information interactively with Roland DG following product registration. Should an error occur, the shared information on the operating status and history of the product can be used to reduce the time of repair, thus helping to reduce downtime for the customer. The Health Check function monitors major components, such as the print head and notifies users of required maintenance to assist them in keeping their product in good working condition for stable operation. In addition, the Dashboard function offers an easy-to-understand, color-coded view of operating status to improve product utilization and efficient business operations.
"Roland DG is committed to providing products, solutions and services to help people unleash their creative potential, transform their imagination into reality, and enjoy the fulfillment that comes from inspiring others through their work," Shigenoya said. "Our goal is to make everyone feel more creative, excited and productive."
"By providing a communication space that connects people, Roland DG Connect has the potential to create unprecedented value, unique expressiveness and new business by connecting users not only with us, but with dealers, suppliers, clients, designers, students and more," Shigenoya said. "We see Roland DG Connect as a game changer in the industry. We will continue to expand new functions and services as needed to generate an even more attractive creative ecosystem with our customers."
Roland DG Connect will be available in Japan, the U.S., and the U.K. on April 27, 2021.
* TrueVIS series: VG2-640/540, SG2-640/540/300, VF2-640, VG-640/540, SG-540/300. Updating to the latest firmware is required. Supported products will be expanded in the future.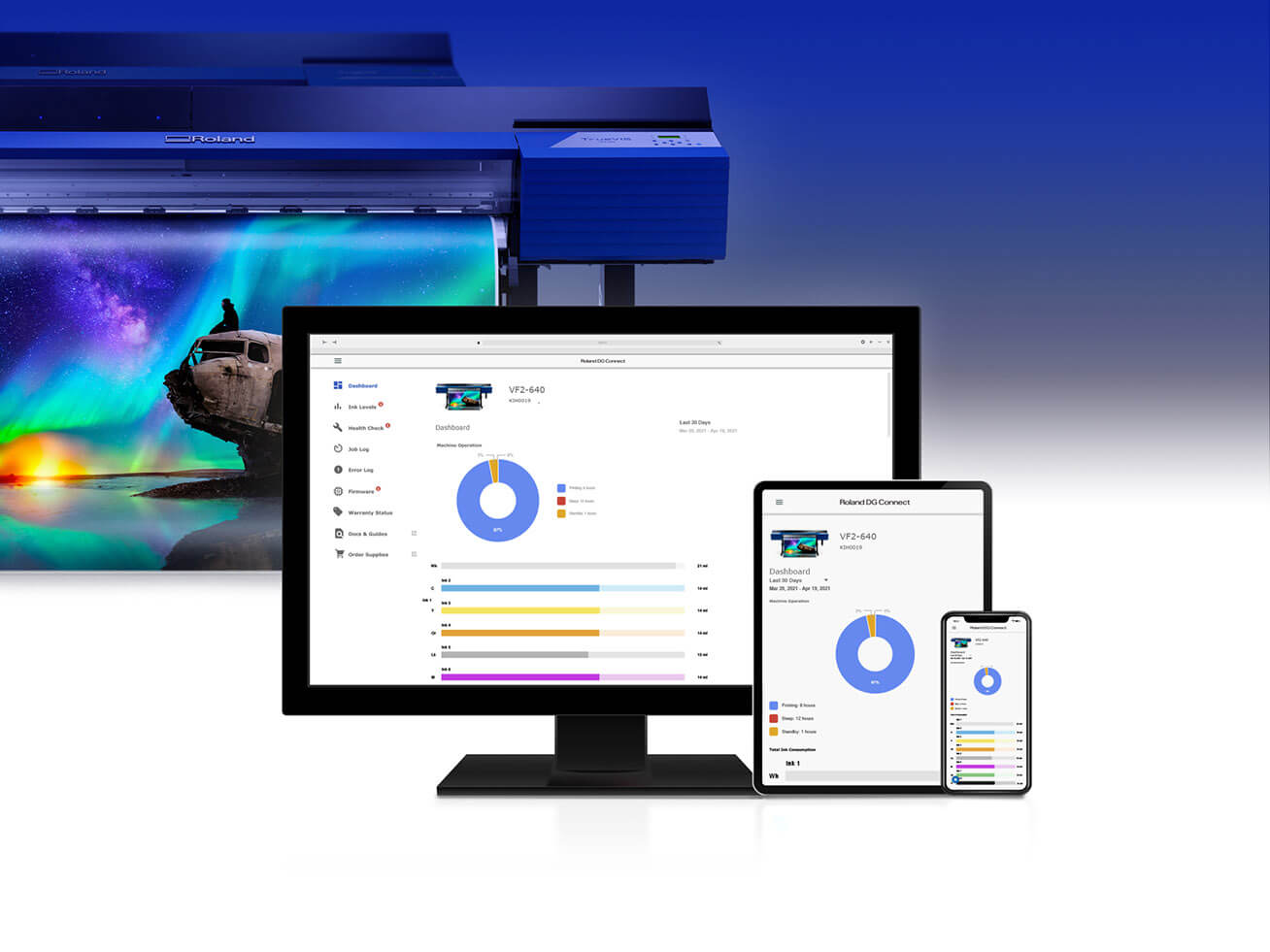 For more information, contact:

Roland DG Corporation
PR/CSR Unit
+81 (0)53-424-6055
E-Mail:rdg-pr@rolanddg.co.jp