Corporate News
08/02/2022
Roland DG Corporation
Roland DG to Construct a New Building in the Thailand Factory to Increase Capacity by 60%
Hamamatsu, Japan, August 2, 2022 – Roland DG Corporation, a global manufacturer and distributor of advertising and signage inkjet printers and 3D manufacturing tools, is happy to announce our decision to construct a new building in the Thailand factory managed by Roland Digital Group (Thailand) Ltd (Samutsakhon, Thailand).
Expected completion image of Thailand factory (the new building in the foreground)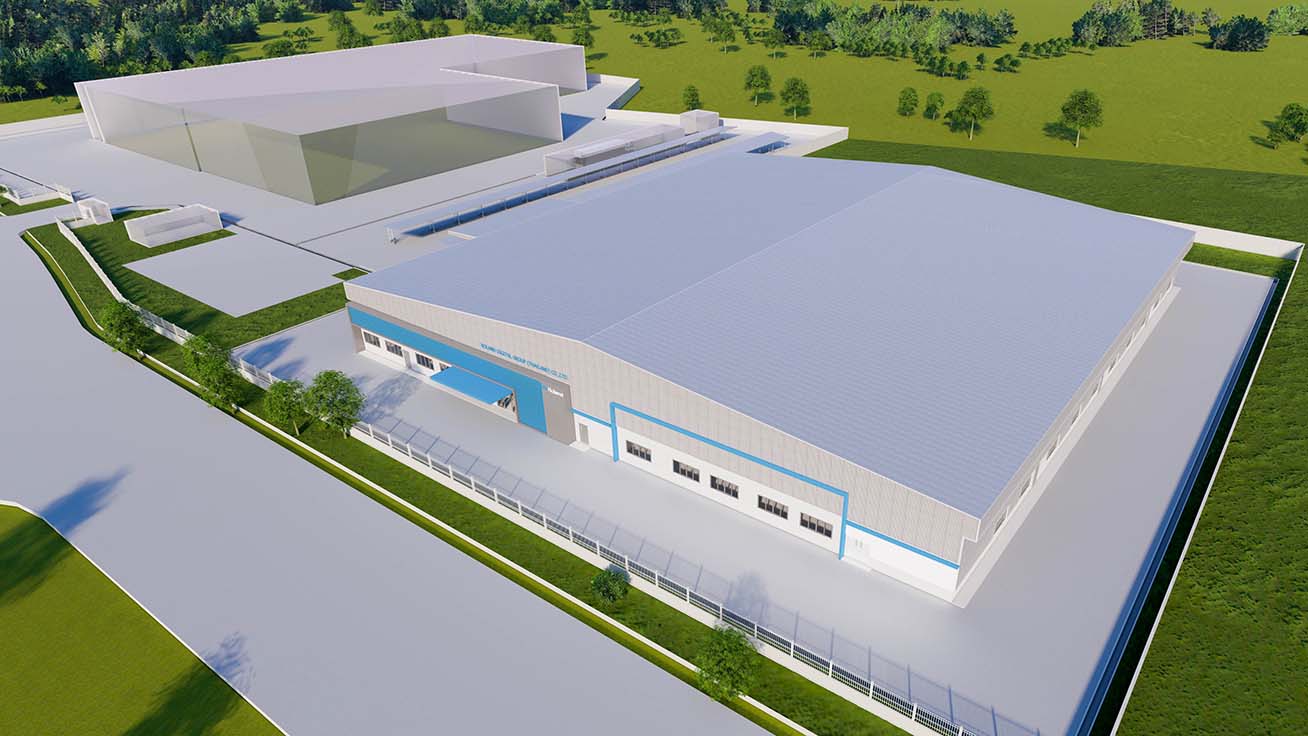 The new building will be constructed on an unoccupied space within the premise of the Thailand factory area. As part of a structural reform aimed to achieve our midterm business plan (FY2021-23), we consolidated our mass production functions, previously conducted in the Japan factory and the Thailand factory, into the Thailand factory in 2021. The construction of the new building is aimed at enhancing our production system to meet future demand growth. We also plan to transfer the management and shipping of service parts as well as other operations currently handled at the head office to the Thailand factory.
The new building will produce dental milling machines and desktop inkjet printers, both in which we expect further demand increase in the future. Construction is scheduled to begin in September 2022 with full-scale operations scheduled to begin in April 2023. The new building will have a floor area of 5,400 m2, increasing the total floor are of the entire facility by approximately 54% to 15,360 m2. Production capacity will increase by approximately 60% to 30,240 units (in terms of dental milling machines). In addition, the new building and the existing factory will have independent warehousing, production, and shipping functions, enabling efficient parts receiving, production, and shipping.
About our Thailand factory
The Thailand factory is our first overseas plant, which started operation in October 2012. We completed floor space expansion in September 2014 and 2022 in response to the expansion of production volume. In order to reduce production costs and improve price competitiveness, we transferred the mass production function out from Japan in 2021. We provide a stable supply of high-quality products by using our proprietary production support system "Digital YATAI*" and promote local procurement of parts and components.
Overview of the new building
Total floor area
New building: 5,400 m2 / Overall: 15,360 m2
Total floor area
(production site)
New building: 4,410 m2 / Overall: 9,890 m2

Building structure
Steel construction; single floor
Production capacity
New building: 11,400 units
Overall: 30,240 units (in terms of dental processing machines)
Products manufactured
9 models (Commercial inkjet printers, Dental milling machines etc)
Employees
New building: 90 (incl. 67 operators)
Overall: 360 (incl. 196 operators)
Investment amount
THB 120 Million (approximately JPY 456 Million)
Overview of the Thailand subsidiary
| | |
| --- | --- |
| Company Name | Roland Digital Group (Thailand) Ltd. |
| Address | 30/122 Moo 1, Sinsakhon Industrial Estate, Tambol Khok Kham, Ampur Muang, Samutsakhon 74000, Thailand |
| Business description | Manufacturing of wide-format inkjet printers, dental milling machines etc |
| Capital | THB 210 Million |
| Number of employees | 262 (as of June 2022, incl. 151 operators) |
* Digital YATAI:
Our proprietary production system used to assemble our products. The system uses digital technology that supports the operators to achieve high quality and productivity. The system enables flexible production of a wide variety of products as well as specific order quantities.
For more information, contact:

Roland DG Corporation
Corporate Division
+81 (0)53-484-1200
E-Mail:rdg-pr@rolanddg.co.jp