Product News
03/20/2023
Roland DG Corporation
Roland DG Launches New High-Value Brand of Inkjet Printers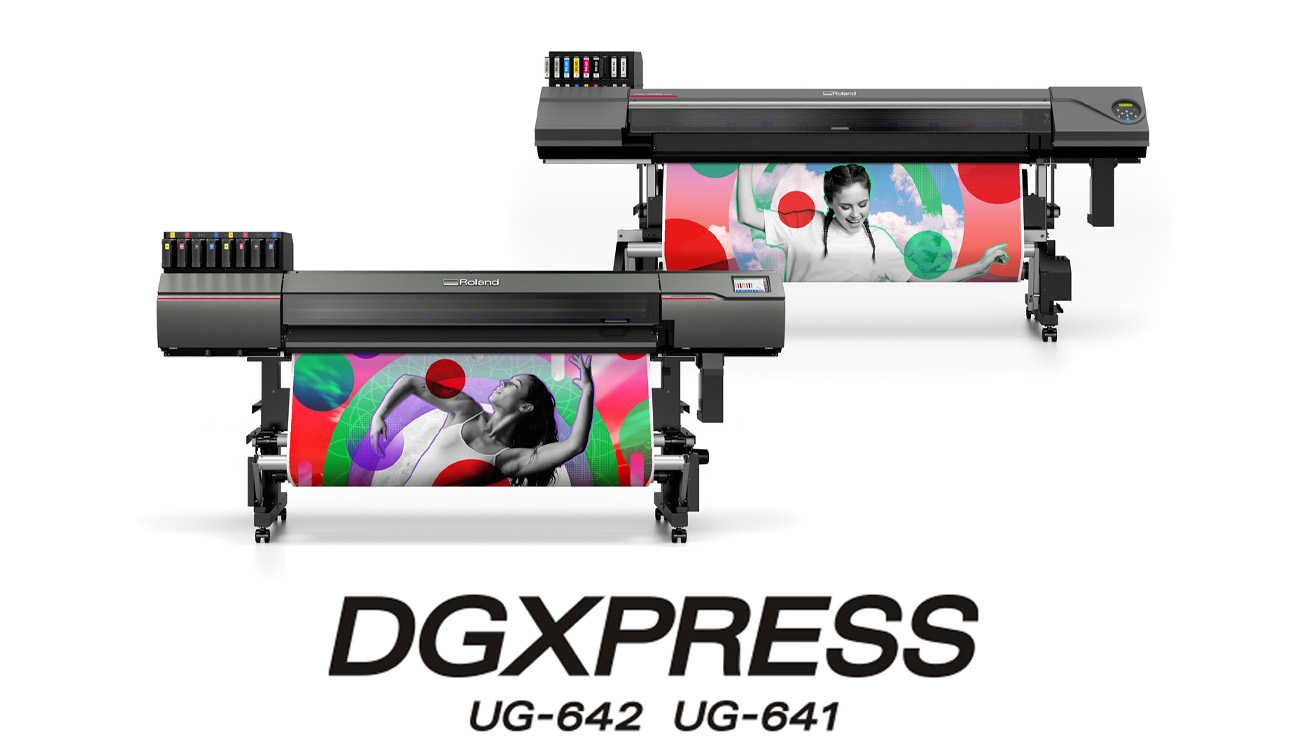 Hamamatsu, Japan, March 20, 2023 – Roland DG Corporation, a leading manufacturer of wide-format inkjet printers and printer/cutters, today announced the new DGXPRESS printer brand emphasizing superior productivity at an economical price. As the first in the series, we are pleased to announce two new UV printers, the UG-642 and UG-641.
"Since we began selling wide-format inkjet printers in 1997, we have led the sign and graphics market in recognition of our outstanding print quality and reliability, as well as for the support we provide to our dealers and customers," said Tony Miller, President of Roland DG's Global Sales and Marketing Division.
"In countries with remarkable economic growth, demand for graphics is increasing and there is a need for high productivity with good cost performance. In addition, many customers are just now entering the business." Miller continued.
"In order to respond to the voices of customers in those countries and regions, we developed DGXPRESS as a limited area* brand that focuses on high productivity at an easy-to-install price while maintaining the excellent print quality and reliability that are among the greatest features of Roland DG products," Miller said.
The UG series includes two wide-format inkjet printers that use UV ink, which is growing in popularity in the sign and graphics and digital printing markets. The UG-642 features dual staggered print heads and an output speed of up to 31.9 m2/h (720 x 600 dpi). It is ideal for customers who need to produce large-sized output in a short period of time. The UG-641 is also priced comfortably for those who want to expand the scope of their business, or for those who wish to start a new print business.
In addition to excellent ink drying capabilities and an automated Print&Cut function, the UG series offers support for a diverse range of media for both outdoor and indoor applications, including signs and banners, window graphics, backlit panels, POP, and adhesive-backed labels and decals. The ability to perform special printing with unique 3D effects and realistic textures using Clear ink and White ink makes it a powerful tool in the production of high-value-added packaging prototypes and artwork. The combination of a print head that optimally controls ink ejection and high-powered LED lamps that cure and fix the ejected ink in a short time enables the reproduction of small text, textures, gradations, and other fine details in high definition.
VersaWorks 6 professional RIP software is included and offers a variety of functions to support professional output operations, including "True Rich Color 3" print settings that combine vividness and naturalness in a single print.
Roland DG Connect, a cloud-based service that shares customers' product information interactively with Roland DG, is also included. This service provides more proactive support in the event of errors, while also offering visualization of printer operation and various functions at a glance, plus simple profit and cost calculations, and can quickly download media output profiles, helping to reduce downtime and improve work efficiency and profitability.
"The DGXPRESS brand name expresses our desire to inspire the creativity of more customers around the world by offering the greatest value for our inkjet printers, the highest expressive power (EXPRESSION), together with high-volume productivity (EXPRESS)," Miller added. "Red, the brand's theme color, signifies "the beginning of things," "passion," and "prosperity." It also represents our commitment to support our customers in their new success stories through DGXPRESS. We will continue to expand our product lineup and grow the brand to exceed our customers' expectations."
*Asia (Excluding Japan), Middle East Asia, Africa, Eastern Europe, CIS (Excluding Russia and Belarus), Latin America
For more information, contact:

Roland DG Corporation
Corporate Division
+81 (0)53-484-1200
E-Mail:rdg-pr@rolanddg.co.jp