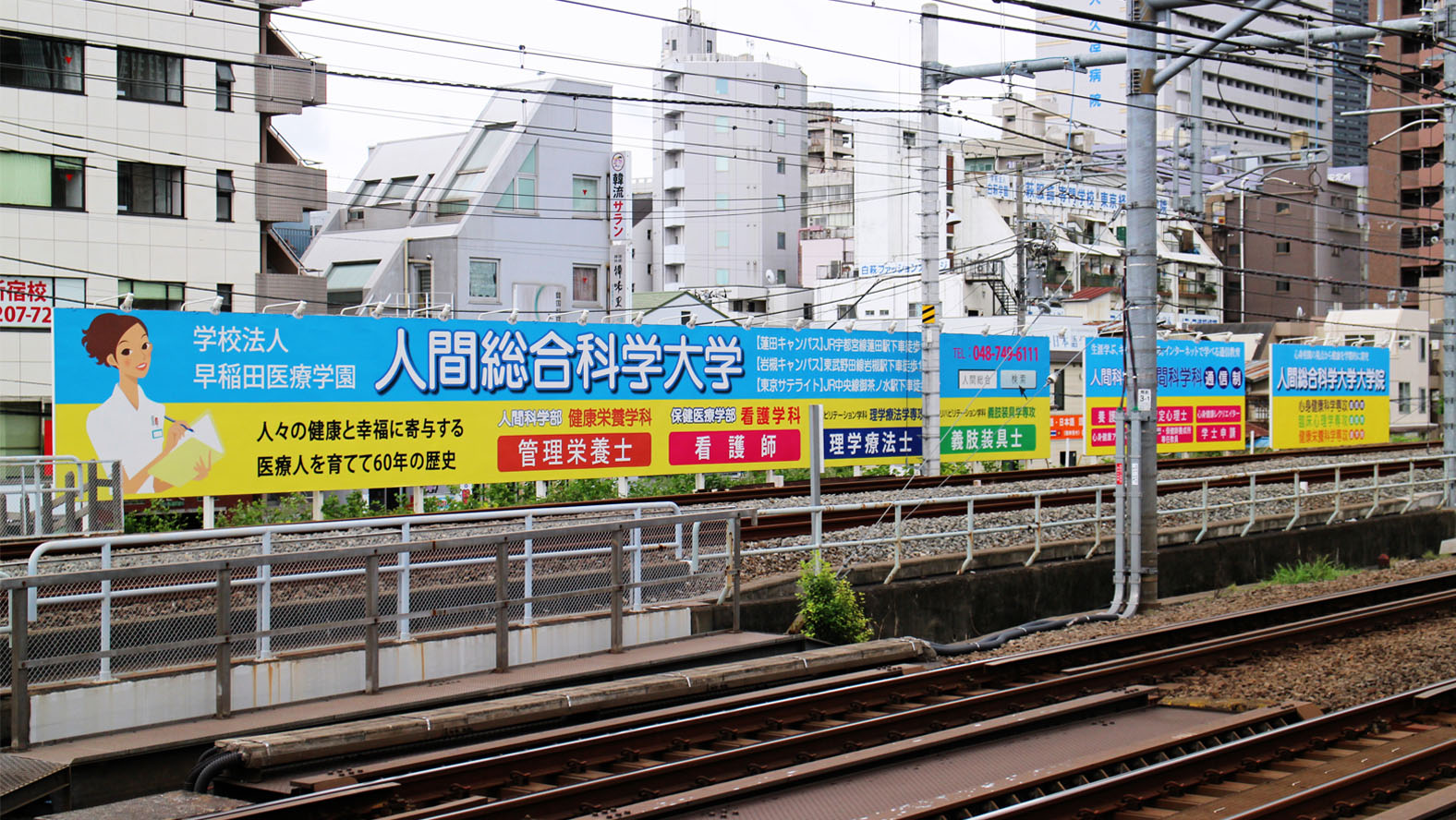 For Railway Advertising Firm, Roland DG Printers Deliver Outstanding Productivity and Value
Located near Tokyo's Ikebukuro Station, one of the busiest railway stations in Japan, BISENDO Ltd. is involved in all aspects of station and in-train advertising from production through to installation. Each day, the company produces all manner of advertising, from the small stickers that you often see inside trains, to large billboards, more than 100m2 in size.
BISENDO president Kiyoharu Matsumoto explained that image quality and being able to handle the busy workflow were the two most important factors when choosing which printers in which to invest. BISENDO began using Roland DG printers in 2003, initially with a SOLJET PRO 2 SC-540 inkjet printer/cutter. In February of 2016, the company started using two of Roland DG's newest SOLJETs, the EJ-640, to meet an increase in orders.
Reaping the benefits of faster print speeds and reduced installation costs
According to Matsumoto, spring is the time when most station advertising materials are replaced in Japan and, for companies like BISENDO, the busiest time is from the end of winter to early spring. "We had to deliver a huge number of orders from March to April, 2016. So, our new EJ-640 printers were running 24-hours, day and night. Getting through such a large volume of work helped us to record our highest sales figures ever. The EJ-640 is capable of printing in stunning quality – from dense, rich colors for billboards, to stickers with fine details when viewed up close. We noticed how much faster the new printers were compared to the previous models when we were printing those high-density colors."
Matsumoto also discussed the practical benefits of using the new printers: "Advertising at stations is usually changed after the last trains leave. There is only a limited time for the changeover before the trains start running in the morning again. The ads are printed in sections, and the EJ-640 prints perfectly from start to finish without any misalignment, even when using roll media several meters long. This allows us to line up individual sections much easier during installation, which in turn helps to cut down installation time and costs."
Being able to reproduce color accurately
Station advertising needs to be printed not only in high quality, but the colors of the original data also need to be reproduced perfectly. "We are really happy with the overall balance that the EJ-640 delivers. It can print with exceptional image quality that catches passengers' eyes, and can also reproduce the colors and tones of the original design data exactly as the designers intended," explains Matsumoto. He is particularly pleased with the way that light black ink can accurately reproduce grays. "Many designers use gray tones in their designs, which were difficult to reproduce with printers in the past. The EJ-640 makes it so easy to deliver the same grays as the design data, making proofing checks so much smoother for our clients."

Matsumoto expressed his satisfaction with the new printers. "The SOLJETs have improved our image quality and productivity which are required for railway station advertising. From a design standpoint, the EJ-640 has also been completely refreshed all round, making it even easier to use. Roland DG has done a great job carefully applying feedback from people like me who use the printers every day. I am looking forward to many years of reliable service with the EJ-640."