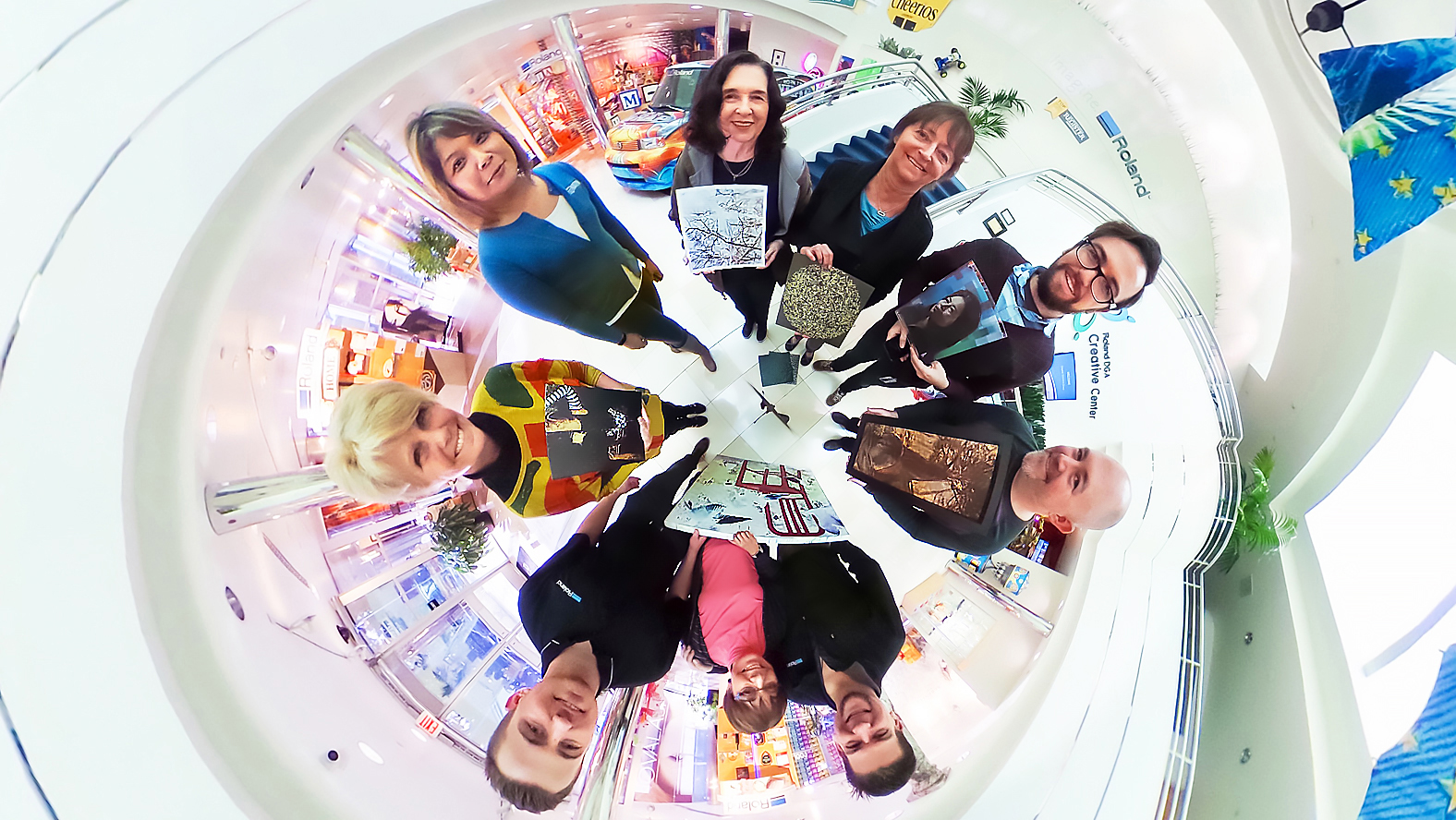 Imaginarium Artcademy 2017 Explores the Fine Art Capabilities of Roland DG UV Print Technology
07/13/2017 Events & Tradeshows, Digital Printing
Roland DGA, Roland DG's U.S. sales and marketing subsidiary, recently partnered with noted artist, author and Roland user, Bonny Pierce Lhotka to demonstrate how Roland DG machines can aid artists, photographers and multimedia designers in the creative process.
(Header image courtesy of Sean Teegarden)
A group of fellow artists were invited to DGA's headquarters in Irvine, California to spend three days making art with our VersaUV and Texart dye-sublimation printer technologies. The name of the event, "Imaginarium Artcademy," is a combination of "Art" and "Academy."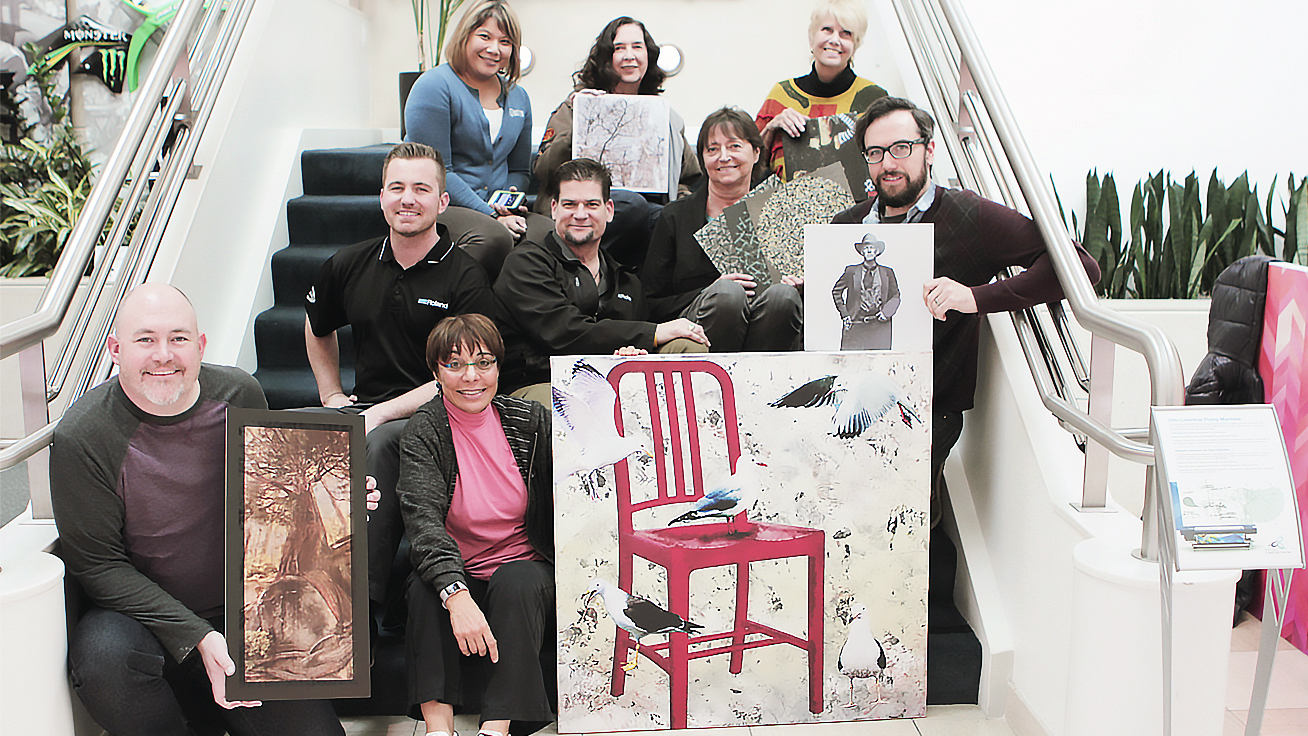 Photo: The Imaginarium Artcademy group of Artists and Roland DGA staff included (from left to right) Jake Weien, Garrett Smalley, Ileana Frómeta Grillo (below), Lily Hunter, Jay Roberts, Bonny Pierce Lhotka, Karin Schminke, Dorothy Krause and Sean Teegarden.
With help from Jay Roberts, Product Manager for UV Devices at Roland DGA and a team of DGA experts, participating Imaginarium Academy artists experimented with different media, machines, and processes to create stunning gallery art, photographic art, and experimental art pieces.
Imaginarium 2017 Artcademy of Artists
Bonny Pierce Lhotka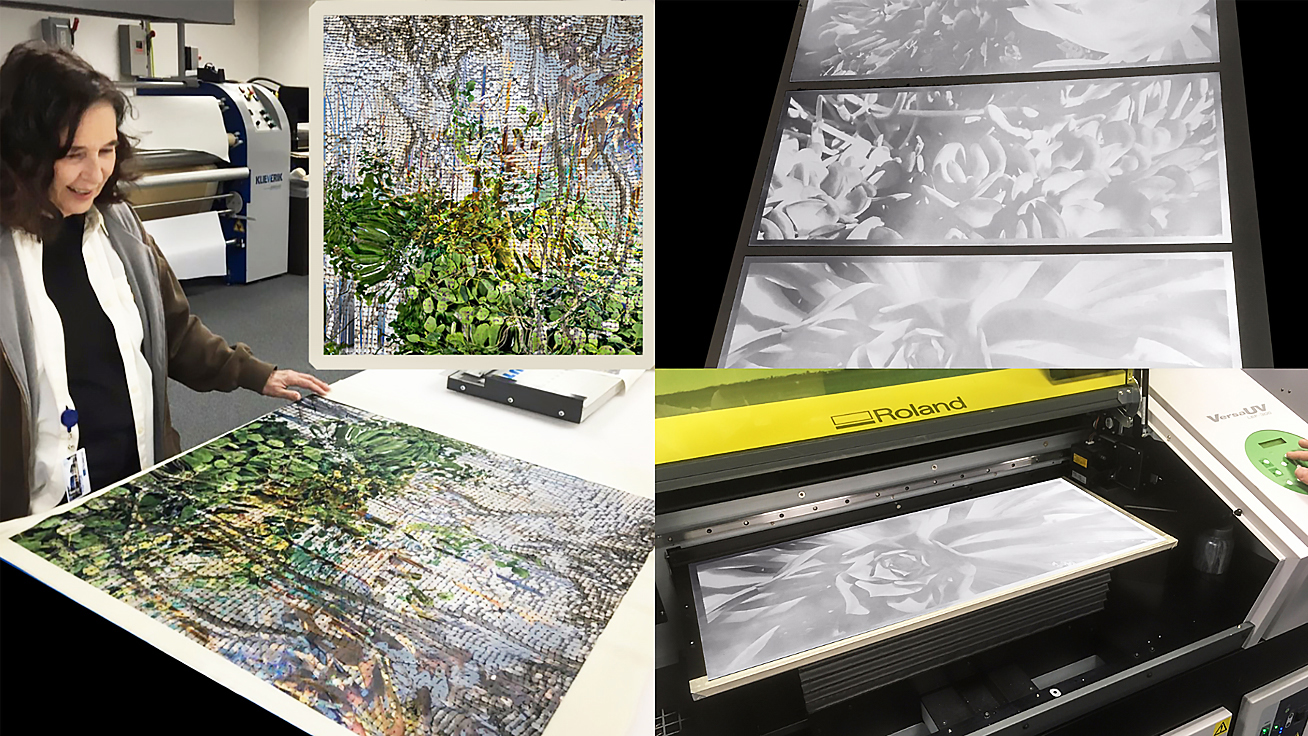 Left: Bonny Pierce Lhotka working on a dye-sublimated material art project.
Right top: Bonny's finished art.
Right bottom: Close-up of VersaUV LEF-300 printing white onto metal.
Bonny Lhotka is an internationally renowned artist and printmaker whose work appears in more than 200 collections, including the Smithsonian and Alburquerque Art Museums. Bonny has a long history of working with Roland DG machines and was excited to use the large Roland DG UV-LED flatbeds to make a new production piece for the Walker Fine Art Gallery in Denver utilizing her caustigram* print technique on metal that actually changes the properties of the media itself.
"I discovered that I can use UV printers to achieve my caustigram effect by printing white ink onto sanded metal — creating an image within the metal through a 'cooking' process that uses dishwasher detergent, water and then alcohol to dissolve the ink. The Roland DG UV printers work flawlessly with this printing process and I've greatly appreciated the opportunity to use the larger flatbed technology."
* You can see the actual process of producing a caustigram at
https://vimeo.com/201502740.
Jake Weien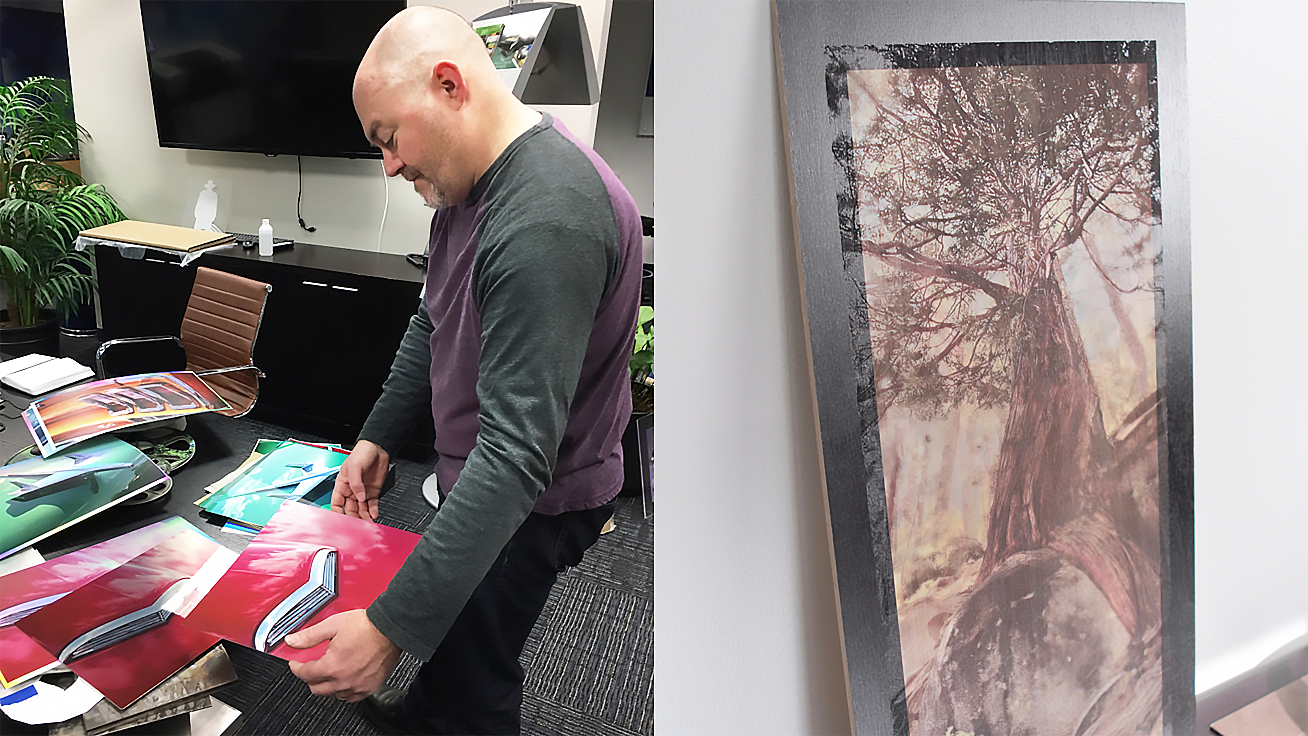 Left: Jake Weien inspects his dye-sublimated prints on metal ChromaLuxe.
Right: Jake's finished art piece with gloss texture added, using the VersaUV LEJ-640.
Jake Weien is a graphic artist, photographer and illustrator. An experienced Adobe expert, he wanted to experiment with the images that he'd created in Adobe PS Express and Adobe Capture apps – transferring photos and multi-layered images onto canvas, film reels, birchwood and other unique media using Roland DG's UV flatbed and dye-sublimation technologies.
"I've been experimenting with putting wooden images onto metal and putting metal images onto wood. It's been a great experience for me and I've found it one of the easier printing processes. It all makes complete sense and I've been able to send many images to print quickly."
Ileana Frómeta Grillo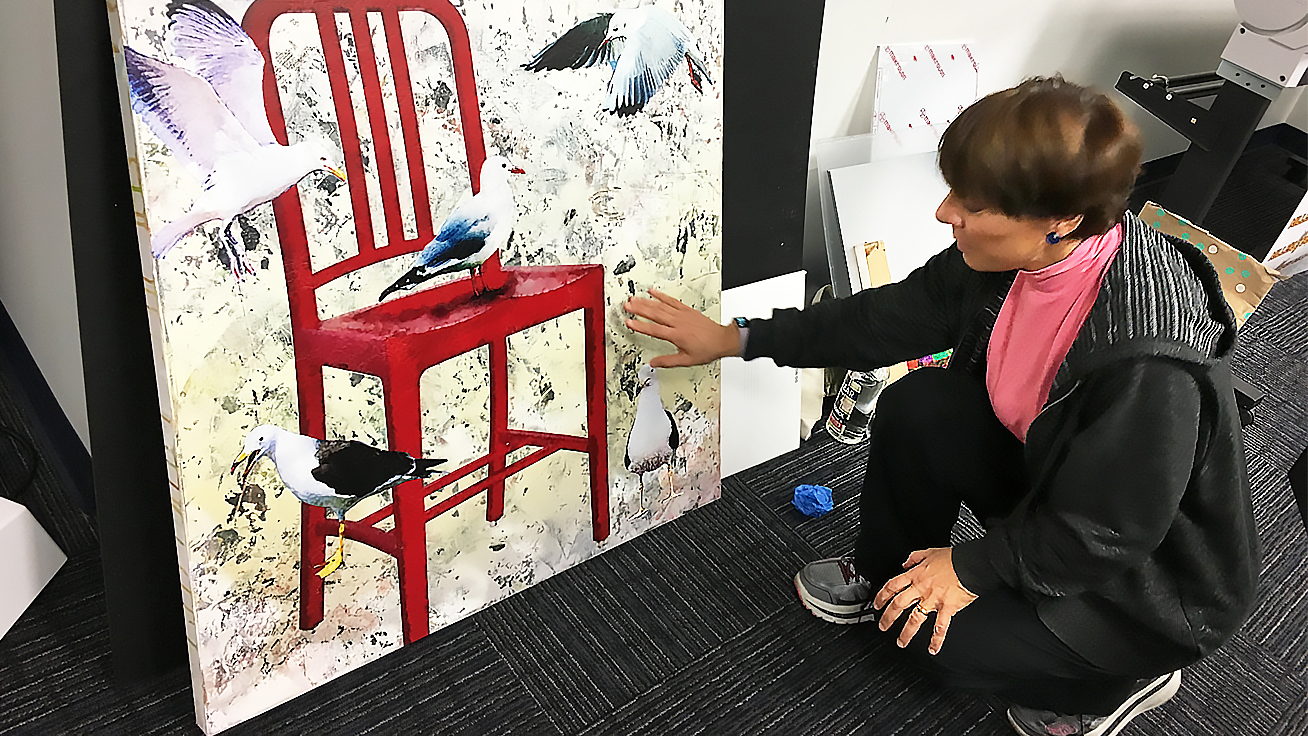 Photo: Ileana Frómeta Grillo demonstrates the unique, 3D texture achieved by using the VersaUV LEJ-640 to print directly onto painted, scratched and plaster-treated canvas.
Ileana Frómeta Grillo is a fine artist and illustrator who works in both traditional and digital media formats. Although new to UV printing, she explained how she quickly mastered the technology to produce a number of pieces with her artwork printed directly onto a pre-painted and textured canvas.
"I'm a beginner with this technology, but these UV printers are intuitive and I'm gradually learning how to adjust the settings to be able to print how I want. It's been a really fun, collaborative experience and, with help from the Roland DG experts, I've been able to unleash my creativity. I feel that there are so many possibilities with these machines."
Karin Schminke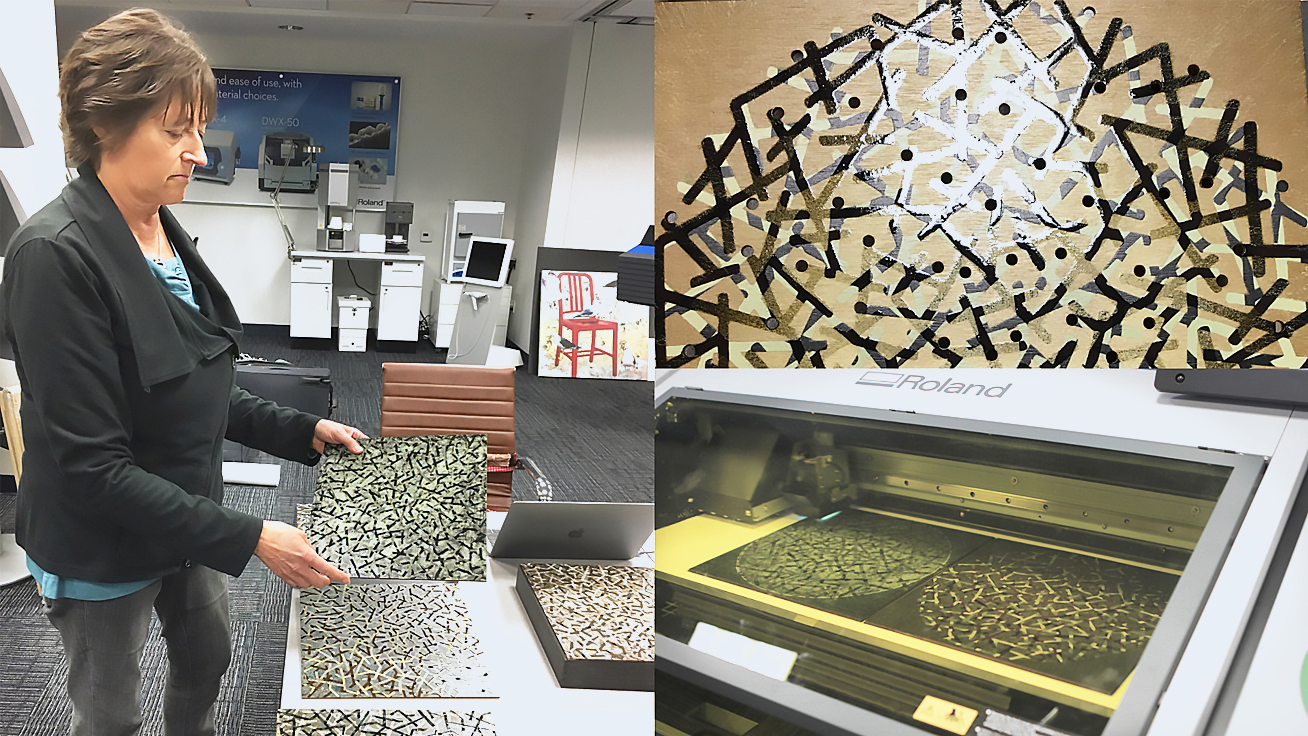 Left: Karin Schminke presents some of her multi-layered abstract art.
Right top: A close-up of Karin's wood panel with UV printed textures.
Right bottom: The VersaUV LEF-300 UV-LED printer outputting Karin's art.
Karin Schminke's art combines digital technologies and traditional artist materials to create art that explores light and form. In preparation for Imaginarium, she pre-cut wood panels and UV-printed her abstract art images onto them, adding tactile white ink and gloss textures and patterns.
"My goals coming in were to really push things that I haven't been able to play with like glossy ink and white ink texture ideas. I didn't know what was going to happen, but the combined result of reflective, spot gloss texture with the deep black holes I cut-out in the wood are such unexpected and complementary effects."
Sean Teegarden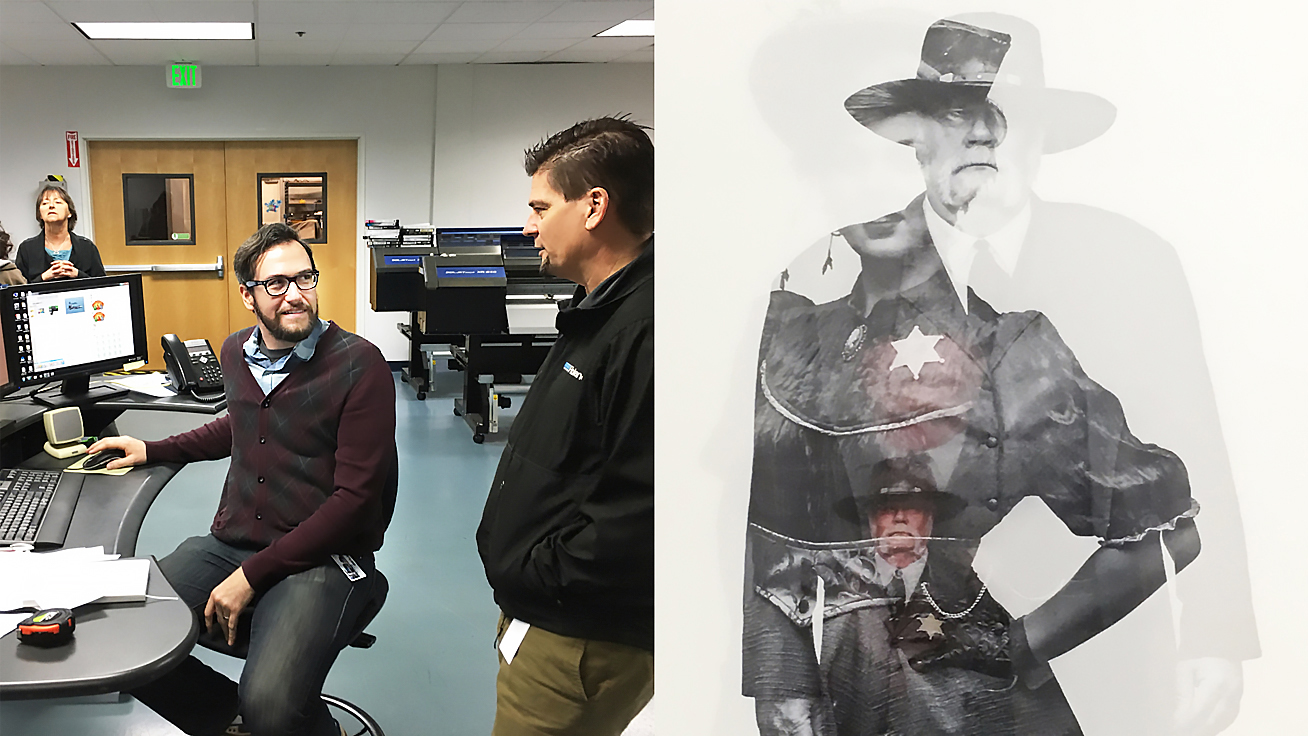 Left: Sean Teegarden (left) talks to DGA staff member Jay Roberts (right) about his file set-up and process.
Right: Printed on the VersaUV LEF-200, one of Sean's double-exposure layered printing results.
Sean is a photographer and multimedia artist. He wanted to use this opportunity to print different image layers onto transparent material to build a "physical" double exposure effect as art pieces and to use in combination with a video camera to create a double exposure effect while filming.
"Apps like Boomerang and Hyperlapse use the double exposure technique with great effect, but force users to create these techniques inside their digital tools. Using Roland DG UV printers and specific print techniques, I'm able to successfully bring these effects into the real world."
Dorothy Krause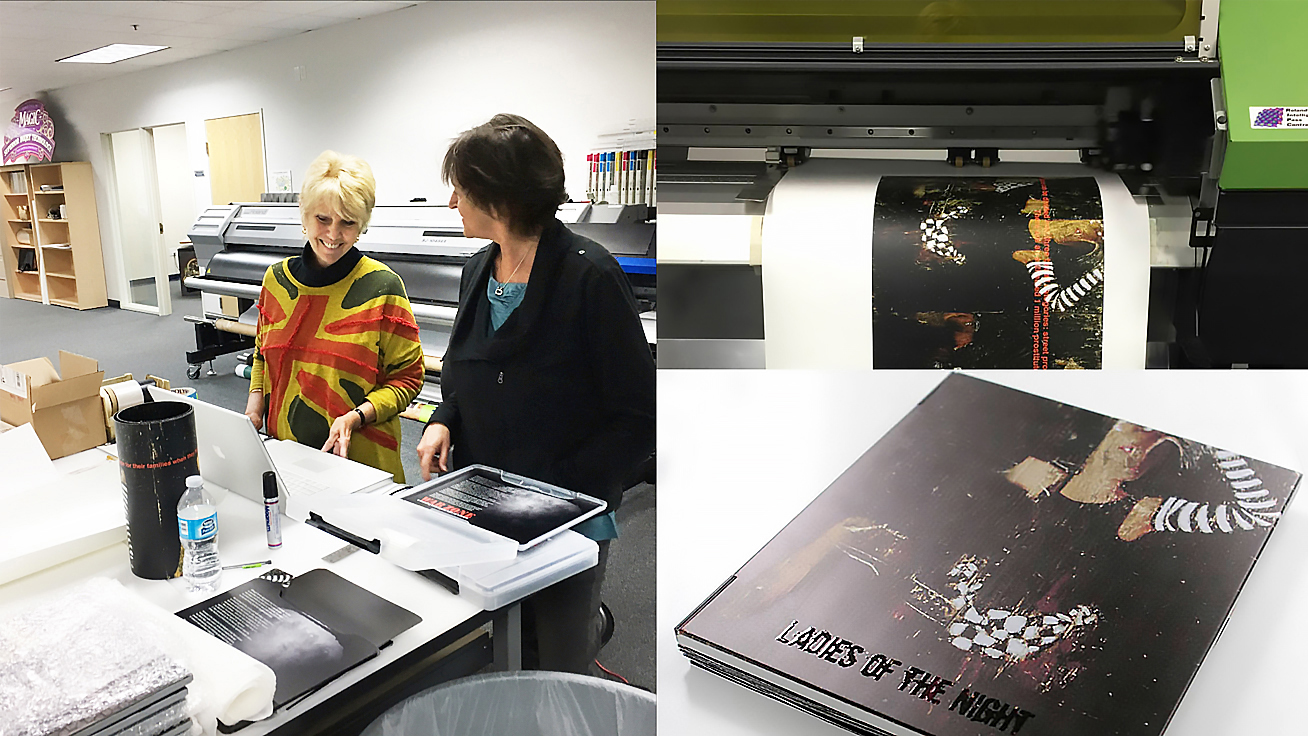 Left: Dorothy Krause (left) discussing her art pieces with fellow artist, Karin Schminke (right)
Right top: Dorothy's project being printed on the VersaUV LEC-540.
Right bottom: Finished art books printed with the LEC-330 UV printer/cutter, revealing distinctive spot gloss effects.
Dorothy Krause is a painter, collage artist and digital artist. She wanted to use Roland DG technology to create some original art products that included a concertina-style, pop-out book entitled "Ladies of the Night" that shares some of her photographic art imagery and socially conscious point-of-view.
"The UV ink on the Roland DG flatbed is allowing me to create this project due to its ability to either shrink or stretch. It doesn't crack when printing onto the many folds of the concertina I've created. I'm also making use of the spot white and gloss effects to really make this idea stand-out."
The Start of Something Big
At the first-ever Roland Imaginarium Artcademy, it was a pleasure to watch this talented group of artists at work and eye-opening to see what they did with our printer technologies. We have always understood the potential of our machines as fine art tools, so it was exciting to see first-hand, the print experimentation on unique media.
We would like to thank Bonny Pierce Lhotka, Dorothy Krause, Jake Weien, Ileana Frómeta Grillo, Karin Schminke, and Sean Teegarden. Please visit their sites to see their work and to read more about Roland Imaginarium Artcademy 2017.