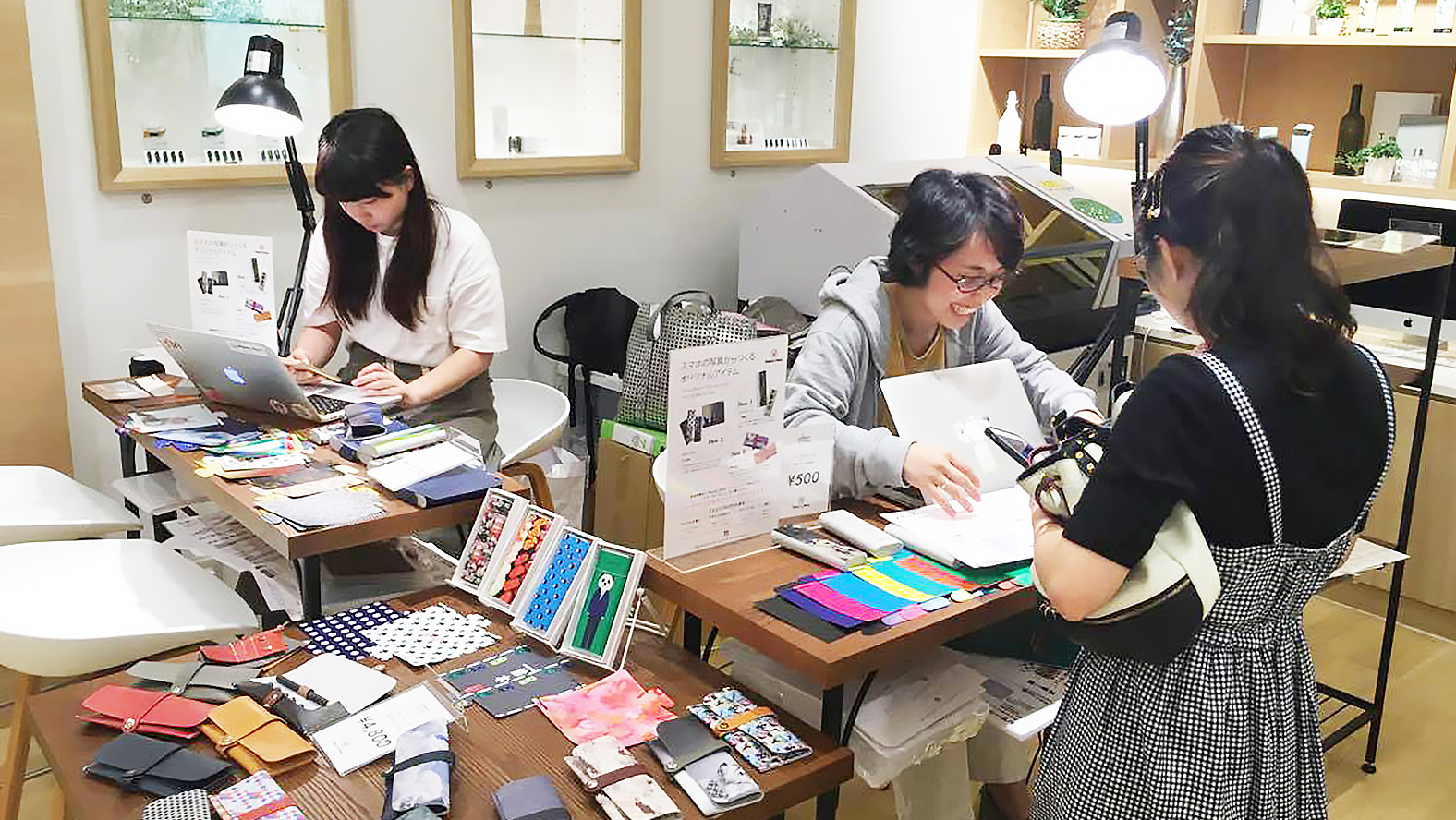 UV printers boost sales of personalized products
08/02/2017 Events & Tradeshows, Digital Printing
Makers' Inc., operators of Makers' Base, the largest membership-based shared factory in Japan, recently ran a customization event at Ploom Shop located in Canal City Hakata. The event ran from May 31 to June 30, using Roland DG's UV printer to create accessories designed by customers for Ploom TECH* tobacco vaporizers. Here are some details of the event.
So what is the shared factory "Makers' Base" all about?
Makers' Inc. opened the membership-based shared factory Makers' Base Tokyo in Meguro, Tokyo in 2013, before relocating to a spacious 800 m2 workshop adjacent to Toritsu-Daigaku Station, Tokyo in 2016. Members are able to use any of Roland DG's UV printers as well as laser cutters and various other types of fabricating equipment that are available, to attend training sessions to learn how to operate the equipment, and to take part in events planned by Makers' Base. Approximately 10,000 people spend time at the factory during the year.
The event offered customers who purchased Ploom TECH products the opportunity to print their favorite photos or text directly onto three items using Roland DG's UV printers.
Carry case
Print favorite photos and text directly onto the carry case that comes with the Ploom TECH starter kit.
Carry case stickers
Print favorite photos or patterns on stickers that wrap around the entire carry case. Attached stickers can be removed later, which makes it easy to change styles or designs.
Leather case
Print designs and photos on the surfaces of the leather case. This event also featured one-of-a-kind versions made of high-quality "Tochigi leather," natural leather made in Japan.
UV printers open up unlimited possibilities for personalized items
Roland DG's LEF-12 UV printer was used to its maximum potential at the event to create items developed by Makers' Base. The LEF-12 is capable of delivering high quality on-demand to print items quickly, meaning customers were able to select photos in the store and take home their custom-designed items the same day. The LEF-12 was able to meet the needs of customers who wanted to start using their custom-made items right away, and it also helped to reduce the workload required by store staff.
Despite the limited event space available in the Ploom Shop, the compact LEF-12 could be used easily without making the area feel cramped. Different materials like plastic, stickers and leather could be printed quickly using just a single printer, which made it extremely popular with event staff.
The joy of personalizing products
During the event period, approximately a third of the customers who purchased Ploom TECH products bought customized items, with some purchasing multiple stickers, leather cases and other items.
More than 1,000 items were sold during the month the event was held, which exceeded objectives. Junpei Matsuda, COO of Makers' Inc., said the reason for this was because users develop a close attachment to their tobacco vaporizers and there is a growing trend in being able to change the vaporizer design style to suit their mood or season.
A greater emphasis on services, rather than products
Rather than purchasing a product that has already been customized, the event provided customers the opportunity to utilize a service for creating one-of-a-kind items designed with their favorite styles. If you could make your own personalized items quickly and easily, wouldn't you want to try it out, too? Events like this increase the number of opportunities where UV printers can be used easily and the number of people who can see the value of such services, like the process behind creating one-of-a-kind items.
After holding this event, we saw a definite shift in the way people are placing greater emphasis on services rather than products.
* Ploom TECH is the brand of an electric heated tobacco vaporizer sold by Japan Tobacco Inc. (JT)
For more information about Makers' Base, please visit http://makers-base.com/.