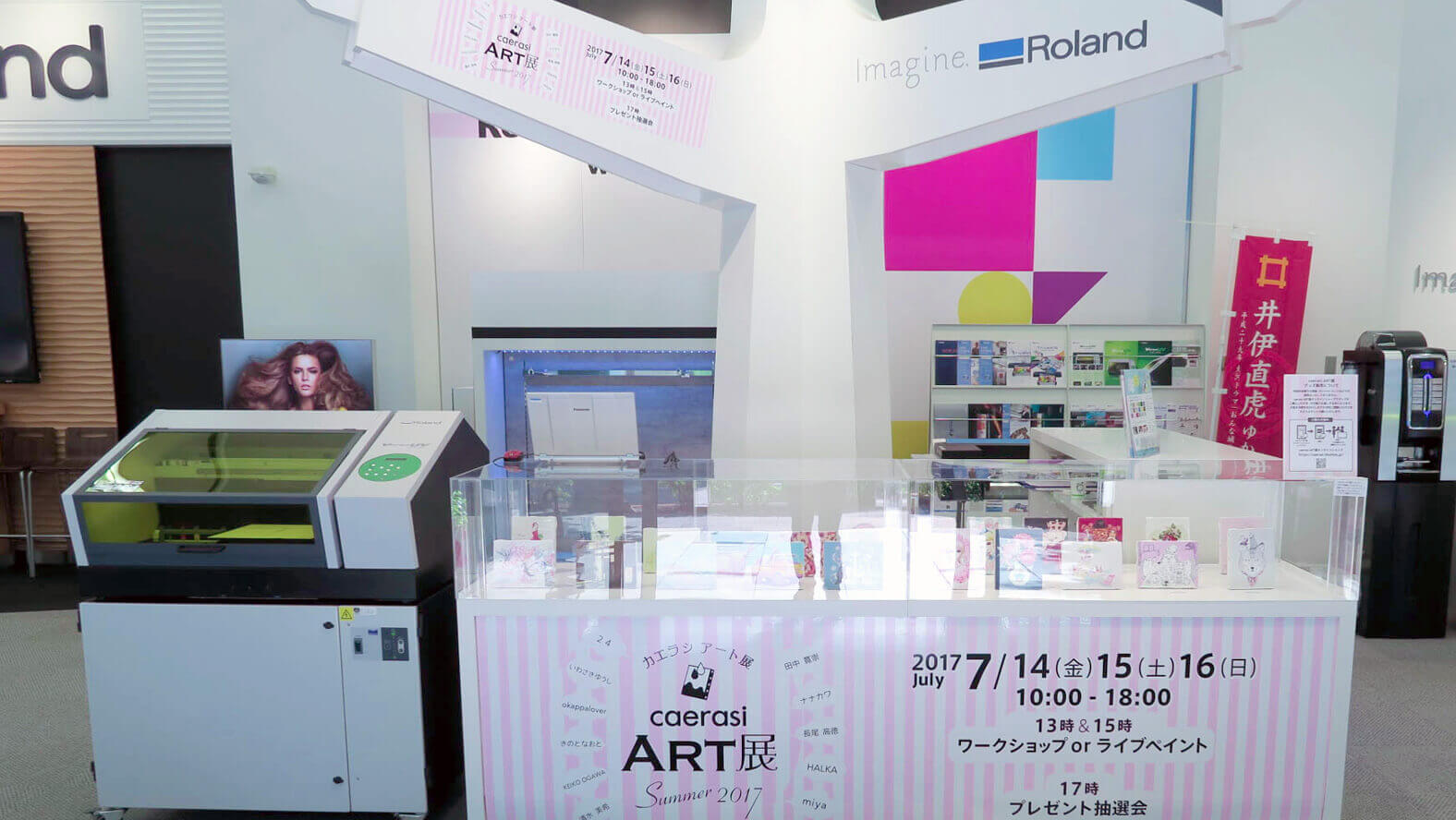 Caerasi Design Gala Features Original Art-Decorated Items Created on UV printers — Part 1
Caerasi Design Gala, an event that was held in collaboration with several creators, ran from July 14 for three days at the Roland DG Creative Center located in the Tokyo Sales Office. The gala featured exhibits and sales of items like smartphone cases and canvas prints made by 11 popular, young artists.
The event was planned so that creators could make use of Roland DG's UV printers to make their own unique works of art. Those creations were then put on display and made available for purchase. Live drawing sessions gave visitors the opportunity to interact directly with creators and their work. The addition of interactive workshops and a range of other events made for an exciting three days. This two-part series takes a closer look at the unique event and the background involved in planning it.
The gala was planned and organized by illustrators Yushi Iwasaki and Takanori Nagao, founders of caerasi LLC. We asked them how they came up with the idea for the event and their impressions following it.
How did caerasi become involved?
Nagao: We came up with the idea after hearing that Roland DG was going to schedule a project that provided printing services for original works of art using UV printers. As an illustrator, the project sounded interesting and I wanted to get involved straight away! All we had to do to be able to produce a range of promotional items for sale was to send illustration data to Roland DG. I worked with Yushi Iwasaki to launch a company for supplying a variety of creative designs, and planning and selling one-off accessories. We settled on the name caerasi after the local dialect of Wakayama Prefecture in Japan for the word "cute."
How was the response to the event and what were your impressions of the venue? 
Nagao: This was the first event that our company was involved in and the level of response was not high because we are still relatively unknown. There were many people who found this type of project interesting, however, so we hope to attract more visitors and become better recognized through advertising and other means in order to hold bigger events in the future. The visitors who did come to the event seemed excited at watching illustrations being printed and taking shape right in front of their eyes. They also enjoyed the opportunity of working together with the creators at the workshops. We hope to plan and organize more events that allow visitors to collaborate with creators in a similar way.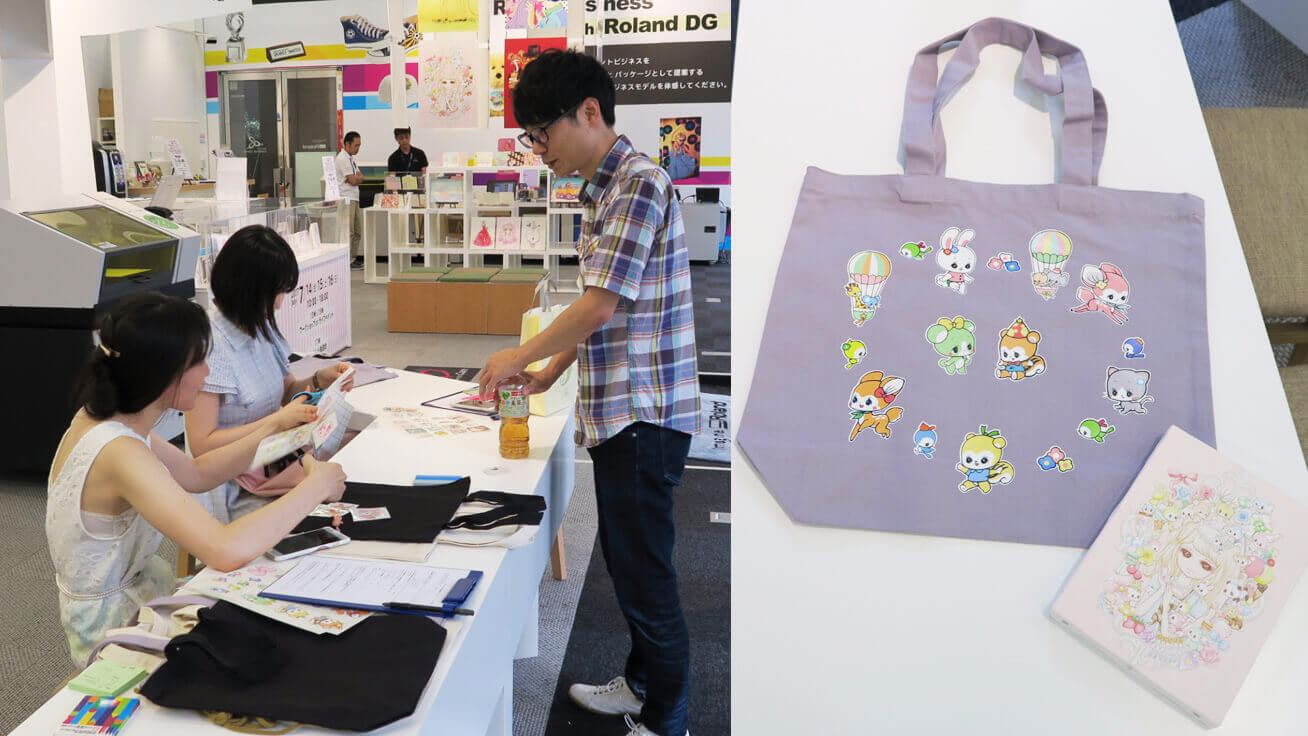 Left: Scene from a workshop run by Takanori Nagao.
Right: One-off tote bag made in Takanori Nagao's workshop and accessories featuring illustrations printed on canvas with a UV printer.
Did you have previous experience using UV printers?
Iwasaki: I have utilized UV printers at makerspaces, so it was easy to imagine the project that Roland DG had in mind. UV printers have become an essential tool for me to make accessories that feature my original illustrations that I sell at events and online. They are capable of printing on different types of materials like wood, acrylic, leather and felt, so I use UV printers for making brooches, key holders and a broad range of other items.
What was the response from the other creators that participated in the gala? 
Nagao: Creators were amazed that they could make a range of items based on their own designs so easily. Many of them want to get involved in future events and we want to focus on increasing profits from accessory sales so that they can get more out of it. I also want to see more people getting involved.
What about the live drawing sessions?
Iwasaki: There are not many opportunities available where fans can watch as illustrations are drawn. I was pleased to see visitors enjoying watching. I feel a sense of joy when I hear that people who purchased my drawings in the past are still cherishing them a long time later. There are only a certain number of illustrations I can draw at one event and it is unfortunate that I cannot provide drawings to everyone who wants one, so I want to plan more events like this.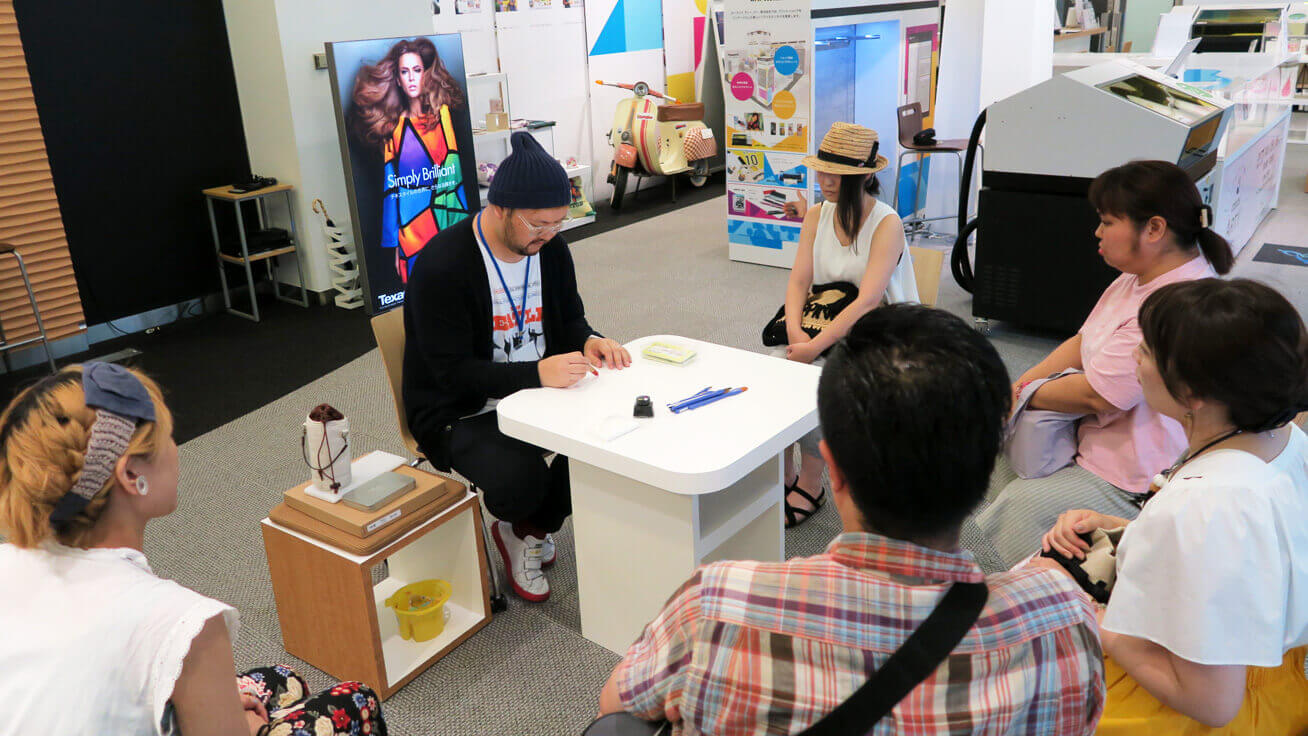 A scene from Yushi Iwasaki's live painting session.
How well did the UV printer perform?
Iwasaki: I was very happy with the level of performance. We chose the printer because it was capable of printing on ordinary smartphone cases and canvas prints. In fact, the quality of Roland DG's printer was a lot better than I expected and I am pleased that its colors look so rich and vibrant. I plan to select additional items in the future to determine if the printer can print on them properly.
What level of sales are you expecting with the one-off smartphone cases and canvas prints made using the UV printer?
Iwasaki: There were several creators who were interested in producing accessory line-ups from the items they made at the gala. We plan on expanding the services that we provide by increasing the number of creators involved and adding designs suited to each season so that customers will always find a design that they like. With Roland DG's print service, UV printers can also be used to print customer photos, so it would be great to be able to provide truly one-of-a-kind designs that feature a combination of customer photos with creative designs.
In the second part of this series, we interview Roland DG marketing staff who helped organize the collaboration with caerasi about their impressions from the event.
For more information on Yushi Iwasaki, please visit http://u2que.com/.
For more information on Takanori Nagao, please visit http://takanori-nagao.tumblr.com/.