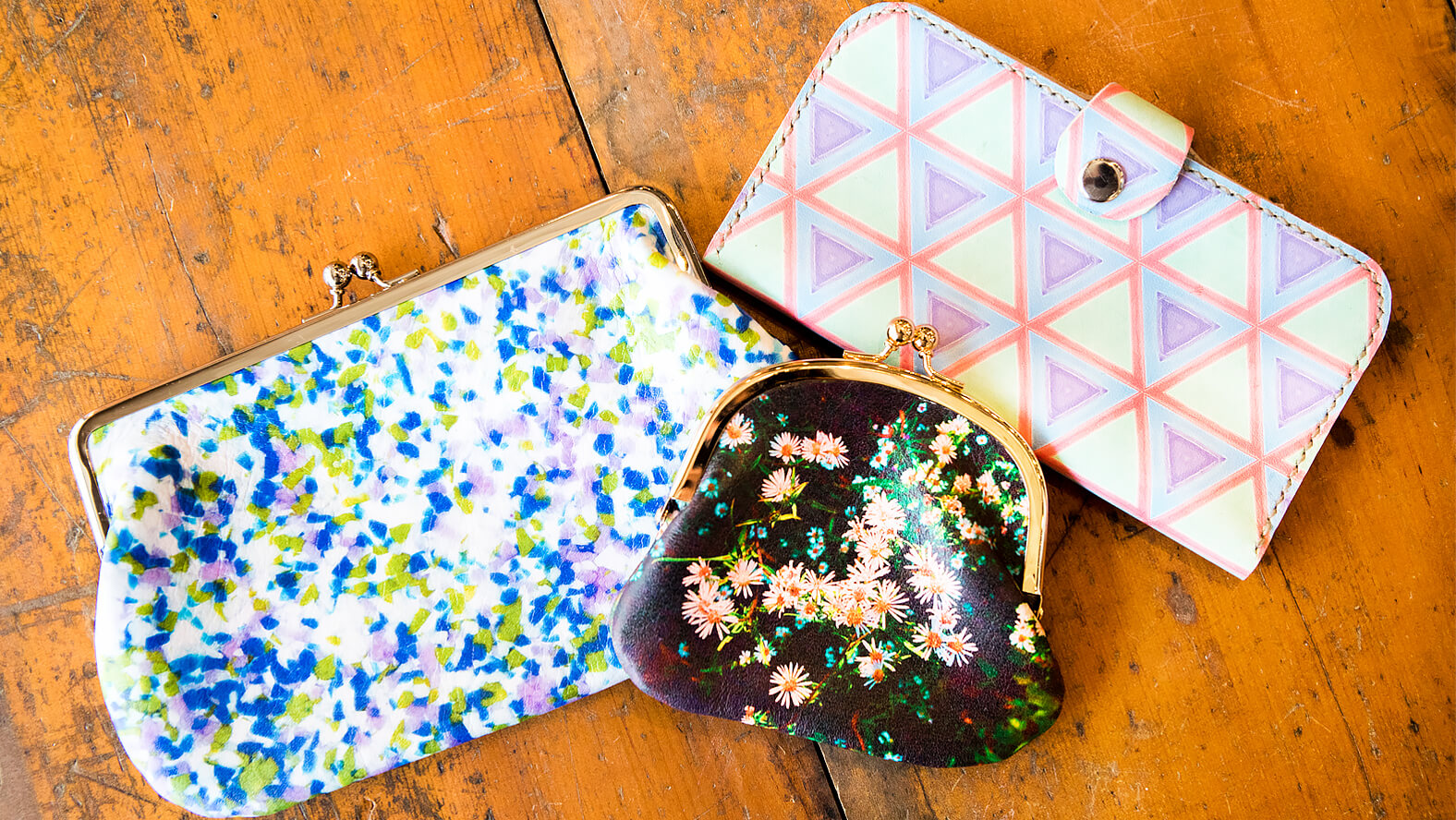 UV printers play key role in success of shared factory Makers' Base
(Part 2)
In Part 1, we interviewed Junpei Matsuda, COO of Makers' Inc. which operates the membership-based shared factory Makers' Base Tokyo. In the second part of this series, Matsuda explains how UV printers are used at the workshop as well as plans he has in store for the future, and also provides insight into some of the success stories he has observed.

UV printers play a key role at Makers' Base pop-up stores

How are pop-up stores at retail facilities becoming a new business driver for Makers'?
Makers' Base has been developing its business by playing an active role running limited-time pop-up stores, events, workshops and other ventures in recent years. Pop-up stores focus on merchandise sales and customized accessories by providing consigned fabrication services, and UV printers are essential for providing such services.
Photo above: Marker's Base original merchandise printed using a UV printer.

I view pop-up stores simply as different venues for providing our services, instead of as a new driver of business. We fine-tune the way we deliver the four services that Makers' Base offers – access to facilities, workshops, consigned fabrication, sales – to suit the specific circumstances of each pop-up store location. Providing access to facilities or running workshops is not really feasible at pop-up stores. Instead, the main focus is consigned fabrication and merchandise sales, and UV printers play a huge role there. I feel that the level of demand for customized accessories is immense at retail malls. One example was Makers' Base Hakata at KITTE Hakata, a commercial complex in Fukuoka, where 60 to 70% of sales involved personalized products made using UV printers.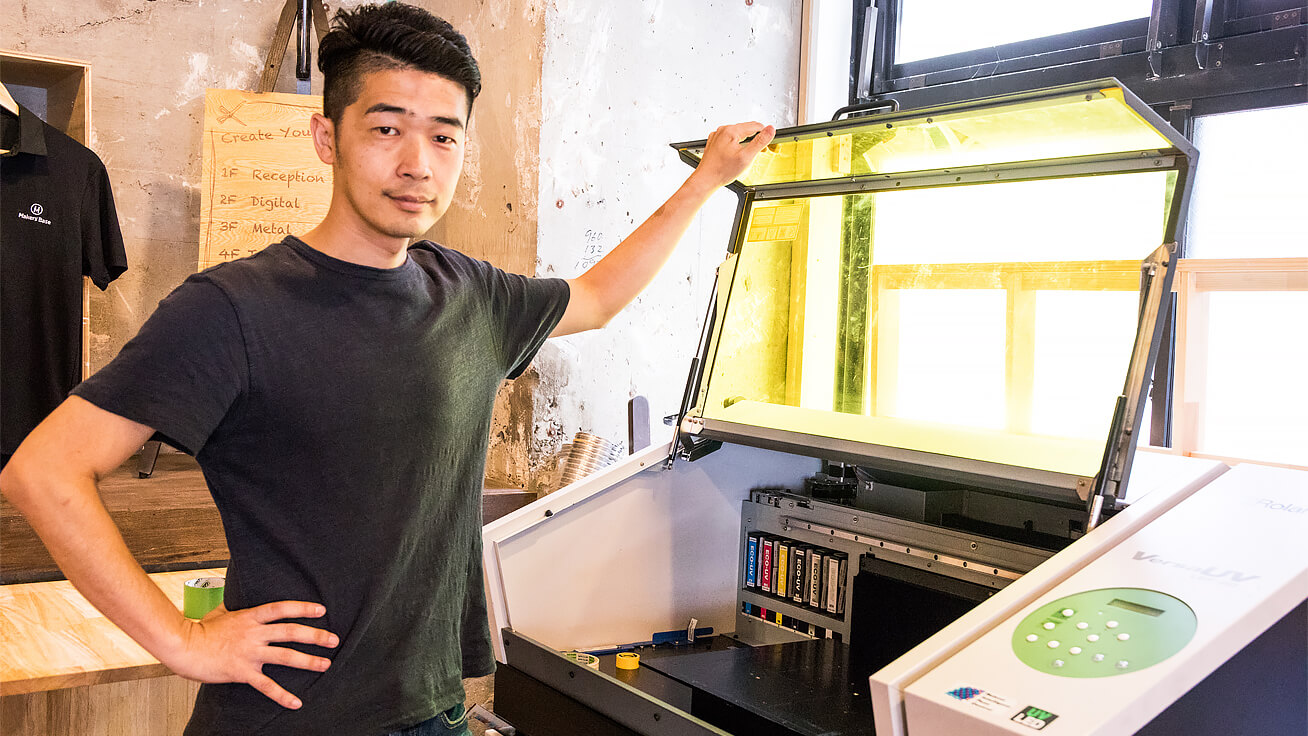 COO Junpei Matsuda with Roland DG's UV printer, a permanent fixture at Makers' Base Tokyo.

Tell us some success stories you have had with pop-up stores.
To be honest, I am not entirely satisfied with the way things are at the moment. We ran an event in Taiwan last year, Pop Up Asia Taipei, and the smartphone cases with printed portraits were extremely popular there. Roland DG's UV printers were printing non-stop during the entire event. At a recent a pop-up store we held at the Atre Kichijoji shopping mall in Tokyo, accessories made with UV printers were always the top-selling items. I feel that pop-up stores make a valuable addition to sales activities. We are still far from perfecting them, however, as part of a business strategy. As a business model there is still plenty of potential, so we want to finalize this strategy during the latter part of this year and next year.

* For more information about Pop Up Asia Taipei events, please visit http://makers-base.com/blog/5267/.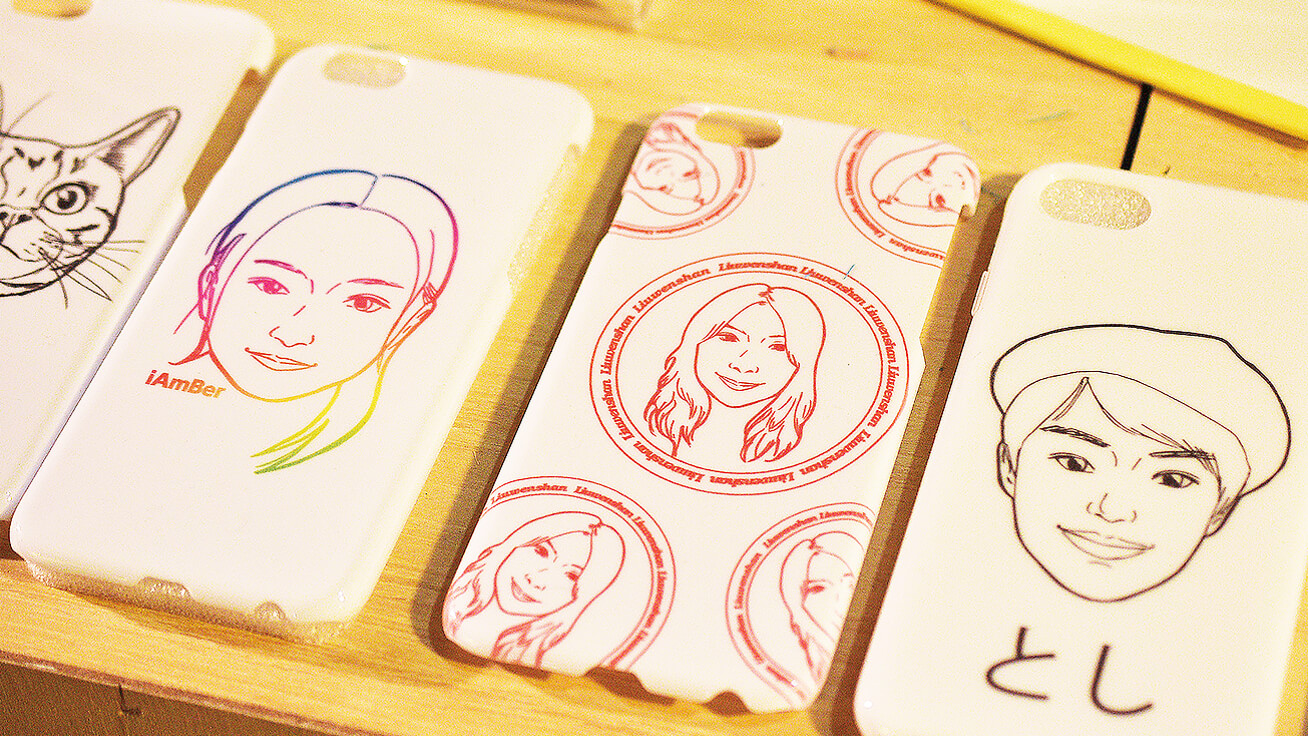 Smartphone cases printed with portraits were immensely popular at Pop Up Asia Taipei.

What at the advantages of using UV printers?
The superior drying speed, superb print quality, excellent versatility of being able to print directly onto products, and broad material compatibility of UV printers makes them useful in so many ways, especially at retail facility pop-up stores. I actually think that UV printers are the most convenient and practical piece of equipment available in Japan at the moment for making customized accessories.

What makes Roland DG's UV printers so useful?
When it comes to customizing accessories, I think that the biggest difference compared to other models is the actual design of the printer itself – it just looks so cool when it is being used at a mall. The airtight cover means it is safe to use even at shopping malls, which also means retail management companies have no issues with the printer being used inside pop-up stores. When we ran an event with Ploom TECH tobacco vaporizers at the Ploom Shop located in Canal City Hakata, I witnessed customers watching eagerly while the UV printer created the designs they had ordered right in front of their eyes and it reaffirmed how capable UV printers really are.

* See the following blog entry for details on customization events held at Ploom Shop in Canal City Hakata.
Makers' Base Blog: http://makers-base.com/blog/5564/
Imagine. BLOG: http://www.rolanddg.com/ja/blog/170727-ploom-tech

Does Makers' Base have any competitors?
I do not really consider Makers' Base to be part of the fabrication industry. Of course there are makerspaces, fab labs and other businesses out there with similar services, but I see Makers' Base more within the amusement or entertainment industry. Increasing the number of facilities and holding hackathons* are definitely a fun way of operating a makerspace, but not a very profitable business model. Services that provide access to facilities and fabrication space are important for supporting fabrication efforts, however they do not make up a large ratio of turnover. In fact, we would be able to continue operating this business model even without providing such a service.
* Coined from the terms "hack" and "marathon," hackathons are a type of event that refers to teams bringing their respective technologies to conduct development in line with certain themes in a short time.

I actually think that one of the main rivals of our workshops is Tokyo Disneyland. The customers that Makers' Base is targeting are females in their 20s – those who might spend an average of around 7,000 yen over the course of the weekend. They might take a trip to Disneyland for 5 to 8 hours, while others might want to spend two to three hours making a ring or other fashion accessory at a fabrication workshop. Still others may prefer to go shopping at a boutique. I am confident that we are offering such customers a viable way to spend their time compared to the competition.

What goals do you have in the future for Makers' Base Tokyo?
I am aiming for sales of 500 million yen by 2020, and one billion yen by 2025, at which point I hope to open some stores overseas – ideally in New York or Paris, although realistically we will be rolling out stores in Asia before that. To expand overseas, we will need marketing solutions and content tailored to each specific country.

Right now, the key selling point that we need to emphasize properly before expanding overseas is the made in Japan approach to fabrication. Before expanding into international markets, I can see potential for adding to the four services that we already provide, as a way of highlighting the core value of fabrication. We need to establish a firm foundation here in Japan so that we can fine-tune and enhance each type of service that we offer.

This two-part series explored the way that UV printers are being used at Makers' Base. More than just being able to create one-of-a-kind items, we saw that UV printers give users a way to have fun during that process. Mr. Matsuda is planning and rolling out services that form part of a profitable business model, and through this interview we felt his underlying commitment to helping people enhance their skills, and eventually to improving the capabilities of Japan as a country.

For more information about Makers' Base, please visit http://makers-base.com/.