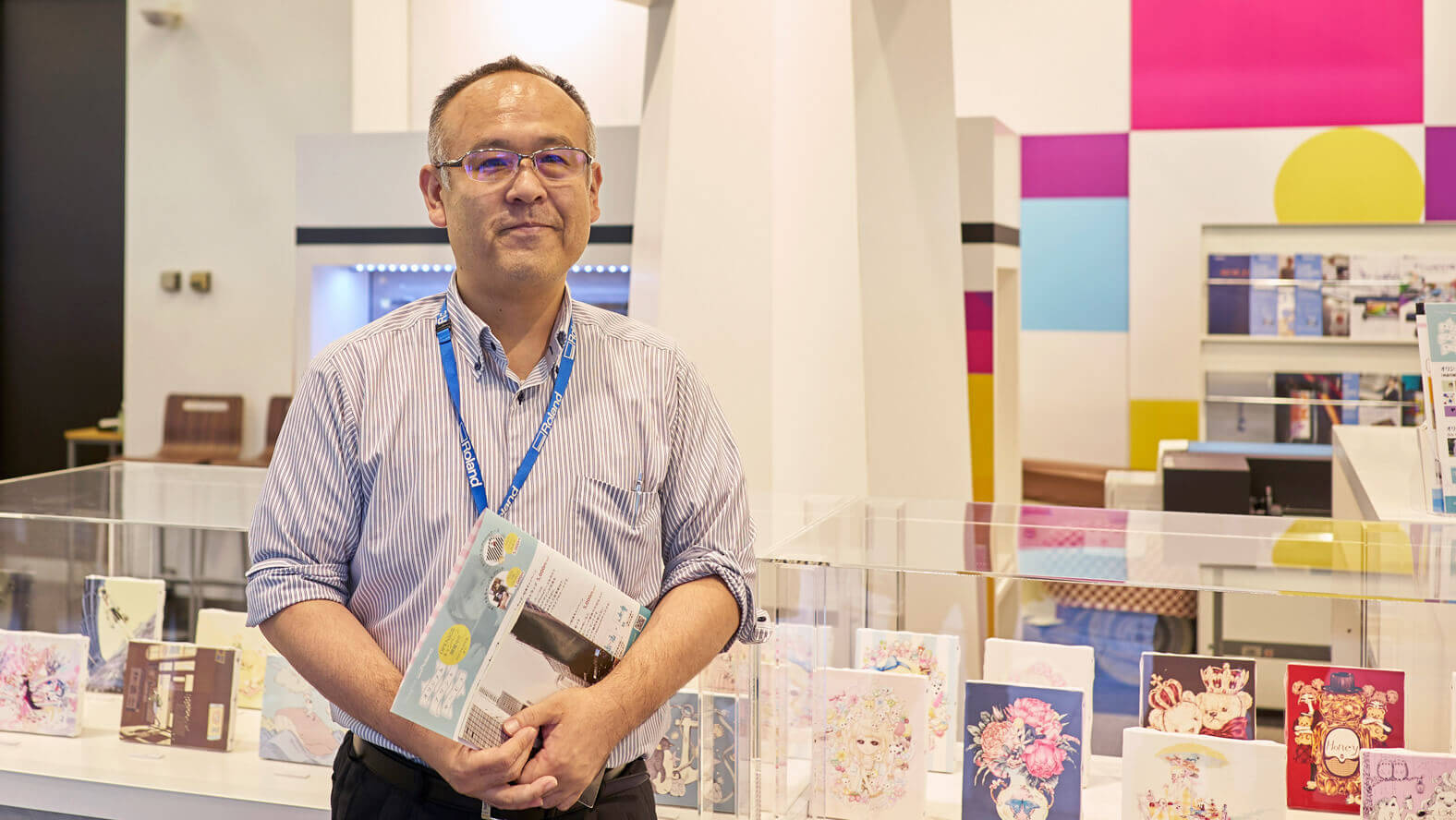 Caerasi Design Gala Features Original Art-Decorated Items Created on UV printers — Part 2
09/21/2017 Events & Tradeshows, Digital Printing
For the second installment of this two-part series, we interviewed Roland DG Japan Marketing Group's Masakatsu Asako (photo above) who organized the caerasi Design Gala event in collaboration with caerasi. Asako expressed his thoughts on the event as well as future aspirations for the Original Print Service that is currently being rolled out in Japan.
What was the goal of the caerasi Design Gala?
One of the reasons for hosting the caerasi Design Gala was to exhibit the works of popular, young creators to increase awareness of their activities. But another aim was to promote the Japan-only Original Print Service* that our Creative Center launched on June 30 for utilizing our UV printers. We are running a promotion until the end of September where, for a special price, users can print their favorite designs or photos to make their own custom smartphone cases or canvas prints.
* Find out more about the Original Print Service here:
http://www.rolanddg.co.jp/lp/ogps/index.html (Japanese only)
We featured the works of 11 creators at the caerasi Design Gala, and had illustrators Yushi Iwasaki, Takanori Nagao and okappalover join us for workshops creating one-off accessories with customers. They also ran live drawing sessions where they drew illustrations at the event. Printing the illustrations took around 10 minutes and they were then signed by the creator, packaged and given to the customer at a speed that was only possible by using UV printers.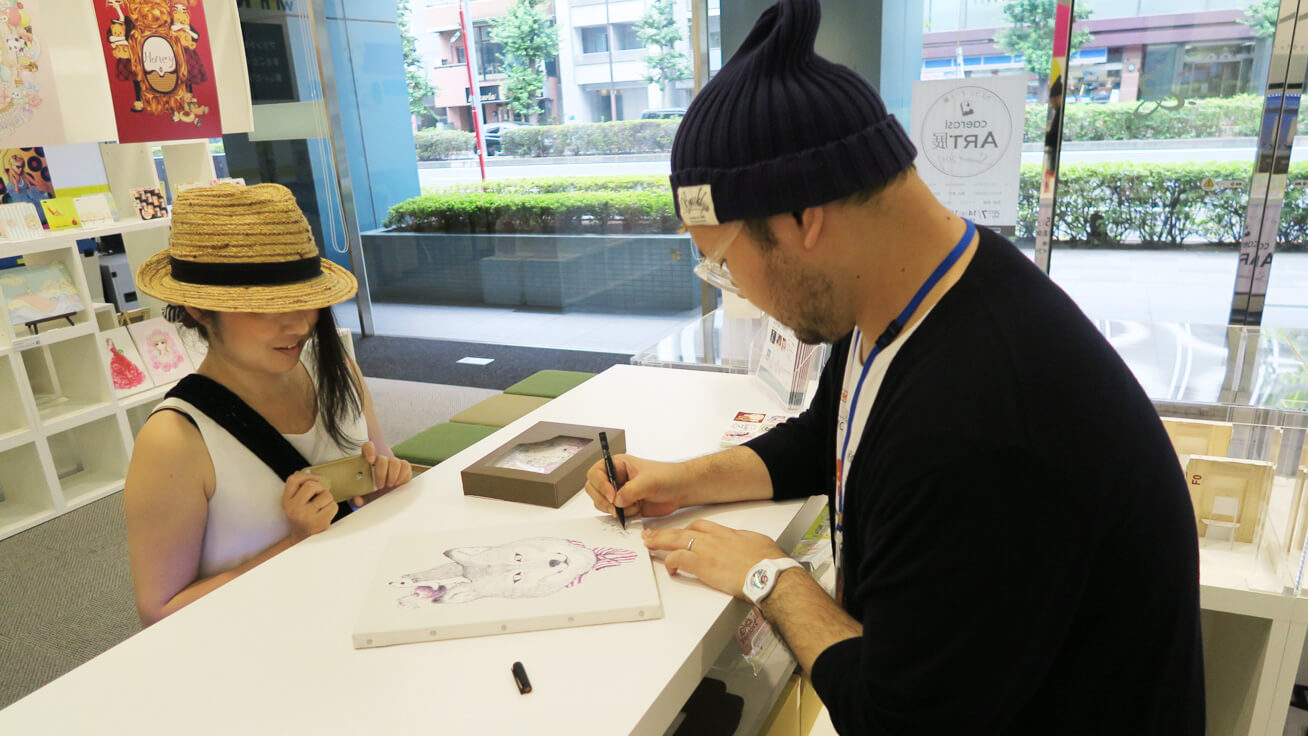 Yushi Iwasaki signing artwork made with a UV printer before handing it to a customer.
How did you promote the event to attract visitors and what was the response?
We mainly used social media to promote the gala and increase visitor numbers. The creators who took part in the event are also quite active on social media, so we asked them to help advertise the event.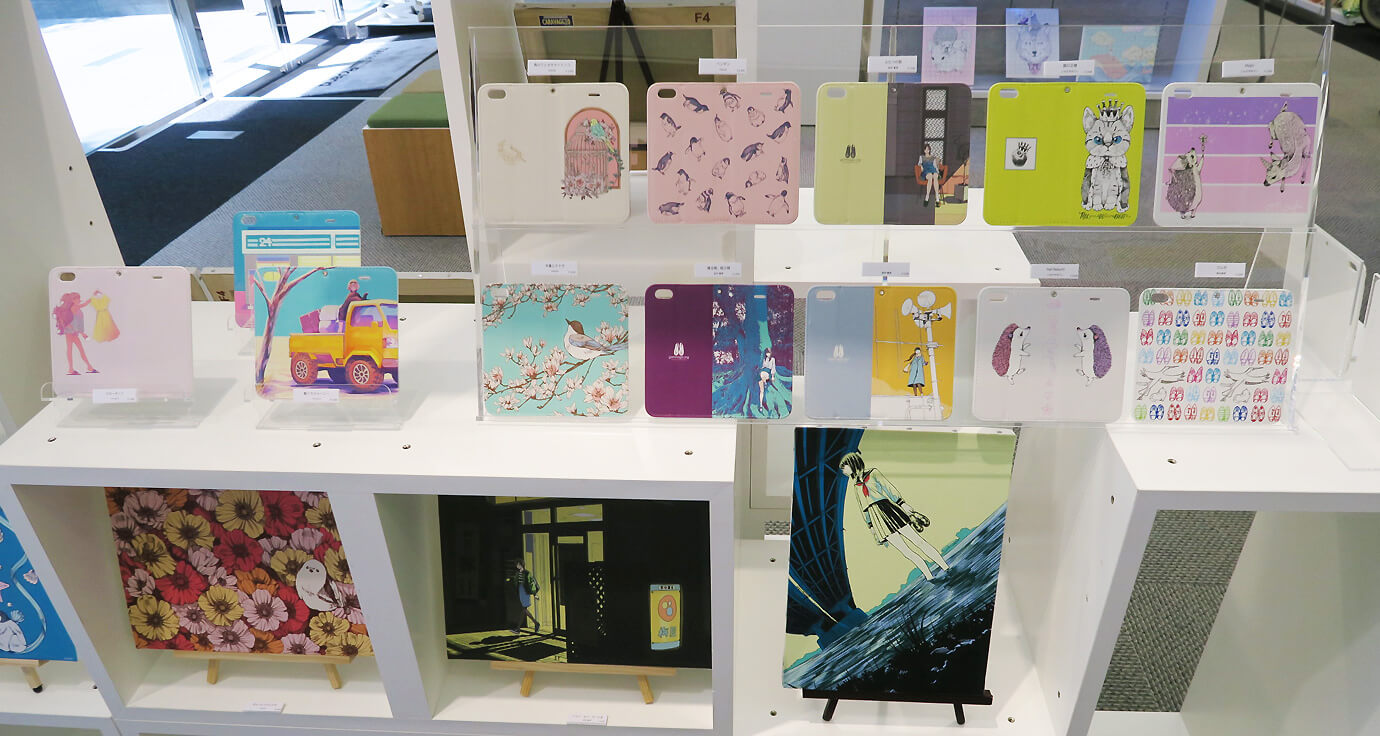 Original canvas prints and smartphone cases made by the 11 creators who contributed to the event.
The gala was held over a holiday period so we were unable to reach the number of visitors we had planned, but we all felt tremendously happy to see our visitors enjoying a great time with their favorite creators. Holding this gala was such a great opportunity.
What surprised me most was that people passing by our location also stopped to have a look and even purchased one-off canvas prints. For some, it was the first time they had seen such illustrations, so perhaps the creators gained some new fans because of the gala.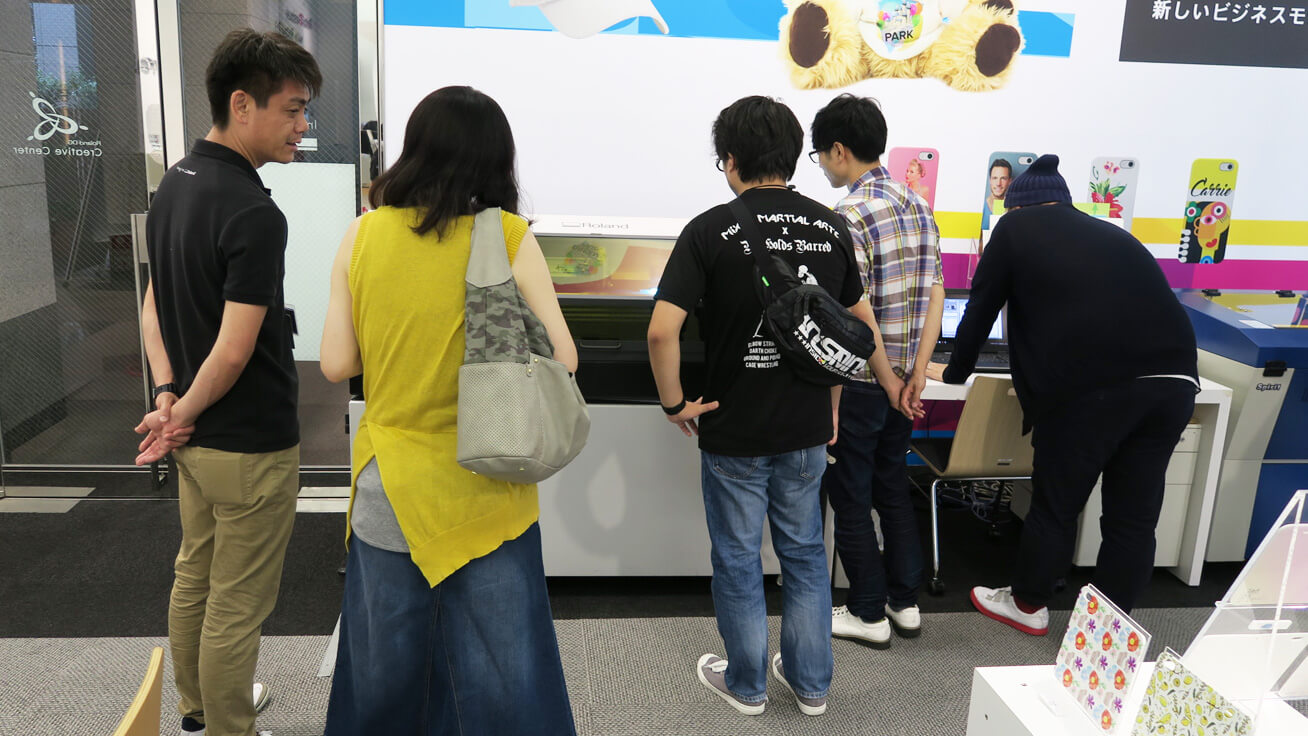 Visitors watched the UV printer in action with keen interest.
What was the idea behind the Original Print Service?
To help boost sales of UV printers, we set up a booth at this year's JAPAN SHOP* exhibition with a sample store offering print services to the retail market. We did this to demonstrate to people and companies considering entering the digital printing business how such services could be implemented. We actually received more feedback from people asking where they could try out a UV printer than inquiries for installation at stores, which was the initial purpose of the booth.
* The International Exhibition for Shop Systems and Fixturing held at Tokyo Big Sight from March 7 to 10, 2017.
Based on the feedback received from our booth at JAPAN SHOP, we came to the conclusion that it was important for us to develop our own business model for printing services. We needed an easy way to demonstrate our own printing business. Our first attempt was the online Original Print Service that we launched at the end of June. The caerasi Design Gala was another way of promoting the service. Both visitors and creators who took part spoke highly of the event.
Eventually we want to provide a framework where individual creators or entrepreneurs can purchase UV printers and run their own printing businesses. To achieve this, I think it will be important for us to apply our experience from this gala to propose a digital printing business that is even more appealing.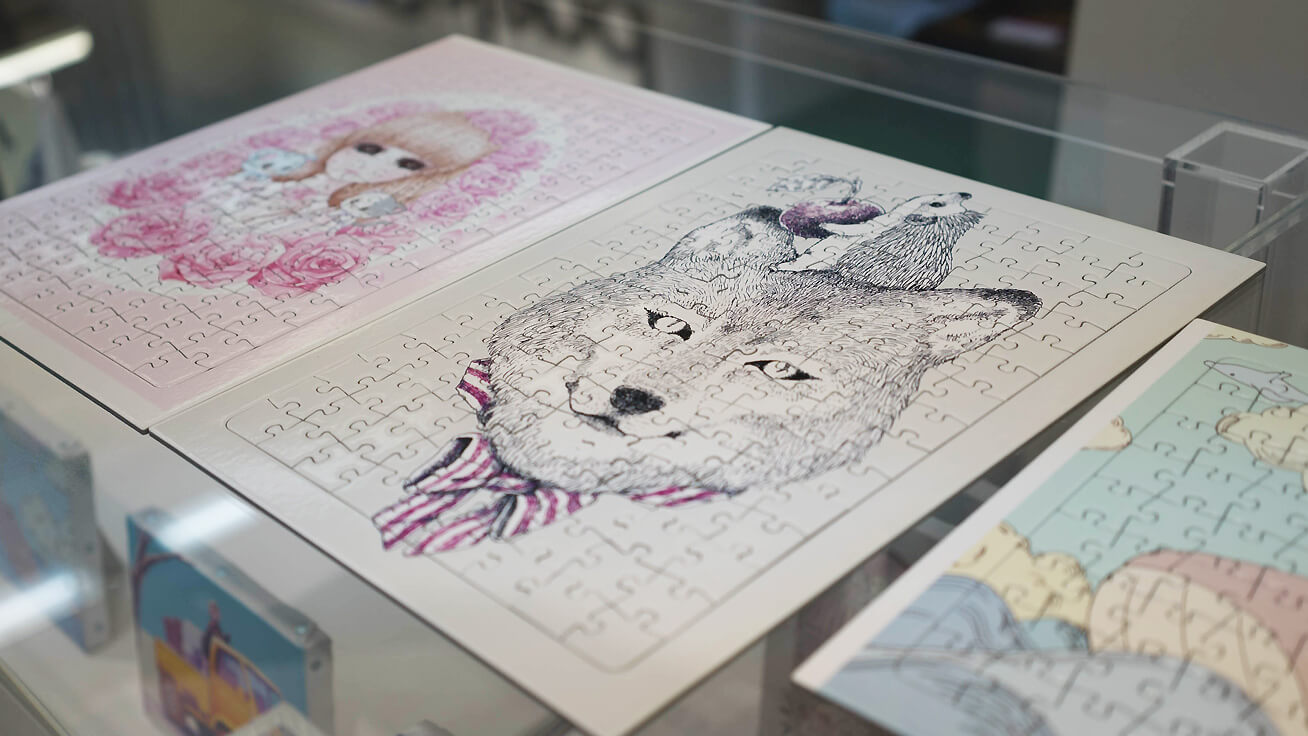 Using UV printers makes it easy to print illustrations quickly and in high quality on a broad range of materials.
Roland DG's Original Print Service was launched as a brand-new initiative. More collaborative events like this one will be held in the future to give creators the opportunity to use UV printers so they can easily produce high-quality works of art that are ready for sale. During this interview, we felt a strong sense of commitment for providing more opportunities so that other potential customers – including creators who have always wanted to utilize UV printers to produce their own line of printed works, or entrepreneurs wanting to enter the digital printing business – can enjoy the convenience and quality of our UV printers.