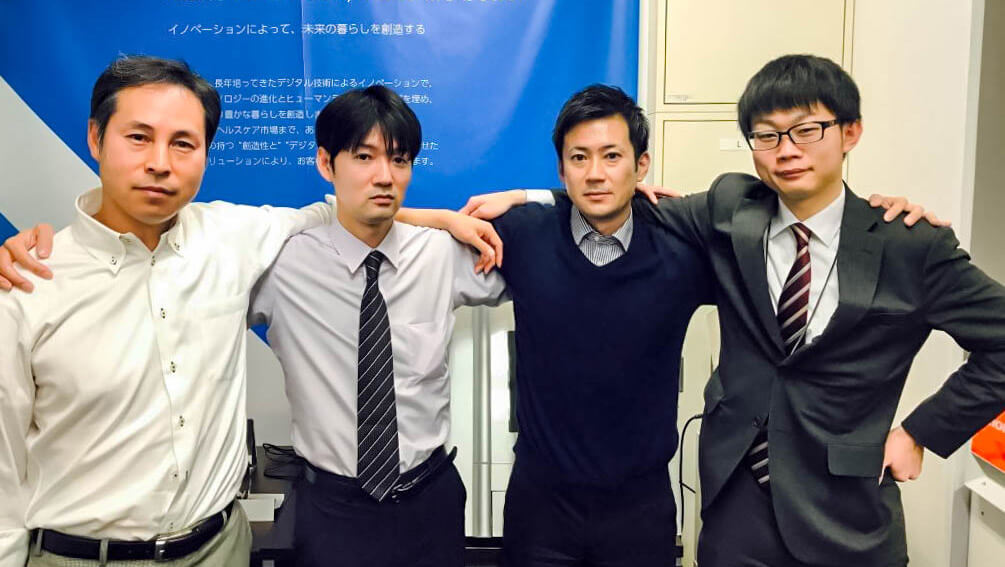 Global SE Awards 2018 Finalists Interviews – Part 1
Roland DG will conduct its Global SE Awards 2018 final competition from April 23rd through the 25th, where service engineers (SEs) engaged in the repair and maintenance of Roland DG products will put their skills and knowledge to the test. In the lead-up to the contest, we invited three of the 28 finalists from local competitions held around the world to provide more details about the type of service and support work they are involved in every day. First up to talk with us was one of the finalists representing the Asia-Pacific region, Tsubasa Utsumi (second from left).

Profile
Global SE Awards 2018 final competition
Asia-Pacific region
Tsubasa Utsumi from Japan
Entry category: 3D/Dental devices
Representing ATC Corporation
Experience as a Roland DG technician: 4 years
"I place great importance on observation skills and communicating politely with customers."
Tell us more about your career background and when you thought of becoming an SE.
Ever since I was a child I have always been interested in building things with my hands and playing around with mechanical devices. I wanted a job doing something that I liked, so setting my sights on becoming an SE was just a natural progression for me. I first started working as an SE around 15 years ago and, since then, have gained a broad range of experience with the maintenance of inkjet printers and other equipment. I became involved with the maintenance of dental mills in 2015.
What are the advantages of our service and support?
There are many customers in the dental laboratory industry who use products from overseas manufacturers, but I notice that many of them are concerned about how much support is available if the products develop problems. In this regard, there is a high level of satisfaction among customers as SEs with in-depth experience with the product are always on hand to provide technical support in a courteous manner.
What are some things you consider important when working as an SE?
I think it is important to listen carefully to what the customer says, and to be polite by maintaining consistent communications with them. When we receive a service request, speaking directly with the customer means gaining an understanding of every minor detail, even if some of the details were unclear when the request was made. I also focus on honing my observation skills, especially when working at customer sites. Carefully observing the way their equipment is operating makes it easier to identify even the smallest change or fault, which often provides the key to resolving the issues that might be present.
What do you enjoy most about your service and support role?
I really enjoy it when customers express their appreciation with a big "Thank you!" after they are able to resume their work due to the service I provided. I personally believe that it is our mission as SEs to provide prompt and thorough assistance to customers who are affected by downtime, so I always come up with a detailed service plan before visiting customer sites. This means I can hopefully get their equipment back up and running during the scheduled service visit.
It feels great when I am able to resolve problems quickly by applying all my own skills and knowledge when I am faced with tricky circumstances at customer sites. I make sure to read the repair logs and reports from other SEs to simulate the many ways of resolving issues that might come up.
Have you ever faced any incidents where repairs did not go as planned, and what did you learn from such experiences?
There was a case in the past where repairs did not go as smoothly as planned, and I could not run the final verifications thoroughly due to the limited time available. The equipment suffered from the same fault several days later and, in the end, I had to visit the customer again to fix it properly. Ever since then, I make sure to run final verifications properly to check that all the required work has been completed.
Finally, what do you enjoy doing when you're not working?
One of the things I enjoy doing on my days off is cruising on my motorbike with friends. I am usually working alone during maintenance calls, so spending time with others makes for a great change of pace.
Stay tuned, as in the next part we have a chat with the finalist representing the Americas.
Also remember to check out the Global SE Awards 2018 website for more information on the competition and comments from other finalists from around the world.
Note: A portion of this article is revised due to circumstances.