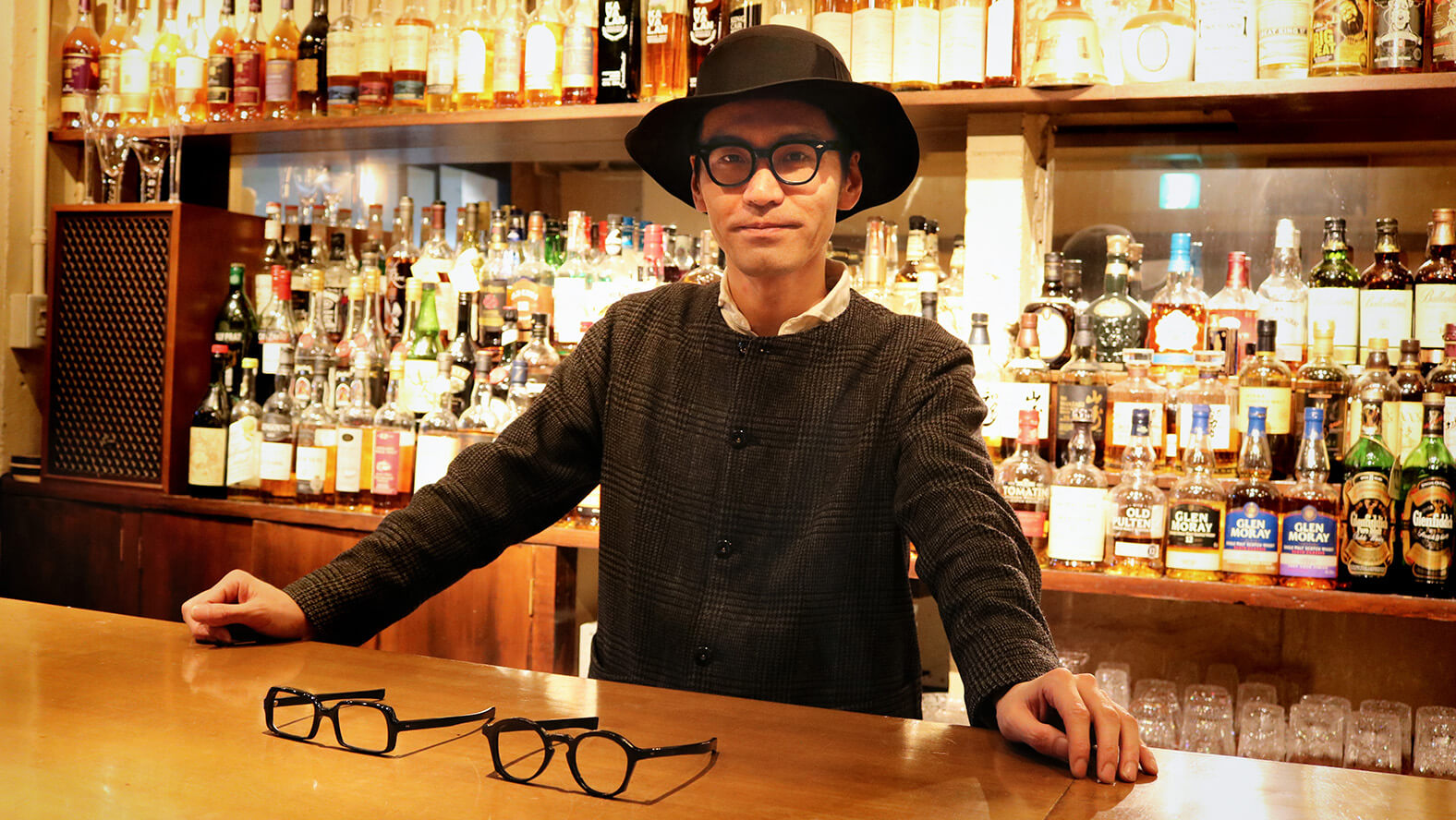 MEGANE-YA STRIKE – Pioneering the Bespoke Eyewear Trend (Part 1)
MEGANE-YA STRIKE is a bespoke eyewear maker located in Kobe that works closely with customers to handcraft one-of-a-kind frames. Through its combination of fabrication studio and full-scale bar, they provide a unique customer experience as an eyewear shop by day and a bar at night. The studio features numerous fabrication devices, including Roland DG's MDX-40A milling machines. Every stage of the fabrication process is handled in store—from ordering to machining. Store owner Daisuke Higa, pictured above, talks in detail about his shop concept in this two-part series.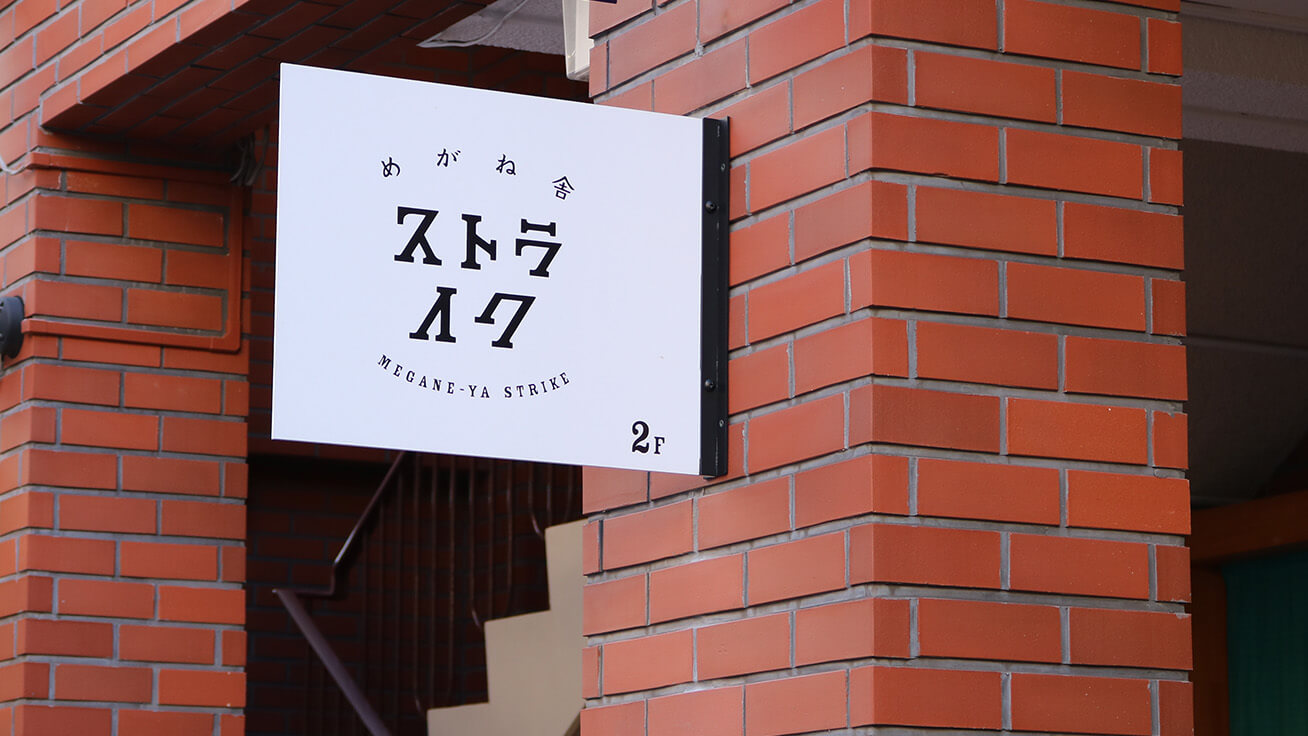 MEGANE-YA STRIKE is on the second floor of a building filled with restaurants.
Customers at the bar counter can watch frames being made in the fabricating studio where Roland DG's milling machines are used.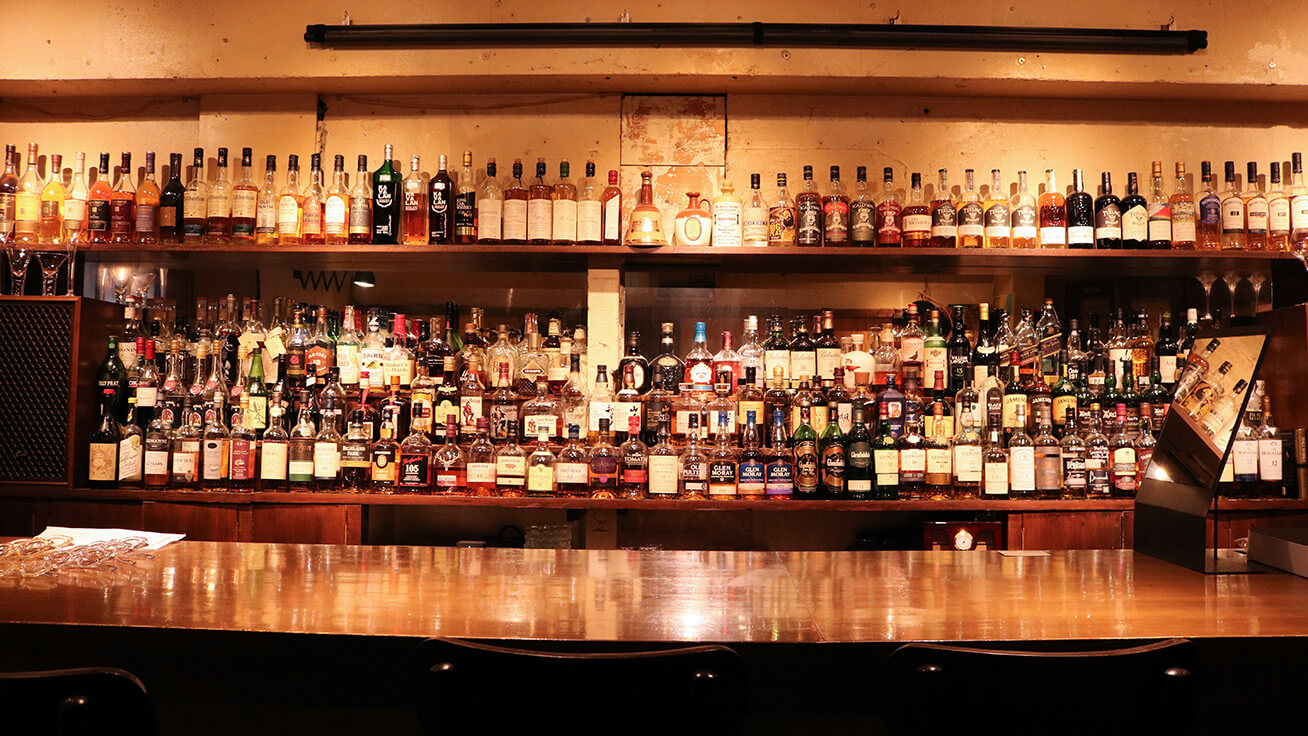 The authentic bar counter.
MEGANE-YA STRIKE eyewear concept
What type of shop is MEGANE-YA STRIKE?
We are open almost all the time, as an eyewear shop during the day, and a bar from around 7PM. At night the shop is an ordinary bar like any other. I found that these days, an eyewear shop needs to offer customers more than just a range of frames on display to choose from, so I thought that this was one way to provide customers with an experience different from other shops.
Here we provide fully tailored frames designed to suit each individual customer's facial profile, as well as semi-custom glasses where customers can select from a range of chassis, temples, colors and finishes. We prefer to call our tailored frames "bespoke eyewear," rather than using the term custom-made.
So what does bespoke, which is used here, mean?
The term bespoke comes from the verb "be spoke" in British English that means discussing particular specifications and tailor-making something to order such as a suit of clothes. In contrast, custom-made generally means selecting from a range of available colors or shapes, but our frames are tailored and fabricated down to each millimeter to fit the facial profile or eye features of individual customers. This is why we prefer the term "bespoke."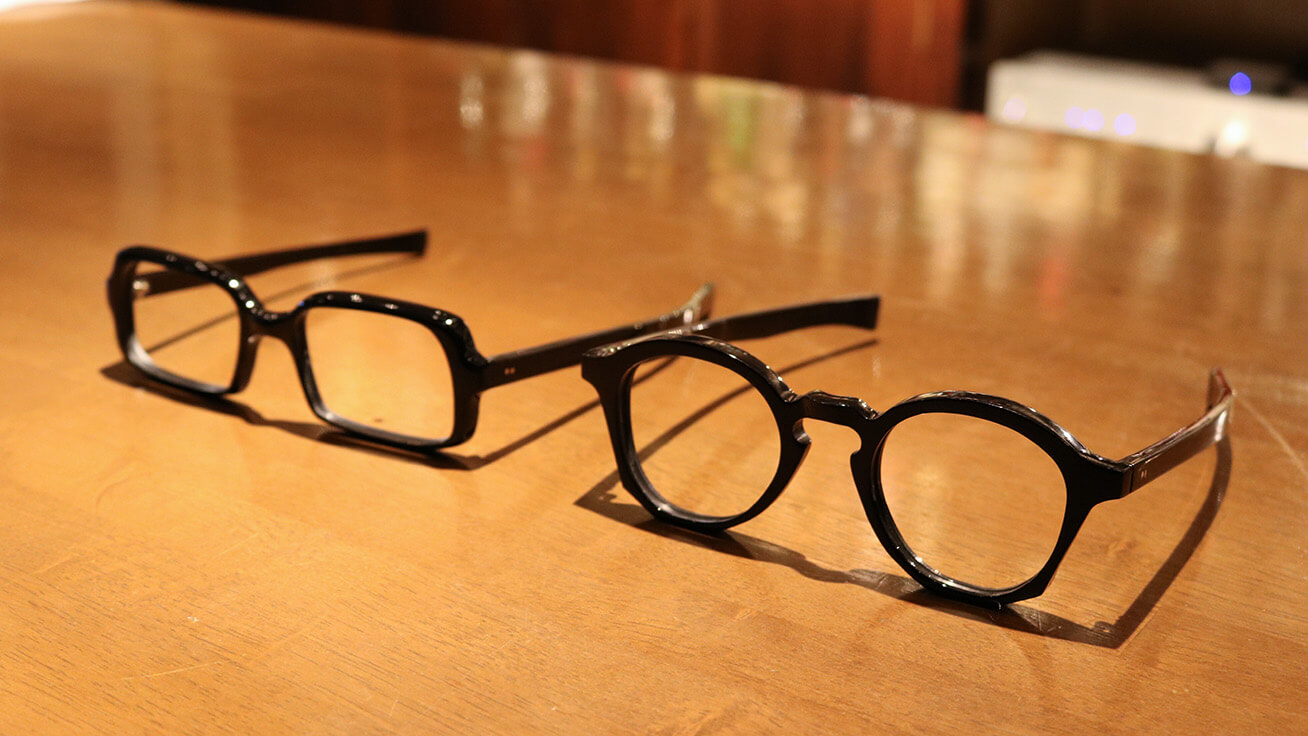 MEGANE-YA STRIKE bespoke eyewear frames
What is your reason for focusing on bespoke designs?
The majority of glasses that people wear in Japan and around the world are mass-produced items, which are usually only available as a single design and single size at ordinary stores. I always thought it was strange that eyewear only came in one size, while clothes are available in small, medium and large sizes, and even shoes are designed in a broad range of sizes. Surely the eyewear industry would benefit if customers were able to select their favorite designs and styles in a size that matched their facial features—and this is how I decided to make bespoke eyewear.
How many frames do you make a month?
When we are busy, we make around 200 glasses a month in our studio, which includes orders received from customers as well as one-of-a-kind designs for specific sizes or colors from other eyewear shops. We come up with the designs using CAD software, then machine them with fabrication equipment to a high level of precision before each set is finished off perfectly by our artisans.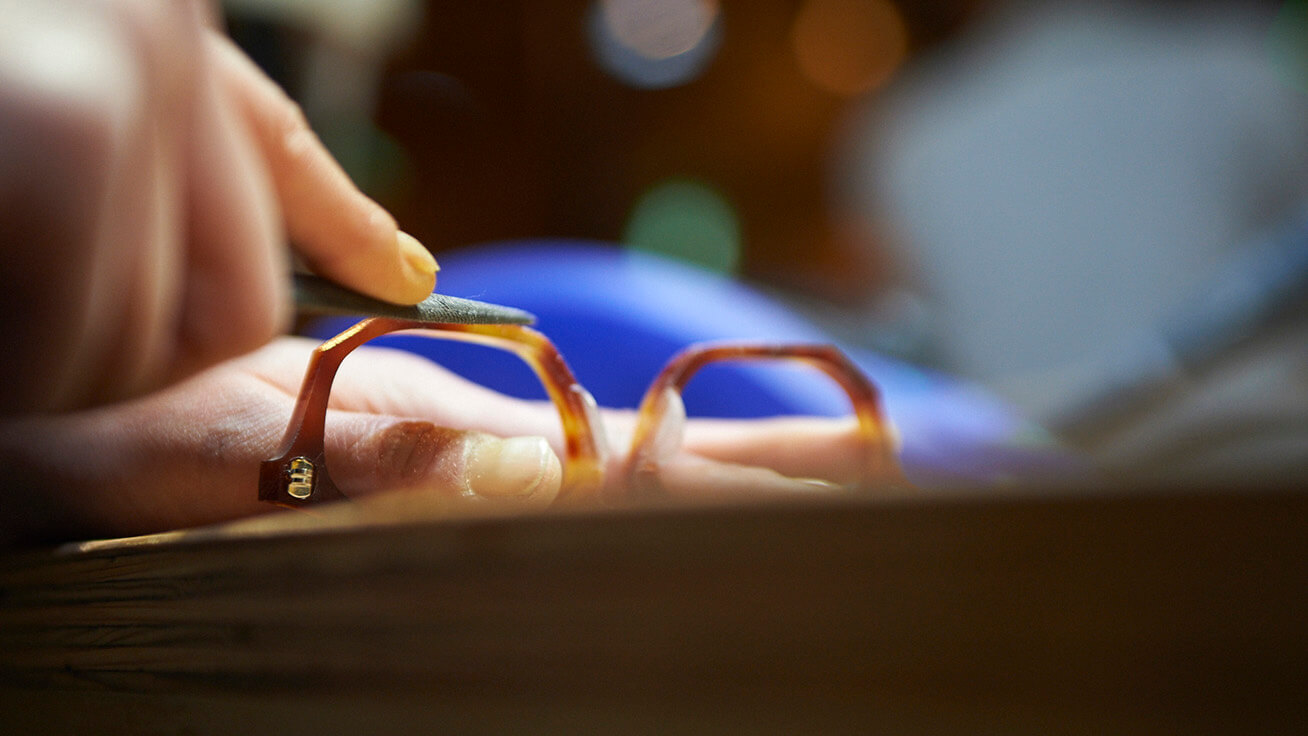 Frames are finished perfectly by artisans.
What are the steps involved from placing an order to receiving the completed glasses?
Bespoke means carefully discussing the design requirements in detail with customers. For a fully tailored set of frames, we use a 3D scanner to convert the customer's facial features to digital data from which CAD is then used to finalize a design. Next, we provide a sample to the customer by machining just the front side of the frame, and then we finally provide the customer with the fully machined and completed item.
We ask that customers come into the shop at least three times. With tailored suits it is easier to imagine what the final design might look like, but it is much more difficult to envisage how you will look wearing the ordered glasses. We have customers try on the actual samples to make sure they are completely happy with the design before machining the final frame, so the overall process does take some time.
What is the most important topic during discussions with customers?
My role covers consultation and design, and the first step is asking the customer about their lifestyle or what personal image they are seeking to achieve: whether they are after a mature and intelligent look, a fun-loving playful look, or perhaps they want to look cooler or more attractive to others. I discuss their wants and needs, and then propose a number of suitable designs. Most people tend to choose a style similar to glasses that they already own, and that is fine as well, but I also like to suggest something different so that the customer has the opportunity to create a new image for themselves.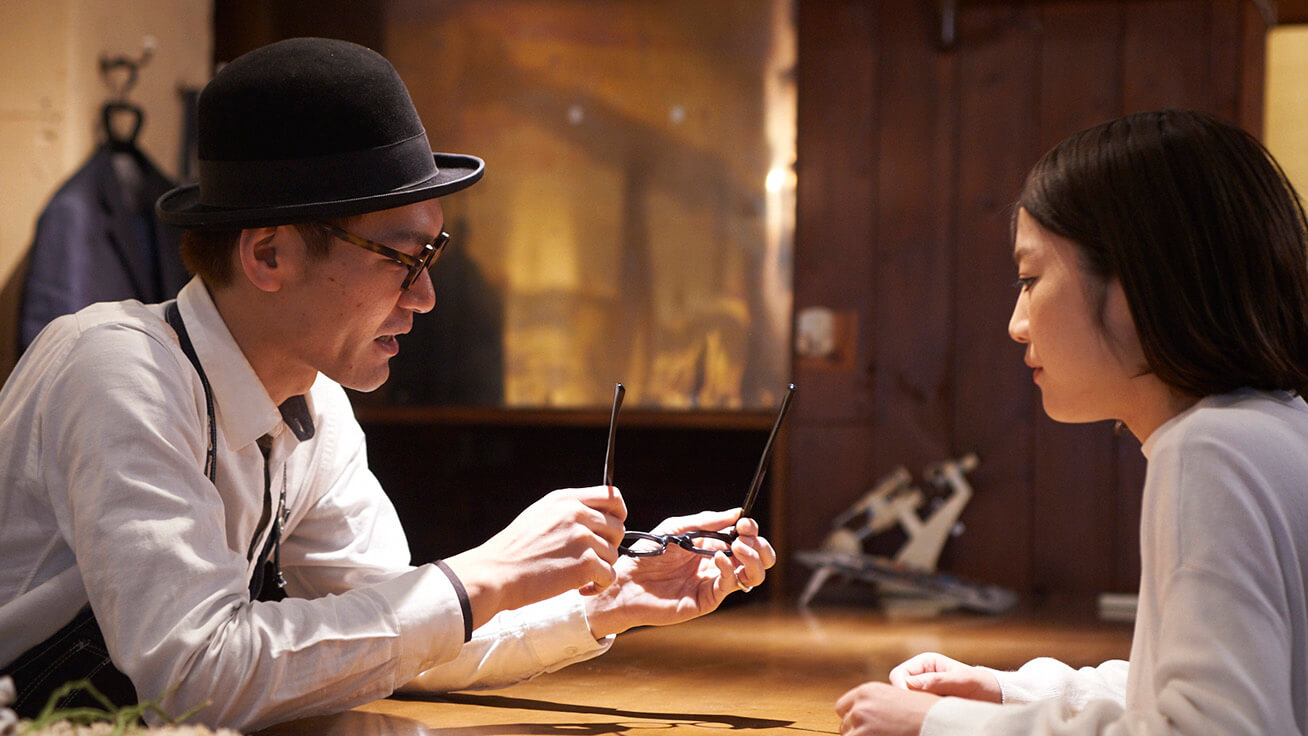 The consultation stage involves discussing customers' needs in a relaxed atmosphere.
The story behind MEGANE-YA STRIKE
What is the most common type of customer?
We were lucky enough to be featured in the media recently, and we have seen an increase in the number of female customers, particularly after being covered in TV programs last fall. Customers are from a broad age range, from their 20s to their 80s.
What is the meaning behind the shop name MEGANE-YA STRIKE?
Megane means glasses or eyewear, and the Japanese use of the term strike implies a direct hit or a bulls-eye, so we named the shop based on our concept of handcrafting eyewear designed to suit each individual customer perfectly. Combined, the name of our shop represents our commitment to eyewear and being a place where customers can learn more about glasses and have fun while doing so.
Are these the same views you had when you first opened your shops?
We settled on the idea of creating a casual shop atmosphere that makes it more accessible for customers walking by. I do not think there are many other eyewear shops where customers can watch the fabrication process from up close. We also hold workshops here where participants can make frames manually using their own skills. Bespoke eyewear is definitely a difficult, complex niche market for customers to get into, so we invite them to come along to our workshops and get some first-hand experience with the bespoke concept so they become more interested in the whole process.
I was born and raised in Kobe, so naturally Kobe was my first choice when it came to opening the shop. Kobe is not really known as a hot spot for bespoke eyewear, so it is something that I wanted to spread here. I actually made the glasses that I am wearing right now from old vinyl records specifically to match Kobe's jazz vibe.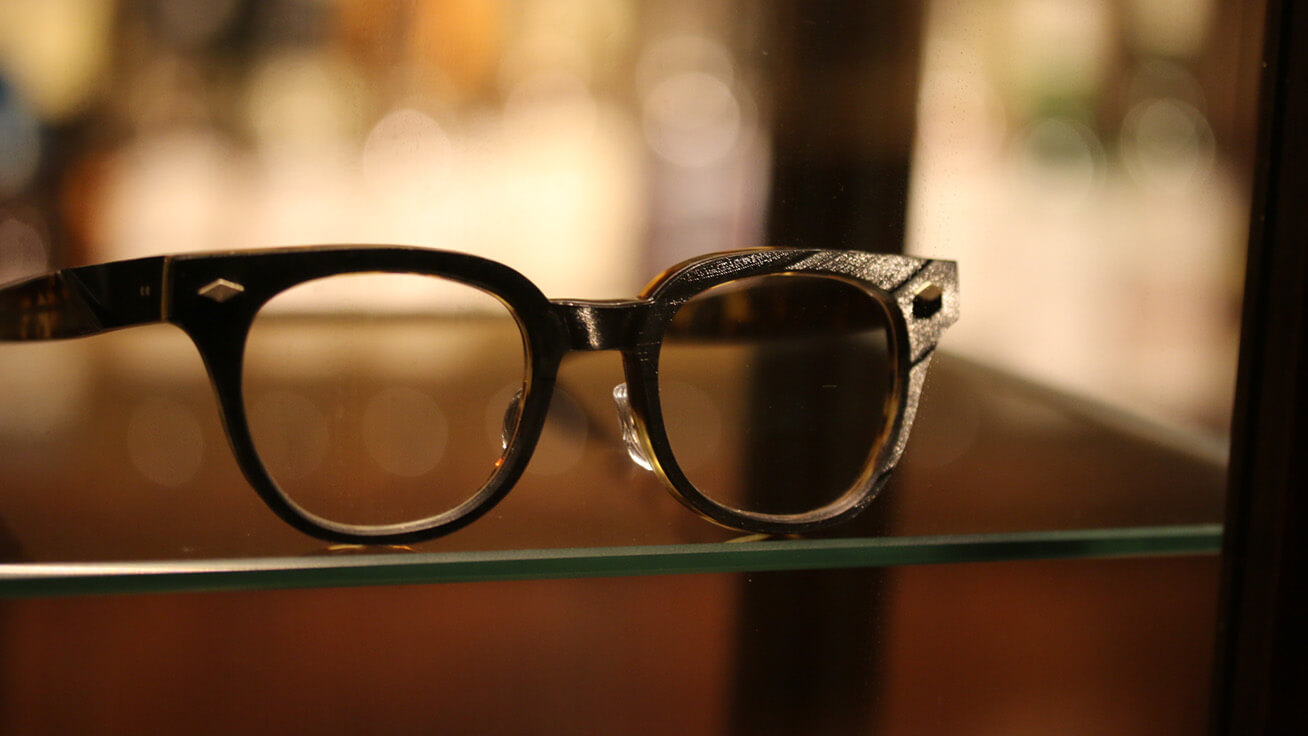 Frame made from old vinyl records laminated with resin material, and machined using Roland DG's milling machines
In the second part of this series we take a closer look at how eyewear is fabricated in the studio.
Click here for more details about MEGANE-YA STRIKE (Japanese only)