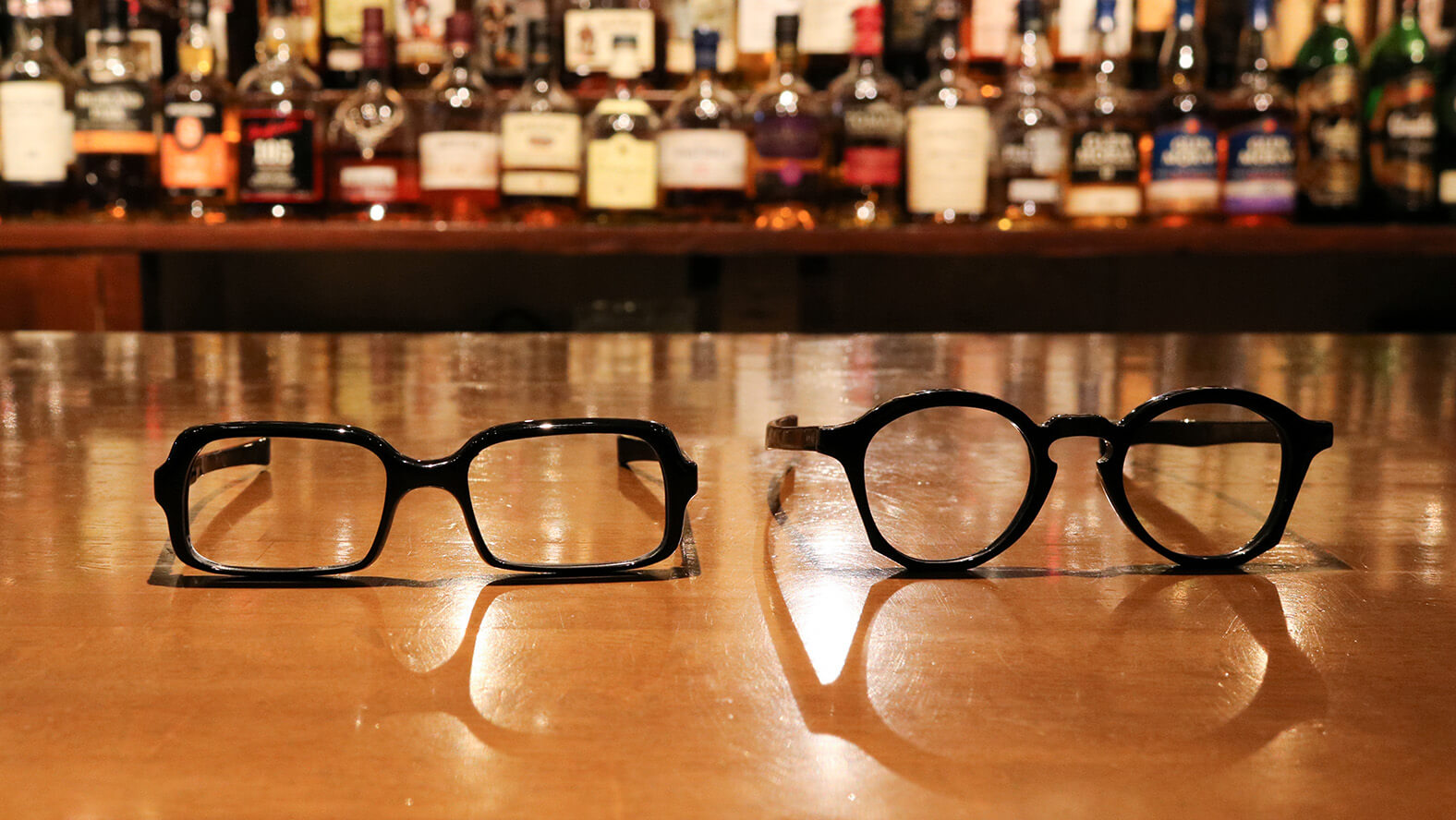 MEGANE-YA STRIKE – Pioneering the Bespoke Eyewear Trend (Part 2)
MEGANE-YA STRIKE, a bespoke eyewear maker located in Kobe that works closely with customers to handcraft one-of-a-kind frames, uses Roland DG's milling machines to fabricate eyewear. Following on the first part of the series, store owner Daisuke Higa explains how his individually tailored eyewear is made and outlines future plans for the shop.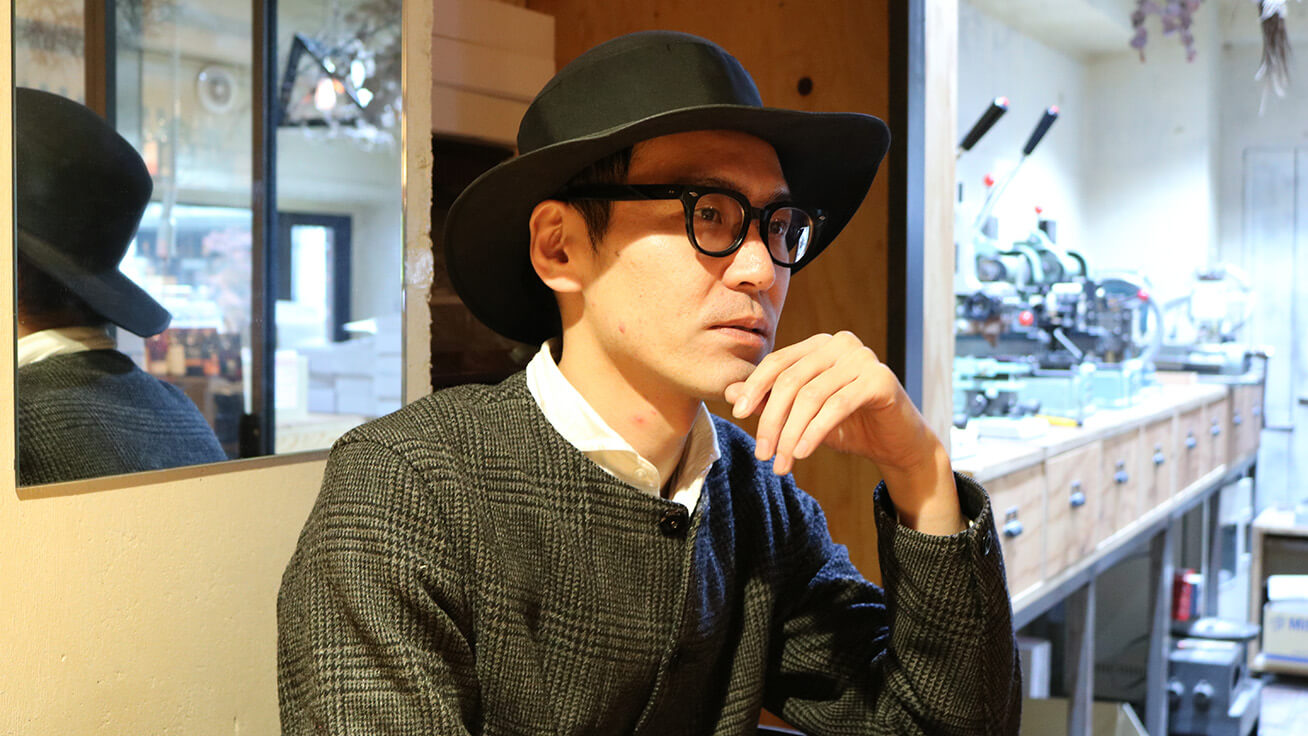 MEGANE-YA STRIKE owner Daisuke Higa
The studio manufacturing process
Higa showed us around the fabricating studio where, in addition to Roland DG's milling machines, a number of other machines are used to fabricate eyewear. During the ordinary manufacturing process for glasses, the machining, polishing, assembly and other processes are usually conducted by different people. At MEGANE-YA STRIKE, however, these steps are all performed by the same artisan.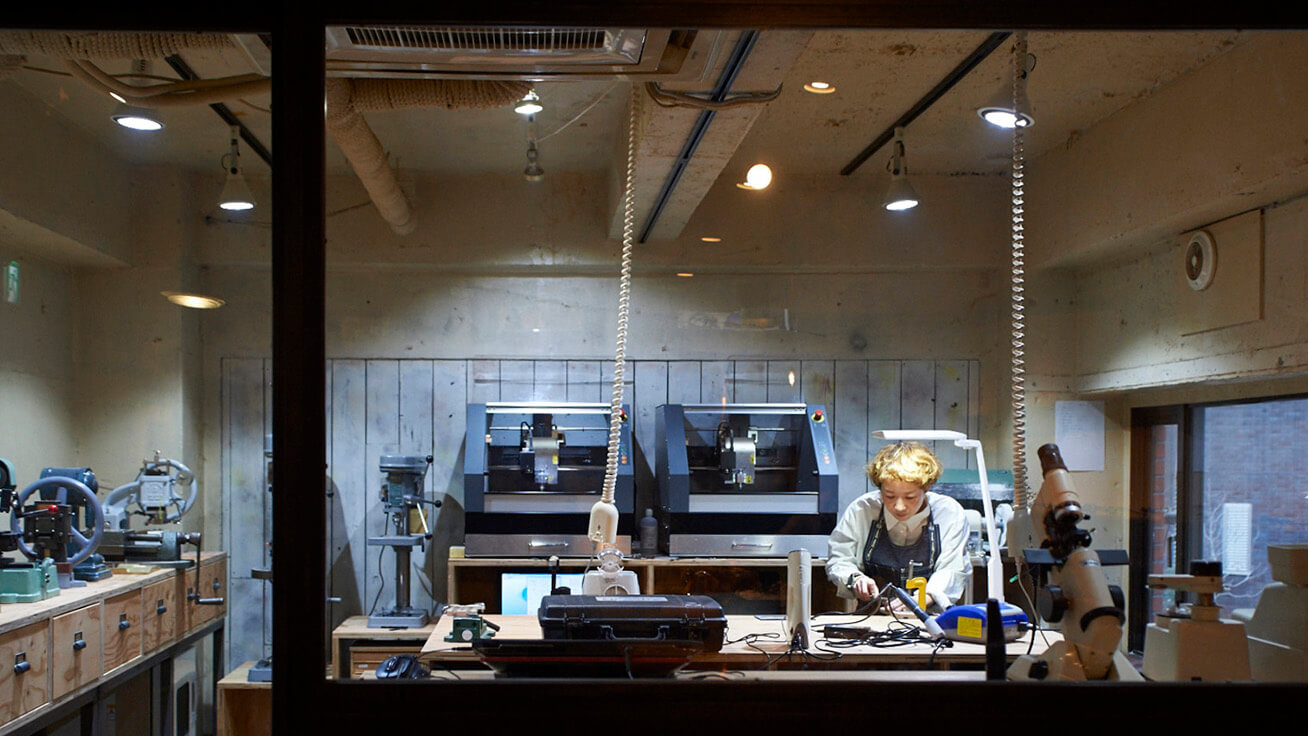 Artisan Moe Kawatani machining a frame in the fabricating studio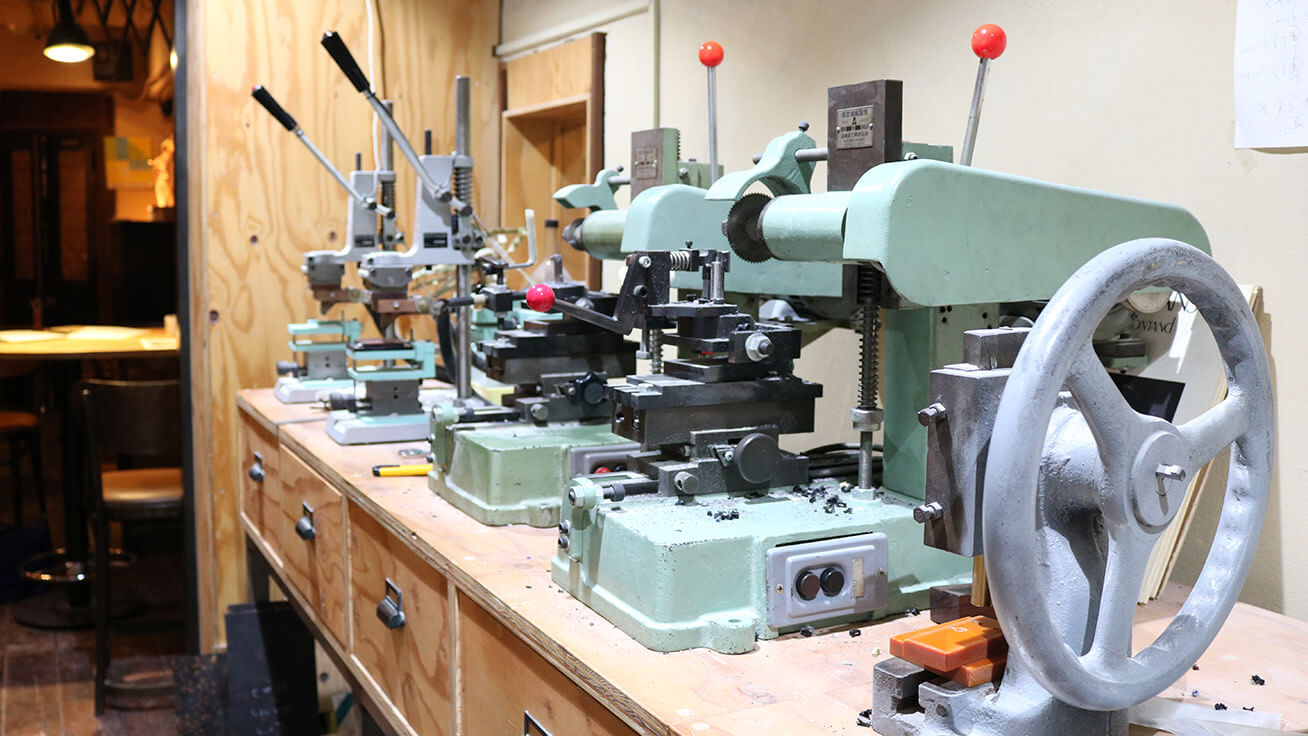 Various equipment used for fabricating frames lined up at the studio
What materials are MEGANE-YA STRIKE frames made of?
We use a resin material called acetate, which is a popular material for machined frames because it is easy to work with. Acetate is available in 30 to 40 different styles including the popular black and tortoiseshell colors as well as marble and transparent tones. Due to individual preferences, it can be difficult selecting which color to use. But we are able to decide on a specific color after discussing the design with the customer.
Tell us about the overall fabrication process.
We use Roland DG's milling machines to cut out the design created using CAD software from a sheet of resin material. The resulting machined frame is flat, so we need to bend it into shape and machine out grooves to fit the lenses, then fit parts like hinges and end pieces before the frames are completed.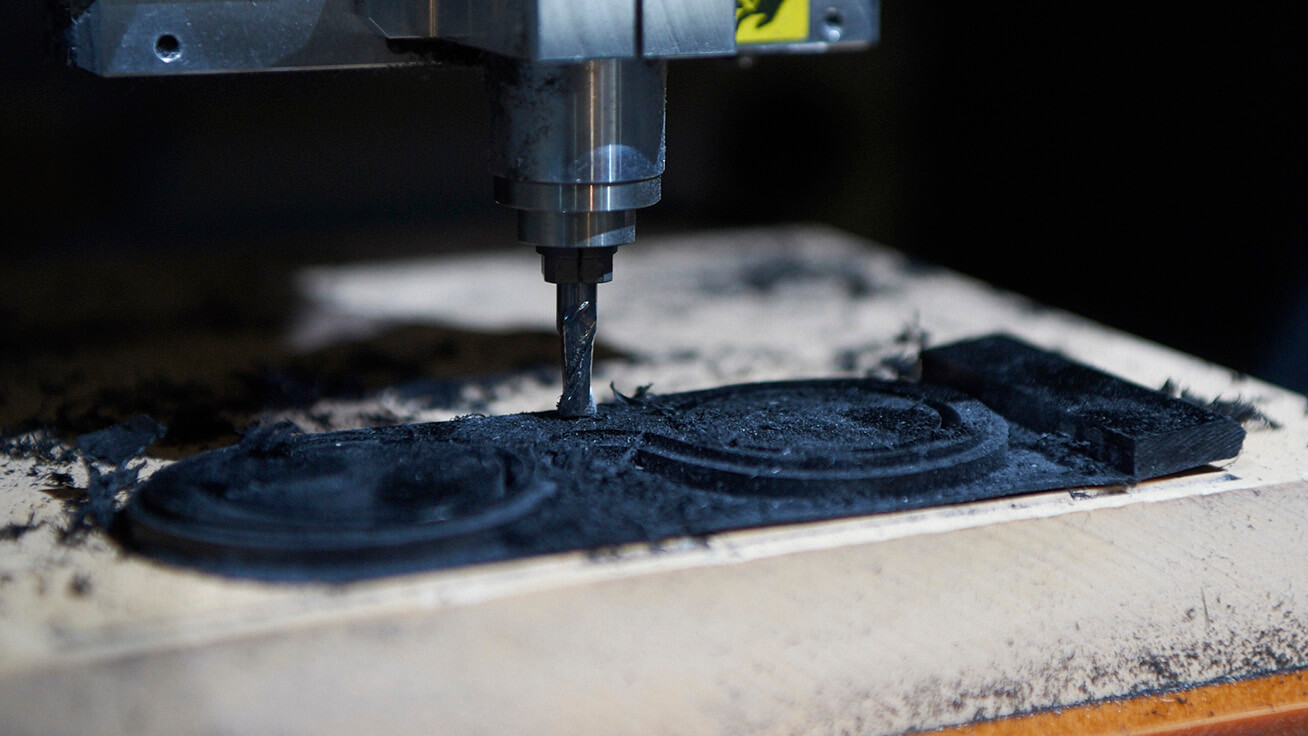 Roland DG's MDX-40A milling machine being used to machine an acetate sheet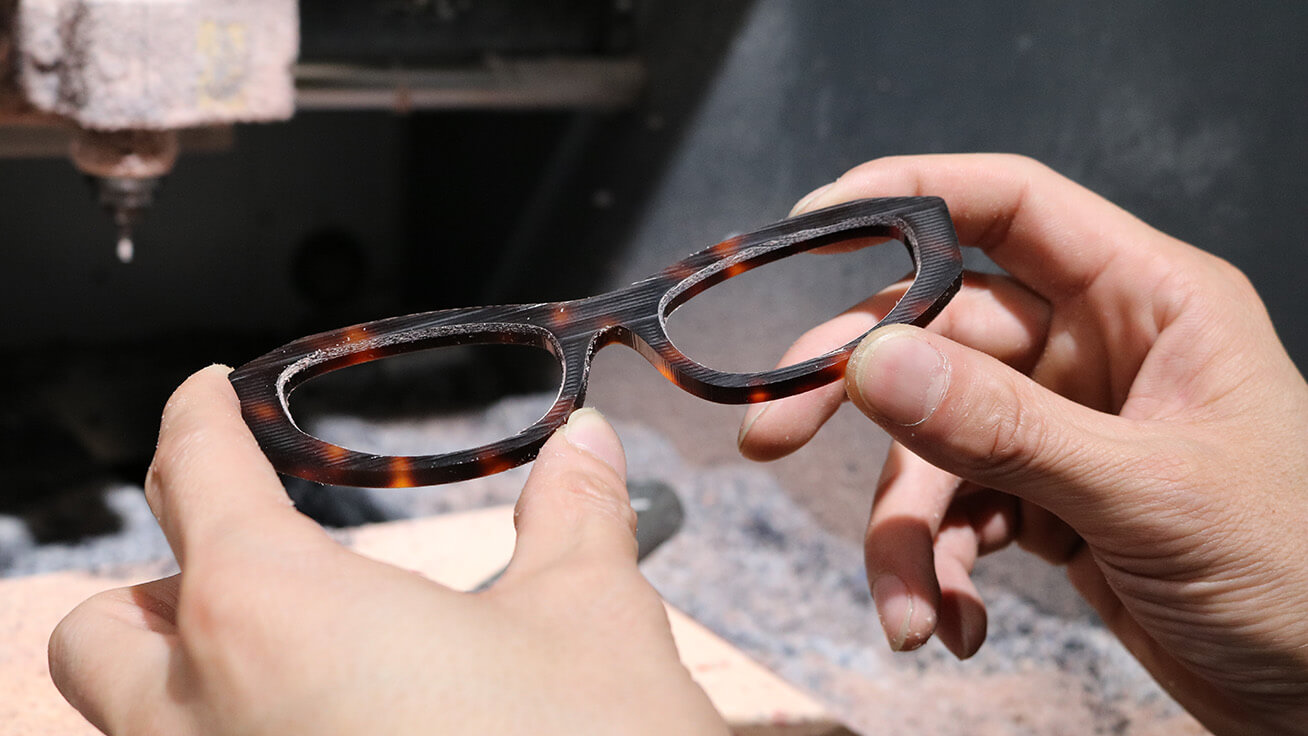 The machined frame is flat…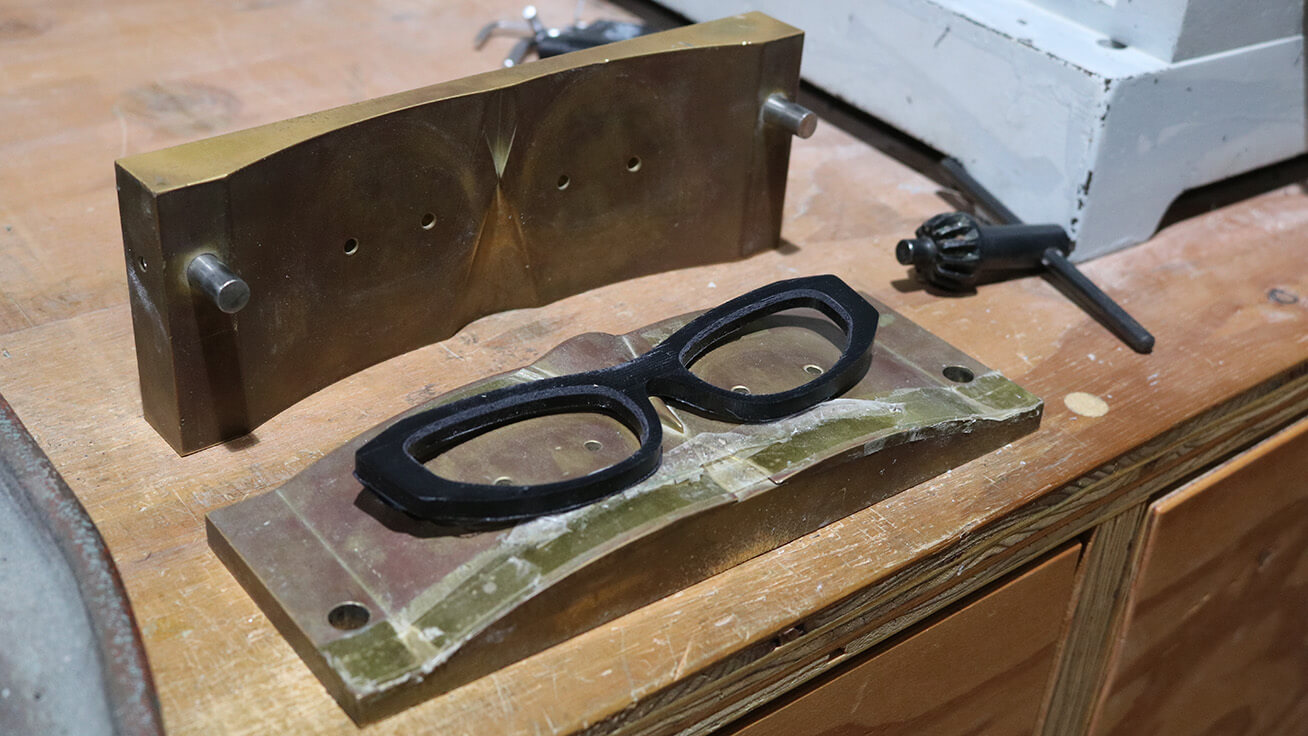 …and is bent into shape by heating it in a special mold. The position of the frame in the mold is adjusted precisely to suit each different design.
What are the advantages of using Roland DG's milling machines?
The milling process is commonly used in Sabae, Fukui, one of the largest manufacturing regions for eyewear in Japan. Large machining centers mass-produce frames of the same shape used for off-the-shelf glasses. Such large equipment requires molds and jigs, which makes it prohibitive to use for our level of production volume. After researching what type of equipment was suitable for machining one-off frames, we discovered Roland DG's MDX-40A milling machine. After we began using the machine in our studio, we found that for its price, it offered a great balance between performance and size. Equipment from companies other than Roland DG are not suitable at all for operations like ours that do not involve mass-production.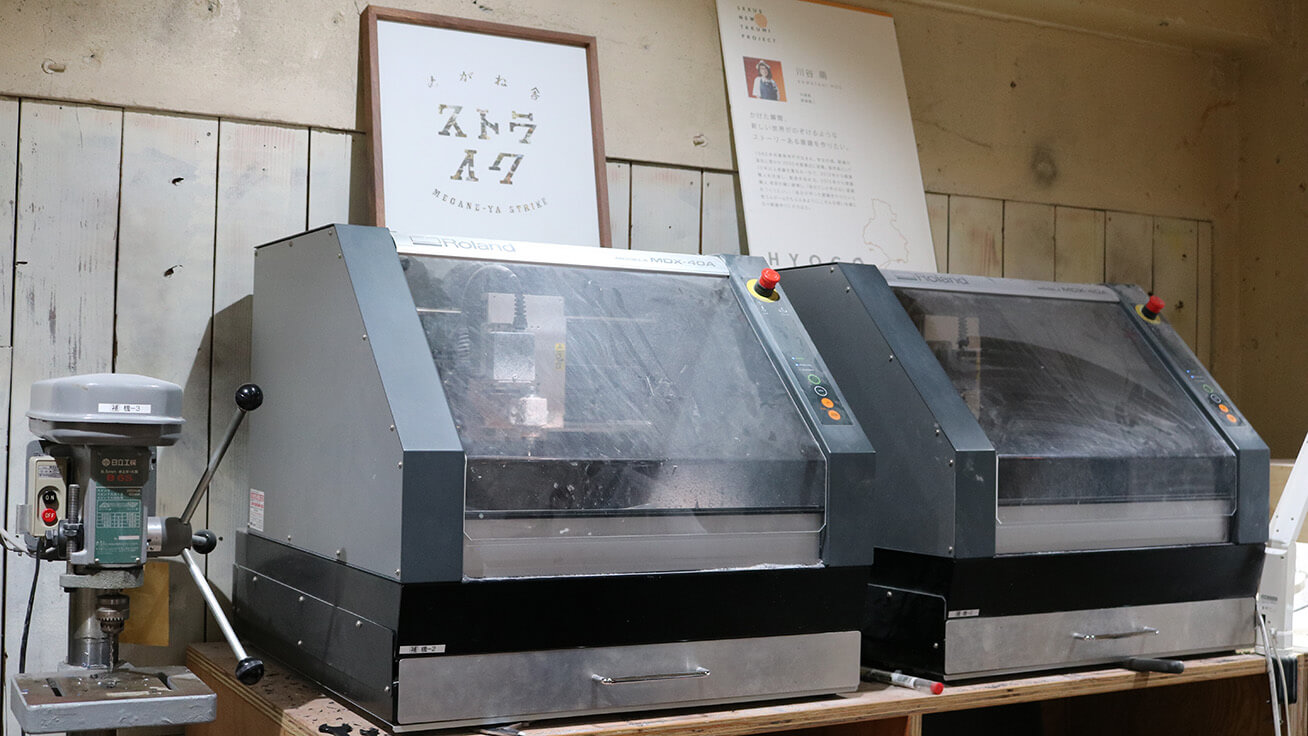 Roland DG's MDX-40A milling machines installed at the fabricating studio
Do you have any examples of some frames you have made?
We do receive a lot of orders from customers for standard shape frames, but one of the more unique designs we have made was for a DJ that featured a musical note in the shape of the frame.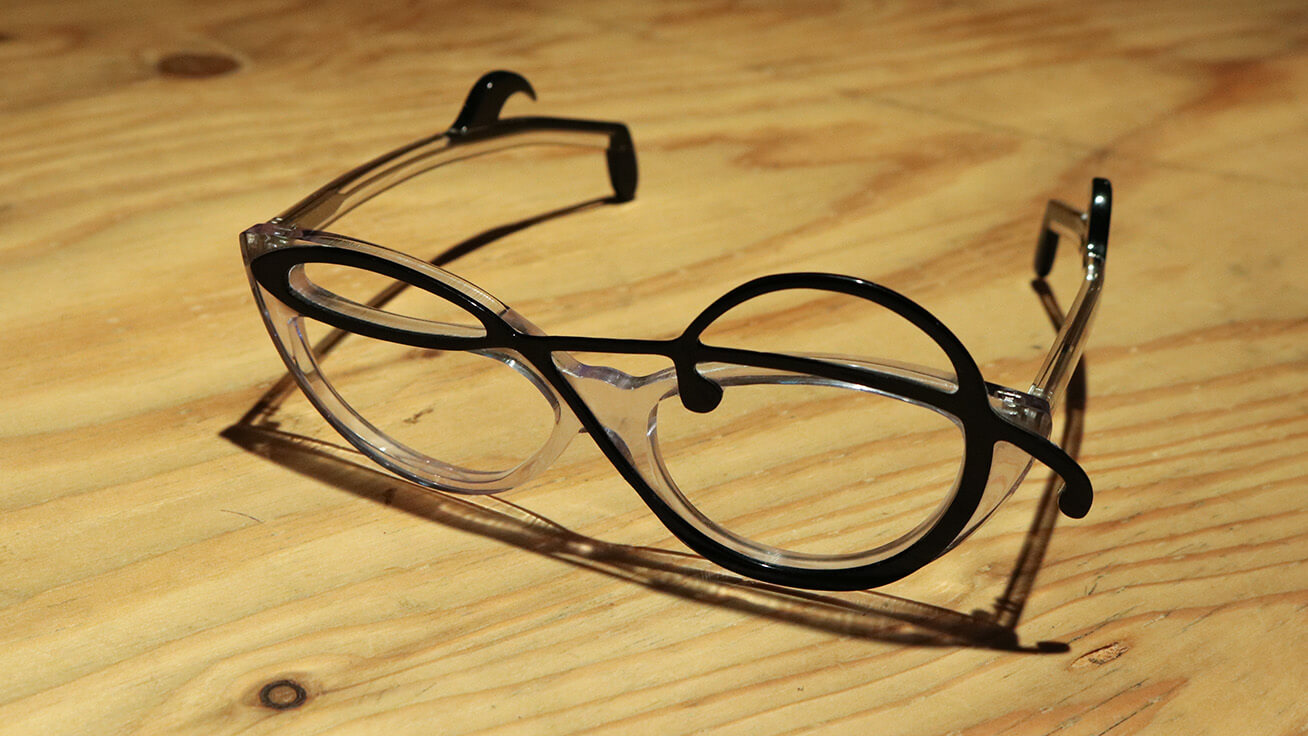 A frame featuring a musical note made from two layers of resin material, black in front and transparent at the back.
I also had a friend who ordered a his-and-her set of matching frames that he could wear with his wife at their wedding. Those frames had a mirror-image design when the bride and groom stood next to each other at their ceremony—but the frames lined up perfectly during that special kiss!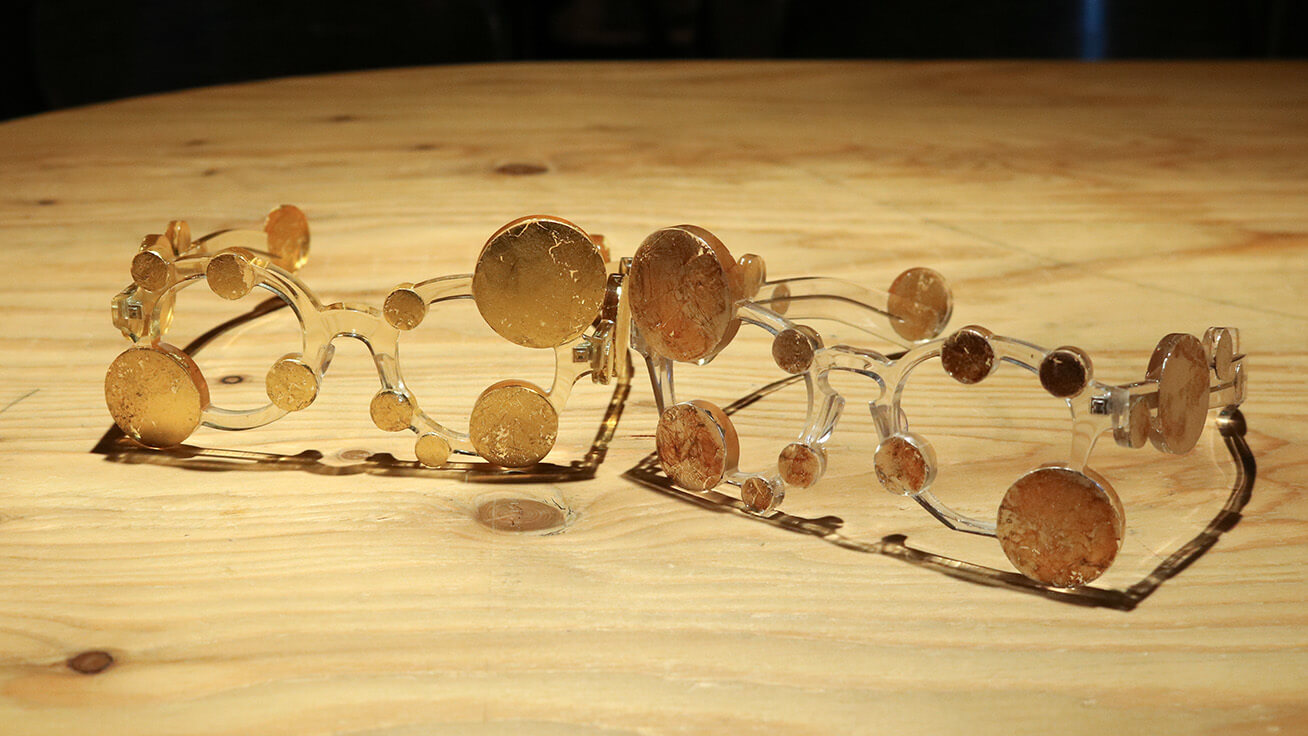 Matching frames designed for a wedding ceremony were made from the same resin material as other glasses, but finished with gold and silver foil features.
MEGANE-YA STRIKE future goals
When did you first come up with the idea for MEGANE-YA STRIKE?
I first started out with the idea because I wanted to make my own one-of-a-kind glasses. I was involved in sales, purchases and planning for a boutique eyewear shop for more than 10 years, but I felt that our products were much the same as other shops, and it was difficult to develop a unique sense of identity for the shop with the product lines available. I wanted to create one-of-a-kind frames myself and visited the production plants in Sabae numerous times to talk with the artisans there. The main problem I faced was the size of their production lots. They usually require the use of molds for production, and with minimum lot volumes of at least 100 frames, there was no way such equipment could be used to make designs to suit individual customers. I thought that it would be better in the long run to acquire my own line up of equipment to create the sense of uniqueness that I was after, and so began my journey making glasses.
I called upon staff at a company I manage (eyewear retailer HIGAMEGANE Corporation) to see if anyone was interested in taking on the role of artisan, and Kawatani, the sales assistant there volunteered. We learned all the various techniques for crafting glasses in Sabae from scratch, and opened MEGANE-YA STRIKE in 2016. I am in charge of sales and designs, and we currently have two artisans fabricating the frames.
How was the response after opening your shop?
Since opening we have been featured in various media specials and the number of customers wanting to make bespoke glasses has gradually increased. I first started out with a casual mindset, but the longer I do this the more I realize how much is involved in manufacturing frames for glasses. While there are frames designed to fit specific facial sizes, there are almost no eyewear shops that are so committed to creating glasses that fit their customers so perfectly.
When customers need glasses, their only option is usually to choose from the off-the-shelf styles that are already available. It is not that mass-produced frames are of poor quality or design, but I think that customers should be given the option of ordering their own tailor-made frames. I feel that it is my mission in life to spread word about bespoke eyewear so that it becomes more commonplace.
What are some goals you are planning to take on in the future?
I want to be involved in bringing some big changes throughout the eyewear industry. I am planning to increase the number of artisans working here so we can achieve a production volume of one-of-a-kind frames that we can supply to other eyewear shops around the country, and also market the concepts we have implemented here as a package that others can adopt at their own shops. I eventually want to open a shop where customers can pick and choose their ideal style from a broad selection of designs including off-the-shelf items, retro collections and bespoke styles.
Thank you for your time today.
We learned how much is involved in manufacturing frames for glasses and also witnessed an amazing level of dedication into broadening the scope of bespoke eyewear in this interview.
Click here for more details about MEGANE-YA STRIKE (Japanese only)