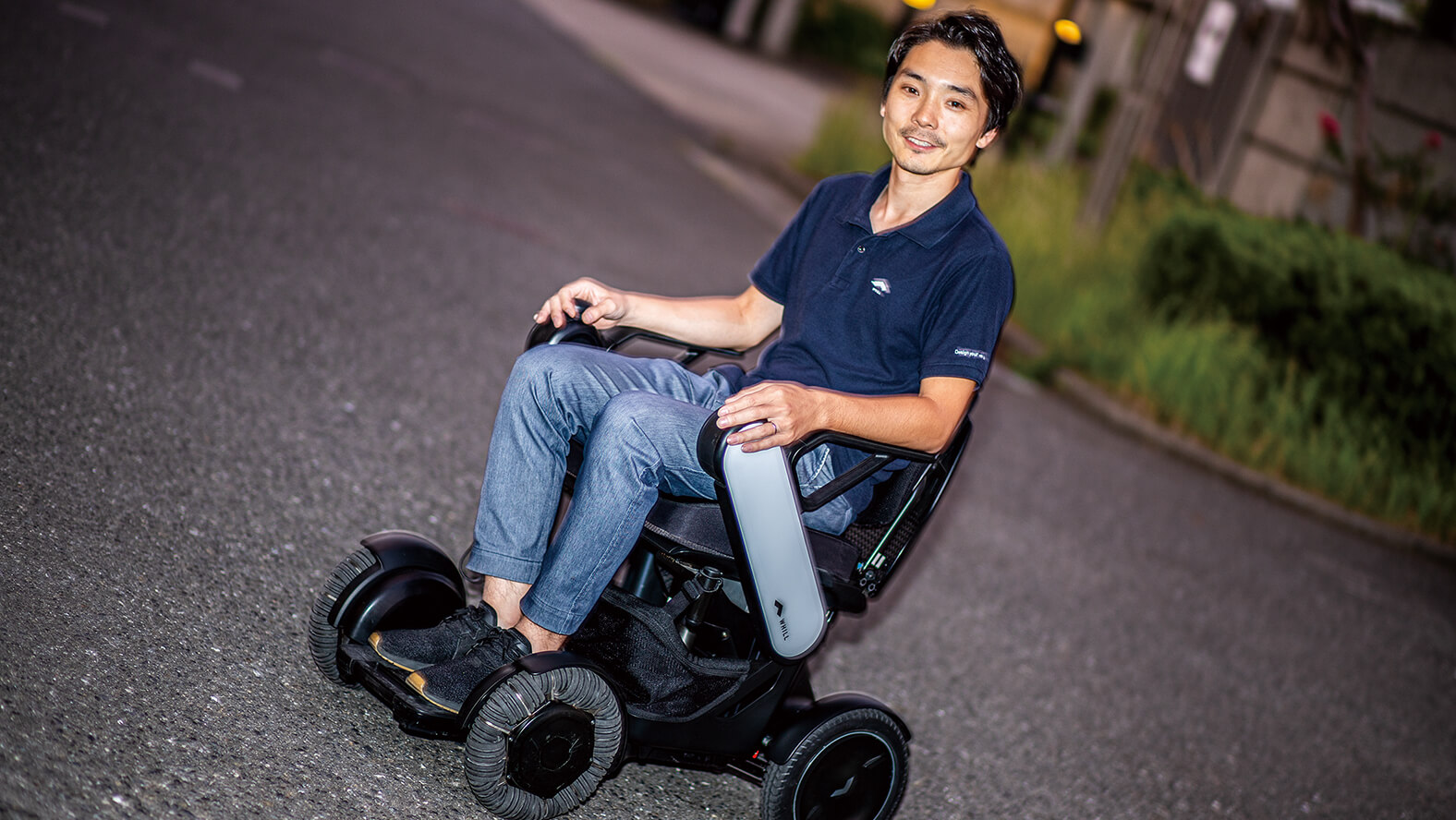 Accelerating Personal Electric Vehicle Innovation Through Rapid Prototyping
"I've even given up on going to the grocery store just two blocks away." Revolutionary personal electric vehicle company WHILL developed its mobility device with a single wheelchair user's voice in mind. WHILL's development department uses Roland DG's MODELA MDX-50 milling machine to prototype their products.
We talked with WHILL Inc., located in Yokohama City in Kanagawa, Japan, who developed these mobility devices. Here you will find our interview with their Vehicle Development Department.
Making mobility fun and stylish for all
WHILL Inc. is a Japanese company that designs and produces innovative personal mobility vehicles. "We leverage design and technology to develop wheelchairs that people are excited to use. A wheelchair user once told us, 'In my wheelchair, I've even given up going to the nearby grocery store just two blocks away.'
"This conversation inspired us to pursue new possibilities in wheelchair design and development. Our mission is to make movement more fun and more stylish for all."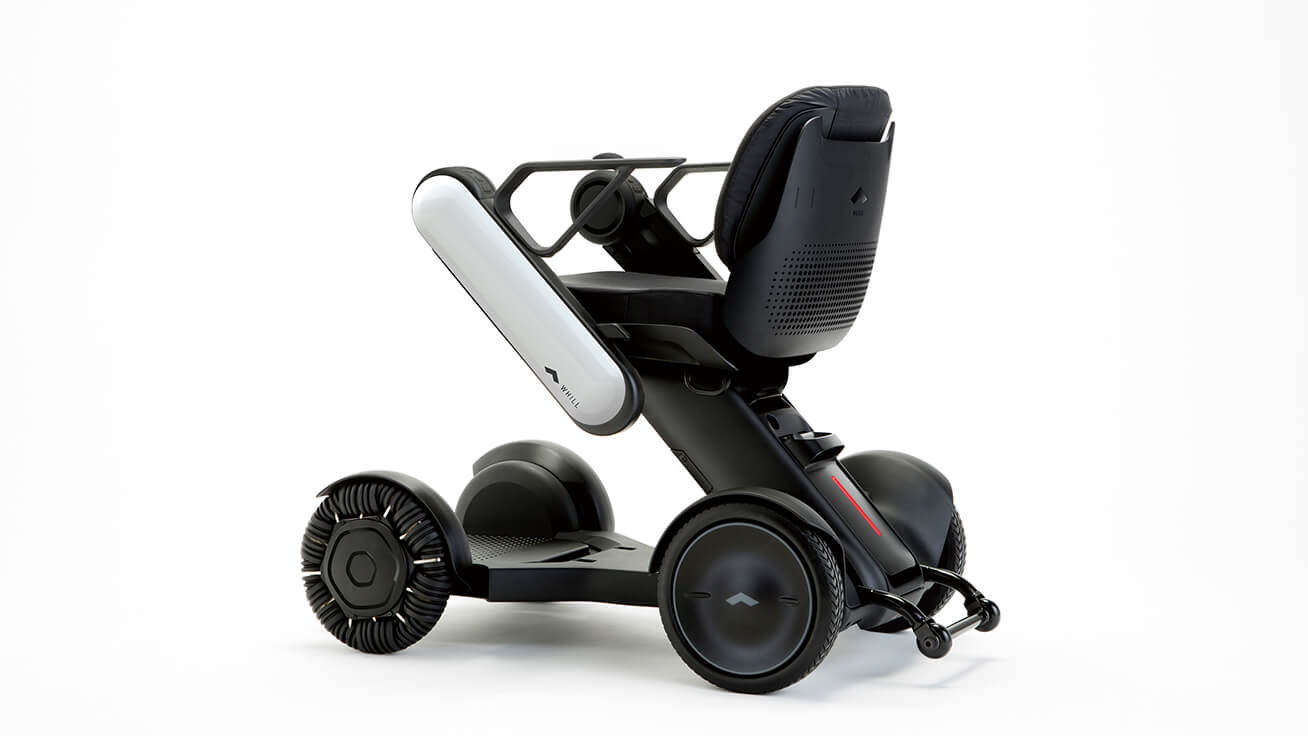 The WHILL Model C is a new wheelchair-type vehicle that makes life an adventure.
WHILL also has been developing an autonomous driving system. Trials were held at Haneda Airport in Tokyo, Japan and other international airports in North America and Europe.
"The Vehicle Development Department designs vehicle exteriors and frames. The MDX-50 is an indispensable tool for our prototyping process. There are many machine tools out there, and we chose the MDX-50 after considering various alternatives. A company we work with uses Roland DG's machine for its products, and it seemed user-friendly. This ease-of-use was the main reason for our decision. Another reason we chose the MDX-50 was its size. It is small enough to set on top of a table."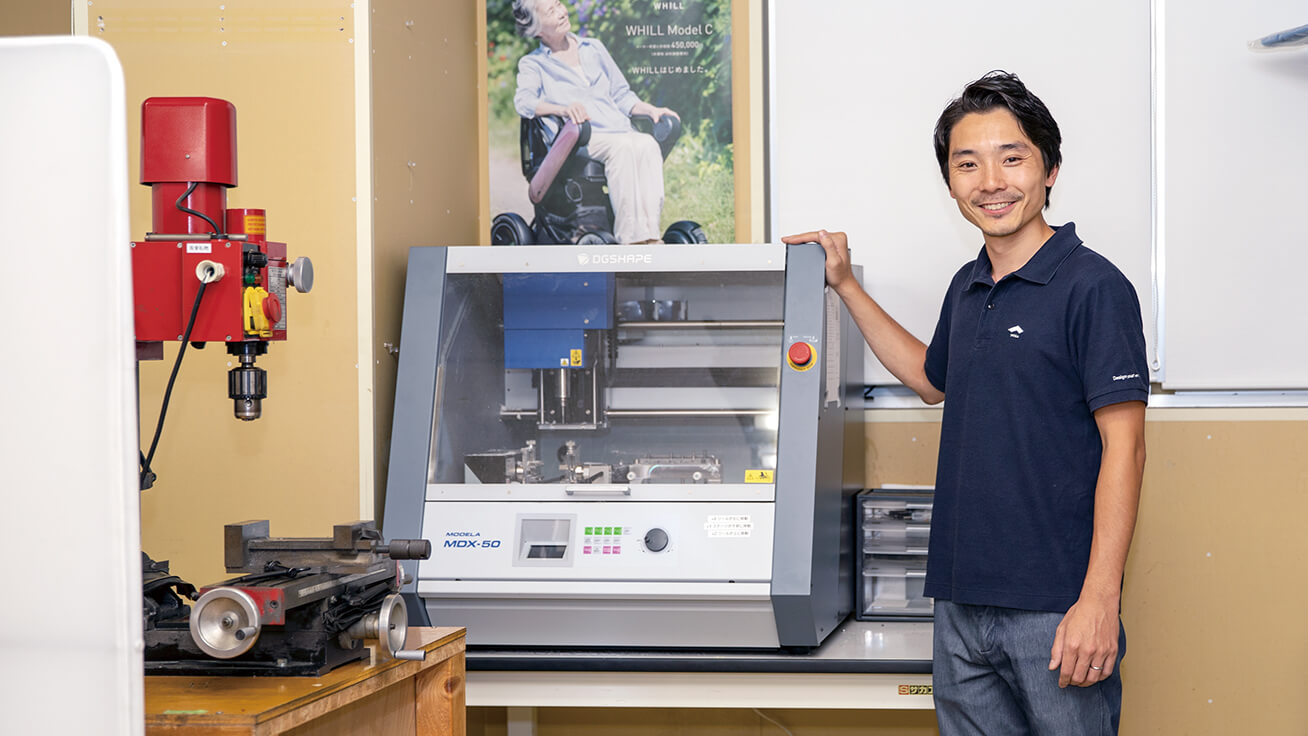 We wanted to shorten our development cycle
"Our development department gets feedback and requests from customers every day. In addition to the products themselves, we also need to develop new add-ons and accessories. In order to shorten our development cycle, we wanted to speed up our prototyping. If you hire a subcontractor, it takes at least a few days to get results. Of course, we still subcontract today if we need high-precision work done. However, we wanted to set up an environment where we could develop and evaluate prototypes immediately.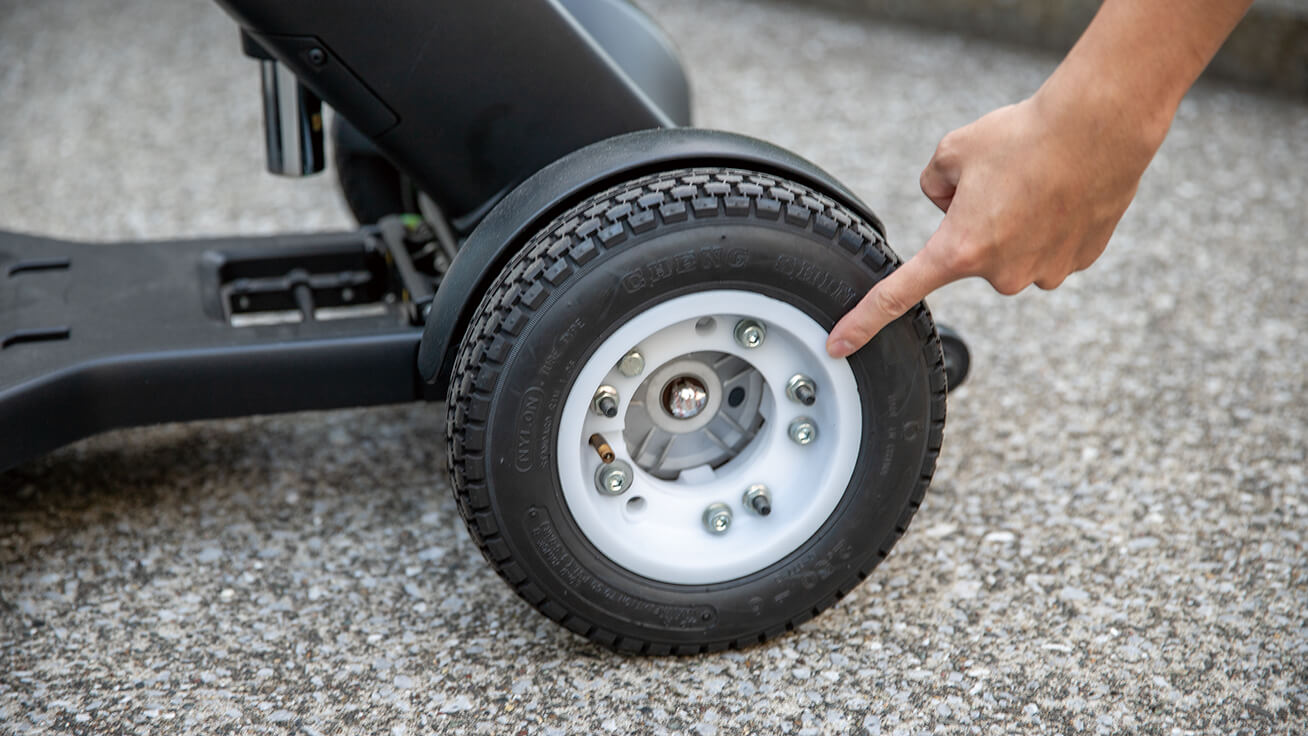 Rim prototyping with the MDX-50.
"As we hoped, introducing the MDX-50 helped us shorten our development cycle. Now, we can draw up some plans in-house, send the job to the MDX before going home, and have a prototype ready the next morning. We can then evaluate the prototype and quickly move to the next step of the process.
"The introduction of the MDX-50 also changed the way people in our department think. Now, when we are working on plans, we will say, 'Why don't we test it out at this stage with the MDX-50?' Having the physical prototype in your hand is completely different from looking at the shape with a computer 3D CAD model. It is incredibly efficient to be able to create multiple possible shapes for an item and evaluate them in physical form.
"Once we confirm a prototype, we will order a more precise version from a subcontractor. This shift in mindset made a big difference for us. The added prototyping potential allows us to make even better products.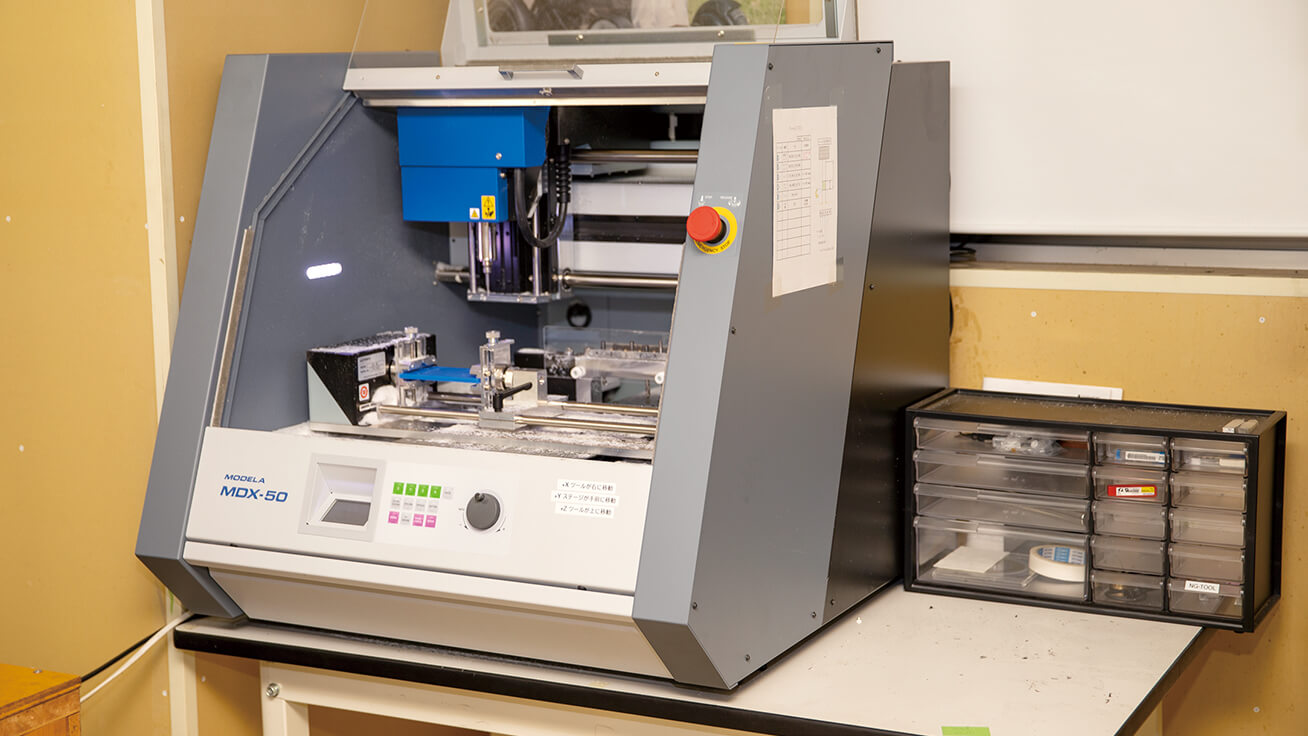 In-house prototyping with the MDX-50 led to faster development speed.
We can prototype using the same materials as for mass production
"When dealing with cutting, the MDX-50 lets us use the same materials as we would for mass production. This is incredibly helpful. Our company uses various materials, including ABS, polycarbonate (PC), and nylon. In some cases, we will also use nylon with glass fibers. We also use a wide variety of resins, ranging from high-strength varieties to more general ones. Currently, we do not feel there are any material inconveniences.
"The ability of the machine to handle all kinds of resins is a nice feature. We also use 3D printers, as they can be useful, but we cannot do strength testing with 3D-printed items because the printers only support certain materials. When we want to do strength testing, the MDX-50 lets us do the milling with the same materials that we would use for mass production. Safety is an important feature of our products, so the ability to do strength testing is very helpful.
Easier production with faster prototyping
"The MDX-50 comes with an included Automatic Tool Changer (ATC) and has an optional rotary axis unit. This saves time and effort. The ATC will automatically change the end mill, increasing productivity. The rotary axis unit simplifies things when we need to process both sides. It is very easy to use. Development is always pressed for time, and we often must reach a conclusion immediately. The MDX-50 is also helpful when we need to confirm something quickly. For smaller items, the machine can give you results within an hour. This speed is wonderful.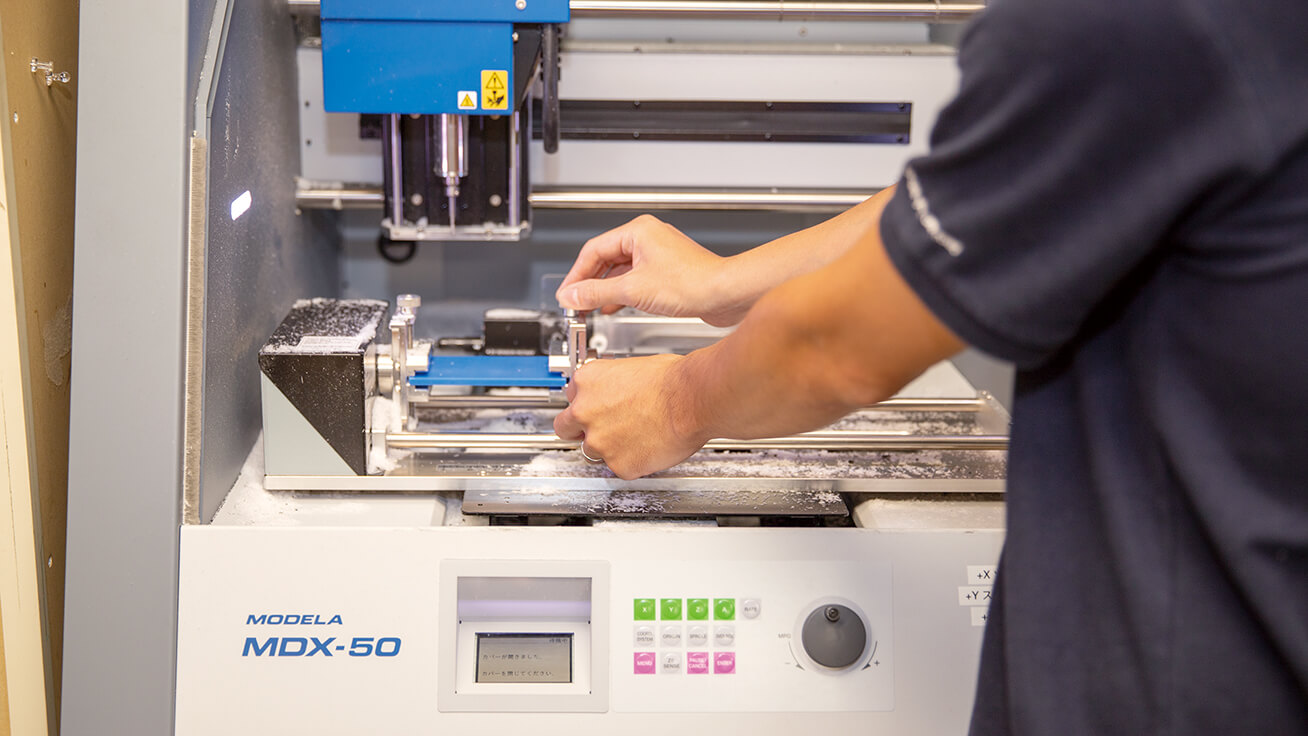 The rotary axis unit enables automated milling for both sides.
Our passion for manufacturing in Japan
"Unfortunately, there are few manufacturing ventures in Japan today. There are many IT and software ventures, but hardware ventures are falling out of fashion. There are companies working on revolutionary products in places like Silicon Valley, but such companies are rare in Japan.
"For this reason, we strongly believe in the importance of domestic Japanese manufacturing. We worry that, if our company fails, there may not be any others to follow in our footsteps. This reflects how serious and determined our company is to carry out our mission. We want companies to follow our lead, grow, and rise to become our rivals."
Thank you for your valuable insight.
Click here for details of WHILL Inc.
This article is a revised version of the content of Customer Success Stories Vol.3 (Japanese text only) that shows how Roland DG's 3D milling machines help our customers solve manufacturing problems.