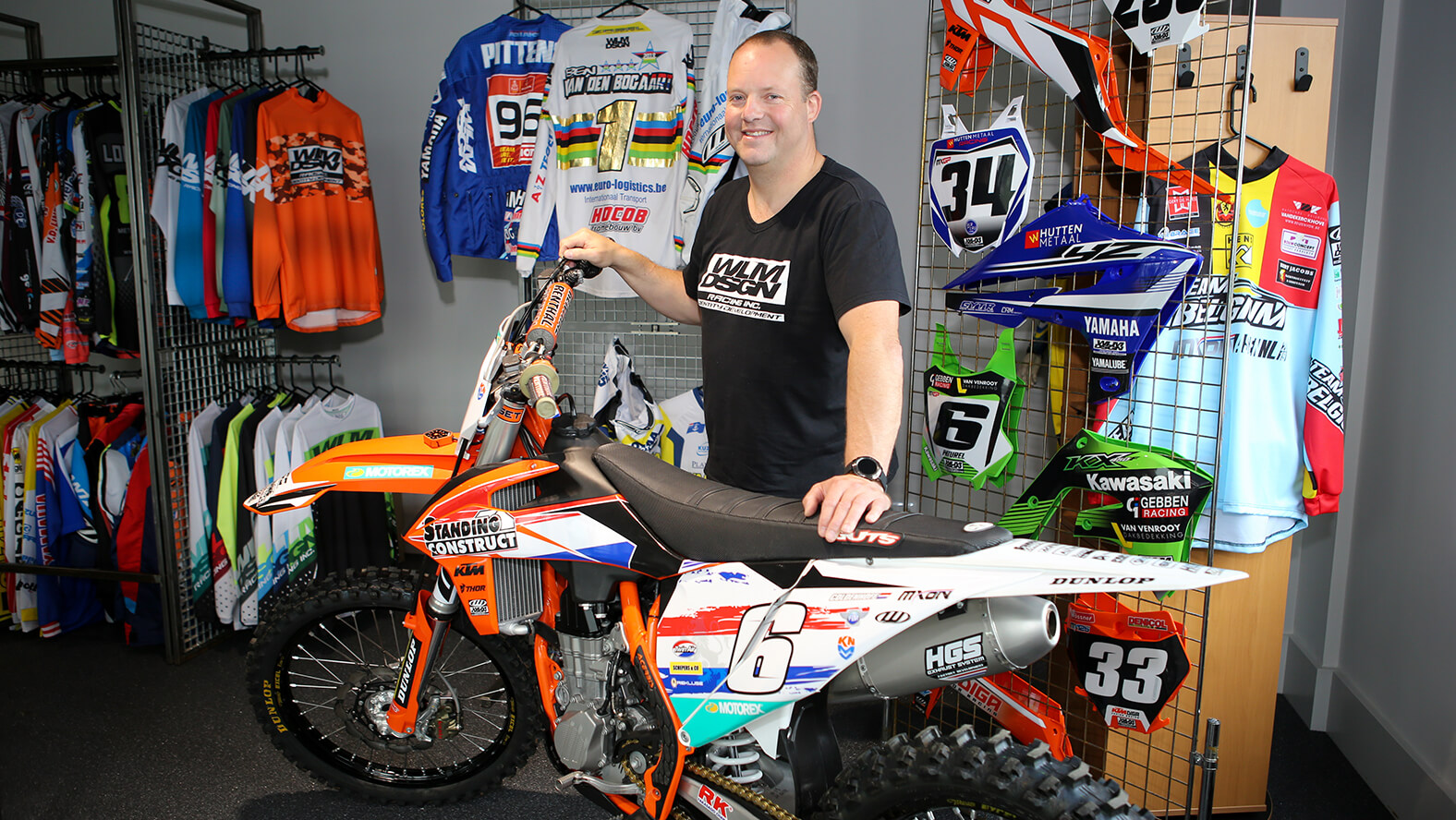 Motocross Graphics Expert Road-Tests New Roland DG TrueVIS VF2-640 with Green Ink
08/05/2020 Digital Printing
In the world of motocross, sports gear is dominated by vibrant, powerful brand colors like KTM orange, Kawasaki green and Honda red. Netherlands-based motocross graphic expert WLM Design has beta-tested the new Roland DG TrueVIS VF2-640 printer, finding its green and orange ink invaluable in matching these bold, branded spot colors.
Photo: Wisja Lamers, founder of WLM Design, posed in their showroom with the motocross bike on which Glenn Coldenhoff was victorious in the 2019 Motocross of Nations.
Interview with Wisja Lamers, founder of WLM Design
WLM Design — an expert in the design and in-house production of personalized shirts, trousers and stickers for motocross (MX), bike motocross (BMX) and downhill mountain biking — acted as a European beta site to put the new Roland DG TrueVIS VF2-640 to the test. Their verdict: "The color range, with both orange and green as additional color channels, is fantastic."
"We come from the cross world ourselves and we're huge fans," said Lamers. "You've got to have some connection with this sport to be successful as an entrepreneur. In our lorry-cum-camper, we visit a lot of competitions in Europe. People know us and we know them. We operate in the upper segment of the market; at that level, quality is everything."
Cross world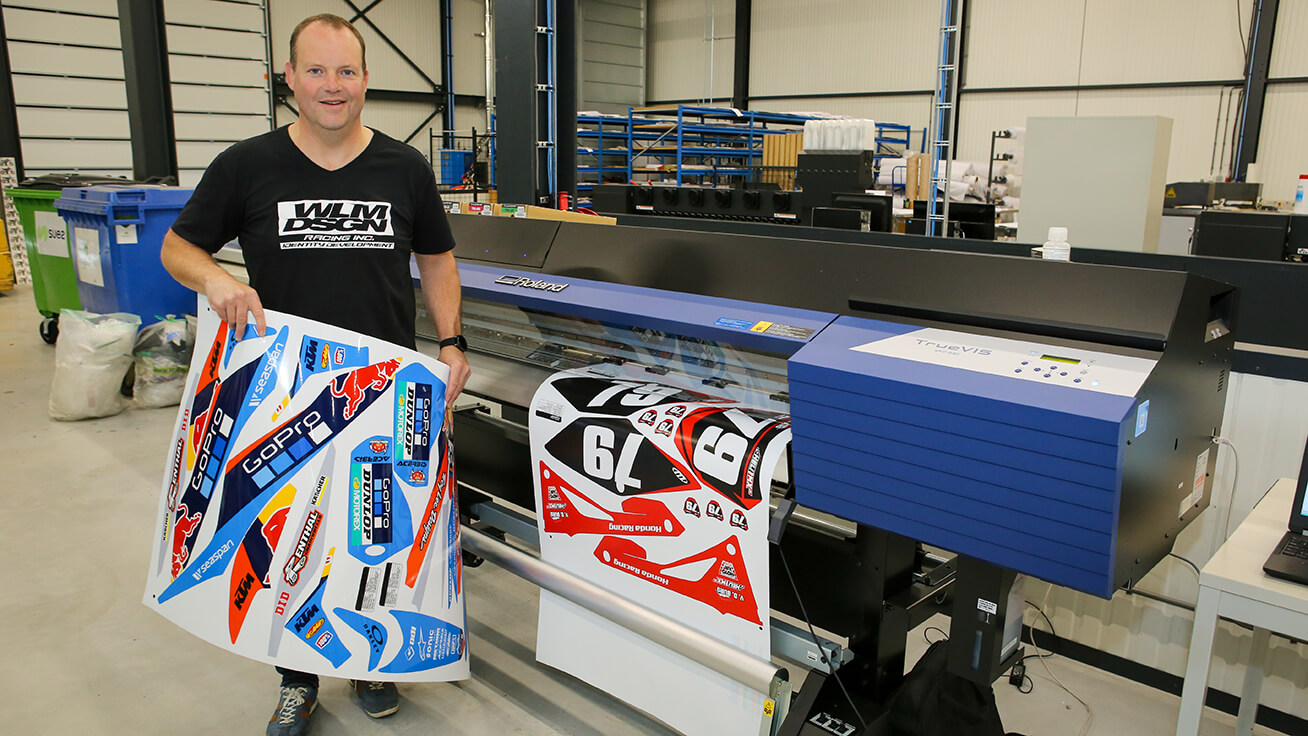 Wisja Lamers began testing the Roland DG TrueVIS VF2-640 in January. "We mainly produce stickers. The machine prints brilliant, powerful colors."
WLM Design is an innovative company that designs and produces customized sportswear and stickers for their customers. Over the years, WLM Design has grown into a company with ten employees with a head office and production facility in Mill, Netherlands and a branch office in Borgloon, Belgium. From these two locations, they serve the European cross world, including MX, BMX and downhill. WLM Design has also become a well-known player in the darts world and caters to teams and clubs from other sports, too.
"Our strength is the production of custom-made sportswear and stickers from one piece to larger numbers. We've got the entire production process under our own management. That's truly unique in our industry." said Lamers.
Producing durable stickers for MX
Lamers saw the advantages of digital production of stickers early on. In 2005, after much pioneering work, WLM Design became one of the first sticker manufacturers to digitally produce one at a time the especially thick stickers used for MX. In recent years, this work was completed on a Roland DG VersaEXPRESS RF-640 8-Color printer. (This printer model is currently available in the North American and EMEA regions.) Since January 2020, the new 1.6m-wide Roland DG TrueVIS VF2-640 printer took up residence next to it. "Acting as a beta site was a unique experience from which I've learned a lot," said Lamers.
The TrueVIS VF2-640 has eight color channels, with green, orange and white among its striking color options. Because WLM Design only prints on special white MX film, the business uses the configuration without white ink. Lamers praised its color range, "The TrueVIS VF2-640 is equipped with TR2 inks that offer a very wide color spectrum with brilliant, saturated solids. That's really critical, because we print mostly vector files."
Color-accurate reproduction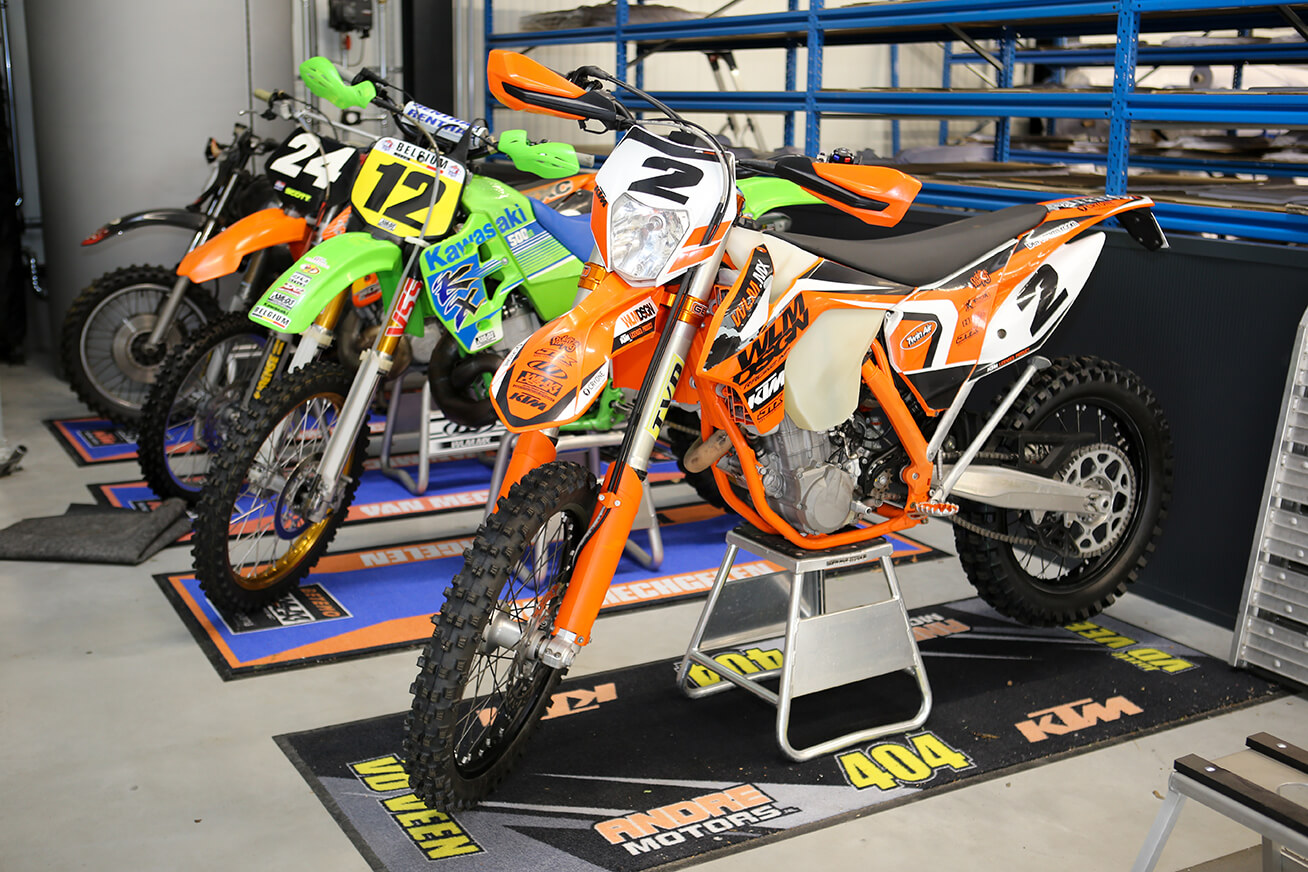 Whether it's KTM orange or Kawasaki green, the colors have to match exactly.
As the first print only machine in Roland DG's TrueVIS lineup, the VF2 was engineered with all the print technology of Roland DG's flagship TrueVIS VG2 printer/cutter devices, including TR2 inks. In addition to orange, however, the VF2 also runs TR2 ink in vibrant green. This has proven essential for WLM Design's profiling. "Color reproduction is incredibly important to us," explained Lamers. "My reference is a proprietary Pantone Matching System (PMS) range. I 'mix' all desired colors by hand. Matching spot colors — such as KTM orange, Kawasaki green and Honda red — is very easy in the VersaWorks 6 RIP software, which is also incredibly user friendly for quickly loading several jobs in a row."
With VersaWorks 6, green and orange can be used as process colors to print richer, more brilliant colors, and to replace spot colors. Thanks to the True Rich Color preset, it's easy to print colors that practically explode off the page. Users can choose from a number of different color configurations, compatible with a wide range of media, including orange, green and white at the same time.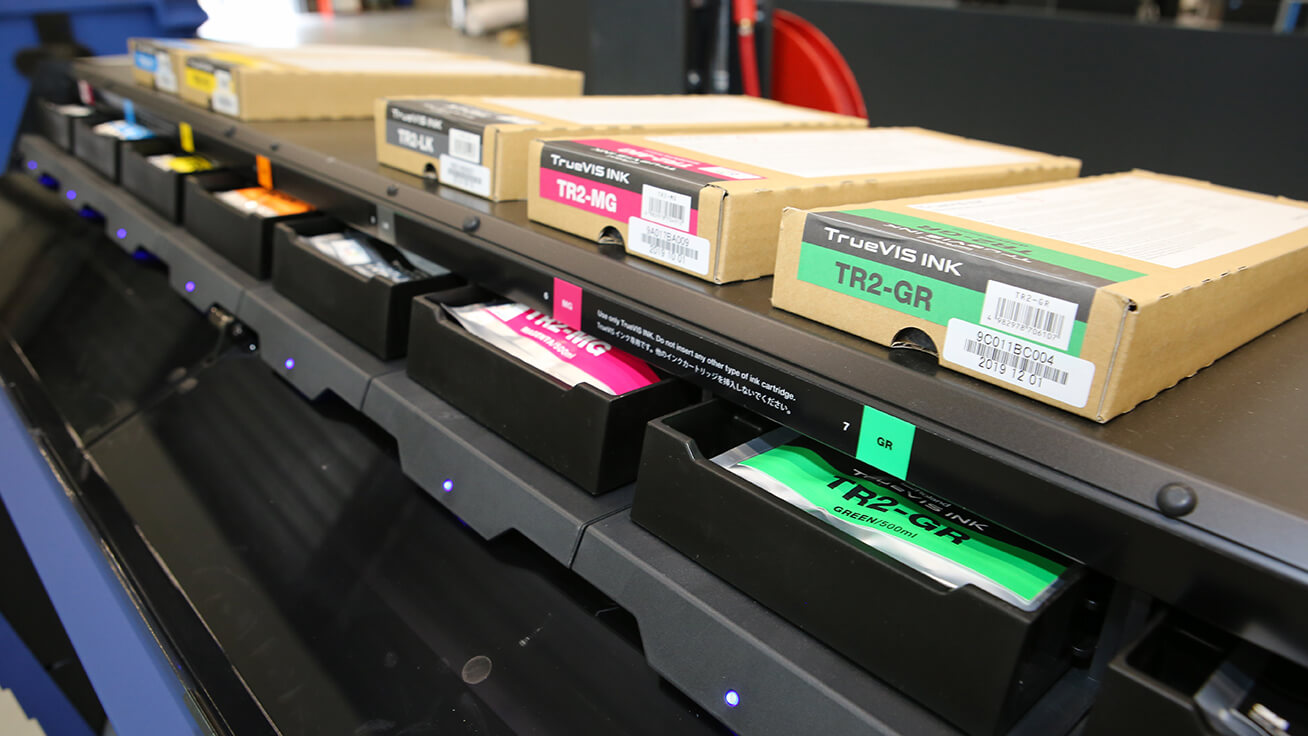 The Roland DG TrueVIS VF2-640 has eight color channels for different color configurations, including the ability to print orange, green and white simultaneously.
Great speeds to get ahead of the competition
Lamers is also satisfied with the hardware, especially the improved media take-up unit. "The printed media is rolled up perfectly straight and tight. The start-up of the machine is fast and the cleaning cycle is relatively short. That saves time and ink," he said. "Also, the maximum print speed for 4 or 8-Colors is increased on the RF-640 8-Color printer which helps us stay ahead of the competition."
Thanks for the great feedback.
We look forward to seeing WLM Design continue to create amazing graphics for cross world with our inkjet printers.
Click here for details of WLM Design (Netherlands)
This article is revised from content on Roland DG Benelux's website.