Renault DP World F1® Team Boosts Productivity with Roland DG's Remote Printing Solutions
09/16/2020 Digital Printing
Renault DP World F1® Team, previously featured in this blog, spoke about how Roland DG's remote printing has helped them manage a busy print room from home.
Renault F1® Team evolved into Renault DP World F1® Team ahead of the 2020 season. Roland DG's TrueVIS VG2-640 inkjet printer/cutters, vinyl cutter and milling machines now take the pole position with high-quality prints to precision-milled components at its Technical Centre in Enstone, Oxfordshire (Read full story here). In early summer, the Roland DG UK marketing team chatted virtually with Joe McNamara, the Head of Graphics who was working from home due to COVID-19.
Check out the previous blog here
Interview with Joe McNamara, Head of Graphics at Renault DP World F1® Team
Like most in-house graphics professionals, Joe McNamara and his colleague David Colman, saw a sharp rise in demand for social distancing graphics and signage as Renault DP World F1® Team's Technical Centre prepared to reopen.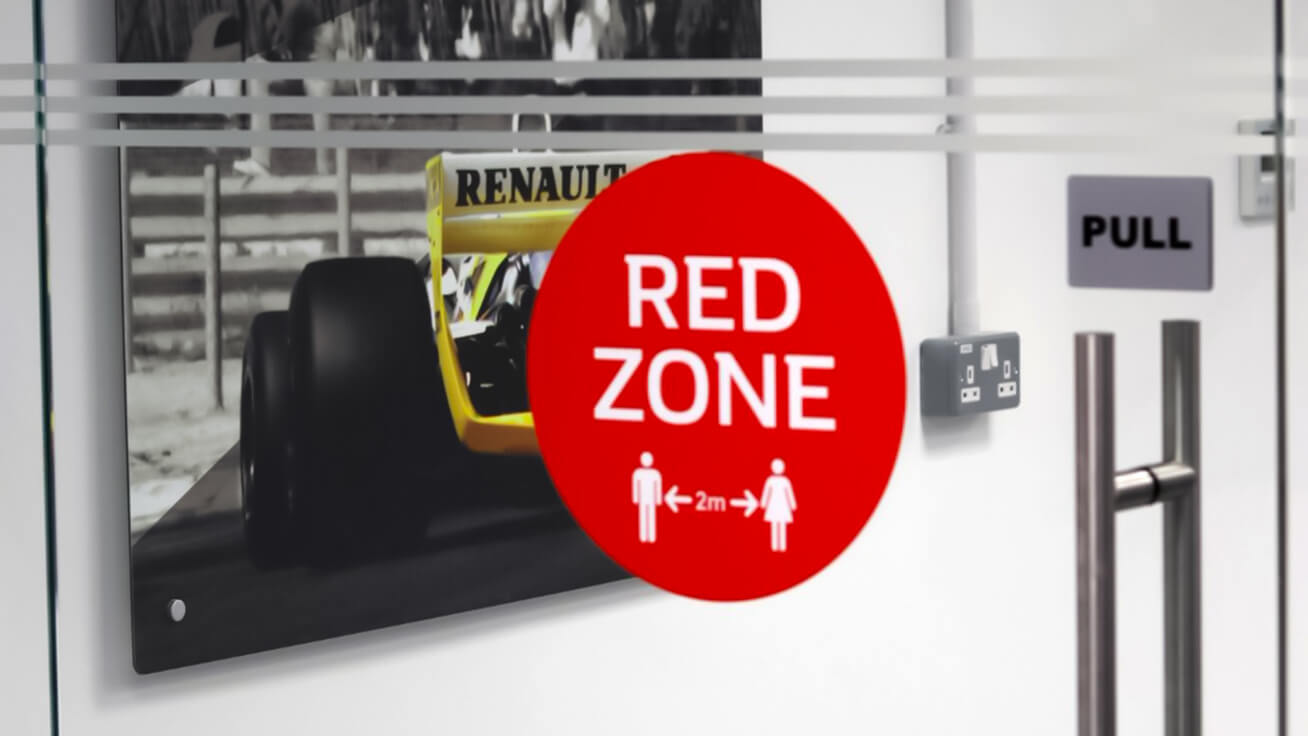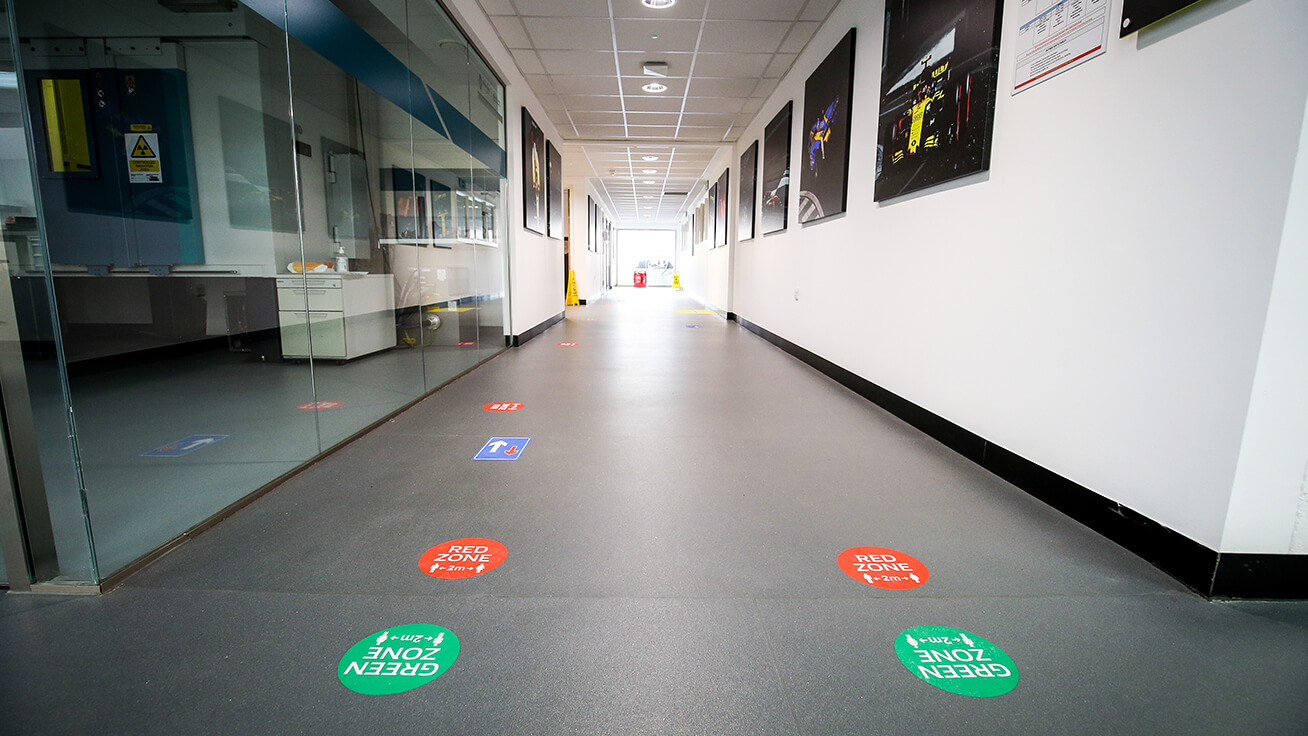 It was 10AM on a Wednesday morning when the interview took place and, with such a tight deadline, Joe should have been in his print room, not sitting in a home office in his shepherd's hut at the bottom of his garden, in a video conference call with the Roland DG UK marketing team via a fast broadband link. A long-time friend of Roland DG UK, Joe's relaxed demeanor is nothing new, but there was an additional air of calm and tranquility about him on this occasion.
Maybe it was the birdsong in his garden, clearly coming through the line, that was soothing his soul – or maybe it was the live-feed on his laptop showing him, in real-time, that everything was going like clockwork back in the print room at the HQ in Enstone.
"With an exceptionally busy start to the season this year, I'd built this work-from-home set-up just a few weeks before we heard of COVID-19 and my only regret now is not doing it years ago," Joe explained while watching David Colman, his right-hand man, on the screen, remove a print from the VG2 printer/cutter and lay it on the application table beside him.
"Incredibly, we are as productive now and, in fact, probably more so, compared to when we were both working in the same room. I can send all production directly to the machines in between video conferences and phone calls, while Dave works through the finishing alone in the Graphics studio at Enstone, with no distractions."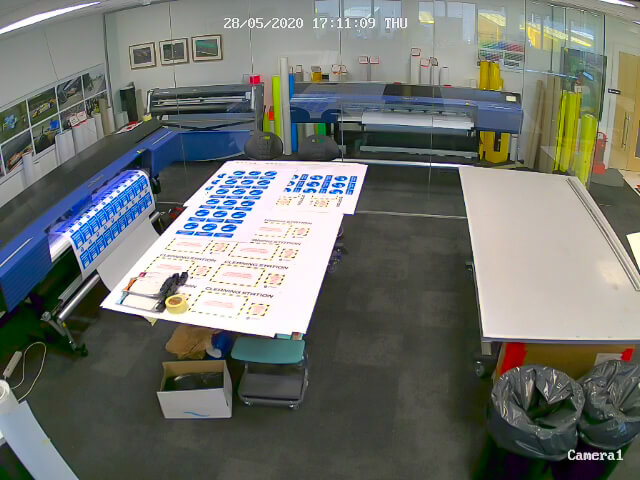 Running a Roland DG Printer from Home
But what about the device itself? How does the design get from Joe's laptop in his office in rural Gloucestershire to a printer/cutter in the state-of-the-art Headquarters 49 miles (79 km) away? Fortunately for Joe and others like him, TrueVIS printer/cutters and the VersaWorks 6 RIP have both been developed to allow for this kind of remote connectivity. The experience certainly opened Joe's eyes to the potential of the technology.
Note: The computer in a remote environment and the printer need to be on the same network.
"The idea of sitting next to a machine in an office is becoming a little bit outdated. You could put the TrueVIS in a small room just a little bit bigger than the machine and produce as much work as you could in a big space, like we have. It really opens up a lot of possibilities; this machine could be halfway around the world and with a decent broadband connection, you can still run prints through it. Just this year, I was in our garage in Barcelona at the first F1 test in February and I was able to make edits and send the job to the TrueVIS all the way in Enstone!
"I'm currently working more hours than usual to get through the current workload, but the lack of a 90-mile (145 km) round-trip commute means rather than sitting in the car for two hours a day, I'm getting more work done and feeling a lot better for it! David is also enjoying the fast pace in the studio in Enstone because every time he takes something off the printer, I've sent another job to it by the time he turns around again. He's enjoying the new way of working too, and the working day just flies by. It works for everybody."
The initial purpose of the call was to find out how the VG2 had been used to create signage for the re-opening following the COVID-19 closure, but it clearly wasn't a major concern for Joe, who was more interested in extolling the virtues of remote printing. When we finally got around to the subject, we discovered how technology and creative thinking can combine to get things done more efficiently.
"Over Easter weekend, we worked on a government-backed project to prepare our factory for producing ventilators instead of the normal racing car parts. Naturally there was a huge amount of signage needed for that, so we took what we'd learned and applied it to this project.
"In this case, a lot of the work was temporary 'do not shut' labels for windows and simple instructional stuff like that, but our Technical Centre is a huge complex – and that's a lot of windows. We were faced with a huge task because there was so much temporary safety signage and floor graphics to do for the factory re-opening, but we were confident we could hit our target with time to spare."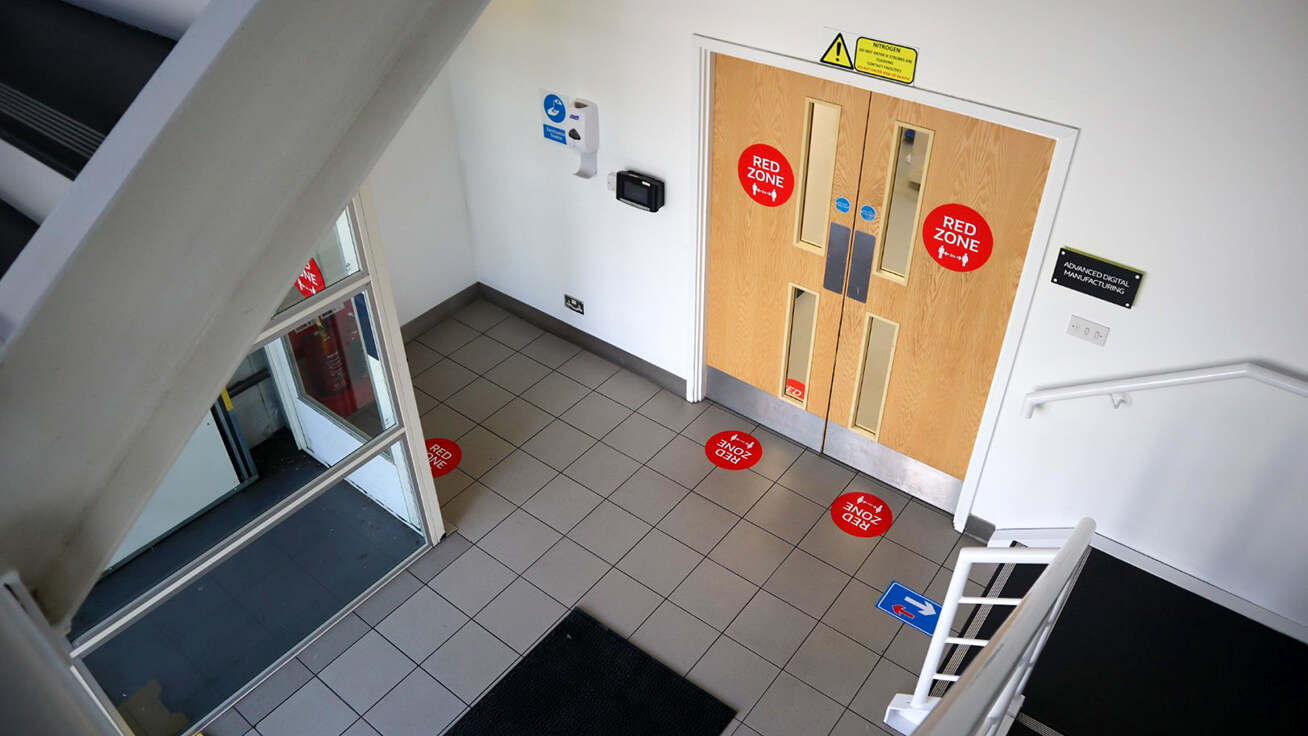 Clearly there was more than just top-quality printing technology at work here; there was also some of that printer's ingenuity.
"The sheer volume of graphics that needed applying meant it was obvious we needed some assistance. We were very conscious of the size of some of the graphics and where they had to go, so we designed everything in a way that the maintenance team could easily install it without having application experience.
"For example, in the case of wall graphics, we mounted them on 3mm foam board with double-sided tape on the back so it was not just easy to follow, but they could also put the graphics up quickly so it didn't consume their entire day."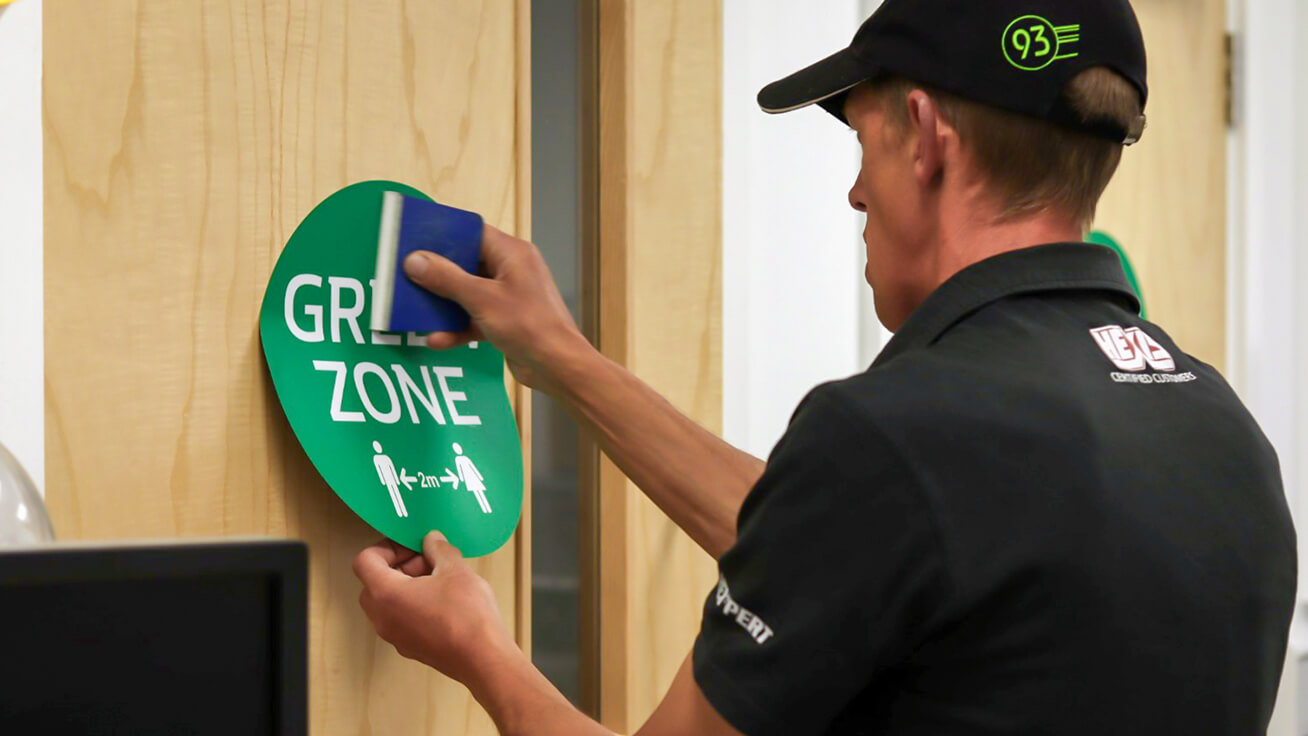 Joe also explained how the VG2's take-up unit helped him with long-run print-and-cut work.
"Because I'm old school, and always pressed for time, I'm a little ashamed to divulge that we never actually got around to investigating how to perform print-and-cut jobs on the take-up unit. I just used the age-old method of 'sheet-cut-and-drop-it-on-the-floor.'
"I tend to set the print to dry in VersaWorks for twenty minutes or so just to be on the safe side. But with a machine like this, you can get away with it. I then just send an email to the maintenance guys telling them that the 4000-odd labels they needed are sitting on the print room floor, ready for them to collect."
Before we concluded our chat, Joe took a moment to appreciate the marvels of the modern world.
"It's pretty amazing. Having done this for quite some time now, it still blows my mind a little bit that I'm sitting here watching it print and doing my work while I'm listening to birds singing, so it's quite good."
Click here for details of Renault DP World F1® Team
This article is revised from content on Roland DG UK's website.