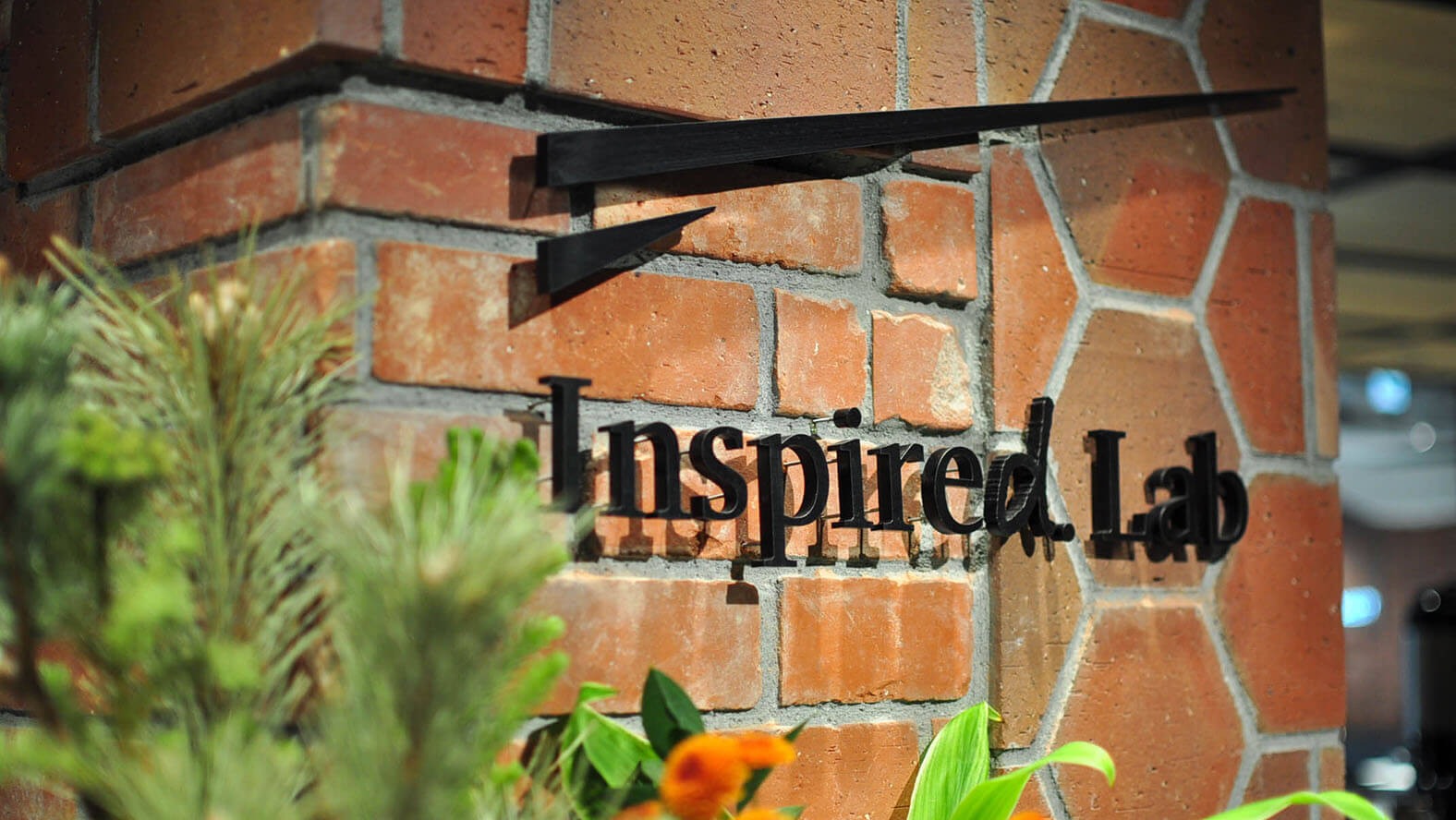 Inspired.Lab—a Source of Innovation in the Heart of Tokyo
02/24/2021 Digital Printing, 3D Digital Fabrication
Located in Otemachi, Tokyo, Inspired.Lab serves as an open innovation hub that operates beyond traditional company confines to assist users in coming up with fresh new products and services. It consists of an open office area as well as a work area for bringing ideas to life. Roland DG's UV printer and milling machine are set up in the work area.
A Corporate—startup joint co-working space
Inspired.Lab is jointly operated between Mitsubishi Estate and SAP Japan Co., Ltd., a subsidiary of the software company SAP SE, and features private offices of various sizes as well as cafes, lounges, work areas and other co-working spaces where members can collaborate.
Ideas for products and services can be made into prototypes right away in the work area before being tested repeatedly by users to advance the development process. In addition to Roland DG's VersaUV LEF-300 UV printer which is capable of printing directly onto materials like resin, professional equipment available for use in the work area includes the MODELA PRO II MDX-540S-AP milling machine (available only in Japan), various 3D printers and a laser cutter.
Click here for more details about Inspired.Lab (Japanese text only)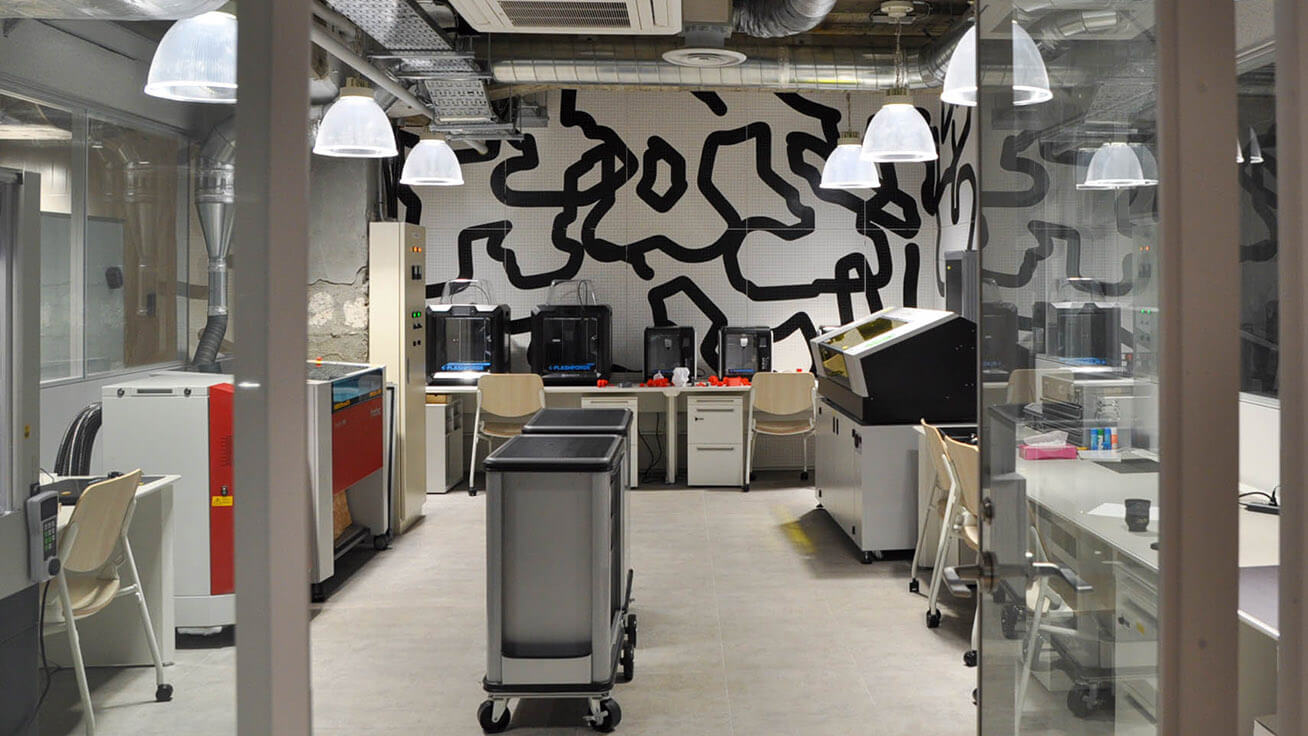 Inspired.Lab's work area features an array of professional-grade devices.
We held an online interview with SAP Japan Co., Ltd. to find out more about plans at Inspired.Lab, and how our products are being used (the interview was conducted in December 2020).
SAP Japan Co., Ltd. Managing Corporate Officer and Chief Transformation Officer Takeshi Oga
Is in charge of new business at SAP Japan, including operation of Inspired.Lab and working on collaborative innovation with corporations, startups and local government bodies.
Inspired.Lab Director Takeshi Hara
Provides ongoing support to members utilizing Inspired.Lab.
Roland DG: It was a little surprising to hear about SAP and Mitsubishi Estate working to support startups. Can you tell us how Inspired.Lab came about?
Oga: Inspired.Lab opened its doors in February 2019 when the Otemachi Building, which Mitsubishi Estate has owned for more than 60 years, underwent major renovations. SAP Japan helped with the launch, as it wanted to make the most of the renovations and to develop a venue in the Otemachi—Marunouchi—Yurakucho area where people could come together to create new business ideas, rather than just work at head offices of major companies.
SAP is a German-based company that is mainly involved in developing software and systems for corporations. With a history spanning more than 50 years, it is well-established within the IT sector and, over the past decade, has been branching out into new business fields.
To develop new businesses that are not already available in existing sectors, there has been a focus on the "Design Thinking" concept throughout SAP as a way of addressing challenges. Put simply, Design Thinking is a process for finding solutions by studying users from the viewpoint of designers. This approach leads to new products and services, by repeatedly trialing and testing various ideas that have been developed to provide solutions. SAP is adopting this approach to provide backing to startups around the world.
What type of facility is Inspired.Lab?
Oga: Very simply, it is a place to foster innovation. Rather than simply making an area or facility available for use, we place a focus on members working together to create communities. SAP and Mitsubishi Estate assist members through every stage, from coming up with ideas to running demonstration tests at other buildings or locations in the area.
Today we have some 400 members from 35 startups and new business development divisions of major companies. These startups aim to solve a range of social challenges, from using advanced technology like AI to collecting space debris and analyzing medical imaging data. The level of enthusiasm that young founders have for their businesses is having a positive influence on employees of big corporations who may not have had many opportunities to work with such people before.
One of these startups is WHILL Inc., which is transforming the concept of personal electric vehicles to produce new forms of mobility. They previously verified through trials their autonomous driving system here at Inspired.Lab.
A video of the WHILL trial is available here. The vibrant blue armrest cover was decorated with the UV printer available in the work area.
Roland DG's MODELA MDX-50 milling machine was also utilized during WHILL's development cycle. Click here for a previous interview.
Ideas quickly take on a physical form in the work area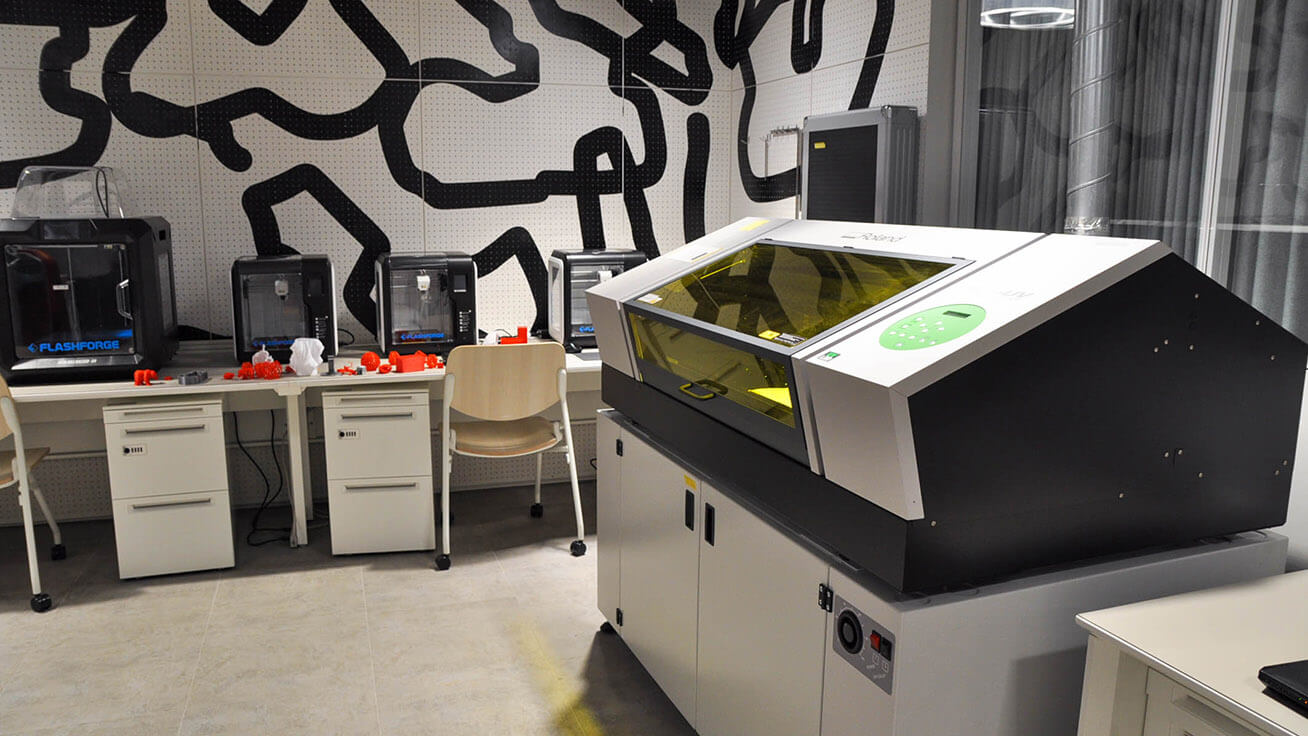 The VersaUV LEF-300 UV printer is available for use in the work area.
How are Roland DG's products being utilized in the work area?
Hara: Roland DG's UV printer and milling machine are mainly used for making startup and corporate hardware prototypes. Some of the products are still under development, so unfortunately I am not at liberty to provide more details at this stage.
The UV printers are easy to use and have a low running cost, and one of their more useful features is the fact that a single prototype unit can be made. Young staff members from various companies are keen to take part in training sessions, and even those who had minimal previous experience with fabrication are now using the printers like experts.
They also make great communication tools. Outsourcing the production of items featuring company logos or original products with customer names can be rather costly, but the UV printers mean they can be easily made here. Our staff produces the nameplates of member companies displayed at the entrance or on private offices each time a new company becomes a member.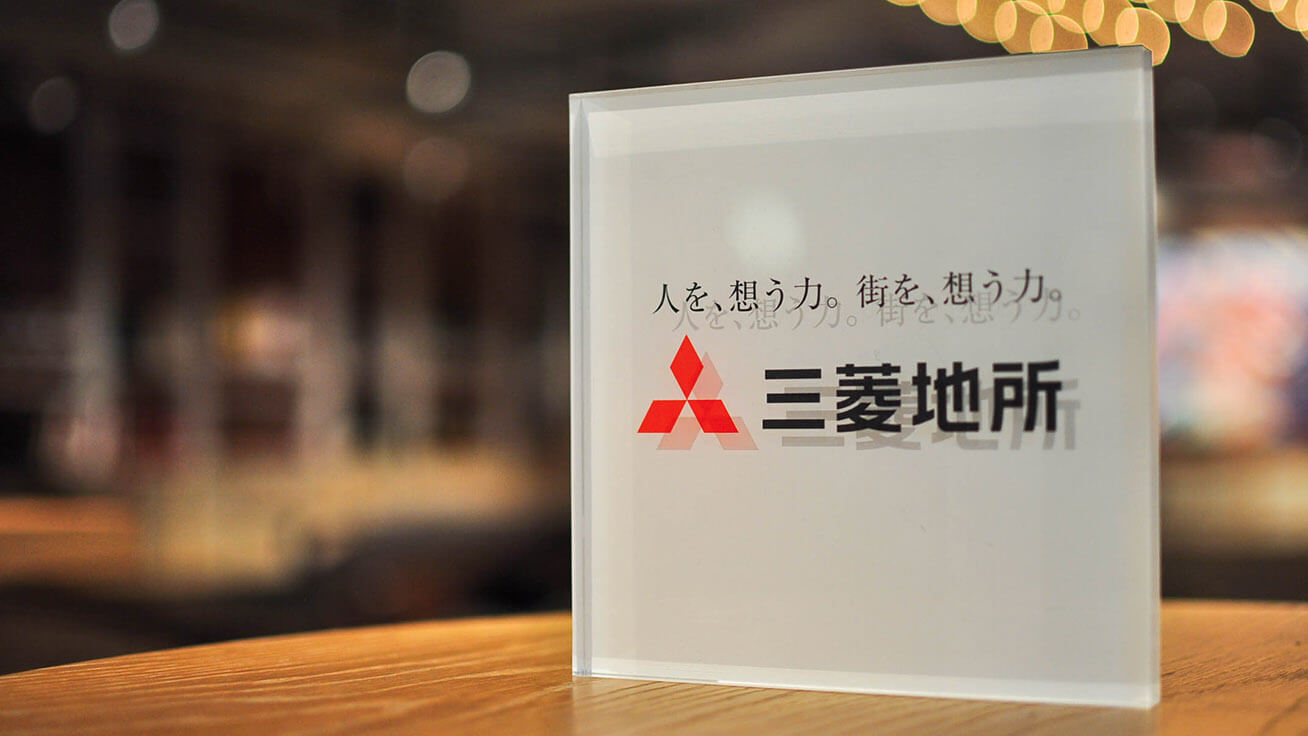 Nameplate printed using a UV printer.
The milling machine is for making prototypes, and is mainly used by members like engineers who have experience with such devices or design systems. Our next goal is to broaden its scope so that beginners can also make more use of it.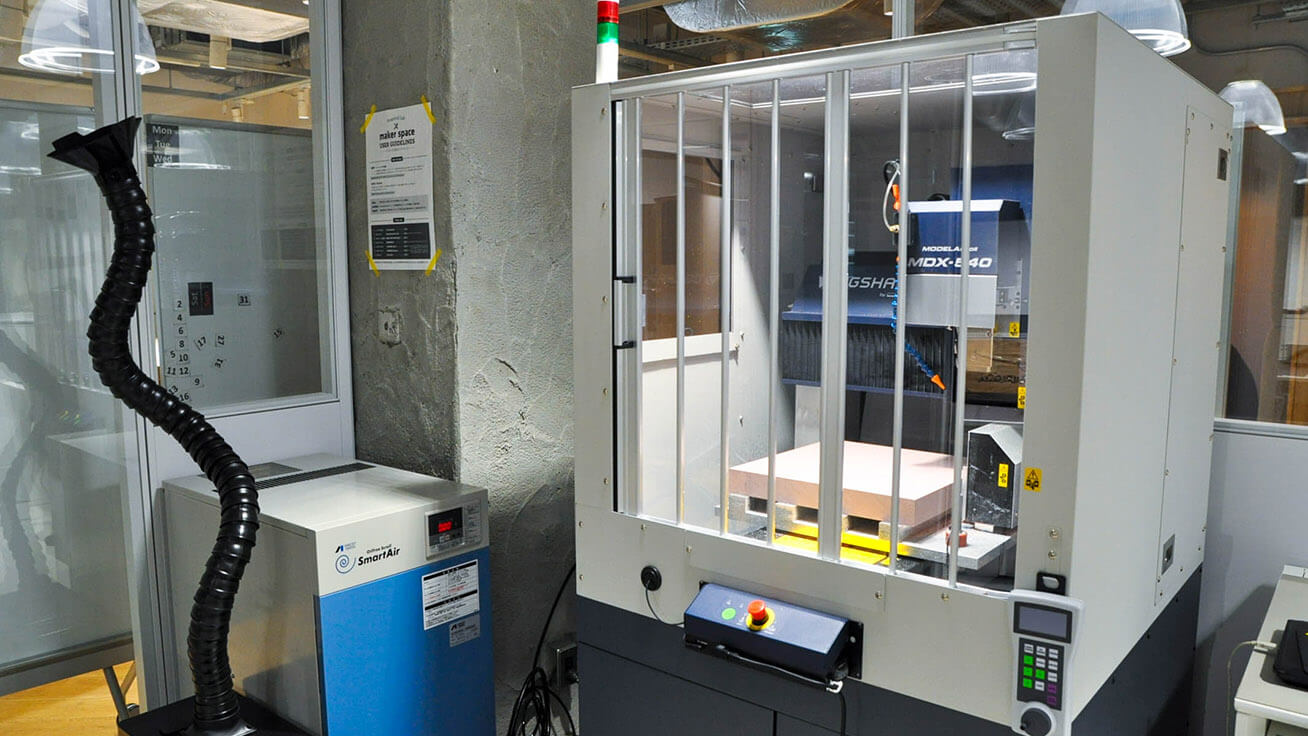 The MODELA PRO II MDX-540S-AP milling machine.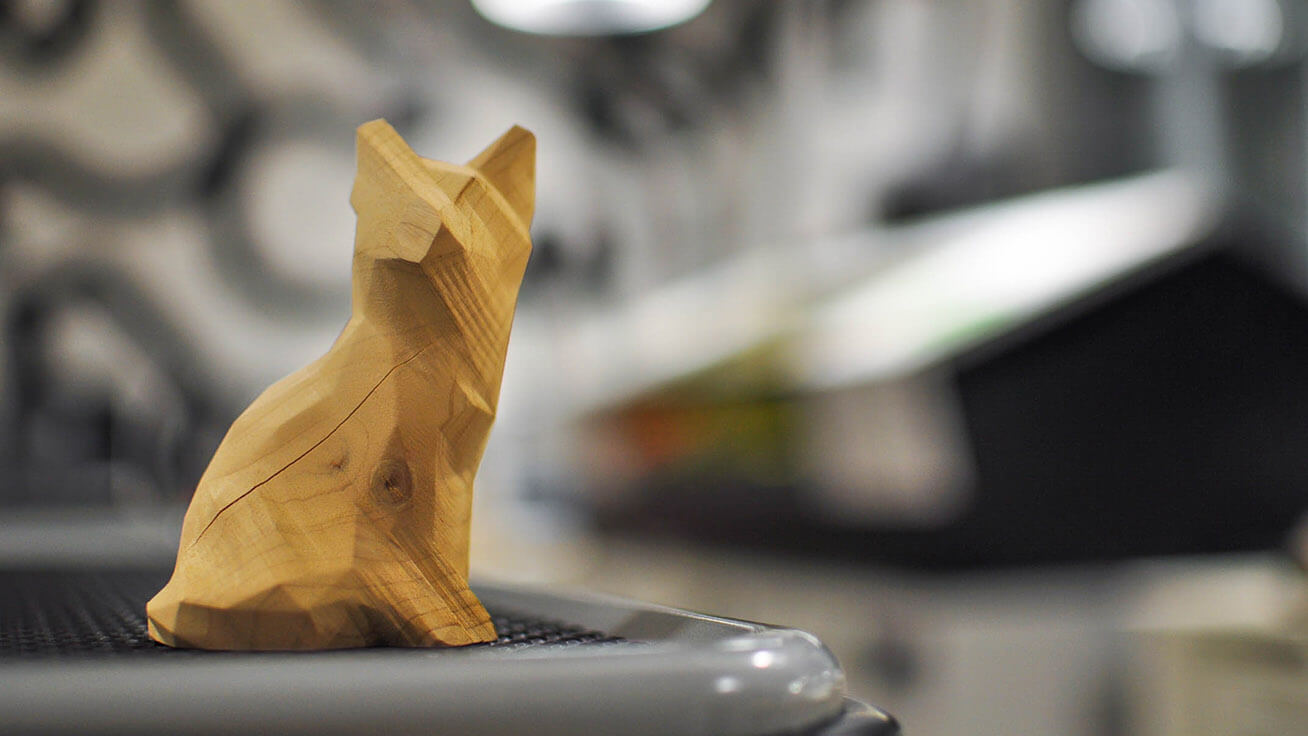 Samples like this can also be machined.
What was your goal with setting up the work area?
Hara: Here at Inspired.Lab, the design thinking space for coming up with ideas is located right next to the work area, separated by a pane of glass so that any idea can be fabricated into physical form immediately. The speed at which products are developed is crucial, particularly for startups. If a prototype demonstrates the key design features, even if it is not fully functional, it can be shown to users quickly. And if improvements are required, the next prototype can be made; this development cycle is extremely important.
Oga: Being motivated by others to draw inspiration, create ideas and develop them into products is essential to spurring innovation. Putting ideas into action is the most important step, and it does not even matter if some ideas end up as failures.
I definitely wanted to make a work area where members could test out their ideas. If ideas are kept inside the minds of their creators, there is no way to test if they are able to meet the needs of users. Giving those ideas a physical form as early as possible means improvements can be made by applying feedback from future users and other members.
The potential of hardware products to boost Japan
It has been two years since Inspired.Lab opened—what has the response been like?
Oga: Our members have been building up their communities very well, and then our role is to walk around looking after and taking care of them. Members often end up deep in conversation after we find some common points of interest and introduce them to one another, and that is precisely what leads to new ideas.
The impact of the COVID-19 pandemic must have made 2020 a challenging year for you.
Oga: In the past, we thought it was vital that members with different backgrounds could meet others here randomly to end up creating various ideas. However most people were staying away from their company offices during the pandemic, particularly from April to June. We looked at how to deal with this, and found an approach that could create new forms of value that could not be achieved by simply taking things online. For example, running workshops online meant there was a history log kept for everything. In this way, we could also receive feedback from ideas that had previously been scrapped.
In closing, what aspirations do you have for Inspired.Lab in the future?
Hara: In the software industry, it has always been possible to launch a startup straight away after releasing a trial product, but hardware prototypes called for factories and large-scale facilities. Now with the tools we have available in the work area, hardware prototypes can be produced in runs of one or two units, which expands the scope for startups. I hope to see our members harness the potential of hardware to inject some energy into this sector in Japan.
Oga: Inspired.Lab has members who are part of startups seeking to launch new businesses, those who want to find new fields that are not available in existing businesses, and even employees of large companies who want to facilitate change in their corporate culture. I hope we are able to give all of these members a helping hand so that they can achieve their goals.
Thank you for the wonderful insight.
We can't wait to see what kind of ideas are created at Inspired.Lab that will bring about changes to our society.