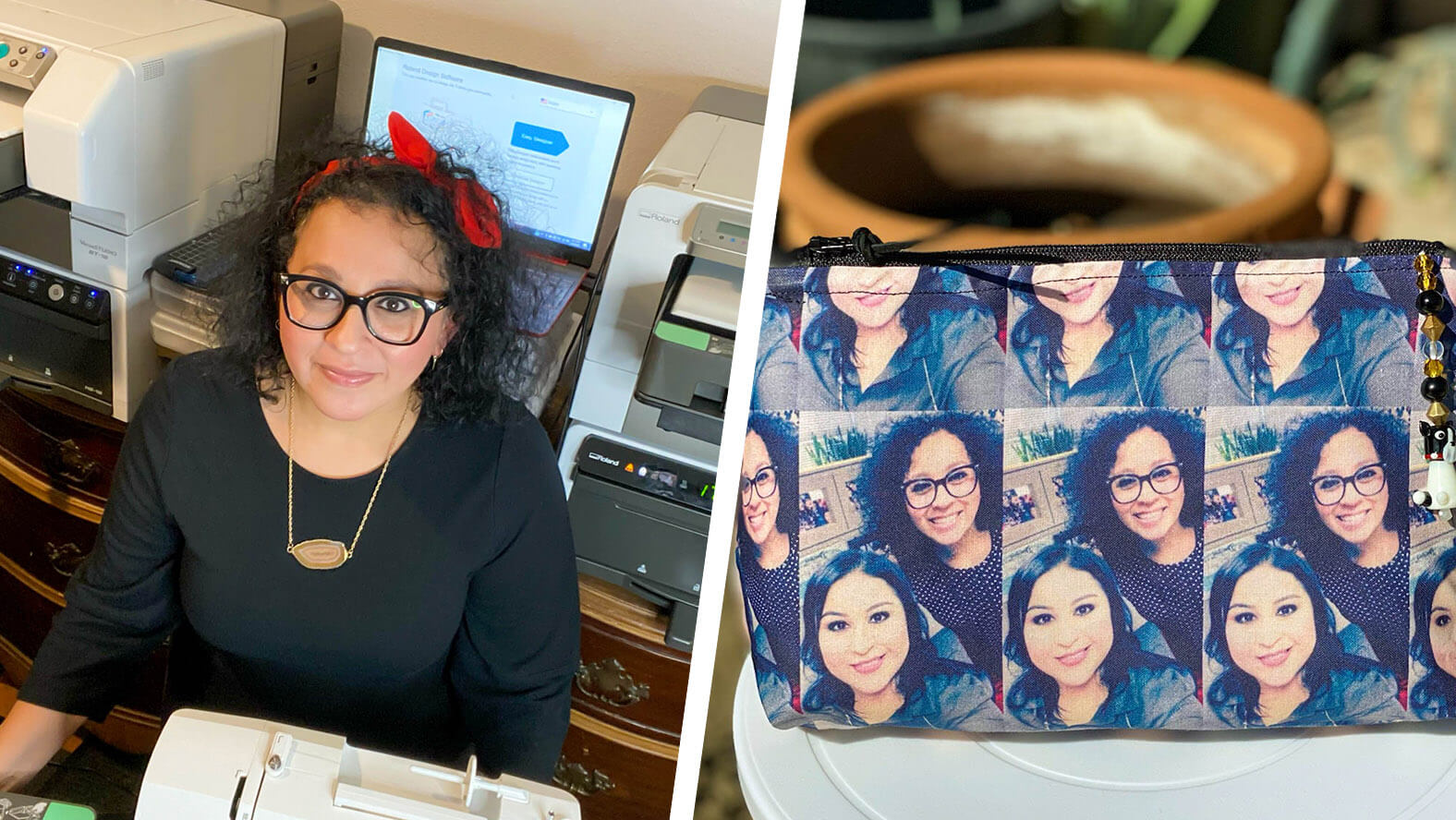 Pandemic Inspires Starting a Successful Print Business from Home
03/26/2021 Digital Printing
The pandemic inspired Angela Bernal, who works at Roland DGA, Roland DG's U.S. sales and marketing subsidiary, to start a home-based business with the easy-to-use BT-12 desktop direct-to-garment (DTG) printer.
Assigned to international accounts, Angela Bernal (photo above) has worked at Roland DGA six years in the Customer Service department. Requirements for remote working and to avoid going out during the pandemic led her to decide it was the ideal time to start a home-based side business.
She bought her first BT-12 in September 2020 and launched her Instagram site in October. She uses Instagram to find customers for her personalized items including zipper bags, tote bags, fabric masks, and Christmas ornaments.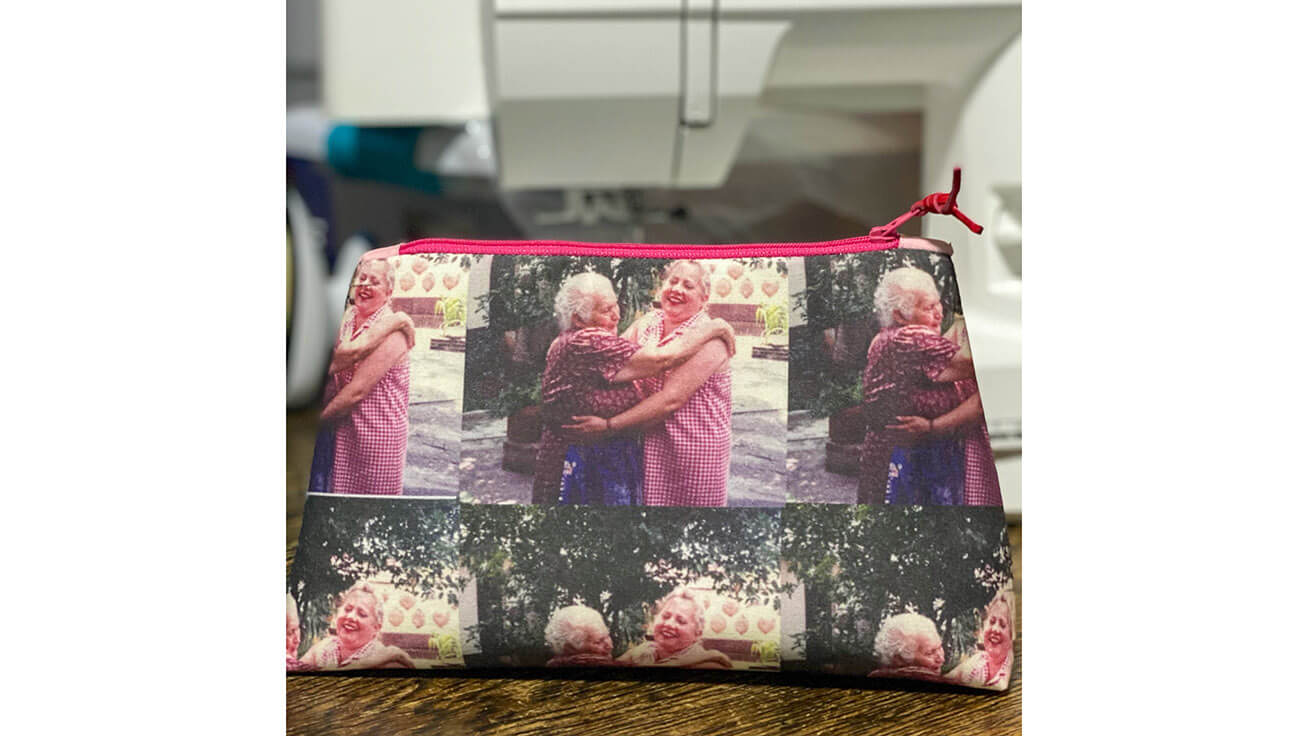 Customers have the option to choose their favorite images printed on the front, back, and inside of zipper bags.
We held an online interview with Angela to find out more about her business (the interview was conducted in February 2021).
Covid Restrictions Create an Ideal Opportunity
Roland DG: Please tell us about your work history.
Angela: I've been employed in customer service at Roland DGA for six years and am assigned to our international accounts including Latin America and Canada. Due to the pandemic, I'm now working full-time from home.
What inspired you to begin your print business from home?
I grew up enjoying crafting with my mother, and I've always wanted to do something creative. Pre-COVID-19 we didn't have time due to commuting to work or going out to restaurants and places like Disneyland, but now I'm at home and needed ways to occupy my extra time. I figured it was the perfect time to start a creative business. I had saved up enough money to buy the BT-12 and some supplies.
I had previously printed a few items like tote bags in the office which was my only experience. I bought my first BT-12 in September 2020, and then I launched my Instagram page in October. My initial thought was to just sell tote bags, but then more items began to come about after experimenting with the BT-12 for a few weeks. Ultimately, I got a second BT-12, so now I can do things faster and I really enjoy it.
Do you add sewing, embroidery or anything to your designs?
Currently I like to attach things like beads. I also purchased an LD-80 desktop laser decorator a few weeks ago but, unfortunately, I have been too busy to learn how to use it. My next project will be to incorporate it into my designs.
You are probably very busy with your full-time regular job, print business, and parenting. How do you balance them?
I have to be very careful with time management. Studying time management on YouTube videos helped me create a workflow.
My office workspace is located in my spare bedroom where I do both normal work and printing. I have my BT-12 and LD-80 there. It's such a small space, but I've been able to make it work. Since I'm just getting started, I can't invest in something bigger just yet. But in the future, I hope to be able to expand, buy additional machines and discover more things to do.
Personal and Business Benefits of Using the BT-12
What do you like about using the BT-12? How often do you use it?
I definitely like the easiness of using it, especially for someone who's just getting started. It's great because it's not as intimidating as a large format printer.
Depending on orders, I print at least twice a week on average. I only have a few hours in the evening to get things done. During the Christmas season, I was printing every day, so I bought a second BT-12.
What benefits does the BT-12 offer you?
In addition to its profit-making ability, the BT-12 has allowed me to be very creative. Additional benefits are how easy it is to use, its compact size, seeing my creative ideas come to life, having fun, receiving positive feedback and excitement from my friends and family, and being able to quickly incorporate the latest popular trends.
We usually go to a craft shop to buy fabric, but sometimes what I want is sold out. Since we can print fabrics at home, we don't have to rely on being able to find a pre-printed fabric in order to make an item. It's very nice to be able to create your own images or designs, produce something trendy that isn't easy to find, and add a special touch to it.
What has the response been?
I received lots of positive feedback and excitement, especially from my family. It's very humbling because I would have never expected so much enjoyment and approval from it. Everybody enjoys getting a handmade Christmas gift or card. And it's cool to see people so excited: "Oh my goodness, you can make this for me?"
I heard that your daughter is also interested in your creative work.
My 13-year-old daughter helps me sometimes and is having fun with the BT-12, too. Hopefully it will help her learn a life skill for the future. She likes drawing, so I told her, "Why don't you start your own Instagram page? If people want to buy your pictures on a tote bag, you can print and sell them." I love her doing it as long as she thinks it's cool and fun. Then I might have to interfere, but for now she enjoys it.
The Importance of Finding Customers and Learning What They Buy
What are your biggest selling items?
Right now, my most popular item is zipper bags. I also get a lot of mask orders. During Christmas, the orders for ornaments just blew up. I made more ornaments than I have ever made for a Christmas season. Because I guess everybody bought ornaments in September, I couldn't find anything available for sale in November. So, I decided to make my own, and came up with the idea of printing on thin round wooden blanks. That became a very popular Christmas item.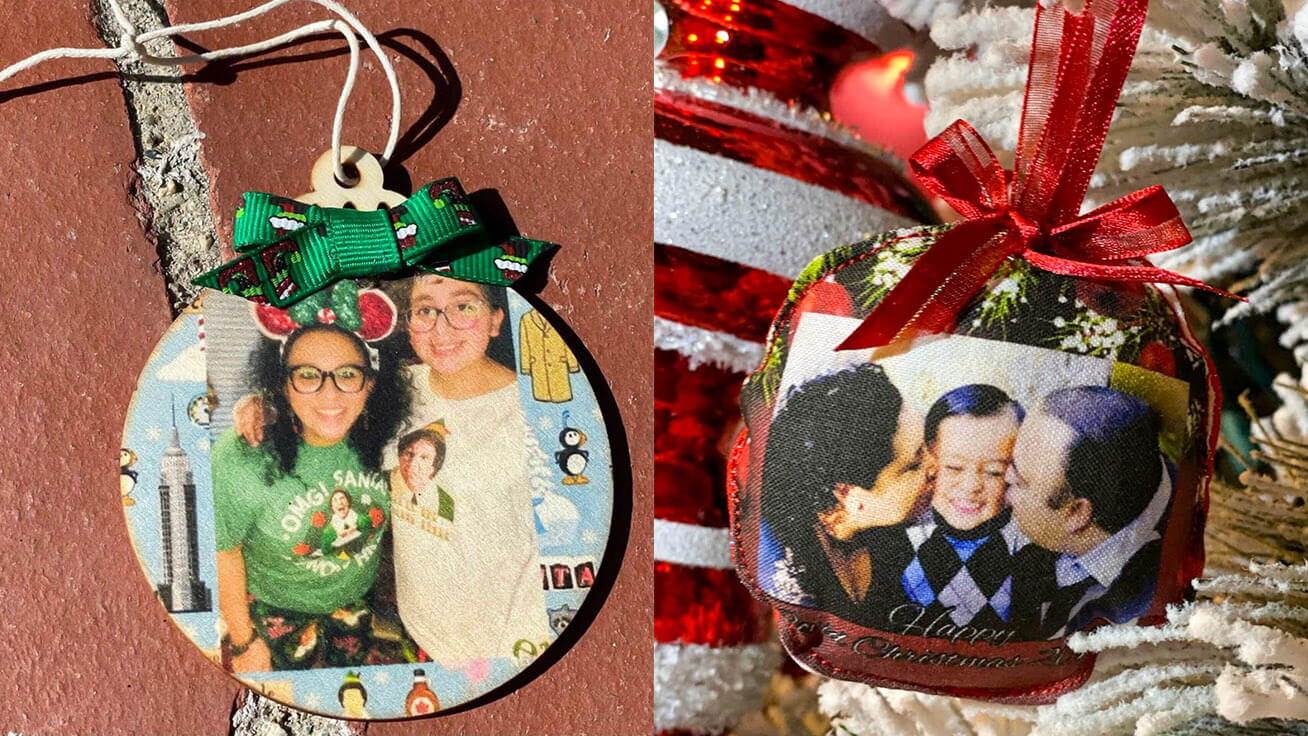 Wooden ornament printed with a photo of Angela and her daughter (left) and a printed fabric ornament (right)
What type of customer do you typically get?
My customers are mostly women, mid-twenties to 30's and 40's. They get excited to customize and design their own bags.
I usually get JPEGs from customers. A lot of times, it's family portraits. One customer ordered a zipper bag for her best friend. She put pictures from their Hawaii trips and the friend's name on it. When her friend saw it, she laughed and thought it was the coolest gift ever.
How do you sell items through social media?
I started getting a lot of business just on Instagram. I didn't want to overwhelm myself because I also have to keep in mind that I have a regular job. Through Instagram, people message me, and then they pay through PayPal. If I felt like I wasn't getting enough business, I would look into expanding my outlets.
Making Trendy Items Quickly
What do you have planned for the future?
My business is profitable, but I currently invest all the profits into growing the business. In the future, I would like to do more teddy bears, mug covers, and Zoom necklaces, which are a trendy item to wear over your sweater or blouse to look more professional in Zoom meetings. I'm thinking of covering beads with printed fabric to make a necklace.
If there is something I don't see at the store, I'll try making it first. If I think it's good enough, then I will sell it. I have a lot of next things in line to do. I would like to get into apparel eventually.
Thanks, and good luck with your endeavors!
We look forward to seeing her creative ideas come to life with our printers and laser decorator.
Click here for 10-minute shop talk with Angela on Roland DGA's Facebook page.