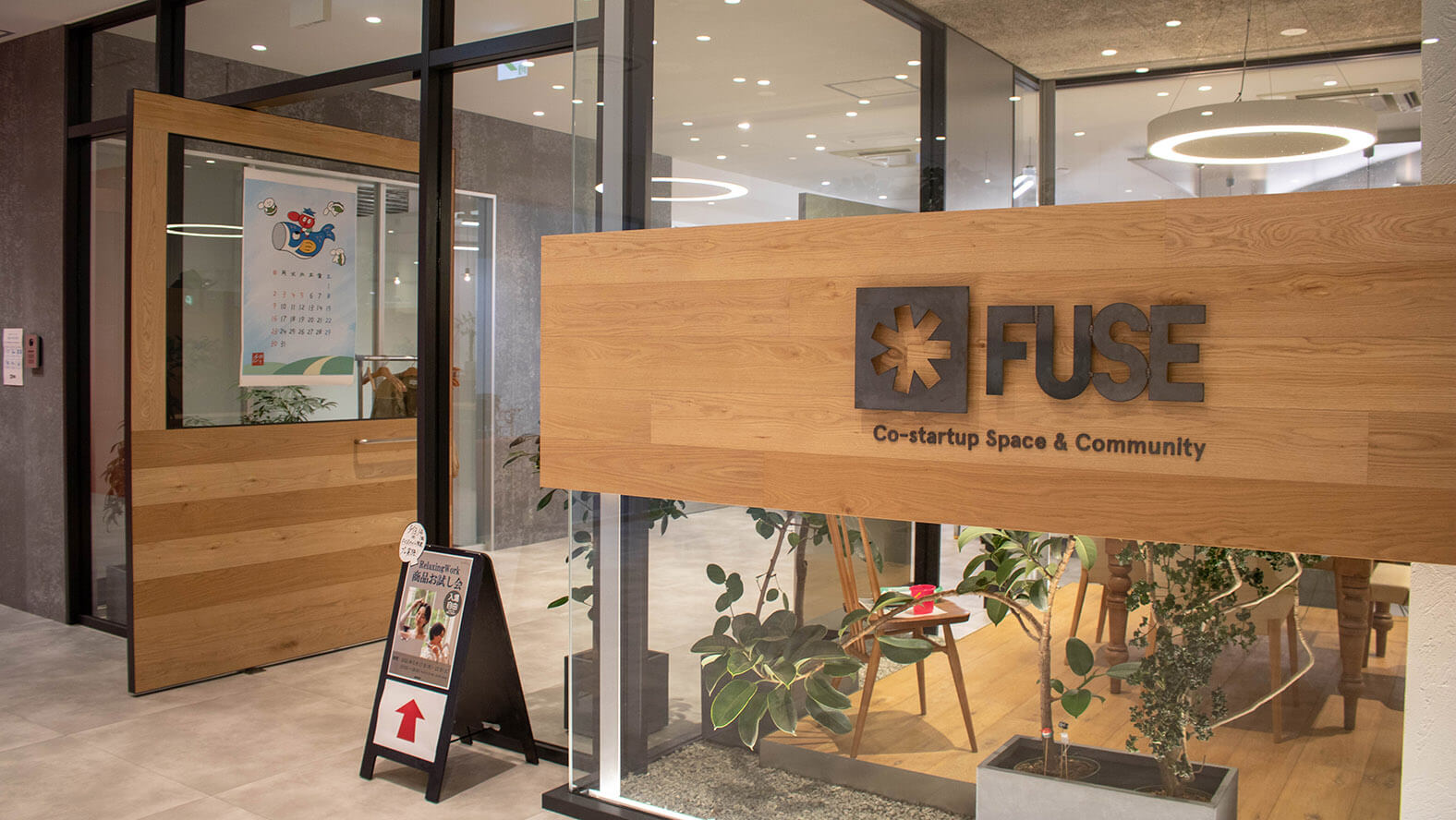 Co-startup Space FUSE Breathes New Life into Hamamatsu's Creative Culture
07/09/2021 Digital Printing, 3D Digital Fabrication
The large Co-startup Space & Community FUSE is located in Hamamatsu City, Japan, where Roland DG headquarters is based. It runs a co-working space and fabrication studio that are jointly operated by startups and local companies. Roland DG's UV printer and other devices are used in the fabrication studio.
A unique initiative run by a local credit union to support startups
FUSE is run by Hamamatsu Iwata Shinkin Bank and opened in summer of 2020 on the below-ground floor of the central building of Zaza City Hamamatsu, a commercial complex located a 5-minute walk from Hamamatsu Station. With a lounge area, co-working space, fabrication studio and event space, it aims to give entrepreneurs and others the spark to create new ideas and startup businesses.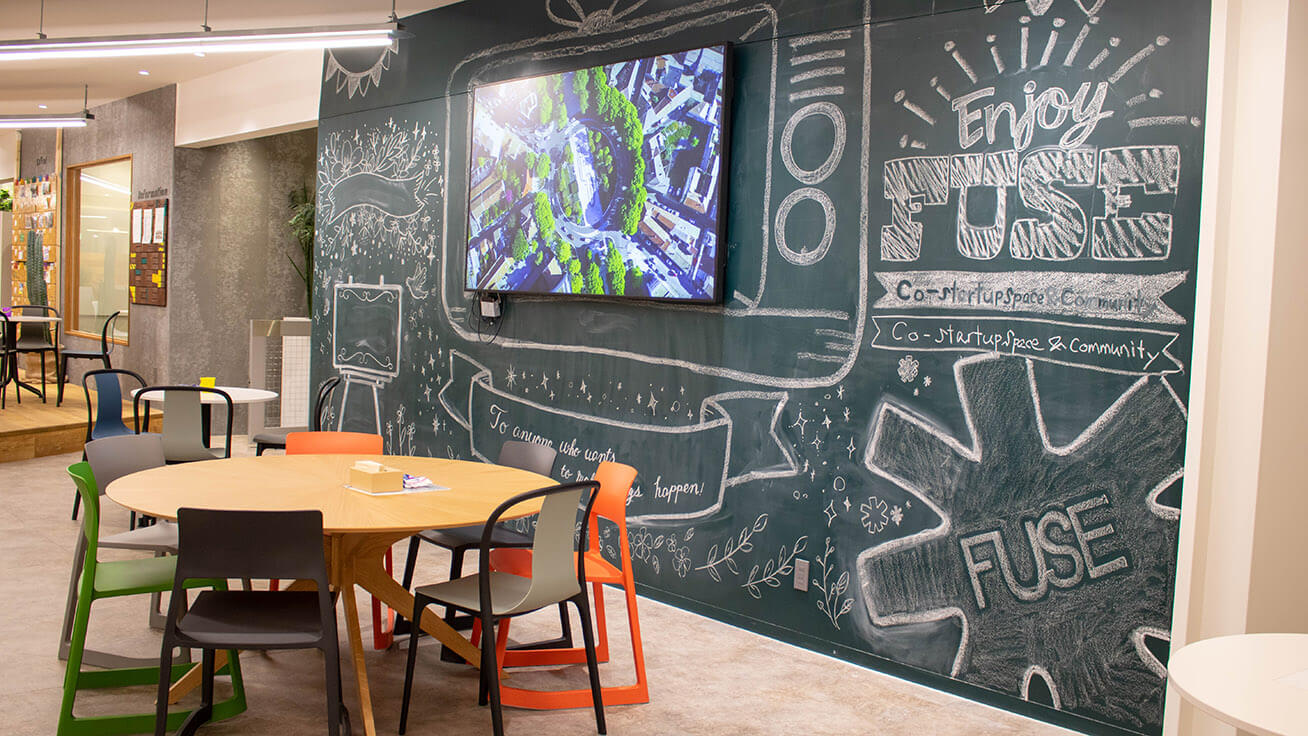 Lounge area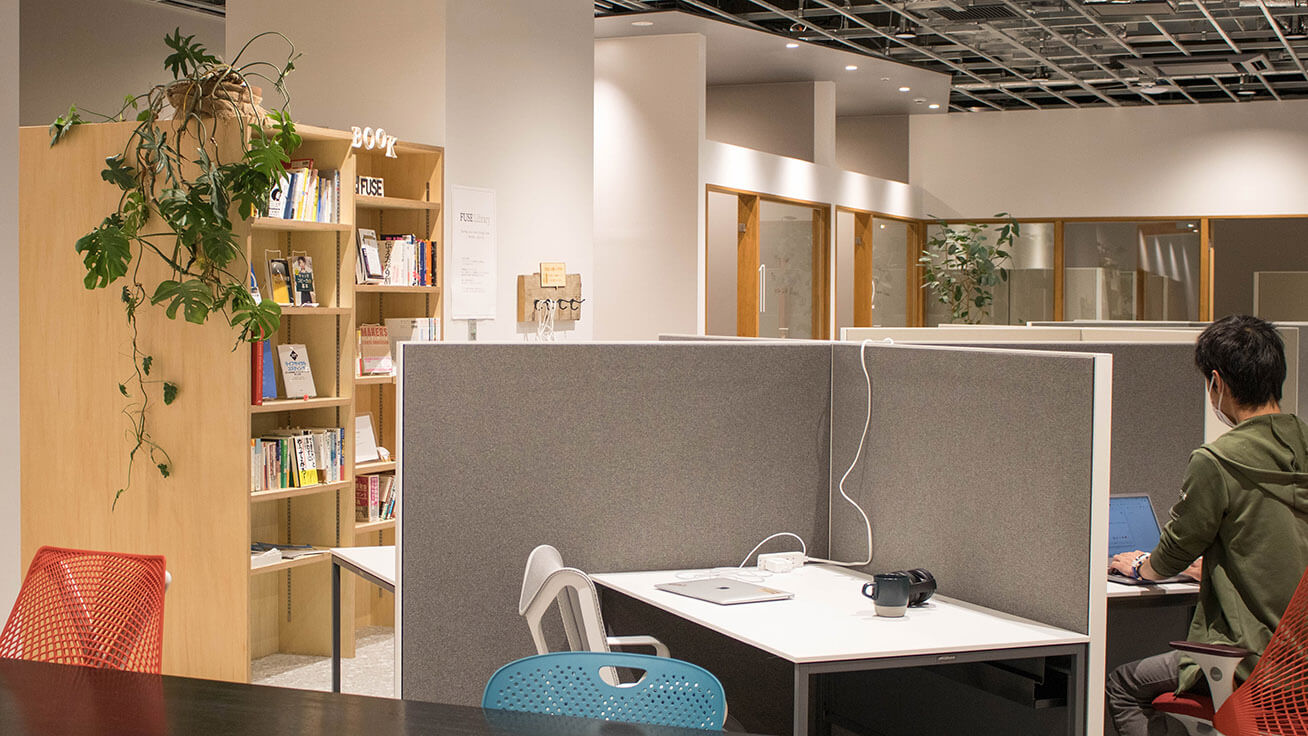 Co-working space
The fabrication studio is equipped with professional-grade digital equipment and is available for use at no additional charge for members to encourage them to turn their ideas into reality. It is equipped with the VersaUV LEF2-200 UV printer that can print directly onto resin and a wide range of other materials, the CAMM-1 GS-24 compact vinyl cutter, and the MODELA PRO II MDX-540S-AP milling machine (available only in Japan) suited for making prototypes. Other tools available include a laser cutter, 3D printers and a large CNC router for woodworking.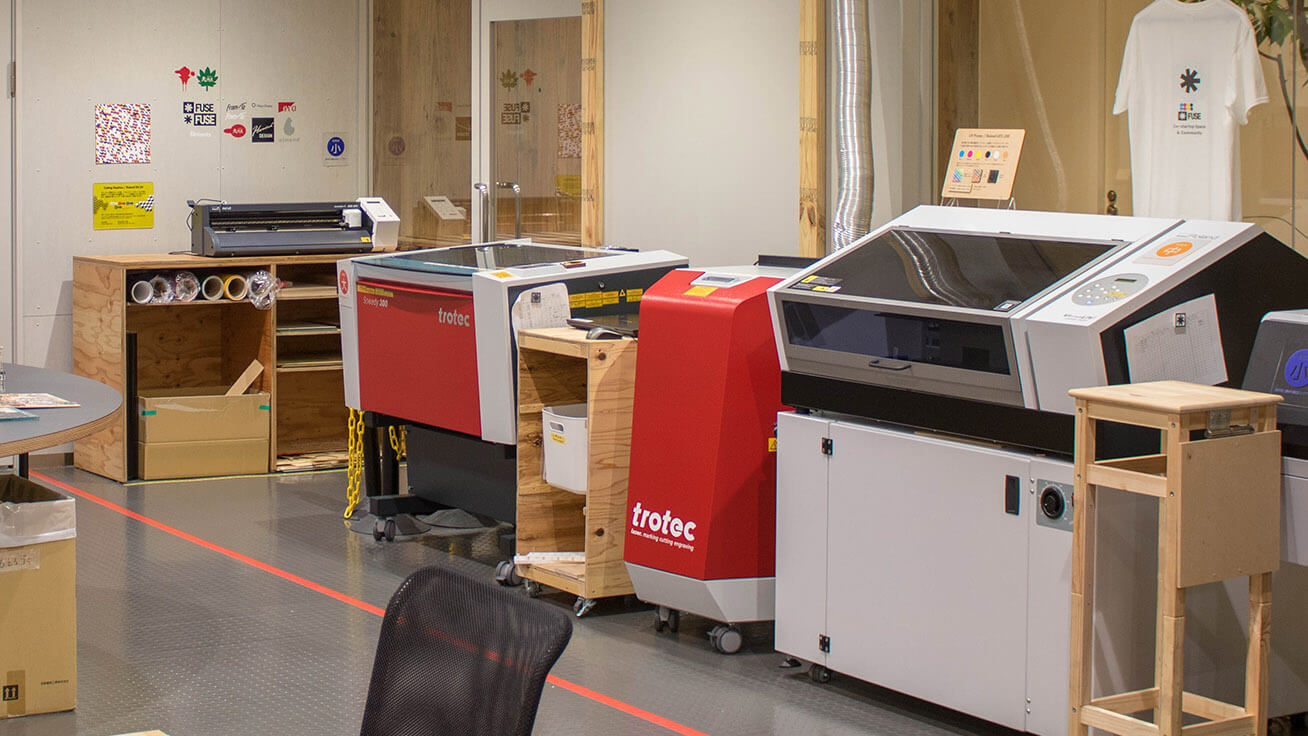 The LEF2-200 UV printer and GS-24 vinyl cutter are set up in the fabrication studio.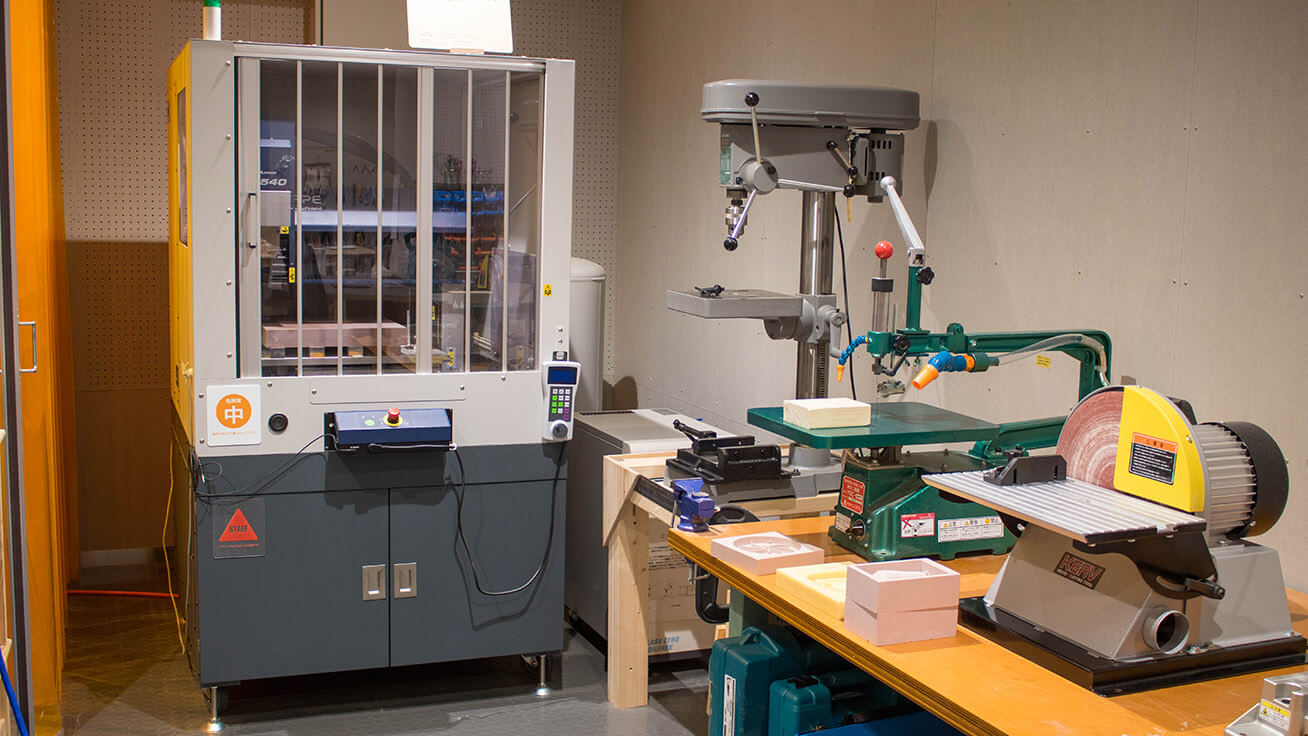 The woodworking area is equipped with the MODELA PRO II MDX-540S-AP milling machine.
Watch FUSE in action in this video.
See here for more details about FUSE (Japanese text only)
We had a chat with the staff in charge of running FUSE.
Hamamatsu Iwata Shinkin Bank, Solution Support Division Manager Mitsuo Watase
Deputy Manager Hayato Watanabe
Fabrication Studio Director & Design Advisor Kenji Tanikawa
Fabrication Studio Staff Seiko Kimpara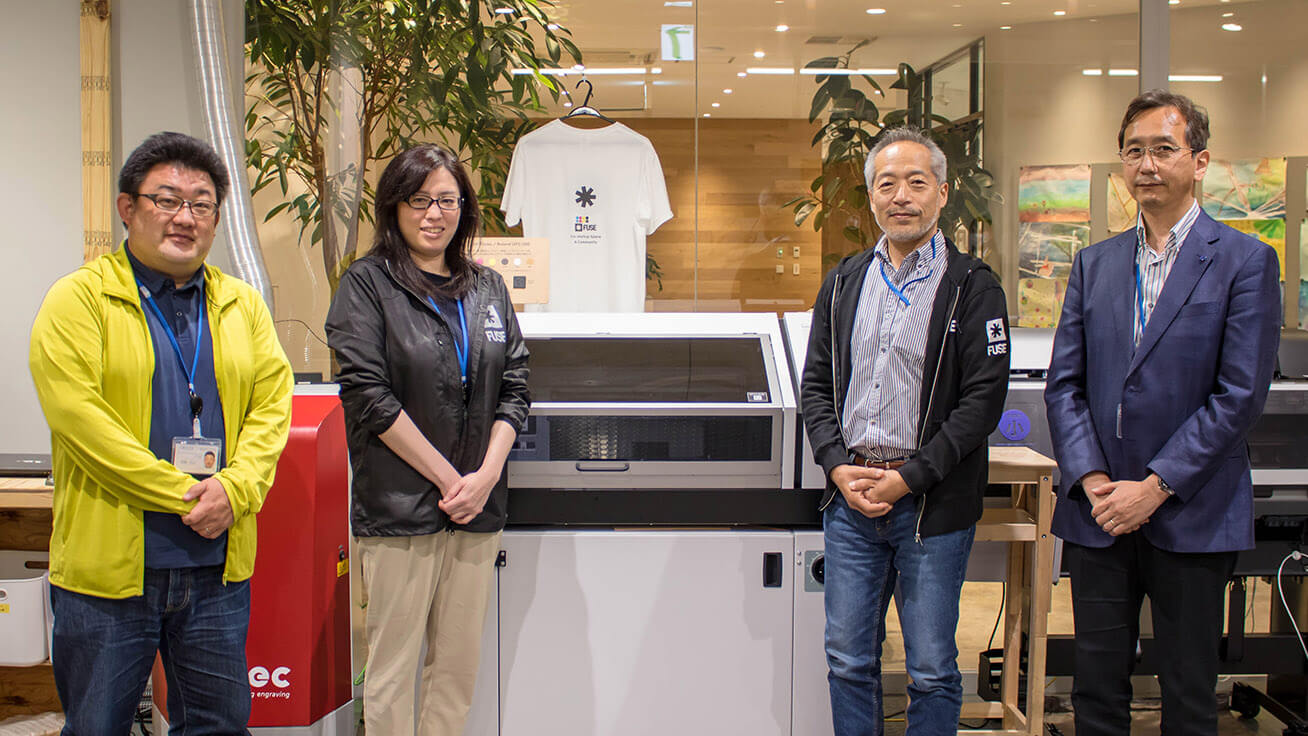 (From left) Watanabe, Kimpara, Tanikawa and Watase of FUSE.
Roland DG: Please explain briefly what type of space FUSE is.
Watase: FUSE is a place where startups, companies looking to create a second line of business and others can come together to be inspired and tackle new challenges.
Watanabe: We have created a venue where people can meet others that they may not previously have had the opportunity and to embark on new projects. FUSE has three key areas: a co-working space, fabrication studio and an event space.
There was no charge to become a member through the end of June 2021 and we had more than 200 members sign up. Around 20% of them are managers of local small and medium companies. Some of them want to build on the businesses they have inherited over the generations and take on new challenges while they are in charge. Around 70% of our members are freelancers, individual business owners and startups, all from a broad range of industries. The remaining 10% are students and staff from universities.
What was the background to establishing FUSE?
Watase: Hamamatsu is known for its creative manufacturing culture, but these days there are more companies closing than starting up, which is a little depressing. Transportation equipment—the main industry in the area—is also facing a major turning point.
The local credit union has long supported new businesses starting out, and FUSE draws its roots from when employees of the credit union were assigned to positions in Silicon Valley. This led to a yearning to make FUSE a center for startups here in Hamamatsu, and to breathe new life into the local economy by rekindling the spirit of the local Hamamatsu dialect of "Yaramaika" – meaning "Let's give it a try" – which describes a positive attitude that welcomes challenges.
Manufacturing-related startup hubs like FUSE that are run by credit unions are not very common.
Watanabe: The staff here includes my colleagues and I who studied in Silicon Valley and those who are involved in supporting new businesses who have connections with local companies and residents. We are here to provide advice to members, and we can even put members seeking to start new business in touch with those involved in venture capital and financing.
Fabrication studio gives shape to new ideas
In what ways do members use the studio?
Tanikawa: We have a rule in place where members can only use tools after they have completed a relevant course. Members typically operate the tools themselves, but our staff can provide assistance if jobs require more complex processes. The UV printer, vinyl cutter and laser cutter are popular with members because they can be used with the graphics software packages like Illustrator that they normally use.
Kimpara: Many members make items that they need before opening their own stores or food trucks. Items include stamps for adding logos to packing boxes, numbered tickets for handing out to customers, and accessories provided as part of their services.
What is your impression of Roland DG's products?
Kimpara: The UV printer is mainly used to make small items like acrylic keychains. The finished products look great and our members love using the machine. We even make the studio's display signs and information panels right here using the UV printer and vinyl cutter.
Tanikawa: The UV printer does a perfect job at printing, and first-time users always comment on how amazing the results are and on other ideas they want to make with it. I think the print quality is so good it can even be used for producing end products.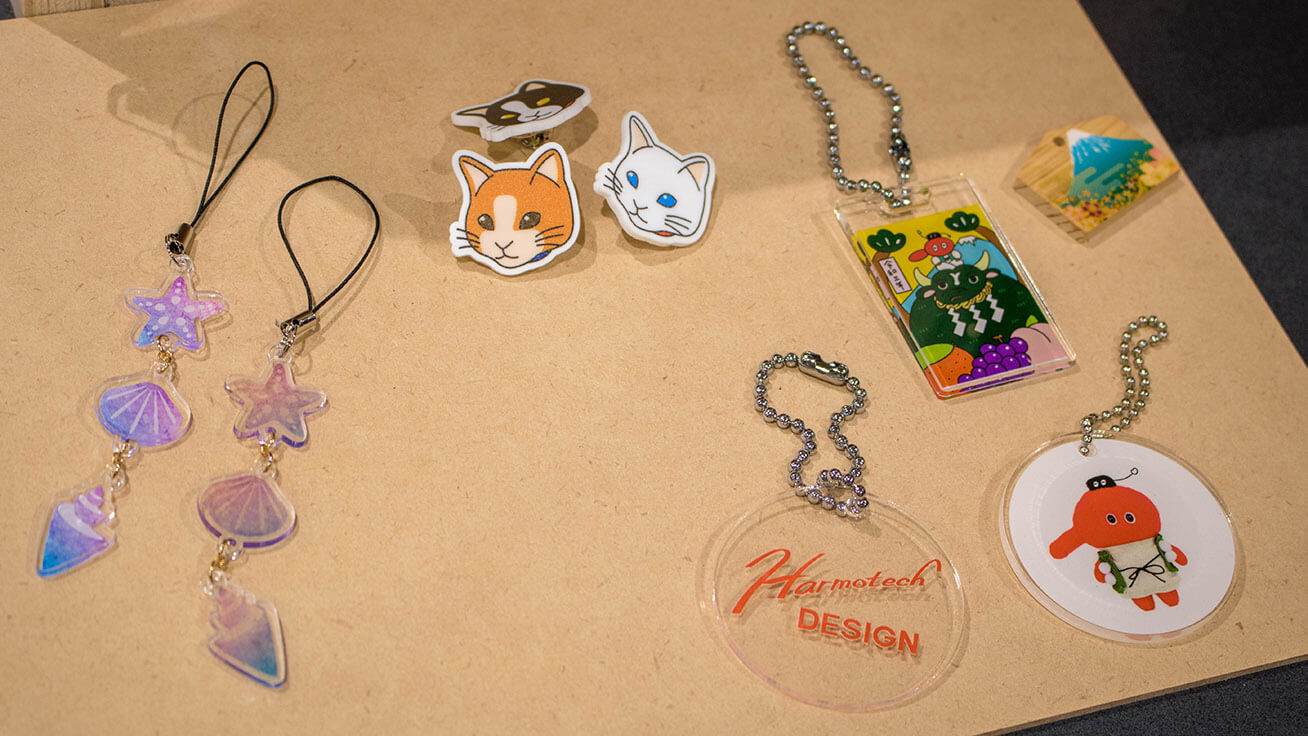 Pictured here are a member's original mascot "tengu-chan" (right) featuring a long-nosed goblin in Japanese folk religion famous in the Towtowmi region (today's western area of Shizuoka), and a staff member's drawings made into keychains and pins (left).
Also made at FUSE are these danger level display signs for equipment (left) made with the UV printer, and accessory stickers (right) using the vinyl cutter.
What was the goal in setting up the fabrication studio at FUSE?
Watanabe: When we were making plans for FUSE, we wanted to maintain the creative culture that Hamamatsu is known for, instead of just opening a co-working space. We set up the studio because we wanted startups to have proper access to actual fabrication facilities.
Tanikawa: Here at FUSE, we have incorporated the concept of "Design Thinking" that runs through the heart of Silicon Valley. There are two key points that help us achieve this: the first being that we take a user-oriented approach by running things from our users' perspectives, instead of based on our own assumptions. The second is that we enable members to go beyond the concept stage by quickly testing and making prototypes, then acquiring feedback and marketing those ideas. The fabrication studio plays a central role in this process.
What challenges do you want to take on at the fabrication studio in the future?
Tanikawa: The studio is mainly used by creators, but I want to work on expanding on our user base. I would also like to focus more on the woodworking side of fabrication including use of the milling machine.
Another area of focus is creating the spark for new businesses, which is one of the main objectives of FUSE. The studio is used a lot by people who want to expand on their hobbies, and hobbies can often turn into business opportunities when people make something they like and then go about marketing their idea. I want to attract more people who are able to create their own ideas, without being limited to whether they are doing it for business or as a hobby.
Creating new ideas with members
What has the response been in the year since you opened?
Watanabe: Recently, as people move back to Shizuoka from Tokyo due to the COVID-19 pandemic, some are visiting FUSE to find a place where they can explore their creative side. It is also great that we are seeing more entrepreneurs who start making prototypes in the studio right after becoming a member.
Finally, what aspirations does FUSE have for the future?
Watase: Last summer, Hamamatsu City was certified by the Japanese cabinet office as a region for rapidly growing manufacturing-related startups. We hope that FUSE can attract startups from other nearby areas to work with small and medium local businesses and develop new businesses.
The staff at FUSE will be coordinating efforts with members to take on new challenges together and create many new ideas.
Thanks for the insight!
It is great that we can support our fellow Hamamatsu locals in unleashing their potential through new products and ideas.